In:
Today is the first day of my Western Caribbean cruise on Oasis of the Seas, and I'm live blogging this week to showcase all that this Oasis Class cruise ship has to offer. This is a 4-night cruise with two sea days and one port day in Costa Maya, Mexico.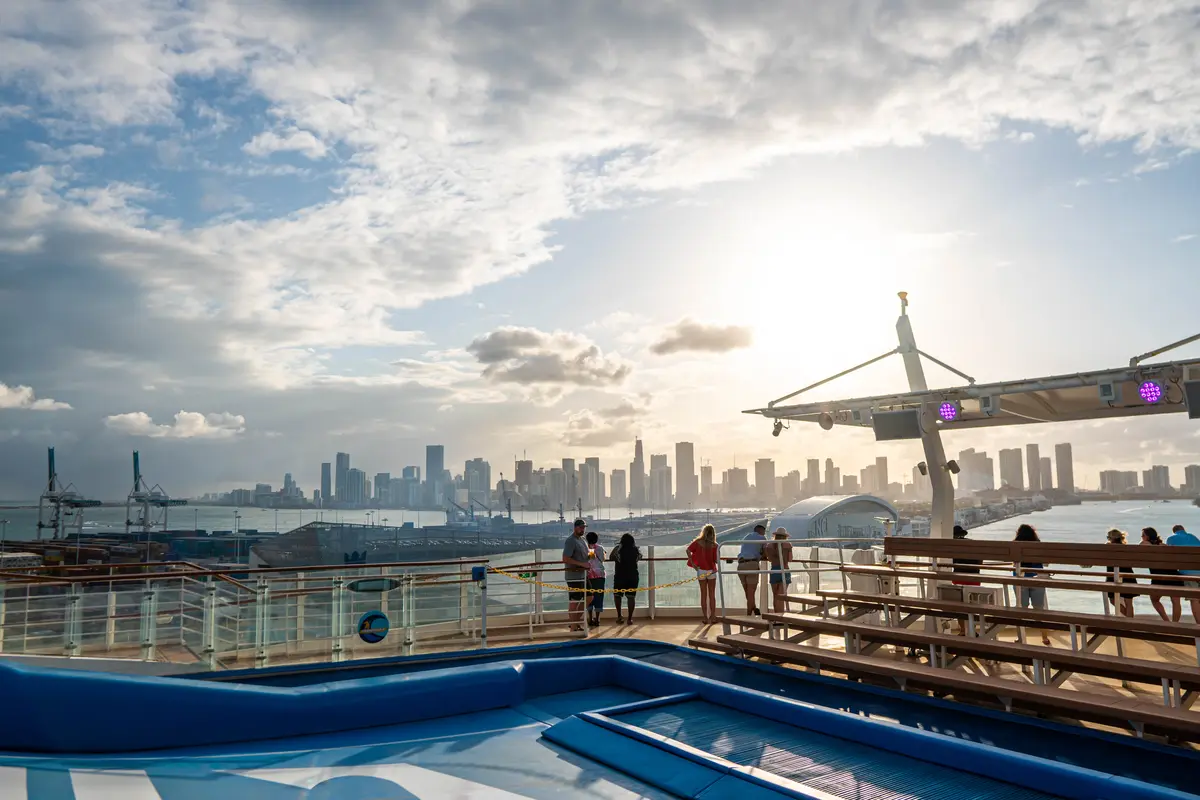 Oasis of the Seas marks my first time sailing out of Miami and my first cruise as a Diamond member in the Crown & Anchor Society!
While I don't have any set plans for the week, I'm hoping to experience the activities and venues that make Oasis of the Seas unique, such as Portside BBQ and CATS the Musical.
Embarkation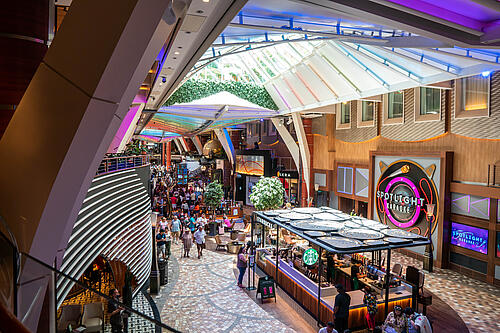 I arrived in Miami late last night and spent the night at the Holiday Inn & Suites Miami Airport East. Located just across the street from the airport, the Holiday Inn was convenient, clean, and affordable. While not the most exciting location in Miami, it worked well for a 10PM arrival.
The hotel offered a shuttle to the cruise terminal, but I opted to take a Lyft, which came out to be around $22. Upon arrival at the terminal, I was pleased to see relatively few lines. The check-in procedure took around 20 minutes in total.
I did not feel like going to the Windjammer, which was likely packed with people, so I enjoyed a quick lunch at El Loco Fresh while waiting for my cabin to be ready.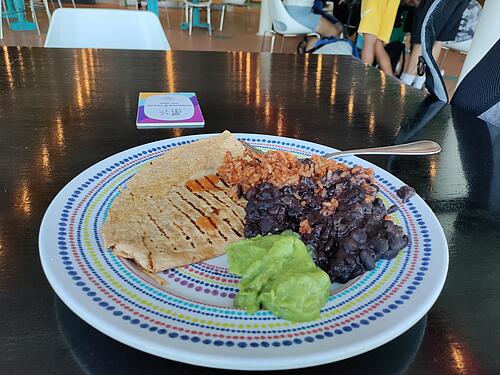 Staterooms were ready at 1PM, and I am staying in an inside cabin for this sailing. While the decor looks a bit dated when compared to my cruise last month on Wonder of the Seas, I was pleased to find the room comfortable and quite spacious.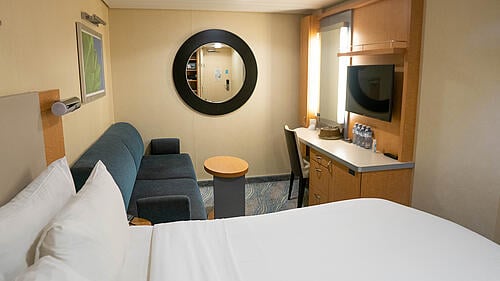 Thermal spa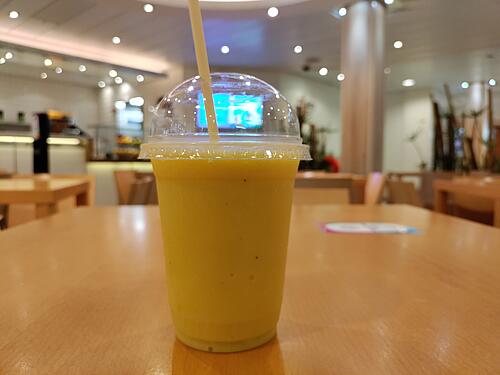 First up on my agenda today was to use my first Diamond drink voucher. Up until this point, most of the extra money I spent on cruises had been on drinks, and I never enjoyed paying $15 for one cocktail. Therefore, to celebrate achieving Diamond status, I enjoyed my first complimentary drink: a mango banana smoothie from Vitality Cafe.
I had quite a bit of onboard credit, so I decided to try out something new for this cruise: a thermal suite pass at the Vitality Spa. I booked the 4-day pass at the spa's front desk for $59 (plus 18% gratuity).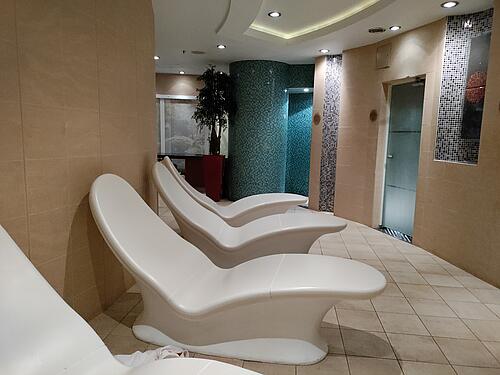 The thermal spa, located on Oasis and Quantum Class ships, is a thermal suite featuring hot stone loungers, steam chambers, a dry heat chamber, and rainforest showers. Vitality Spa sells passes that last the entire cruise and there is no limit on how many times you can enjoy the thermal spa, which is open from 8AM to 8:30PM.
After purchasing my pass, I changed into a bathing suite and tested out the thermal spa. I tried all three sauna rooms: the steam room, aromatic steam room, and dry heat chamber. All were fantastic, but my favorite was the aromatic steam room.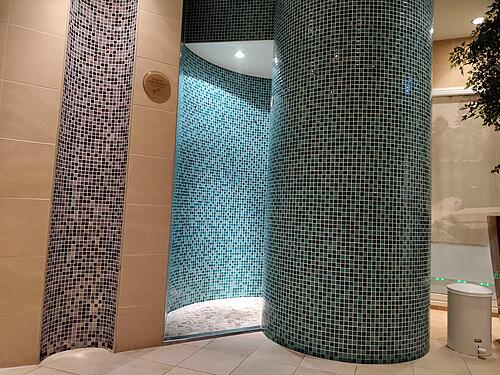 I also tested out the rainforest shower, which has four options: rainforest, thunderstorm, waterfall, and ice fog. Each shower type disperses water differently, from the mist of the ice fog shower to the rapid stream of a waterfall.
I spent most of my time in the thermal spa on the hot stone lounger wondering why it took me so long to purchase a thermal spa pass!
Needless to say, I will likely be spending a lot of my time in the thermal spa on this cruise. In fact, laying in the hot stone lounger with my laptop might become my new blogging office…
Dinner and sailaway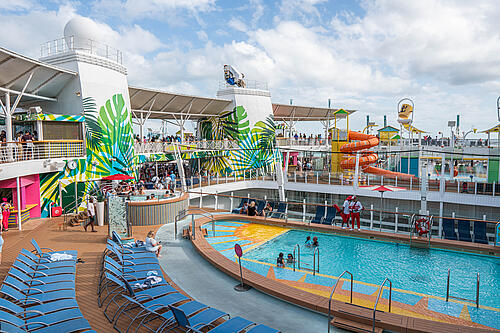 I spent the rest of the afternoon onboard relaxing, first on the pool deck and later in my stateroom.
Dinner tonight was at the Windjammer. I am not a huge fan of the Windjammer location on Oasis Class ships, as the area usually feels cramped. I think this is one of the biggest improvements made on Wonder of the Seas, which has the biggest Windjammer in the fleet.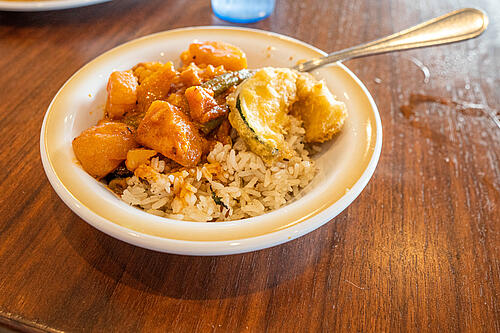 Despite the crowds, though, the Indian curry I had at the Windjammer tonight may have been the best I've ever tried on a Royal Caribbean cruise! My dessert did not disappoint either.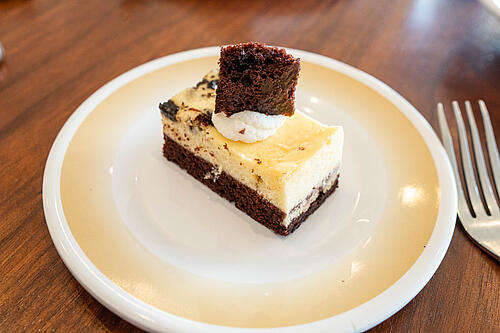 As I started cruising last August, this is my first cruise with a self-service buffet. While it is nice being able to pick exactly what you want from the buffet, I definitely prefer the crew serving guests. The stations quickly got messy and it seemed a lot slower than what I was used to.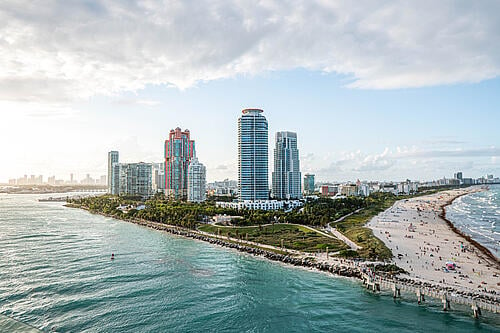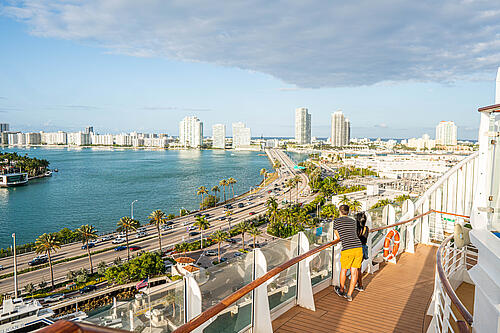 Sailaway was delayed an hour to 6:30 PM. As this was right in the middle of dinnertime, there were virtually no crowds outside for sailaway and I was able to grab a great spot on the back of the sports deck!
Sailing out of Miami was gorgeous, with the sunset creating a silhouette of downtown and giving the perfect glow to Miami Beach. I had heard great things about sailing out of Miami, and this was certainly one of the most beautiful sailaways I've seen yet.
Read more: The best spot for sailaway on every Royal Caribbean cruise ship
Evening activities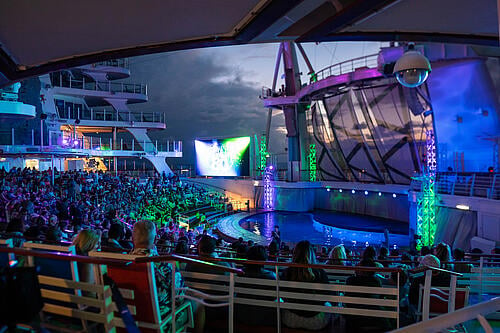 I reserved a spot to see Aqua80s in the AquaTheater tonight. I had heard great things about this AquaTheater show, so excitement was high. Originally I was going to book the show on day 3, but as the AquaTheater performances can often be canceled due to weather conditions, I figured I should try it on the first day just in case.
Plus, even though this is my third cruise on an Oasis Class ship, I had yet to see a full AquaTheater show. I sailed on Harmony of the Seas during the peak of omicron and Wonder of the Seas when the AquaTheater show was not fully ready, so I was definitely eager to see a full AquaTheater performance.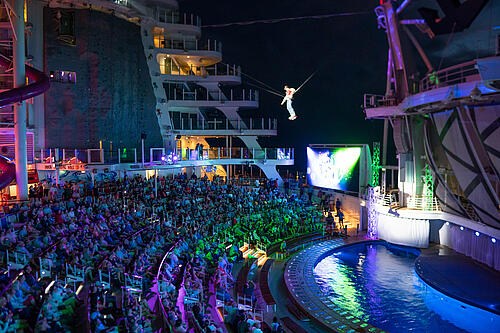 I ended up really enjoying the show, which had a high-energy and upbeat atmosphere. The performers put full effort into the show with diving, slacklining, acrobatics, dancing, and aerialists, and it was a lot of fun to watch.
I called it a night after the AquaTheater show to get well rested for a fun-filled sea day tomorrow while on our way to Mexico.
Stray observations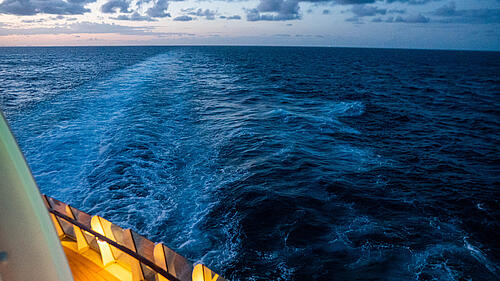 Because I started cruising right when the industry restarted after the coronavirus shutdown, my experience of cruises has been quite different from what was once considered "normal". Thus, one thing that confuses me are the amount of chairs and lounging areas in the cruise terminals. Did people sit in these at one point waiting to board the ship? I cannot think of a time when you would ever need to sit in these waiting areas now with the staggered boarding times!
The plants in Central Park seem bigger on Oasis compared to what I saw on Harmony and Wonder. I feel like I am in a park more on this ship than the others.
I'm surprised there are no chairs of any kind on the back of the sports deck by the Ultimate Abyss (outside of the seating at Wipe Out Bar).
I had a 12PM arrival time at the terminal, but no one was checking times when I arrived.