Live blogging from Brilliance of the Seas 2018 - Preamble
In:
It is time for another live blog to kick off and this time we are headed for another sailing on the fantastic Brilliance of the Seas.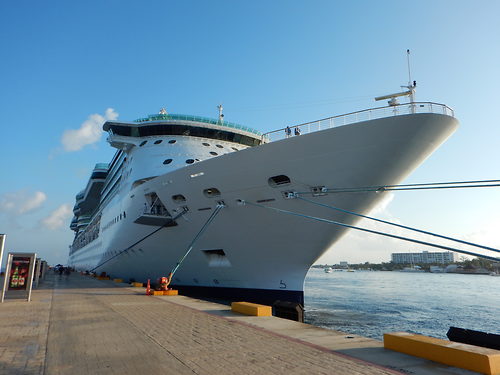 Photo by Michael Poole
For those keeping score at home, this our third time on Brilliance of the Seas and second time on her this year.  Brilliance just recently returned to Tampa to offer cruises for the fall and winter, my wife and I decided to book a sailing on her for a long weekend getaway.  We rarely need an excuse to book any Royal Caribbean sailing, but we purposefully booked Brilliance the week after our ten year wedding anniversary as a means of celebrating this milestone.  That and I wanted to cruise again.
A trend among all of our sailings on Brilliance of the Seas has been to leave the kids at home, and this sailing will be no different.  My in-laws will be watching the kiddos while my wife and I enjoy a 4-night Western Caribbean sailing.   Eventually we will take the kids on this ship, but each time we book Brilliance it tends to be for these quick getaways and it provides the kids some time with their grandparents (or at least that is what I tell them).
We booked this sailing back in April and at the time, I found a great rate for the much-talked about aft Junior Suite room.  The Radiance Class ships have quite the reputation for their fantastic aft rooms, so I booked one at a pretty good price for both me and my wife.  Fast forward to July and our final payment date was rapidly approaching.  At that point there was a significant price drop (here is how to check for a price drop) for our Junior Suite.  At first I asked my travel agent to reprice the cruise, but then we spotted the Grand Suite was also discounted and still cheaper than we had originally paid for our Junior Suite.  So we decided to upgrade to the Grand Suite while still paying less than we originally had planned!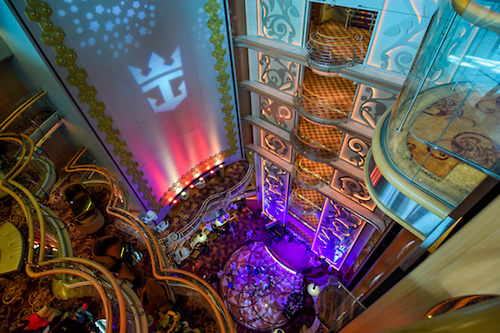 Our four night Western Caribbean sailing will depart on Thursday, September 27 and take us to one port, Cozumel, Mexico.
As I mentioned, this is our third time on Brilliance.  We sailed on Brilliance of the Seas for Thanksgiving 2015 and again earlier this year in January 2018.  What brings us back to Brilliance is the fact she sails in our "back yard" of Tampa, which is just a smidge over an hour drive. Moreover, it sails over the weekend and we are able to minimize the amount of days off I need from work.  Of course, Brilliance is a fun ship and a great cruise for relaxing and enjoying some time well-spent by the pool.
Stateroom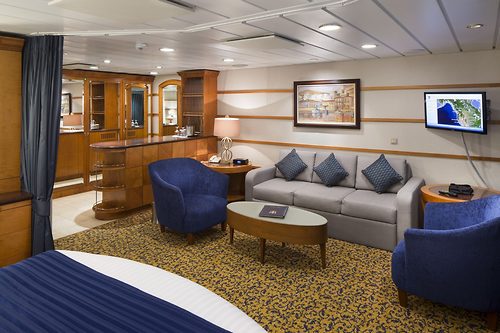 Photo by Royal Caribbean
For this sailing, we have a Grand Suite booked and the impetus for booking it had more to do with the great price we got than anything else.  Suites are a great way to cruise, but I would be the first to admit booking a suite depends largely on the price.  A lot of people ask if a suite is worth it, and I always answer that it depends on how much more it is from other room categories.
Frankly, I am not certain how many perks of staying in a suite we will take advantage of on this sailing, but it is a nice way to cruise. Staying in a suite is a splurge, and I think in this situation it was well-worth the investment.
Itinerary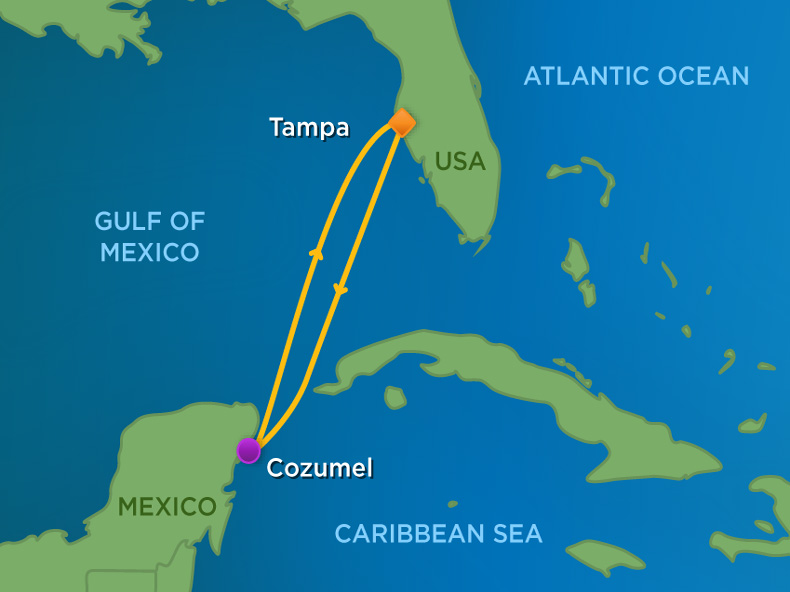 Our cruise has just one port stop, Cozumel, which will be our fourth time in Cozumel in 2018 (with another two visits to come later this year). 
We went back and forth with what to do in Cozumel.  With the time of year, it will still be plenty hot and humid so I thought it would make sense to hit up an all-inclusive beach.  My wife thought we would be better off heading downtown in the morning for some great Mexican food and then back to the ship to enjoy the pool and drink package benefits.
We are a fan of authentic Mexican food, as well as some good drinking spots around town.  We tend to favor Comidas Caseras Tonita, because it is the most authentic Mexican we have found in town.  If anyone has any suggestions for great food or drink in downtown Cozumel, please share in the comments.
Once the heat sets in, we will decide if we will head back to Brilliance for pool time or perhaps hop over to Paradise Beach.  I love having this sort of a "problem" of deciding between which great place to lounge and spend my afternoon.
Dining Plans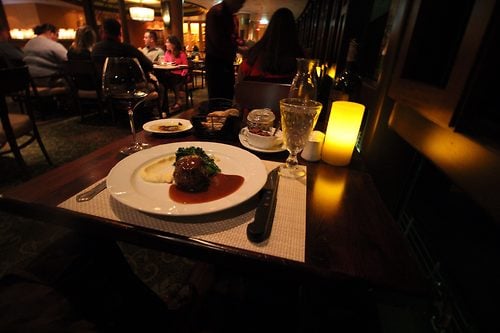 Photo by Michael Poole
In the spirit of splurging on this cruise, we decided to go with the Ultimate Dining Package on this cruise.  Originally I thought to get one of the other dining packages to augment the regular dining, but my wife thought if we are going to go the dining package route, we ought to "go big or go home."
Like all dining packages, we must wait to book reservations once onboard the ship.  In the past, we have had little trouble getting the times and restaurants we wanted by ensuring we make reservations as soon as we can once onboard the ship.  Brilliance has three specialty restaurants to choose from: Izumi, Giovanni's Table and Chops.  One of the "cruising traditions" we have is to figure out our restaurant preferences on the drive to the port. 
For this sailing I opted to go for the deluxe beverage package.  If you follow my live blogs, you may have noticed I go back and forth on getting the drink packages.  On shorter cruises, it is a whole lot easier to make the drink package a worthwhile investment.  Plus, without the kids, the drink package makes more sense. On the other hand, we have easily cruised without the drink package too.  In this situation, we decided to go for it.  Ultimate dining package and drink package should make for a fun (and filling) cruise!
What's Next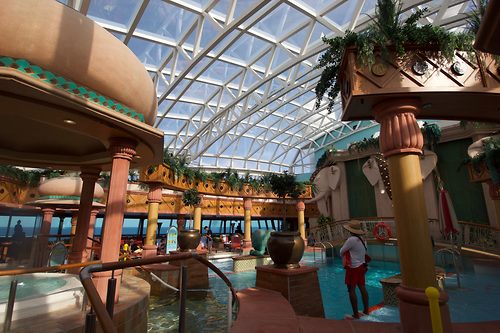 Photo by Michael Poole
Our Brilliance of the Seas cruise begins on Thursday, September 27th, and I will be sharing the details on the blog, as well as across my social media channels.  Be sure to follow me on Facebook, Instagram and Periscope for live updates throughout the day.
I invite you to share in this experience with me, by posting in the comments for any blog post questions and comments you may have. I try to make these live blogs as interactive as I can, so I want everyone to feel welcome to share their thoughts.
Thanks for reading all of this and welcome aboard our next fun live blog experience!