In:
When you are ready to experience Royal Caribbean's suite life, the Grand Suite is the first category of stateroom eligible for the full suite experience and we thought it would be useful to look at what this type of stateroom offers you and why you might want to consider booking it for your next cruise.
Grand Suite on Freedom of the Seas - Photo by Royal Caribbean
What are the benefits of having a Grand Suite?
Staying in a suite on a Royal Caribbean ship gets you a few important benefits
Extra space in your stateroom
Larger balcony
Bathroom with tub
Suite level benefits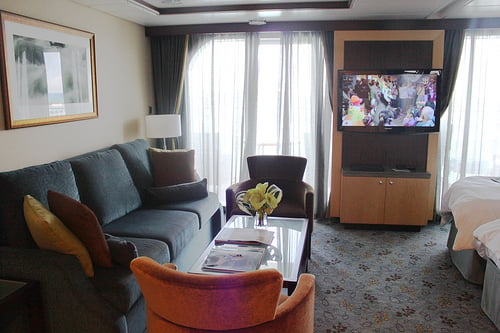 Grand Suite on Oasis of the Seas - Photo by Lisa Cancade Hackett
The exact size of a grand suite varies from ship to ship, anywhere from 349 square feet to 401 square feet.  
The size of balconies range as well, from 93 square feet to 452 square feet.  Most balconies are between 100 and 110 square feet.
The benefits for staying in a suite are what many guests relish about the experience.  Suite perks include
Priority check-in at the pier
Personalized attention by concierge staff
Access to Concierge Club on select ships
Reserved prime seating in the main theater for shows
Private breakfast and lunch seating in specialty restaurants
Priority tender tickets
VIP pool deck seating
Full menus for in-room dining for all meals
Complimentary pressing service on formal night
Complimentary luggage valet service
Access to reserving cabanas at Royal Caribbean's private islands
Special cocktail hours and receptions
There are other benefits as well that depend on your ship and itinerary.
The big benefit is access to the Concierge Club lounge as well as the Concierge staff.  The staff will do anything Guest Services can do and more and are a tremendous asset.  They can book cabanas, specialty restaurants and excursions for you.
The concierge lounge also provides complimentary food and alcoholic beverages.
Staying in a Grand Suite will also get you double Crown and Anchor Society points for the duration of your sailing.
How much more will a Grand Suite cost?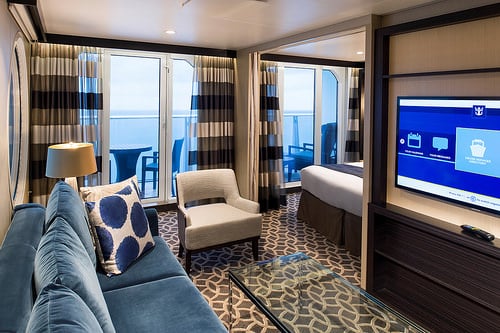 Grand Suite on Quantum of the Seas - Photo by Royal Caribbean
The exact difference in cost between a Grand Suite and another category below will differ depending on the ship, sailing and some other factors.
Suite staterooms are a perk, and if you can afford to spend extra for a Grand Suite, it is the entry point to Royal Caribbean's exclusive level of staterooms.
In addition, your daily automatic gratuity amount will be increased to include the concierge service.  The gratuity cost for suite guests is $15.95 per person, per day.
Summary
Grand Suites are the first level of suites that Royal Caribbean offers and if you can afford it, is a wonderful way to get more space and service while onboard.
The key is the cost associated with suites.  Staying in a suite is about paying extra to get the exclusive benefits that come with that status, but it may not be a financially sound choice when you compare the price of a Grand Suite to a lower stateroom category.
What guests really enjoy about a Grand Suite is the level of service they receive, which to them is well worth the additional cost.  In addition, the extra Crown and Anchor points helps move you up in Crown and Anchor Society much faster.