Brilliance of the Seas Live Blog - Day 2 - Key West
In:
Michael Poole is onboard Royal Caribbean's Brilliance of the Seas and is live blogging his adventure.  Follow along right here!
Early Morning onboard
It's day 2 onboard the Brilliance of the Seas, so I thought waking up at 5:30am was a good idea.  Funny I woke up and thought it was around 8-9am, but in those inside cabins you really have no idea what time it is. 
Since, I was awake I thought I'd go explore the ship a little.  If you have never woke up early, I encourage you to do it at least once, really neat experience to feel like you are the only person on board. 
I then decided to go enjoy the Diamond lounge.  At 7am, they brought in some trays of fruits, pastries, and juices.  They also have a nice coffee maker in there that's easy to use, with one-touch commands.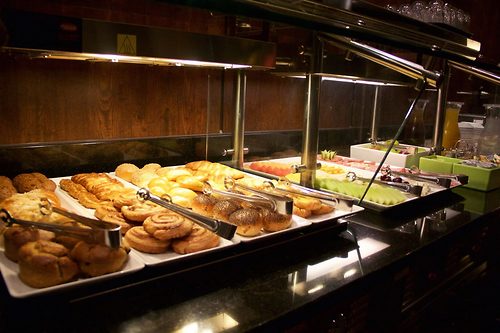 I had decided to watch sunrise on the top decks, also a must-do at least once on a cruise.  I discovered a suite only deck all the way forward, and watched the sun come up there.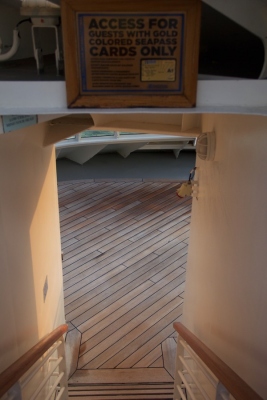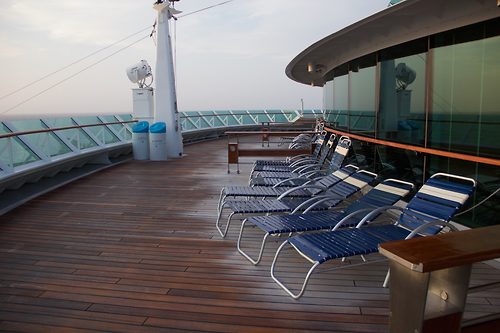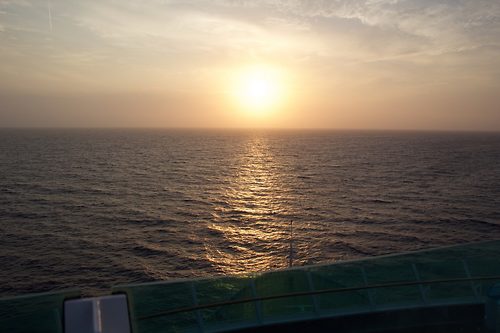 I honestly didn't know it was suite only area until I was leaving, they have a little sign on the staircase. 
Okay it's almost 8am now, so I was already ready for a nap.  I rested for an hour or so to get ready for a full day in Key West at Noon.   
Key West, Florida 11:30AM – 5:30PM 
The Brilliance docked in Key West right on time, and within a few minutes they let all the guests off.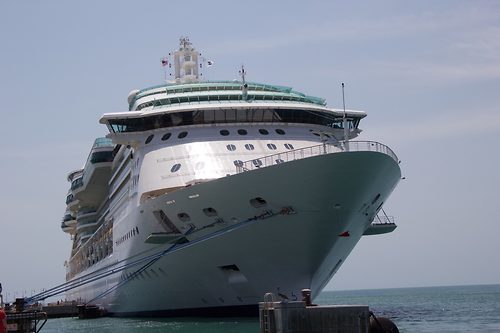 My suggestion, unless you have a planned excursion to make, just give it 15-20 minutes to clear out downstairs.  There was a very long line to get off the ship, but it did move fast. 
I did notice, we did not have to go through United States Customs, like we did on my Majesty of the Seas cruise last October.  Since Key West was our first stop out of the USA, we were in the clear. 
My plans for the day were just to explore, do a few Periscopes and enjoy lunch at Sloppy Joes.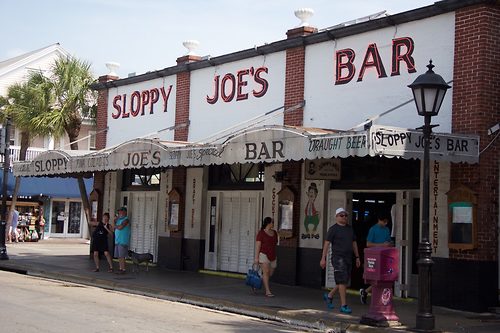 When I got to the restaurant it was 11:50am, and they don't open until noon.  There was already about 10 people waiting on the sidewalk, and it quickly grew. 
If you are looking for a casual, fun restaurant, with live music this is your place.  Someone online suggested I order the fish taco's there, and they didn't let me down.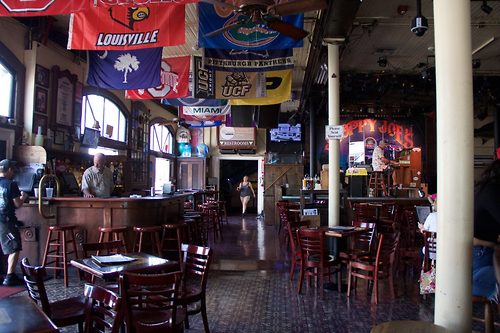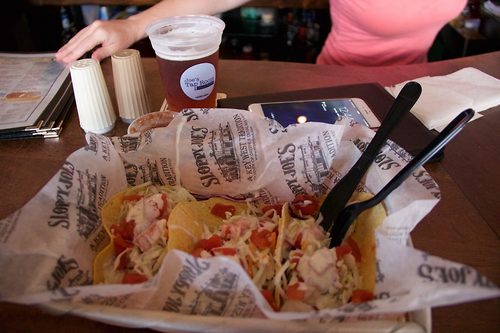 After lunch I explored the town and took some pictures, I did notice they just added Senor Frogs there, which was empty. 
Back on board
Once I got back onboard, I decided it was time I enjoy the pool deck. 
I grabbed a Stella ($6.98), which they charge Florida sales tax since we are docked here. 
The pool was full with kids playing ball, jumping and having fun.  I quickly moved into the Solarium and to find kids in this pool too!  The staff came by a few minutes later and asked the children to exit the pool area. 
Since I was already in the solarium, how can you pass by park café without getting a snack?   I stopped for a roast beef sandwich, and it was hands down the best one I've ever eaten.  I think the trick is a lot of the gravy!
Evening Onboard
I thought tonight was formal night, since it was day 2 and that's when it usually is.  However, it was casual attire and I was a little dressed up. 
I again went up to the Diamond Lounge for a few free cocktails.  The staff in there is so great, when they see your drink just halfway gone; a new one is on the way, which I never turn away!
After an hour or so here, I decided to go visit the pub, which is beside the casino.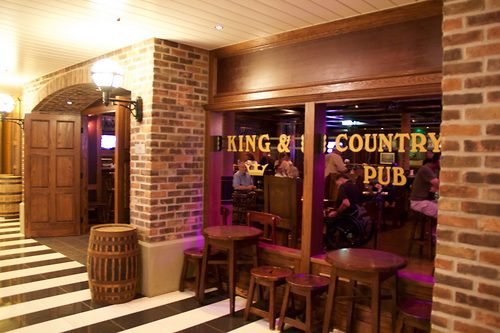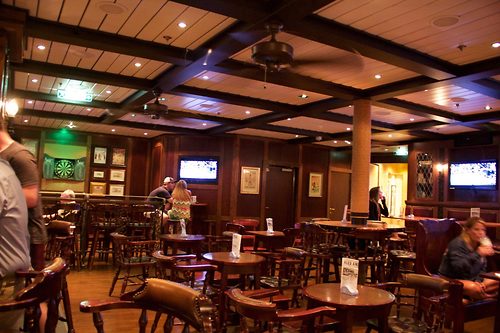 The staff in there let me order any beer I wanted with my C&A diamond drink coupons.  In fact, they surprised me with a few different options, really great crew in there. 
Dinner
Well friends, I decided to go back to the Windjammer, and I'm glad I did.  Tonight's dinner was so good!  They had so many options, even chicken fried rice, yum.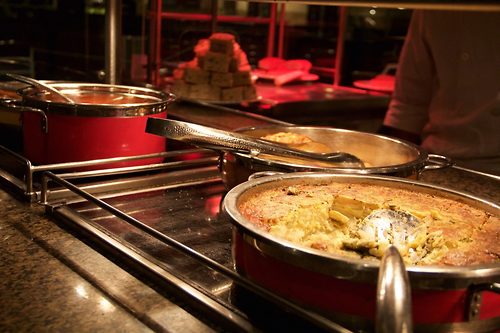 Matt would be happy also, they had the main dining room lasagna. 
The service was also really great; they kept bringing me new water while I was eating.  Also, one of the main chefs came to my table to see how I was enjoying the meal; you don't get this in the main dining room.  
After dinner, I explored the ship and enjoyed some live music which seems to be everywhere on this ship.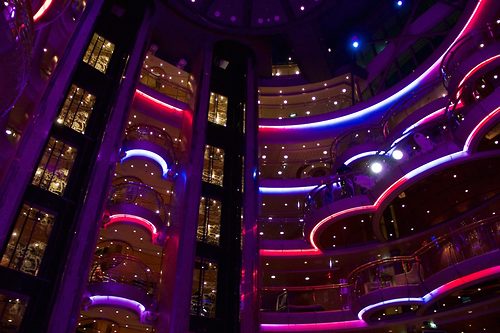 That's it for day 2, tomorrow we have our first sea day. 
Drink Package vs Non Drink Package Check Up
Today I paid for two Stella's, one before Key West and one once I was back on board.  So a total cost of $14 for the two beers. 
However, I did have two beers in Key West at the restaurant for $5 each, but still when you factor those I'm under the daily drink package cost. 
Now let's see if I can hold out on the package for our first sea day tomorrow. 
WiFi
I thought I'd mention the WiFi onboard; it's $20 per day for one device.  
I used my Diamond C&A coupon, which is pre-loaded when you buy it on board.  The coupon was $40 off, so for five days the package cost me $60. 
Other than ships with Voom, the Wi-Fi is working great. I'm able to send a picture about every 60 seconds via email, and my devices are staying connected all over the ship.