In:
When going on a Royal Caribbean cruise, there are a lot of things that can save you time and money, or improve the quality of your vacation. Here are 50 random tips that our very own Royal Caribbean Blog readers sent in based upon years of taking Royal Caribbean cruises.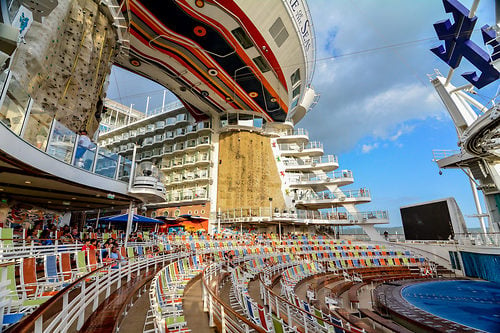 The intention of this list is to provide you with idea and strategies for an even better Royal Caribbean cruise experience.  Regardless of how much or little they help, all of them can help anyone improve their cruise experience and perhaps even discover a new cruising tradition.
Make sure to also read the additional reader tips in the comments, as some of you readers have some great tips of your own that are really helpful. If you have some good tips, be sure to add them there, too. The more, the merrier!
With that said, let's get started with the list…
Go through the entire ship on embarkation day to know where everything is. (Jose Pena)
On Oasis Class ships, if you wish to miss the crowds in Windjammer and the sometimes extended waiting in the Main Dining Room for breakfast? Try Johnny Rockets. (Ron Lodowski)
Don't feel pressured to buy the most expensive drink package. Buy the package that makes the most sense for you! I don't drink much alcohol so I only buy the refreshment package which gets me all the non-alcoholic drinks, coffee, and tea. I'd rather pay for 1 or 2 glasses of wine rather than wasting my money on a drink package that I'll never use. (Jenn Kerr)
Sign up for the Vitality Spa raffle on embarkation day and go to the raffle drawin. May people who sign up, do not show up, which increases your odds of winning. (Jose Pena)
Try to arrive the day before ship leaves so you don't feel frazzled and hurried. (Judy Lathon Carson)
Don't try to do everything or you will enjoy nothing. There is something happening constantly and you can quickly overwhelm yourself. Relax. If this is your first cruise, focus on the "highlights" they publish. They know those things will give most newbies a great vacation and it will allow you to get your bearings for the next one! (Paul Crow)
To speed up boarding on ship at any port: Before going through security screening, empty your pockets in to your carry bag to be X-rayed, and also if you keep small items(i.e. coins, keys, ect) in a Ziploc bag it makes it easier to empty pockets before metal detectors. (Tom Meyer)
Bring your swim trunks/bathing suit in you carry on. Embarkation day is a great time to enjoy the pool and Solarium. (Jose Pena)
Use the pools right away when you board, by the time you get out, your rooms will be ready! (Erin N. Lyons)
Back-to-back cruises are a great way to get to know the crew and see all a ship has to offer. Be friendly with crew mates and they will be helpful to you. Gotten free drinks and courteous service because of this. (Jose Pena)
Check out the Main Dining Room for breakfast and lunch. It can be much more relaxing than the Windjammer - you can sit and meet people and relax rather than try to find a table and be back and forth to the buffet. (Brandon Mowry)
Use the nursery on the ship when you have a infant. A great way to convince your significant other to take a cruise. (Jose Pena)
Unpack completely. The rooms are small but they have great storage space. Unpacking and keeping things in their place will make your room more relaxing. Also, bring something to store your dirty clothes - worst case, throw them in your suitcase. (Deborah Wolfe)
Arrive early for all shows to get good seats.(Jose Pena)
On embarkation day,  I suggest you do the things that will be harder to do once everyone find their way around, such as the Flowrider, zip line, bumper cars, hot tubs, etc. (Scott Stein)
Pre-purchase and pre-book everything you can via the Cruise Planner. Less time wasted in lines while onboard and less stress. (Karah Ryan Smith)
On Anthem of the Seas, ride the North Star on embarkation day and right after rooms open, no lines or reservations required. (Ron Hiller)
If something's not quite right, mention it to someone. The crew's ultimate goal is for you to have a great trip, and they'll do whatever they can to make that happen.(John Bamber)
Get to know your room attendant right way. I always make a request for more pillows and to always have ice in my room at all times. (Jose Pena)
After packing your bag, repack and eliminate half of what you packed! (Judy Lathon Carson)
Go to the spa on port days or early in the morning or late at night for discounts. (Christie McLarty)
If you are staying in a suite visit the Concierge Lounge early in the cruise and introduce yourself. I find out that in all cases the better he knows you the more he will bend over backwards to make your cruise totally memorable. (Ron Lodowski)
If you can't afford a balcony, go for a inside room. It's better to be on a Royal Caribbean cruise than none at all. (Jose Pena)
Use a travel agent, arrive at the embarkation port the night before your cruise begins, buy a specialty dining package (Tracy Tompkins)
Reserve your dinners/shows that you could not do online right when you board the ship. (Erin N. Lyons)
Tip beyond your thoughts. Tip with your feelings. If a crew member moved you in some way, they enhanced your cruise experience and that deserves to be compensated. Don't over-calculate. Just show your appreciation. Give! Karma will take care of the rest! (Scott Stein)
Take pictures of the crew and name tag that way you have it on ur phone and readily handy when completing the survey. (Judy Lathon Carson)
When in doubt, always ask. The worst that can happen is that they say no. (Jose Pena)
Just remember, you aren't going to be able to do everything. Just relax and have a good time. It's vacation! Don't worry about fitting everything in, just have a good time and do what you want to do. There's no need to stress over FOMO, that's what another cruise is for! (Lance Millican)
Doing a shore excursion through Royal Caribbean is the only way to ensure that the ship won't leave without you if your excursion is late getting back to the pier! (Jenn Kerr)
If you've never been to a particular port before but want to experience it, definitely book shore excursions through Royal Caribbean. Best way to see a new place, so you can then go back later and do things on your own. (John Bamber)
Start a Vacation account (aka Royal Caribbean cruise fund) to save for your cruise. I have money deposited every week from my paycheck for this purpose. (Jose Pena)
Look at travel rewards credit cards to help fund your trip. Chase Sapphire Preferred, Bank of America Travel Rewards, etc. These cards have the potential to be very lucrative. (John Bamber)
Plan and get as much information ahead of time. Be prepared. Royal Caribbean Blog is a good place to start (and other sites). (Jose Pena)
Participate! Go to trivia and dance class and other activities in sea days. So much fun. (Deborah Wolfe)
Also, don't be afraid to have fun and make a fool of yourself you'll most likely never see most of those people again! (John Bamber)
A shoe organizer that hangs on a door is a great way to help store items in your stateroom. Put it on the outside of bathroom door. (Marc Van Niekerk)
Want to dance Spanish music? Boleros is the place for you. If you have a song you want played, request it to the musicians. They will play it. (Jose Pena)
Take advantage of the BOGO Promotion on the first two nights to experience Specialty Dining. The price of this specialty dining package is a great value and means of which to try them and determine which ones really appeal to you. (Ron Lodowski)
Make sure you have a good travel agent who checks for price drops regularly. (Cheryl Knipe Brinson)
For ladies, take a pashmina. It doesn't take up much room in your suitcase and it comes in handy to keep you warm on the deck or at shows and to put over you head when it is windy. Even the Caribbean sailing can be chilly at night. (Dawn Johnstonbaugh)
Listen to as many podcasts /periscopes on cruising as you can and become a member of Cruise Critic. (Deb Veerkamp)
Don't over plan/organize too much. You don't need a activity every island every hour. You may stumble across something fun and want to do it, or you may just want to relax. (Jerel Donovan)
Take your swimwear in your carry-on luggage on the first day... You can be in the hot tub with your cocktail before lunch (Pippa Madden)
Explore the ship and don't be shy to meet people from different places. Cruisers come from around the world to cruise. Find the unique things on your cruise ship that makes cruising more enjoyable. Try different foods that you normally would not try. Remember it is a vacation and go with the flow. (David Quainton)
Once on the ship go straight to the Main Dining Room to see your table, if you don't like it they will get you somewhere else. The sooner you go the higher on the list you are for changes. (Jerel Donovan)
Go see all the productions shows and try at least one food item you've never had before at some point during the cruise! (Clayton Jackson)
Get a lanyard for your SeaPass card. (Erin N. Lyons)
If you have medical issues, or questions, always ask in advance via Special Requests. I was provided distilled water and an extension cord for my CPAP machine, free of charge, which was a blessing not having to fly with a gallon of water in my checked luggage. (Lance Millican)
If you need to go speak with Guest Services, avoid long lines by going during quiet hours. And try to avoid first and last days, when they're the busiest (Karl Schlenther)
Your thoughts
What do you think of our tips for enhancing your Royal Caribbean cruise experience? If you have solid Royal Caribbean tips that aren't mentioned here, please post them below! If you have any other comments or questions, please feel free to post those, too.