Harmony of the Seas Live Blog - Michael's Day 1 - Embarkation Day
In:
The long awaited cruise morning finally arrived and of course I woke up at 5am to watch the ship sail into port. I don't know what it is, but I can never sleep much the morning of my cruise. I stayed at the Hyatt on 17th street and from my window I could see Harmony of the Seas. The hotel is a great location, because it was only a few blocks away from Port Everglades.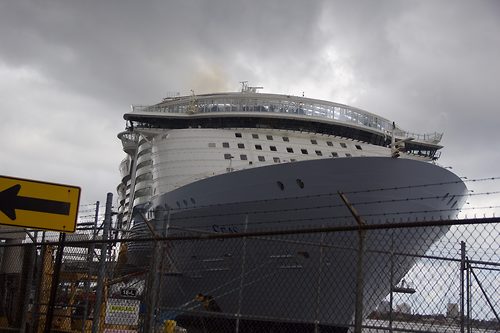 Boarding
We arrived at the terminal at 9:45am and did self-parking, which I love because it's only a few feet away. Since I was staying in a suite they we a separate check in area for us. Once inside they separate you from which suite class you are in, very similar to what they do on the other side, but by which floor you are on. Once you check in at the desk, it's very quick because they don't hand you a seapass card.
Those are in the cabin waiting for you to pick up when the cabins are ready. We waited in the suite area, and it was around 10:40am and they started boarding us. Very easy process, and I was very surprised they boarded us so early. Once I was on board I went straight to guest services to exchange an old wow band I had, to be active on this sailing. They simply take the old band, and get you another one that works, great way to save $5 on a new one.
On Board
After I received my new wow band I went to Chops Grill to schedule my dinners for the week. Since I have the Ultimate dining package, I wanted to schedule everything. They also have a table setup in the dining room you can do this as well. The only thing they can't reserve is Coastal Kitchen, so we must call or go visit them.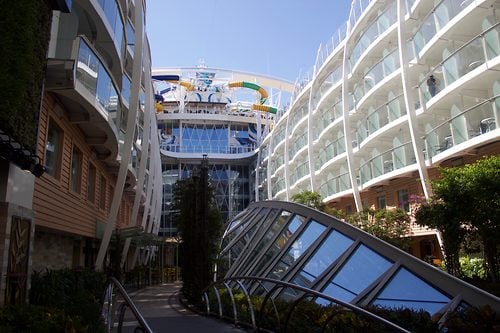 Lunch was in Park Café, with the famous Royal Kummelwech sandwich and my first adult beverage Stella. This has become my go-to spot for lunch on day one anytime I'm on an Oasis class ship. Many don't know that Park Café is free on board, so they simply just skip it for Windjammer. After lunch they informed us that our cabins were already ready and it was only 11am. At first I thought this was an error, but the last sailing was half empty, so most cabins went unused.
My cabin is Junior Suite 6644 on the hump. When I arrived there was one seapass card outside and the other one was supposed to be lying on the bed. However, it wasn't so we just made quick trip down to guest services for a new one. The seapass card it's used that much since we have the wow bands. The cabin itself is very large; I love our deep the balcony is, with a full lounger. I also love how wide the cabin is with so much space to move around, I hope this cabin is not spoiling me or I'll be in big trouble on future cruises!
At 2pm we had our first official meet-up, as part of the Royal Caribbean Blog Group Cruise. I was sitting at the bar thinking what to order and thought it's time I try my first lava flow. The drink was very good, but a little too sweet for my liking. We also had another meet up for sailaway on the top deck. They had little carts going around, so it was very easy to get drink if you wanted one.
Evening on Board
On deck 12 the entrance to Wonderland they have a nice bar with special cocktails. This of this bar, as like an R Bar on other Royal ships. The bar was totally empty; I think most people don't know you can come up here just for drinks without eating here. We tried some of their cocktails, and I'll say they were very different.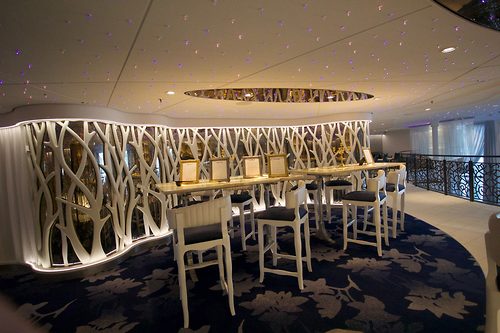 For dinner we had Jamie's Italian, this was my first time dining here. For our starters they had a large meat plate in the center of the table. This was a pretty setup and very different than something I've tried before. The main course, I ordered the steak and my waiter recommend the lamb, so I went with that. I lamb was very tender and I'm happy with that selection. I think the desert was my very part of the meal, the cheesecake. Overall, the meal was very enjoyable and I'm happy I tried Jamie's. However, I don't think it's my favorite option going forward.
After dinner we enjoyed some live music down at the schooner bar. I usually don't spend a lot of time at the schooner bar during my Oasis sailings, but I'm happy I went it was a blast! I think being in a large group with friends also helps. I did walk into Dazzels at 11pm and it was empty other than the band, so I went back to Schooner bar.
That wraps up my first day on board Harmony of the Seas. It was an action packed day, but so much fun. Tomorrow is our first sea day, so I'm looking forward to some waterslide and relaxing poolside.