In:
Today is our first port stop and it is among my favorite ports to spend the day, Labadee.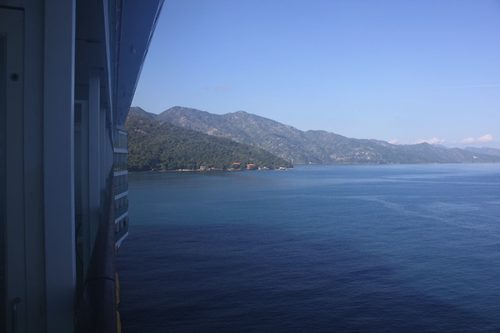 Labadee is Royal Caribbean's private destination and it is all about a beach day.
We were scheduled to arrive at 7am and be cleared by 7:30am, but we did not get the announcement until 8:30am.  It did not really matter, since we were not up and ready until maybe 9am.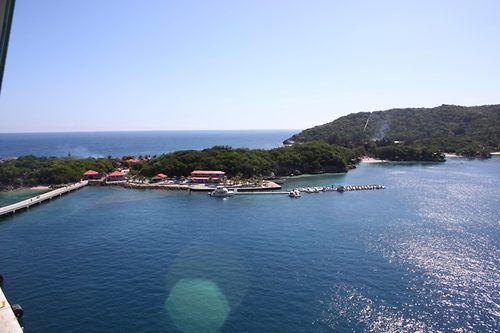 We had breakfast at the Windjammer and then promptly dropped my 5-year-old daughter off at Adventure Ocean.  She wanted to stay onboard rather than deal with the heat and sand of the beach. Whatever makes her happy!
Getting off the ship was quite easy and it is remarkable the difference of visiting Labadee on Navigator of the Seas versus our last ship, Allure of the Seas.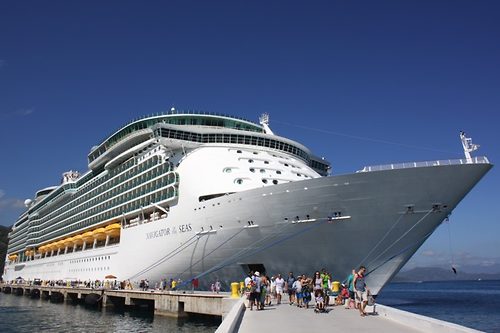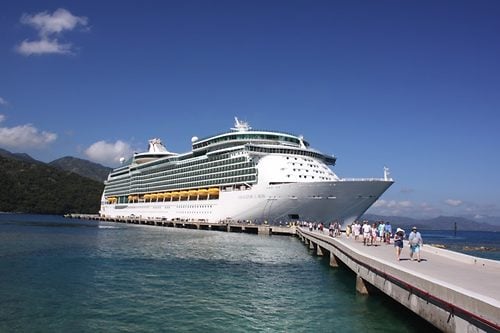 I had booked online a beach lounger because it was something I had not seen offered in Labadee previously.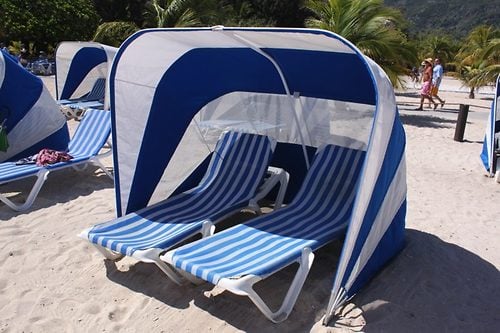 For $35, you could get a beach lounger, along with attendant.  It is somewhat similar to what has been offered on CocoCay for a while.
The beach loungers are set up at Adrenaline Beach in a roped off area that essentially has its own private beach.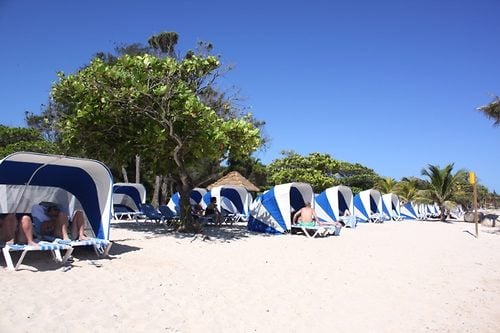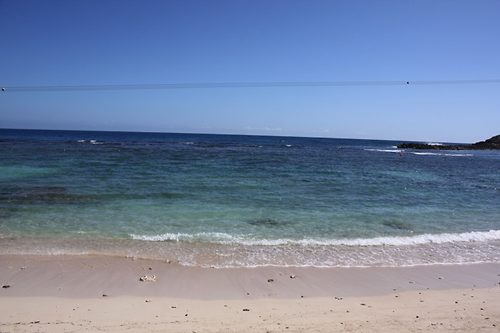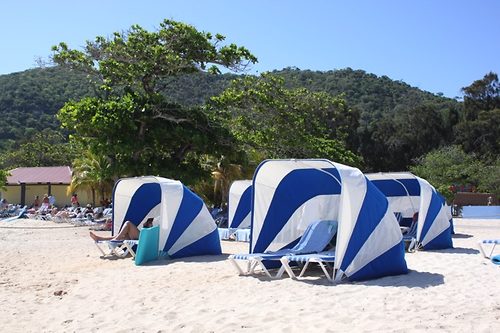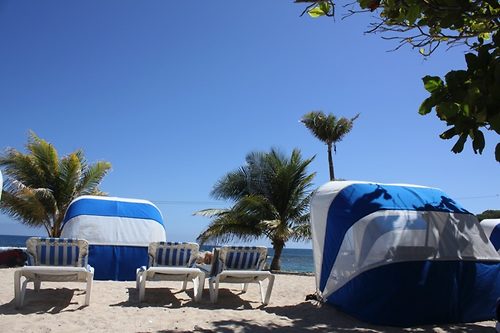 Each beach lounger has two beach chairs inside the lounger and an attendant who can get you drinks.
I will post a more formal review later on, but it was a nice way to spend the day.  We all ended up napping, which was fine with me.
I love Labadee's sheer natural beauty, warm waters and tons of activities, but getting a visit from the "Labadoozie fairy" is just what I wanted!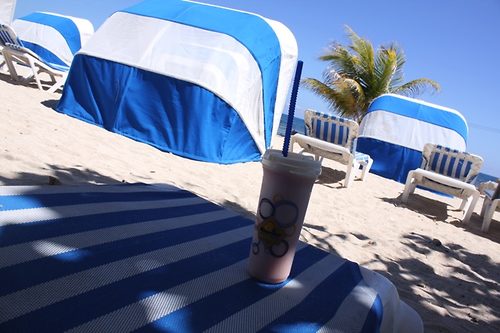 Our schedule at Labadee was a bit odd, with an early arrival and then departure by 2:30pm.  Given that, we got back on the ship around 12:30pm, rinsed off back in the room and had lunch in the Windjammer.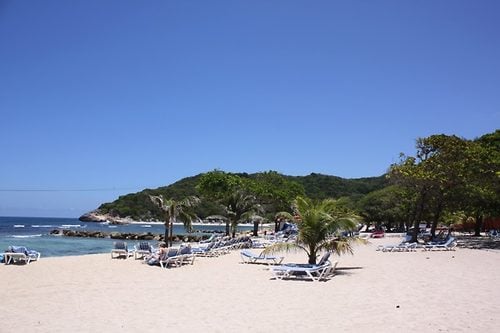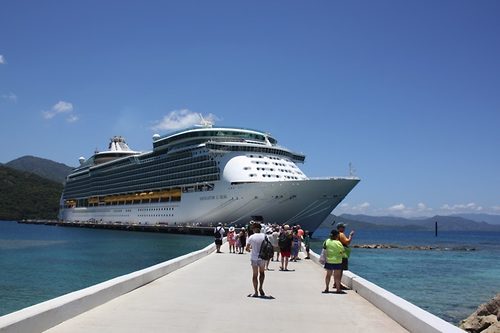 We checked on my daughter on Adventure Ocean to see if she wanted to leave, but she was having too much fun there, so we let her stay.
We walked by the NextCruise office to see if they were taking walk-ups. They had availability, so we stopped in for a quick "chat".  That is all I am allowed to say at this time. 
We headed back to the room for my 1-year-old daughter to nap and to figure out our plans for the rest of the day.
Seeing as my daughter was napping, it looked like a good idea, so I partook in the hard to find but often sought after, two naps in one day!
When I (and the baby) came to again, it was close to dinner time so we retrieved my 5 year old from Adventure Ocean.  I made a quick pit stop at Cafe Promenade for a Starbucks infusion (it's not easy taking two naps in one day).
As the sun started to go down, it was a very pretty sight to behold from our balcony.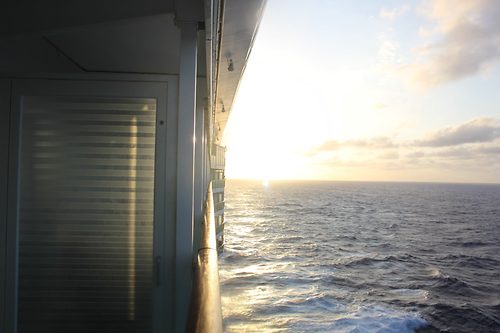 It is views like this that make a balcony worth every penny!
After we got the kids dressed and fed, we brought them up to Adventure Ocean and the Nursery and my wife and I headed down to a place we loved on our last Navigator of the Seas cruise, R-Bar.
R-Bar is a throwback kind of lounge, with kitchy furniture and personalized cocktails.
I looked over their menu but remembered a drink they used to make at the R-Bar on Navigator of the Seas, called the Raspberry Ricky.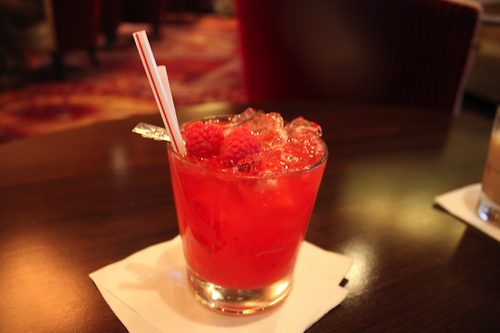 The waitress was surprised I knew what that was and was able to make it for me.  Score!
Tonight was Italian night in the main dining room. I love the Italian night menu and think it is the best overall main dining room menu.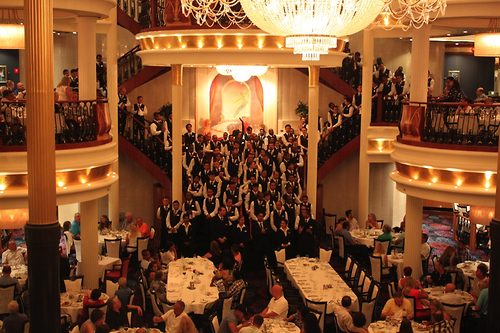 I went with the lasagna and eggplant parm, neither of which disappointed!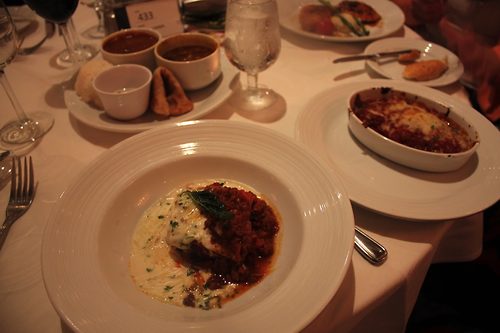 Following dinner, we did a little gambling and enjoyed some time on deck before collecting the children.
Tomorrow is our next port stop in San Juan, Puerto Rico.  We are going to do a lot of exploring, so it should be a full day.
Stray Observations
The Diamond drink coupons are evidently available to use at Cafe Promenade for select coffees: lattes, cafe Americano and a few others. Sadly, my go-to caramel macchiatto is not included.
Maybe this is what happens after you cruise on Allure of the Seas, but I have found very, very few lines onboard. Crowds are nearly non-existant.
Tonight's entertainment is 70's night, but we decided to skip in order to get some needed sleep and get energy for San Juan.
Speaking of entertainment, today's Cruise Compass activities felt very light in terms of things to do.  I believe 70's night plays a lot in that.
Tomorrow morning in the Nursery is a complimentary music event from 9:00 - 9:45am and I would like to go there, unless by some miracle the kids sleep in.
A special hello to Chad and his family, who said hello while we were in the R-Bar.  Talking to Chad got me super excited for our group cruises!
If you have read all of this and thought, "Gee, it sounds like all Matt did was nap today" then you would be 100% correct. Never pass up a good nap opportunity!
Live Blog Index