In:
As a parent, I am keenly aware of the saying that you do not have favorite children, but when it comes to Royal Caribbean ships, it is a completely different story.
This week, we are heading back for our second cruise aboard Royal Caribbean's Navigator of the Seas, which I am unabashidly call my favorite Royal Caribbean ship.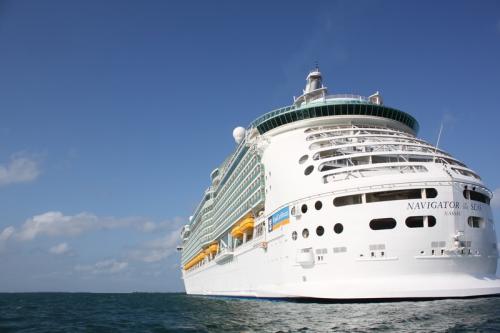 I sailed on Navigator of the Seas back in 2014, following her refurbishment that added a lot to the ship.  You can read the live blog I did from that cruise here.  We are returning to Navigator of the Seas largely in part because of the great experience we had the first time.
I think it is insightful to share why people book the Royal Caribbean cruises they end up going on, because it reveals the thought process in picking between the 24 ships in the fleet and what compels us to pick one ship over another.
In booking this cruise, I engaged in some pro spouse strategy.  I figured my wife would be somewhat hesitant to book a cruise around this time of year, so I did the sensible thing: I told my wife I was booking a cruise for her birthday!
Despite some eye rolling and that look wives give their husbands when they know there is scheming going on, she went along for the ride and we started looking for cruises.
We had some requirements when booking this cruise: it had to be on or around her birthday, it had to be reasonably priced and it would be nice to get a special stateroom category to make this cruise more memorable.
The issue with cruises in late-April is Royal Caribbean is about to move many of its ships over to Europe for the summer season, so the inventory of possible cruises to choose from is somewhat varied.
We ended up picking this eight night eastern Caribbean cruise on Navigator of the Seas because it meant a return to a ship we really enjoyed, a somewhat different itinerary than we had done in the last few years and we managed to snag a junior suite.
First and foremost, I really liked the idea of going back on Navigator of the Seas.  I thought the 2014 refurbishment added a lot of great amenities that breathed new life into the ship.  I really liked the assortment of specialty restaurants added and the ship in general was a lot of fun.
We also booked a Junior Suite, which is something we have not done since our honeymoon cruise on Mariner of the Seas.  With 2 kids, we should have plenty of space and a balcony that faces the ocean (my wife loves these).
Our itinerary is also interesting to us, because we get to visit some favorite ports and a new one too.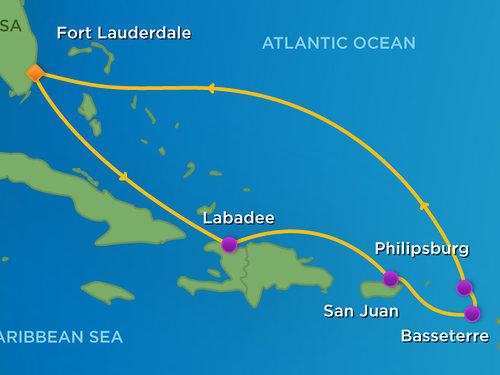 Labadee
San Juan, Puerto Rico
St. Kitts
St. Maarten
Labadee will naturally be a beach day. No cabana this time, but I did reserve a beach lounger because it was something I have never seen available on Labadee previously.
In San Juan, we are there from 2pm - 9pm, and that is some odd timing.  Nonetheless, our plan is to leave the kids in Adventure Ocean and my wife and I walk around Old San Juan.
We have never been to St. Kitts before and because I love exploring new ports, I cannot wait to see what St. Kitts offers.  We were going to book an old time train tour of the island, but it was no longer available to book online.  Our plan is to try to book it onboard or just get off the ship and see where we end up.
In St. Maarten, we will be using the services of a taxi driver that we have used many times, Leo Brown, and will likely do a few different things.  I would like to go to Marigot first and then end up at the beach, rather than beach first and then take tired (and wet) children to try to eat.
Onboard Navigator of the Seas, we made reservations at Sabor Modern Mexican on Cinco de Mayo, because... why not?  We also aspire to try as many of the specialty restaurants as we can.  My wife has requested we hit up Chops Grille, because we did not go there on Allure of the Seas.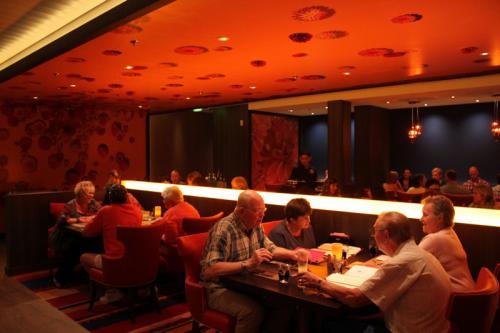 Otherwise, this should be a great family cruise and we are all super excited to get onboard and start our adventure.  Follow along right here for a new blog post every day all about what we did that day.  I will also be sharing the experience on Twitter and Instagram, if you enjoy lots of photos.
Hope you will follow along with us and please feel free to post questions and thoughts in the comments of this and any post.  I want this live blog to be an interactive experience, so please join in and don't be shy!
Our next update will be on Saturday, April 30, when we board Navigator of the Seas!
Live Blog Index
Day 3 - Labadee
Day 4 - San Juan
Day 5 - St. Kitts
Day 6 - St. Maarten
Day 7 - Sea Day
Day 8 - Sea Day