In:
With all the anticipation of a Royal Caribbean cruise, embarkation day is the day we all look forward to the most because it is the first day of the cruise, but the first full day onboard is truly when the cruise begins.
I certainly count down to embarkation day fiendishly, but there is so much going on in those first few hours that it is that odd day that differs from the rest.  
With our first full day and a sea day, today is when we really get a chance to experience Navigator of the Seas.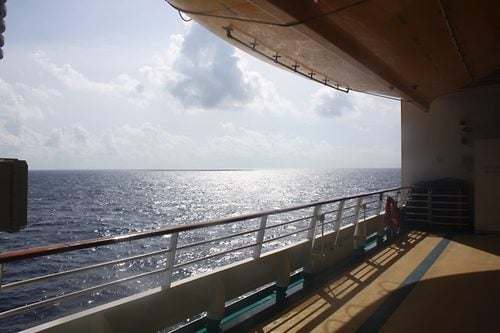 Our youngest daughter woke up quite early (6:30am) and so we got an earlier start than we would have liked. Evidently it is quite difficult to explain to a baby that dawn does not mean it is time to get up.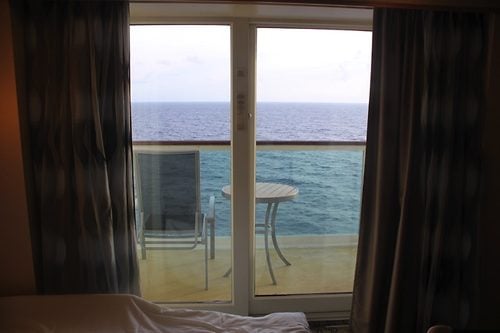 I took this opportunity to check to see if Voom internet had been activated, with the ferocity and excitement of a young boy on Christmas morning. Alas, there was no Voom waiting for me under the proverbial tree, and I resigned myself to using the conventional internet for the rest of the sailing.
We got dressed and headed up to the Windjammer for breakfast and to witness the beautiful start to our morning.
Breakfast was your classic Royal Caribbean Windjammer breakfast, and the omelette station continues to offer my favorite choice.
We had no firm plans for the day. Our whole plan was to have the kids sleep in (or not) and then play it all by ear.
Following breakfast, we had some time before Adventure Ocean opened up. We walked around the Royal Promenade (grabbed a much needed Starbucks coffee), played mini-golf and otherwise explored the ship in the time it took before Adventure Ocean opened.
At 9am we promptly dropped my daughter off, while my wife took the toddler back to the room for a morning nap.
I took this opportunity to try my hand at morning trivia.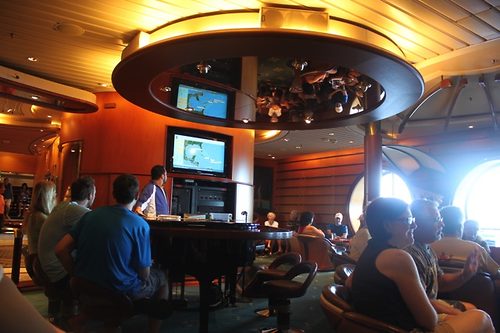 The trivia theme was general trivia and I joined a couple from Michigan. Lo and behold, we won!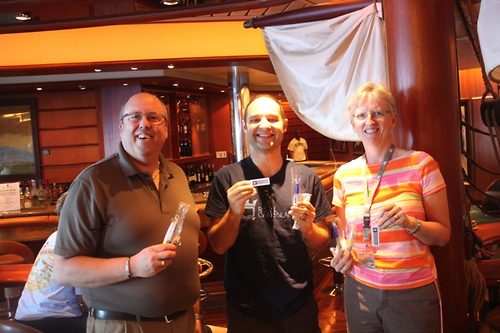 Next, I headed up to the pool deck for a little sun, figuring it might make sense to enjoy the Caribbean breeze and some sun.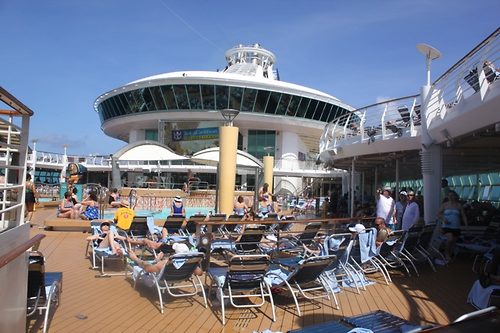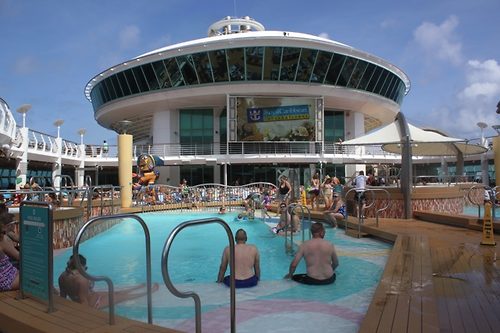 Of interest was the pineapple drinks being served and Sabor did a guacamole demonstration (followed by guacamole sampling).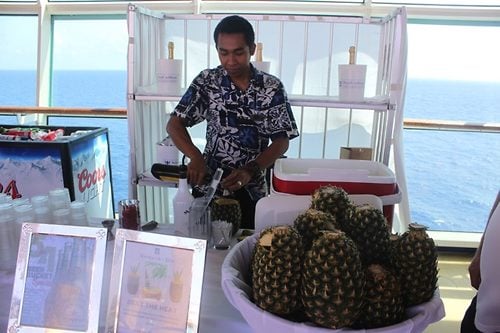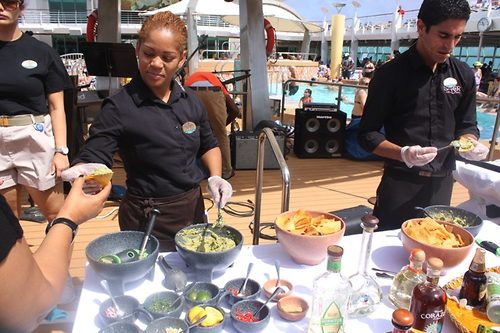 Surprisingly, the Sabor staff were offering dinner reservations for any night for $20 (a $5 per person savings) if you booked on the spot.  I booked Sabor for dinner on the last night as a means of enjoying "one last guac."
Some folks had requested photos of the Diamond Lounge, so I happily obliged.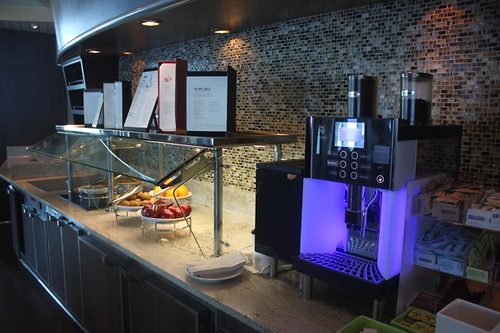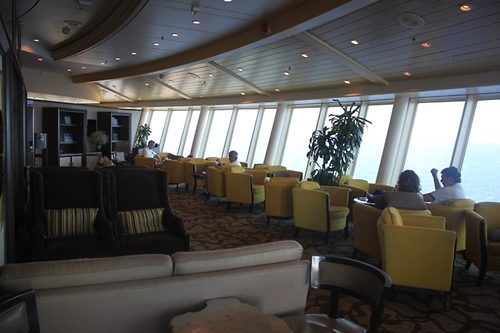 For those keeping score at home, the coffee maker is working once again and the Diamond Lounge attendant is Jayeon.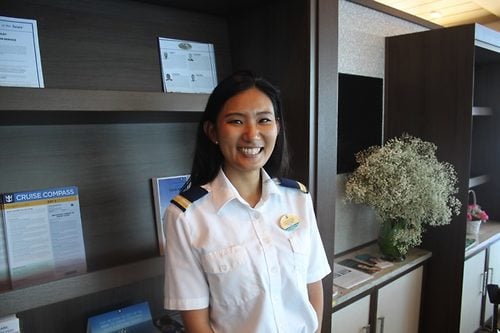 Next was the Cruise Critic Meet n Mingle in the Cosmopolitan Club.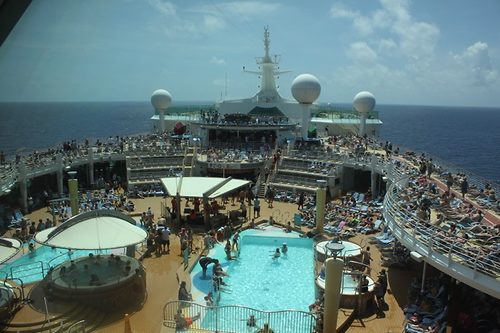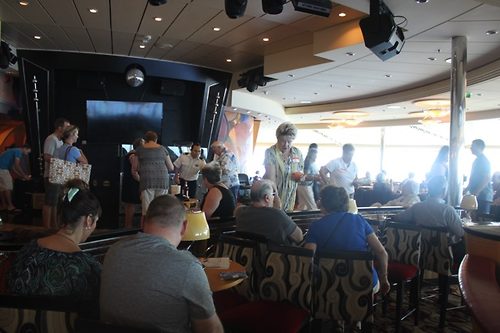 This was a rather large group, with over 120 members in attendance!  I did not win anything, but did enjoy the company and complimentary rum punch.
I collected my daughter from Adventure Ocean (they take a two hour break in the afternoon) and at her request, we all had lunch at Johnny Rockets.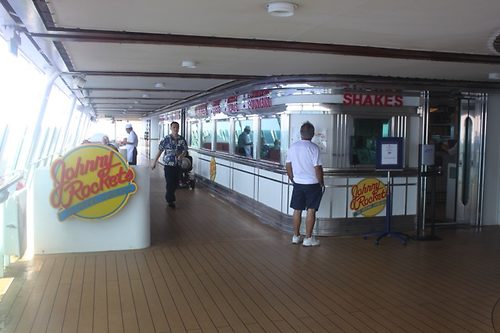 I was concerned about a line to eat at Johnny Rockets because it was a sea day, but there was plenty of seating.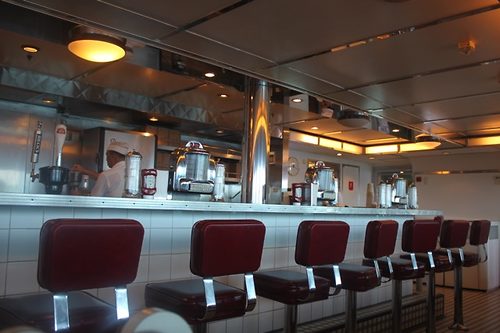 I recall cruises in the past where Johnny Rockets would be crazy busy on sea days for lunch, but my wife I think that has changed since the Crown and Anchor Society coupon changed from a BOGO cover charge to just a BOGO milk shake.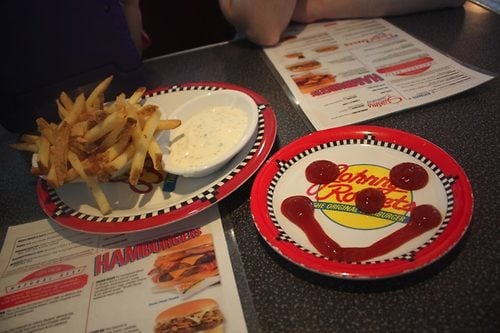 We did some more exploring after lunch, including seeing the newly redesigned NextCruise office.  I think it looks great!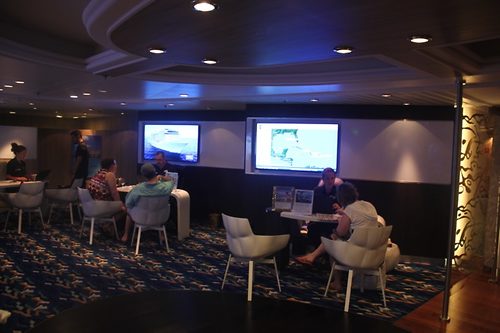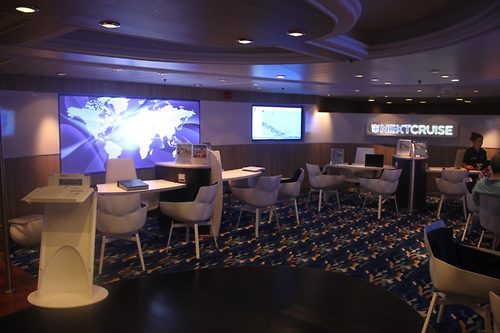 With Adventure Ocean back open and one of our children off doing her own thing, I told my wife to go do something fun on deck and I would stay with the baby while she napped in the room.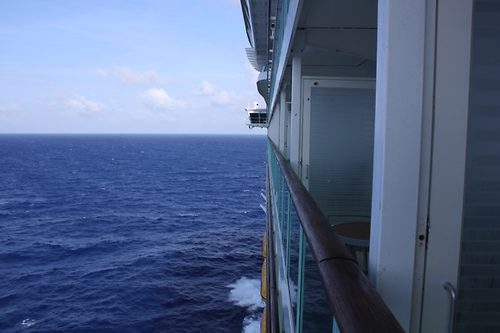 One key lesson about taking young children on a cruise is not to skip naps.  They need them or the rest of the day will just end badly.
Following nap time, the girls all took showers while I took an opportunity to enjoy some "pre-dinner" at Izumi.
For those new to my live blogs, sometimes I ike to have something to eat prior to my second seating at dinner, which is at 8pm.  I am only human, so I need a snack...may as well be sushi!
I picked Izumi and had reserved it on the website.  I was seated promptly right by the window.
I make it no secret that Izumi is a favorite restaurant of mine and this time I went with my usual: miso soup and DX Sushi Combo.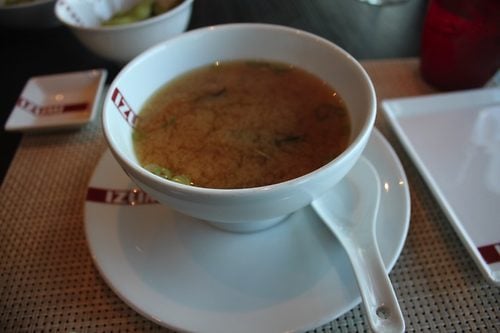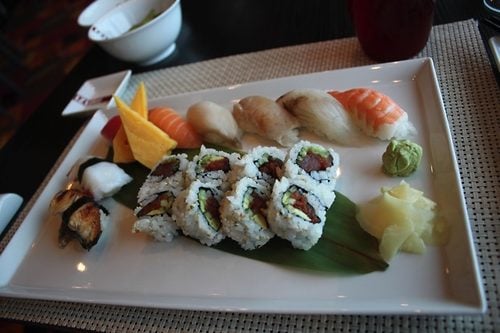 The reason I pick the DX Sushi Combo is for the money, I believe it is the best value piece-for-piece on the menu and the selection is quite good and ample.
I also had to try this drink, the "Call a cab! Sakirita" just because of the name!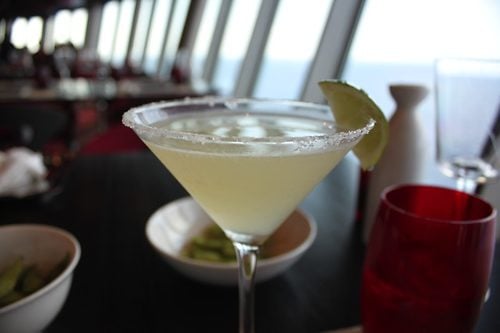 I returned to the room and dropped the kids off at Adventure Ocean and the Nursery.  At the nursery, my daughter was the only kid there, which I found peculiar given it was formal night and prime time (7:30).  We always suspected there are very few children on this sailing and I am pretty sure that is still the case.
Dinner was in the main dining room and it was formal night.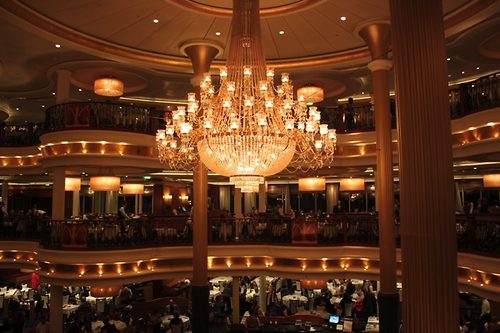 Great food all around and we have a great waiter (Vanju) and assistant waiter (sorry, I cannot think of her name at the moment).
We finished dinner ealier than normal, so we wandered the Royal Promenade.
First up was the Royal Caribbean logo store, where I spotted these new shirt designs, perfect for the Royal Caribbean fan.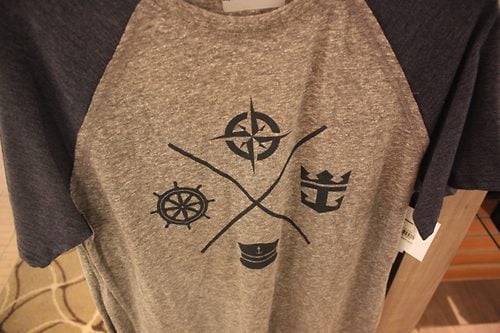 We also stopped in a for a set at the pub and sang along to some favorites (Country Roads!).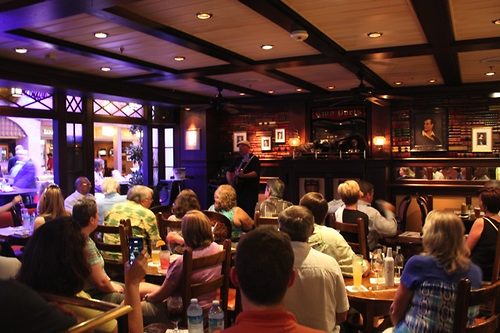 Our entertainment for the evening was the Broadway revue show.  We had seen it the last time we were on Navigator and I am fairly certain it is the same show as on Brilliance of the Seas.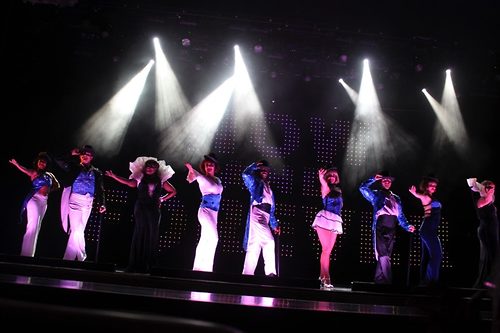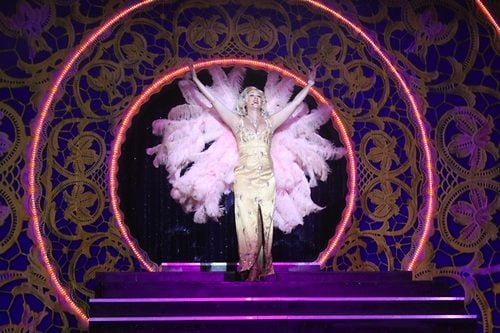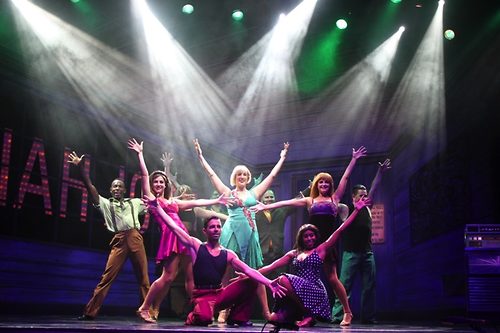 My wife loved it, and that is all that matters.
Tomorrow we are in Labadee, and that is our first port stop.  Our timing there is odd, as guests can disembark at 7am and must return by 3pm.  
Stray Observations
I spotted another cruise ship following us and I think it is a Princess ship.

I also spotted a baby splash pool for kids in diapers.  I will be investigating this further because....
We realized we forgot to pack swim diapers.  They do not sell any diapers onboard, so part of our San Juan excursion plans now include a stop at CVS. Oh, the exoticness and pizazz that await me there!
One team at morning trivia attempted to cheat, by saying they had more points than our team in trivia, until they were told the prizes were pens and keychains.  At that point, they folded like a cheap table.
Weather has been great, with waves less than one meter in height.  My kind of cruise!
Regarding Voom, I spoke to a few officers but have not gotten a firm answer on when it will arrive. Almost no chance for this cruise, but it sounds like for the transatlantic it could be activated.
We were sailing really close to Cuba today. Much closer than I ever remember cruise ships going.  It was close enough you could see trees, not just land.

There are few relaxing experiences as sitting on one's balcony and enjoying the view and breeze!
Live Blog Index
Day 5 - St. Kitts
Day 6 - St. Maarten
Day 7 - Sea Day
Day 8 - Sea Day