In:
Our second day began an earlier wake up than I thought I would have. Not certain why, but each morning I keep remembering I am on a cruise when I wake up, and then have an overwhelming sense of FOMO (Fear Of Missing Out) and want to get up and go. Of course, the rest of my body responds, "go back to sleep, you fool!"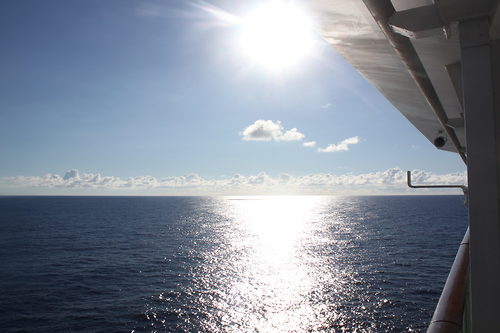 Once we got everyone up and changed, we had breakfast in the Windjammer. One of the nice things about Navigator of the Seas is even though we rolled in for breakfast around 9am, there was still plenty of seating available. In addition, I like the added international foods that I have seen in the Windjammer on this seating.
This morning we held a very fun event in the Conference Center for the folks in the Royal Caribbean Blog Group Cruise. It's our version of the 1970's game show, Match Game. In our version, we made it Royal Caribbean themed and I think we all had a blast.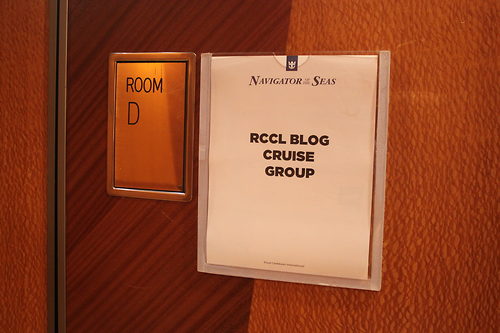 We had a few rounds of Match Game, with Sheila ultimately winning the game and coming home with a lovely $75 onboard credit prize, courtesy of MEI Travel.
As I mentioned in yesterday's blog post, the we changed time zones at 11am, so that meant there was no 11:00 hour, and at 10:59am, we went straight to noon.
My oldest daughter wanted Johnny Rockets for lunch, so we decided to give that a try. Johnny Rockets across all Royal Caribbean ships is an incredibly consistent experience. Whether it is Navigator of the Seas or Freedom of the Seas or Harmony of the Seas, they are very similar experiences.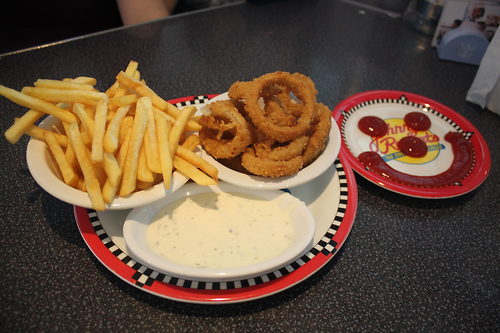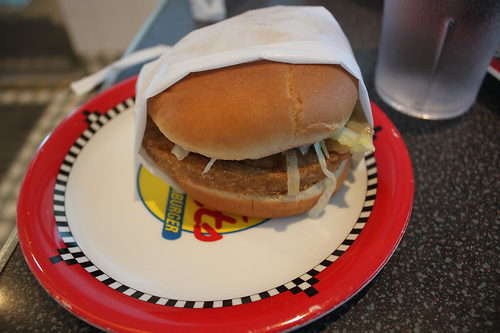 There was a quick turnaround for the next event, which was something we called "GuacFest." We rented out Sabor and provided guacamole, chips, salsa and some other appetizers for everyone that booked into the group cruise free of charge. I feel if folks support RoyalCaribbeanBlog.com and come to our events and support our sponsors, I want to turn around and support them. Holding fun events like this are a great way to do just that.
The kids went up to Adventure Ocean for the afternoon and my wife went to see the ice skating show in Studio B ice skating rink, while I went with some friends to visual trivia in the Schooner Bar. Visual trivia means you get a sheet of logos and have a fixed amount of time to correctly identify them all. There were 50 and we got 46 correct, but sadly missed out to the winning team that scored 48 correct answers.
As afternoon began to turn to evening, I collected the children and headed back to the room to get ready for dinner. Losing that one hour in the morning really made this day seem like it was over in a flash.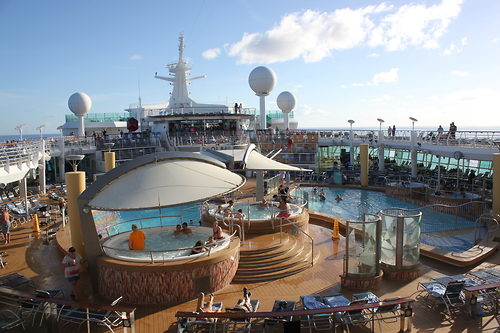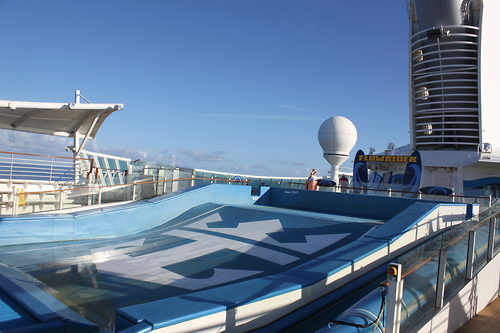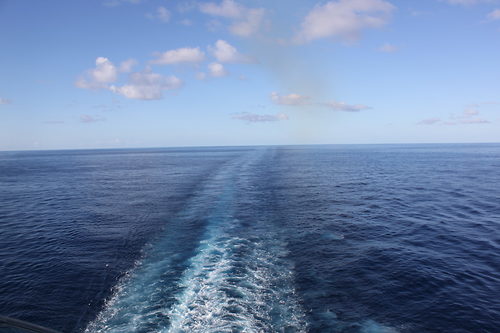 Tonight was the Top Tier Crown and Anchor Society welcome back party, where guests that are Platinum or above are invited for a special event to thank them for their loyalty. It was held in Studio B, and I really enjoy the fact Royal Caribbean takes time out of the cruise to thank its most loyal customers.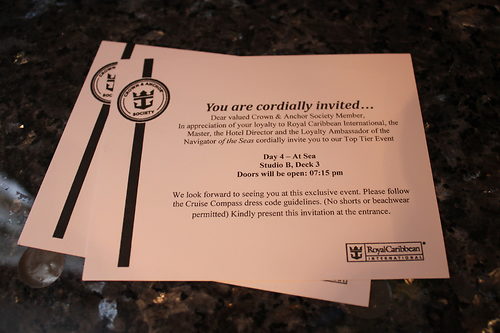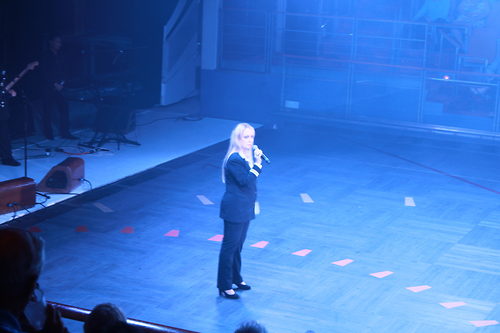 We headed to the main dining room for dinner, which was another great meal all around. I usually do not order dessert unless it is coffee ice cream. Tonight, this was my dessert.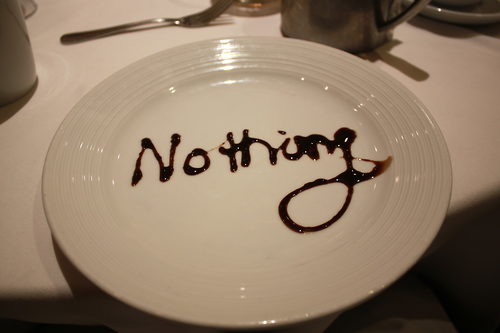 Following dinner it was time for some evening entertainment. We started out in the Pub and then saw the Love and Marriage game show in the Royal Theater. Love and Marriage is a classic show, and the couples this evening did not disappoint. The old couple, in particular, were very funny.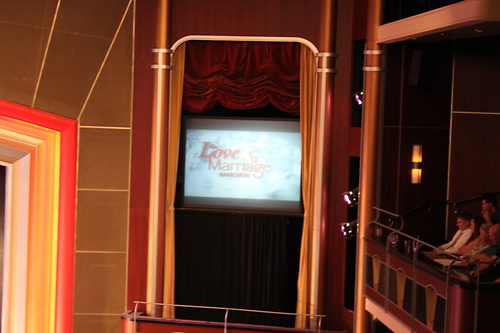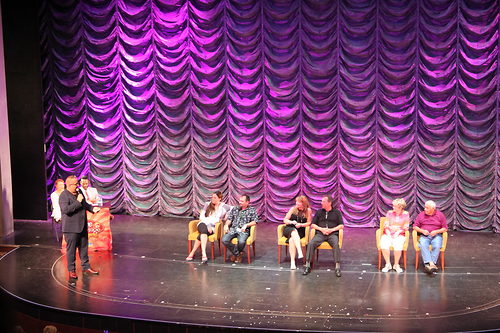 Stray Observations
The Diamond discount for internet is valued at 24 hour access (1 day) of Voom Surf. That means 1 day of Voom Surf & Stream costs $8 out of pocket with the Diamond coupon applied. The lesson learned from this is it is a better value to pre-pay for any Internet package before the cruise.
I can vouch there is lots of waiters available at the various bars, especially the pool deck.
We spoke to the head waiter after noticing the assistant waiter was taking bar orders in lieu of the bar waiter. Evidently there is a change happening across the fleet to remove the bar waiter and let the assistant waiter grab the drinks. The reasoning is the bar manager had to cover a vast area, and that lead to gaps between visits for refills. Also, the assistant waiter taking drink orders has lead to significantly more sales. If you are still not sold on the idea, the head waiter did note that any land-based restaurant has the waiter taking drink orders.
I spoke to Navigator of the Seas' Food and Beverage manager about the change to having the guacamole made in the kitchen (instead of tableside). The change was precipitated by recommendation by the U.S. Department of Public Health. I then mentioned that land-based restaurants do it all the time, and they pointed out cruise ships are under a different set of rules compared to land restaurants. While I prefer tableside guacamole, the final product remains the same.
Trying to figure out if the Golf Simulator onboard is still there and is actually open. There are signs, like this one, but was not around when a crew member was present to ask. The mystery continues.

Here are the FlowRider private lesson rates

I spotted an epic Donkey Kong reference in the pub

Tomorrow is a port day, and we will be visiting Curacao.