Majesty of the Seas Live Blog - Day Four - Key West, Florida
In:
Royal Caribbean Blog contributor Michael Poole is on Majesty of the Seas this week.
Today we are docked in Key West, Florida from 10:00 am - 5:30 pm.  It was fun being able to connect with friends at home with full phone service again, since we were in Florida.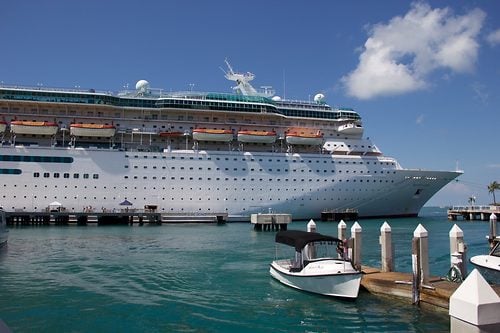 I spent my morning up in the Viking Crown lounge enjoying my daily Starbucks.  I purchased my coffee daily at $3 from the café, and it was worth it for me. 
Immigration Process
At 9:30 am, they started the immigration process, which was a little unorganized. 
They had two locations you had to attend one for United States citizens and another line for everyone else. 
Surprisingly the line for non-United States citizens was extremely long, had no idea I was cruising with that many people from other countries.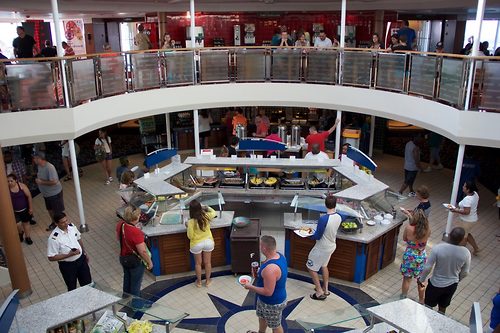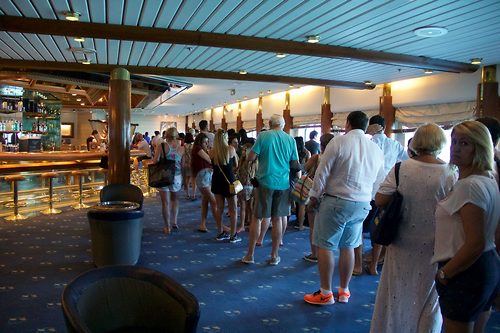 I decided to enjoy some champagne in the Schooner Bar and I'd head out later.  Somehow, I must have missed the announcement that all guest are required to take part in the immigration process, even if you were staying on board. 
I was enjoying my morning and just caught the immigration officers packing up when I went down at noon.  They informed me I would have received a $200 fine had I missed them, so maybe that's why I saw everyone in lines all morning! Hey at least I made it just in time. 
Key West, Florida
I didn't have any real plans for my day in Key West, I just wanted to explore the streets.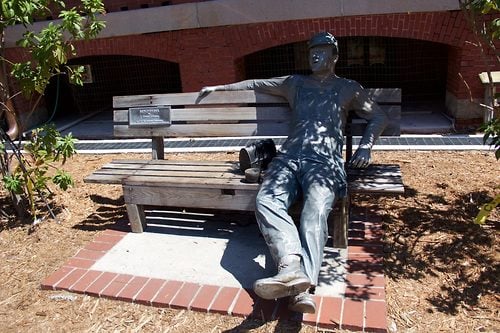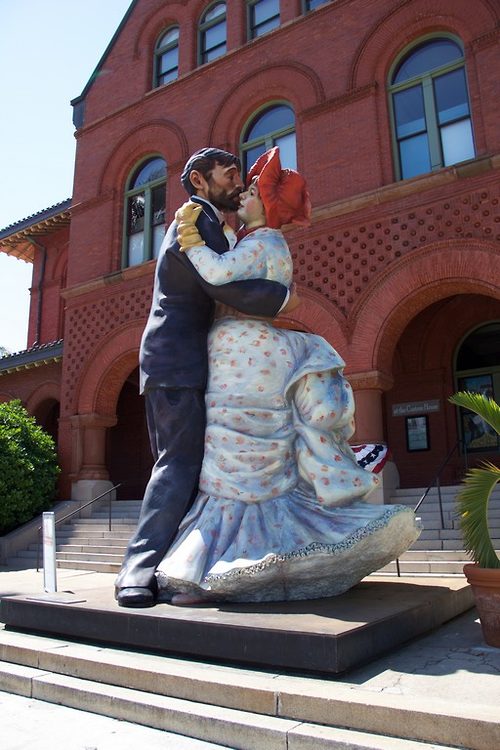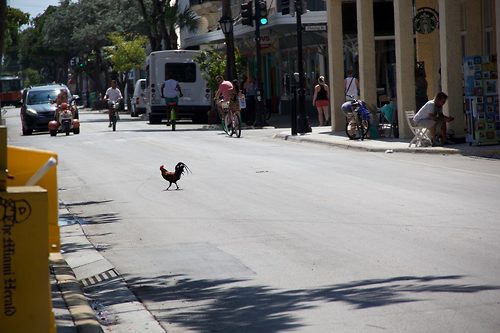 I walked around for around an hour before coming across the famous Sloppy Joes.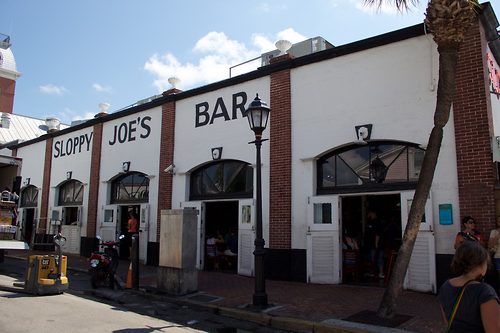 The restaurant has been opened since 1930's and many of the bartenders have been there for 30+ years.  They had live music going and it had that fun Key West feeling.  I didn't try any of their food, since I ate lunch on board at the Windjammer, but many were and it looked good too. 
If you are curious about the bar they have four live webcams on their website and they are pretty fun to watch everyone having fun. 
Afternoon on board
This afternoon. I decided to lay on the pool deck and enjoy the last few hours of sunrays I had left. 
Something a little different happen to me, I was enjoying a cold beer in a pool lounger when I was approached by a bar staff.  He asked for my sea pass card to bring me another beer, I said okay.  He comes back with a bucket of three beers, and I had the drink package. 
Usually Royal Caribbean only lets you get one drink every 5 minutes, to help prevent people from sharing.  I laughed and thought well it is the last day of my vacation, why not. 
Evening Events
Tonight, I just wanted to be social with the friends I had made and enjoy the evening. 
I tried to go settle my on board account with guest services until I saw their line; it was crazy down there.  So those who need to take of things at guest services my advice to you is go early.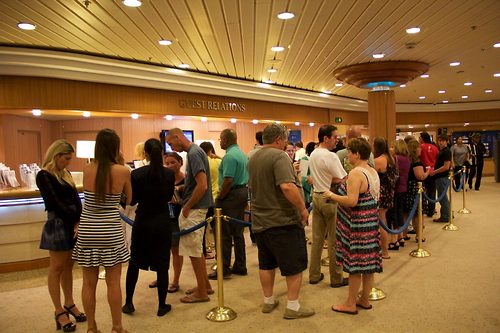 I spent part of my evening in the Viking Crown lounge, saying good bye to the friends I'd met, most were staying on for a few more sailings, living the good life.  It's part of the reason I enjoy cruising so much, is all the people you meet from all over the world. 
For dinner I was back in the main dining room for my final meal. 
It was pasta themed menu, who couldn't enjoy that! 
I knew I wanted the tiger shrimp, but I kept thinking about the lasagna too, so I ordered both!  Yes, I was that guy but why not it's one of the many perks of cruising.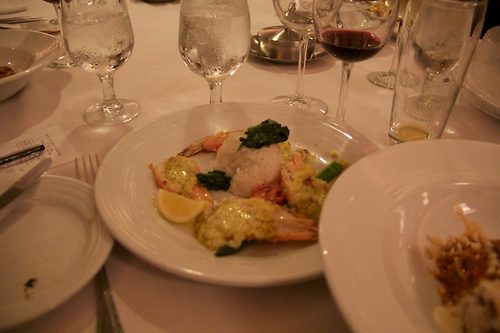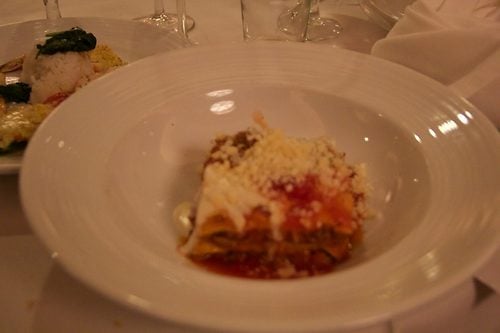 Once again tonight the waiters sang for us, and it was fun to recognize the ones that have been serving us for the past week.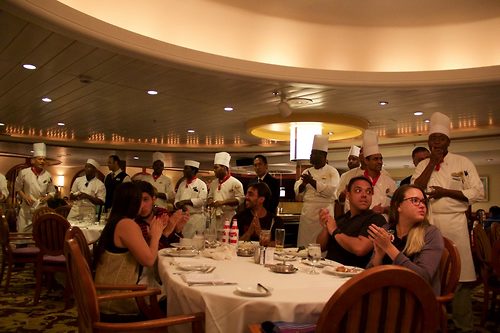 That wraps up my 4-day cruise on the Majesty of the Seas, and wow, did it go by fast.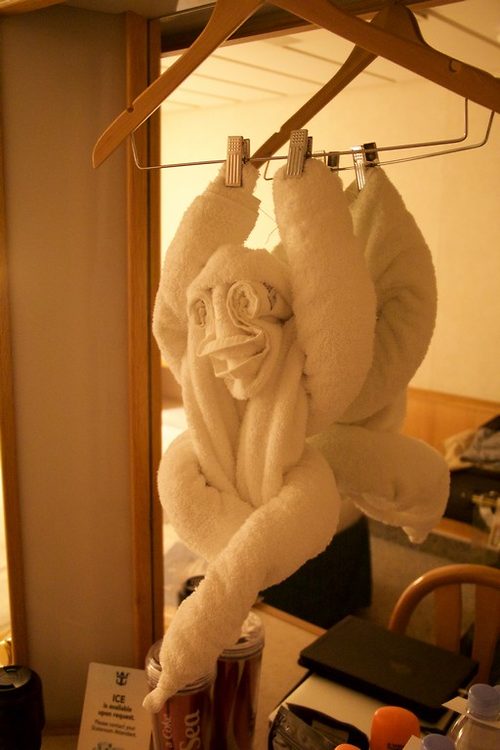 I hope you enjoyed following along with me, as much as I loved sharing.   Let me know if you have any questions about the ship, my stops, or solo cruising. 
Until next time, see you out at sea!  
Live Blog Index