Majesty of the Seas Live Blog - Day Three - Coco Cay
In:
Royal Caribbean Blog contributor Michael Poole is on Majesty of the Seas this week.
Good Morning from Royal Caribbean's beautiful private island called Coco Cay.  This is one of my favorite places to visit and has been for years.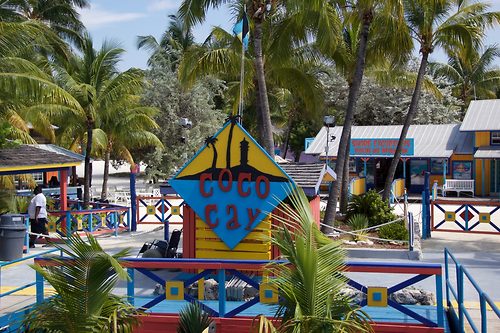 I wanted to get off as early as I could to take some pictures of the island before other guests were around.  I'd also recommend getting off early to just explore before it gets crowded. 
One thing that's different about Coco Cay is you don't actually dock at the island, because there is no pier.  In fact, you take a tender boat over to the island, which can me less than enjoyable at times if there are lines. 
However, when you go down early there were no lines and I enjoyed the short ride over to Coco Cay.  Also a great time to take pictures of the ship, so take your camera. 
Once I stepped onto the island I saw a table selling coolers/buckets of beer for $30 and buckets of water for $20.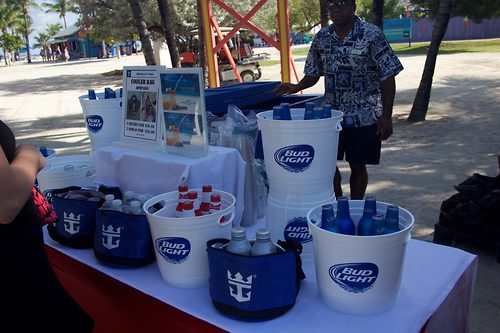 They did have a new all blue cooler with the Royal Caribbean logo on the bag, I wanted one but since I had the drink package it's not worth it for me. 
Now it was time to explore the island and head over to barefoot beach.  Years ago you could sit on Barefoot Beach and be the only one there, now more people have discovered it.  If you still want to check it out you just go down to the shoreline and walk right, you can't miss it.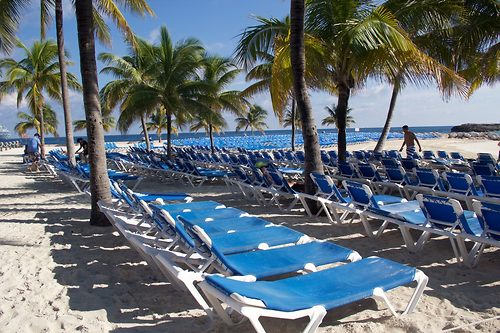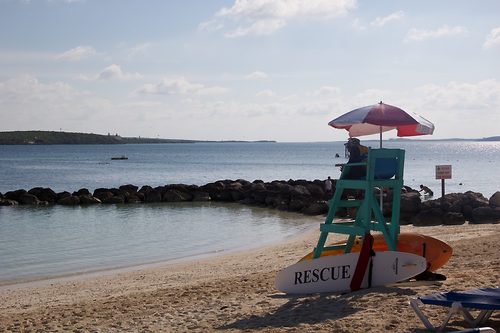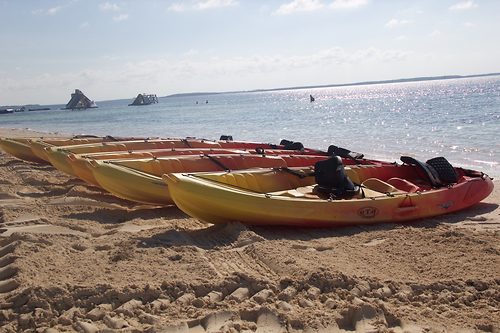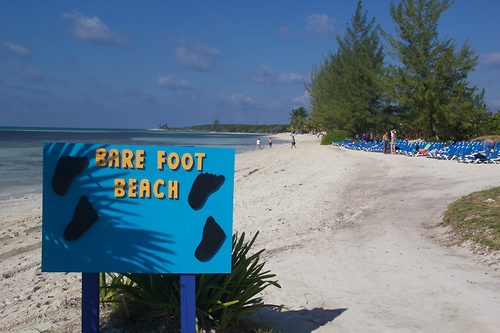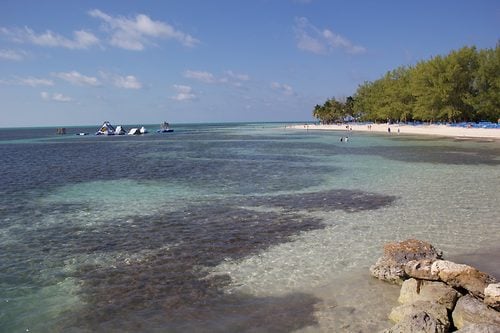 They also have hammocks near by to take an afternoon nap, now that's what I call paradise.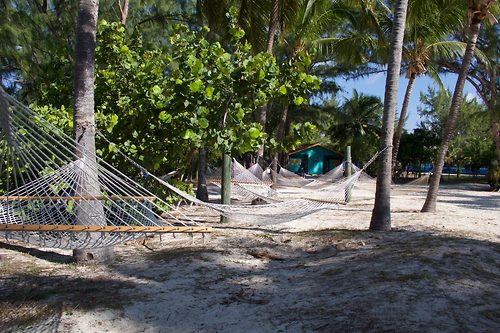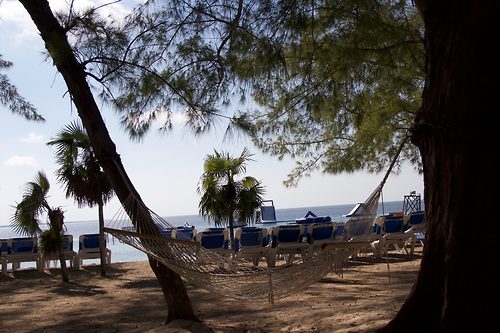 After exploring a bit I decided it was time to grab some of their island BBQ lunch.  They were serving hamburgers, hotdogs, ribs, and bbq chicken.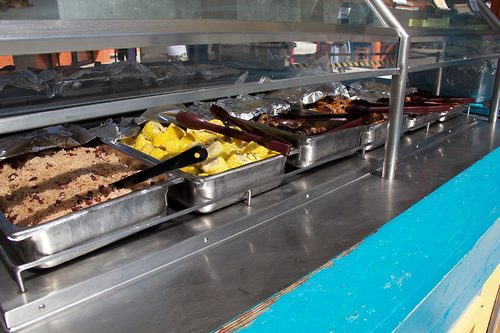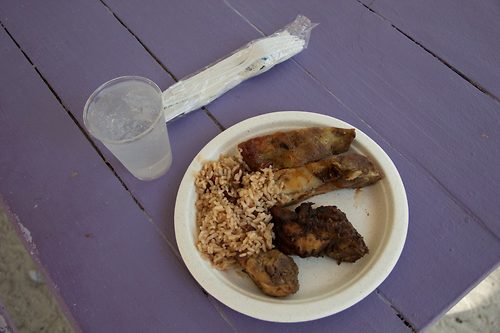 I'm going to try to be as honest as I can about the meal, well I didn't like it.  I'm sure if I got a burger you can't really go wrong there or even a hotdog.  I took a couple of bites and just threw it out, I'm not a picky eater at all, but I decided I'd eat back on board. 
They did have some great looking pasta salads and fruit, just didn't try any to give feedback on. 
Now that it's in the afternoon hours I decided to head back to the ship and have lunch at Johnny Rockets.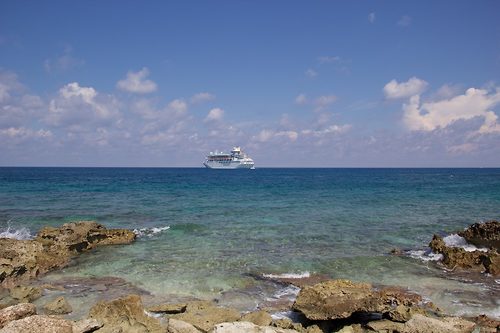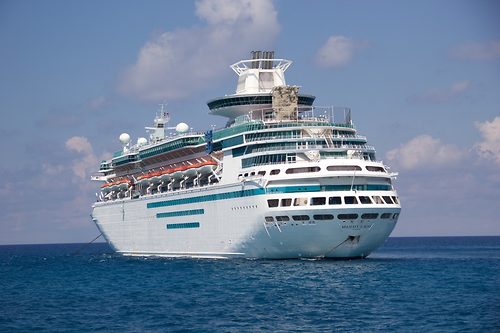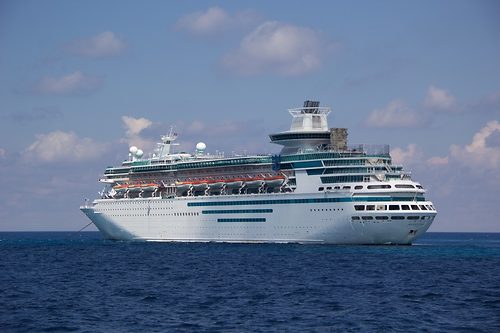 This restaurant has a cover charge of $6.95 per person and includes their tips in the cover charge.  I asked them about the price; because that's a dollar more than I've seen on other ships and they said it's been that price for a while on Majesty of the Seas.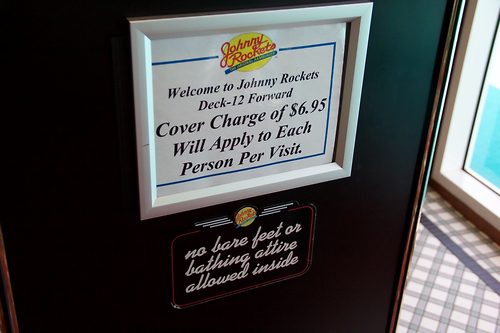 This surprises me because every time I saw the restaurant it was always empty.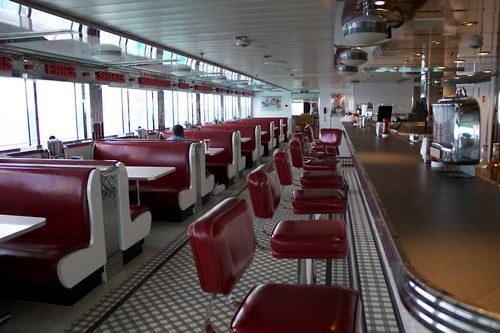 I enjoyed the smoked house burger that comes as a double but I just asked them to make it as a single.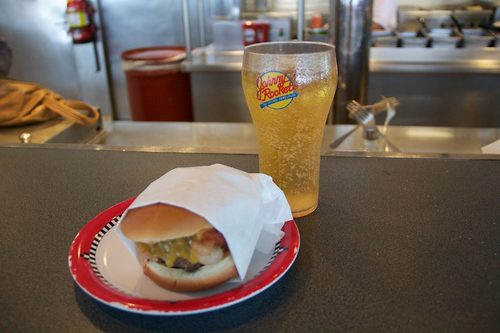 They also brought out endless French fries and onion rings; I had to tell them no more!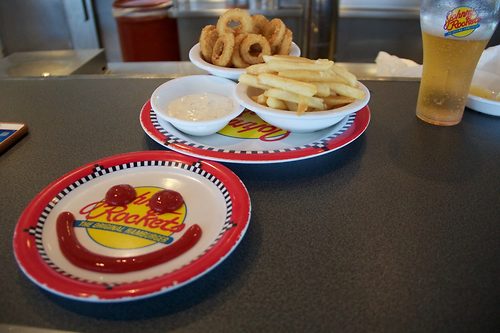 I also enjoyed the worlds famous apple pie with ice cream, this is a must have if you eat here trust me. 
After all the sun and food it was naptime for me. 
Evening Events
Tonight, I decided to explore some other things around the ship instead of going to the Viking lounge for the Diamond event.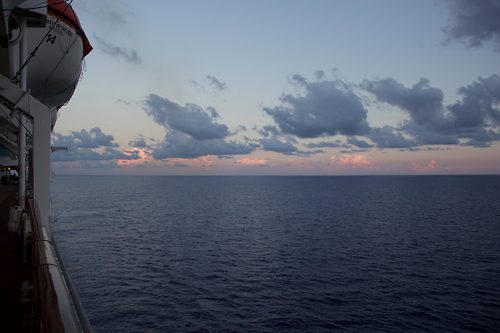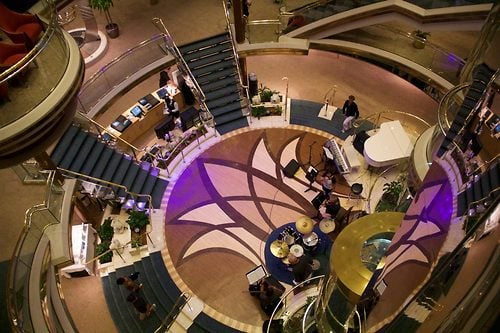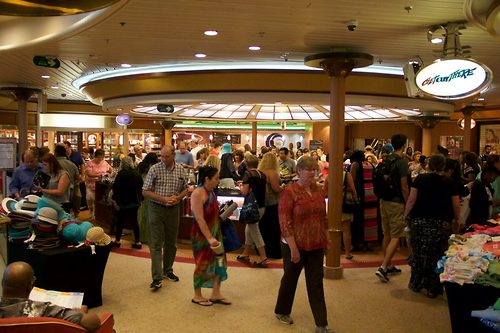 They had some really fun music in the centrum playing Bob Marley theme songs.  Sadly, there is really nowhere to sit and enjoy the music like on the Vision and Radiance class. 
I also spent some time in the Schooner Bar listening to the piano bar and it was for a great evening.  Someone even requested him to sing Rocky Top, and being a Vol myself I got really excited and started to sing along.   
Dinner was in the main dining room again and we had a new couple sit with us, but they also didn't know English, at this point we could only laugh. That's okay the solo group was there and we all enjoyed the meal. 
I ordered the French onion soup, (I kept thinking about the one Chops Grille serves!) the roasted duck, which was so tender it just fell off the bone.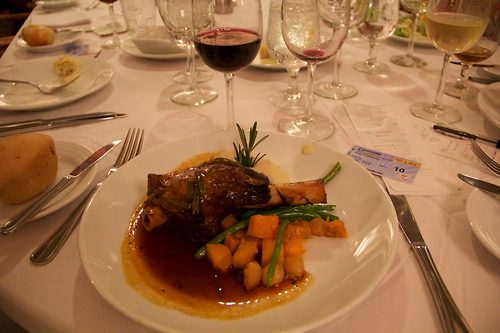 After our meal the servers started singing and dancing around the dining room, always a fun for them and the guest. 
To close out my evening, I attended the Quest adult game show at 11:15.  Sad to report I didn't play, the lounge was so packed and when I arrived it was standing room only at that point.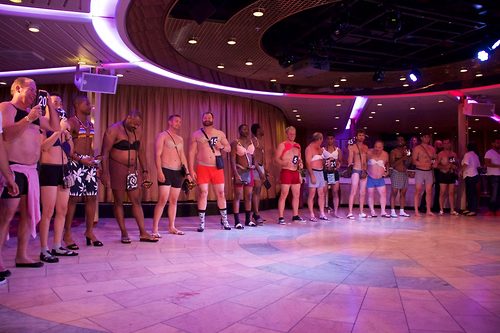 So the key to playing is go a little early, but it's almost just as fun to watch. 
If you are not familiar with the show, I recommend you go next cruise, just leave the kids in the room.  To keep it a surprise for those who have never been, we will just leave it at that.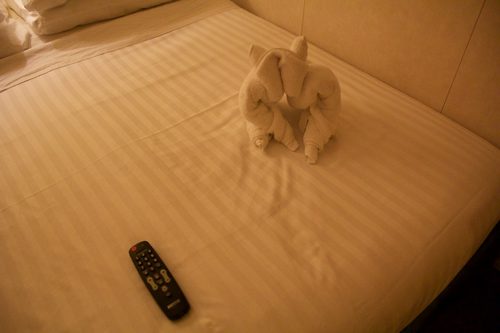 That wraps up my full day in Coco Cay and back on board, tomorrow we head to Key West, Florida!  
Live Blog Index