Majesty of the Seas Live Blog - Day 3 - CocoCay
In:
 No matter how many times I have been to Coco Cay, I just never get tired of it. Coco Cay is Royal Caribbean's private island, which requires a tender ride to get there.
Majesty of the Seas was ready for tenders around 8:00am, and were off the ship by 8:30am. The tender process is not as painful as many report. I think the key to avoid all the crazy lines is go early right when they start the process.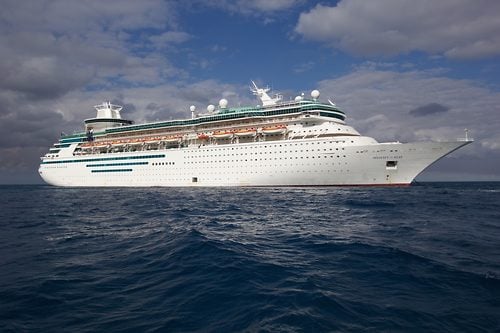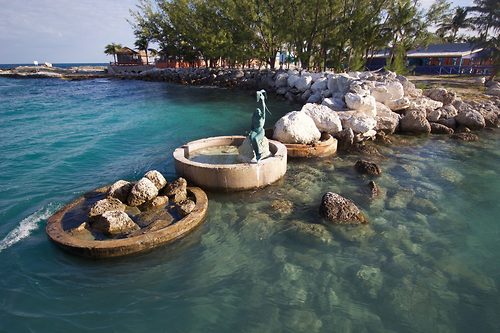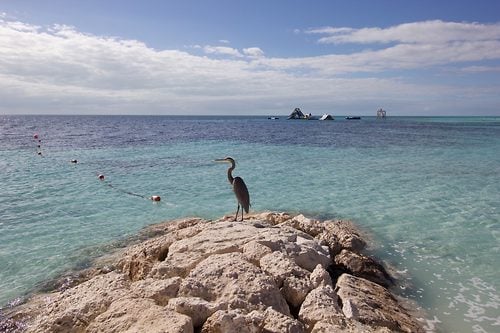 For those that have never been over to Coco Cay before they have a towel station right before you get off, so that you are able to check-out (with sea pass card) some beach towels.
They also have a full lunch set-up on the island that you can enjoy, so that you don't have to go back to the ship for lunch.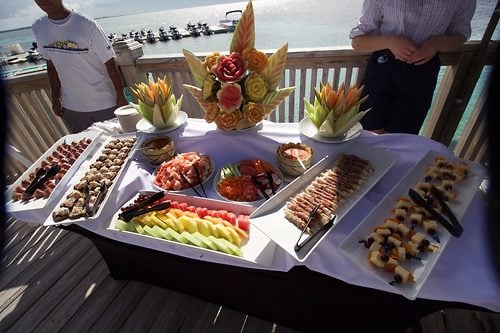 Once we arrived over to the island all we did was explore and check out all the new changes that are happening. Coco Cay is undergoing quite a bit of changes if you compare it to a few years ago. They have added beach cabana beds for rent and the floating bar has returned since the recent hurricane.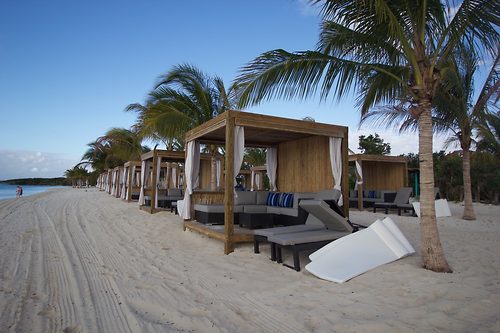 If you are wanting to spend a lot time at the floating bar, I would recommend renting the beach shells for $45, as they are right in front of the floating bar now.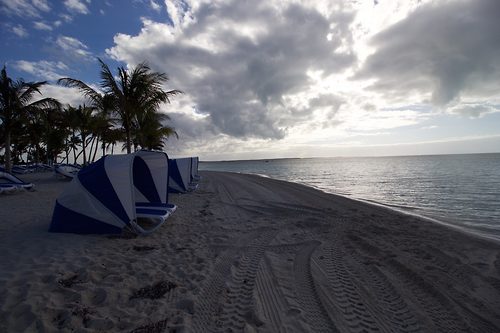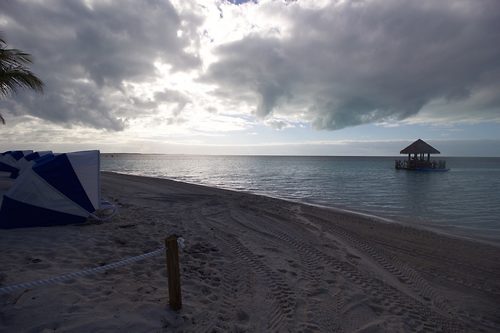 We ended up laying in a beach cabana for around an hour, since we were over there so early. I really enjoyed them and these might be really great for families so the kids have some shade.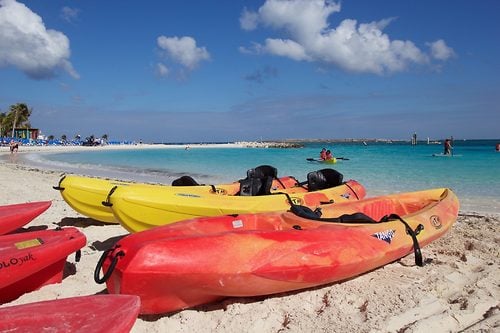 Lunch on the island 
We were invited to have lunch on the patio over beside the jet skis and boat area. They had some lite options, which is good since I've felt like all we have done is eat! I had 8 or so shrimps and that's about it, they were so yummy.
I also enjoyed my favorite island drink, a Coco Loco. If you ever visit the island they have a signature frozen drink on the island called a Coco Loco. After some snacks we deiced to head back over to the ship and enjoy some pool deck sunshine. 
Afternoon on board 
Once we were on board I experienced my first issue with Voom internet. They were conducting some maintenance and it was offline for around an hour. I suppose they conduct these maintenance when most of the guests are off the ship. Since we are talking about Voom Internet, this is the fastest internet I've ever experienced on a ship. 
The pool deck ended up being very busy as the afternoon went on. Everyone was watching the football games in the water. The Majesty of the Seashas a new pool deck TV that was installed during her last dry dock. The quality of the TV looked very clear just like watching HD at home, so they are using an upgraded TV now compared to other ships.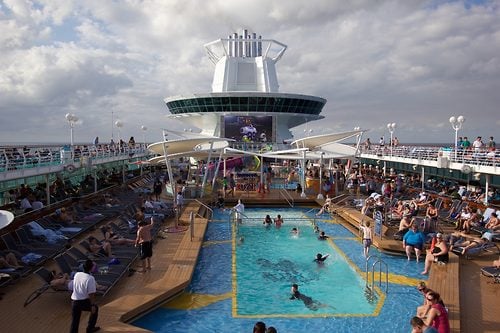 Evening on board 
Tonight we started our evening in the Crown and Anchor Diamond event like every evening.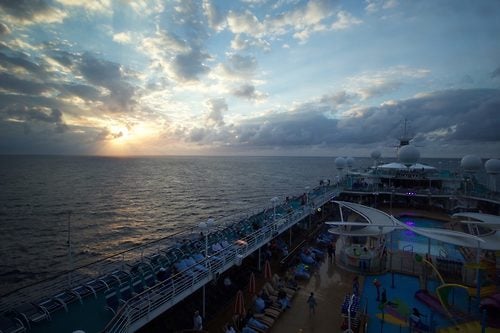 I went early so I could watch the sunset from the Viking lounge. This ship is the only ship in the fleet that has wide-open 360-degree views that's open for all. We talked with a lot of new friends about their day and experience on board since it was the last night of the cruise.
At 7:30pm we decided to see our first show on board called Boogie Wonderland. This is the longest running show in the fleet and was outstanding. It was the singers and dancers last performance of the ship, as a new crew boards tomorrow. They even had the CD get up there and dance with them as a farewell.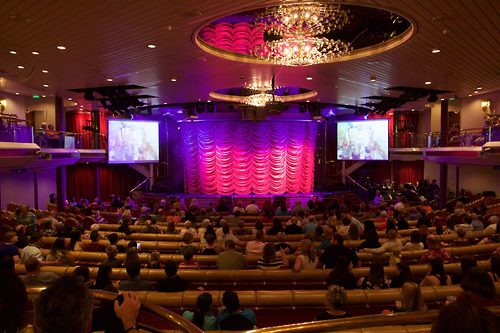 Tonight in the dining room it was Italian night, so you know what that means… Lasagna! We asked them to use a red sauce on the lasagna vs their standard white sauce and it made it taste that much better. We also ordered chicken marsala and this was a first for me.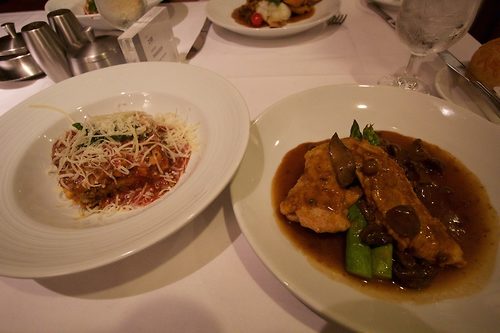 The chicken was very tender and gravy on top really brought the flavor out. I think I'm still stuff as I write this, no breakfast for me tomorrow. 
 After our dinner we said our goodbyes to the staff and I let them know I was staying on board the next sailing too.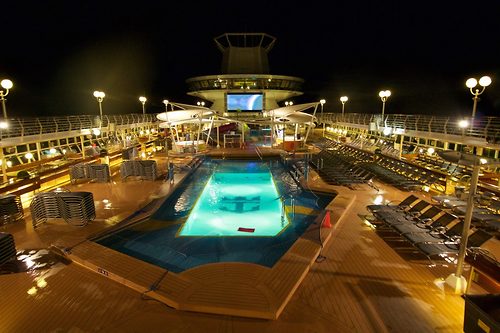 Random Thoughts on Majesty of the Seas
Ship is in great condition: new carpet everywhere, new chairs in schooner bar, and doesn't have that "older" feeling like Monarch did when I was on her.
Voom Internet works great, no issues at all, stayed connected throughout the day.
Crew: They really make this ship, everyone always smiling and always looking happy.
Entertainment was great; my only wish is there was a venue to listen enjoy the centrum music in the evenings. 
 This wraps up my first 3-day cruise, but we still have 2 more to go. My next cruise leg is the 4 days sailing going back to Nassau and Coco Cay!