Majesty of the Seas Live Blog - Day 1 - Embarkation Day
In:
Pre - Cruise 
My cruise day is finally here, and as much as I wanted to sleep in that just did not happen. I always wake up very early on cruise morning with so much excitement, usually watch the ships pull in on webcam.
Since I live in Tampa, Florida now, I decided to drive the 120 miles over to the port the morning of the cruise. My travel over to the port was uneventful, I arrived at 10:00am and many people were still getting off the ships.
I was in no rush really, so I drove through the drop-off section and dropped my one backpack off. Then I parked at the terminal for $64 (you pre-pay when you park here). After parking I walked over for some pre-cruise drinks at Grills, which is right beside the terminal. Once I sat down, I thought to myself that was the easiest arrival I've ever had, from dropping bag off, to parking and my walk over all took less than 10 minutes.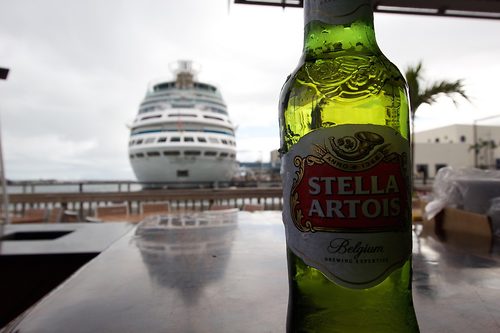 Embarkation 
At noon I decided to walk back over to the terminal, which was almost the same distance as walking to your car from leaving a restaurant.
The line to check-in for security was extremely long, however the Diamond and up Crown and Anchor line was completely empty, so off I went. Since I am on board for 3 sailings, I could have brought on board up to six bottles of wine. After thinking about it, I decided to only bring four bottles. When I went through security they question me a little, called a supervisor over, but he said no problem taking them all now! 
Lunch 
I explored around the ship for an hour then off for some lunch at Johnny Rockets. On Majesty of the Seas they have Johnny Rockets in the back of the Windjammer. Here is a tip, when you arrive they have a table set off handing out 20% off the cover charge, it will save you a few dollars. The standard cover charge here is $6.95 per person and that covers everything you would want to eat.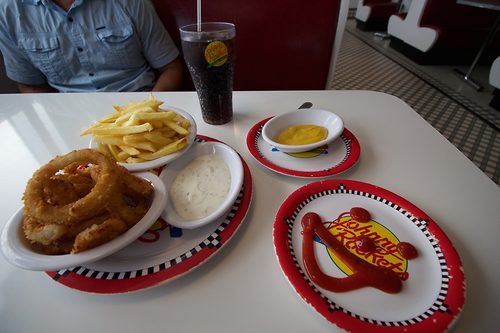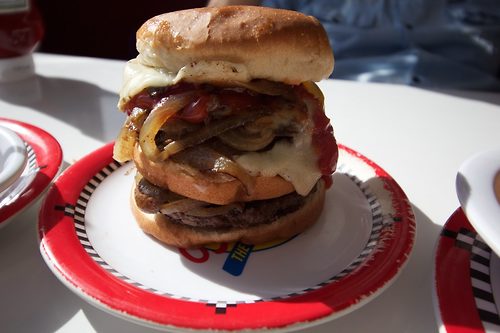 The service was outstanding, but to be honest we were the only ones in there. They showed us some card tricks that just blew us away, just really enjoyable lunch.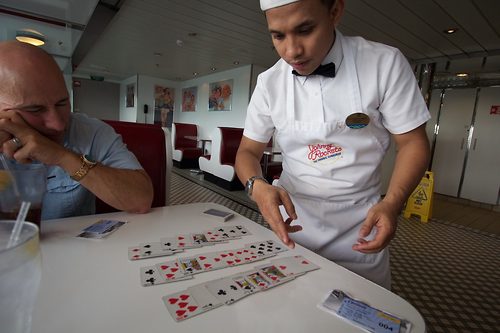 The food was also great, they put so much bacon on my burger, need I say more!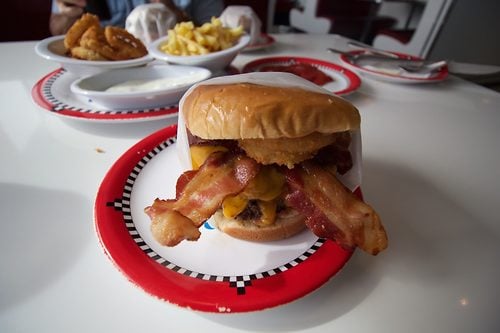 Cabin 
For the first leg, on deck 9 superior ocean view cabin - #9500. This cabin is all the way forward and very quiet. I have never stayed in a larger ocean view cabin and it's quite nice. Often I will see them for a little more than the standard ocean view cabins, and always wondered if it was worth the few extra dollars, after now I would say so.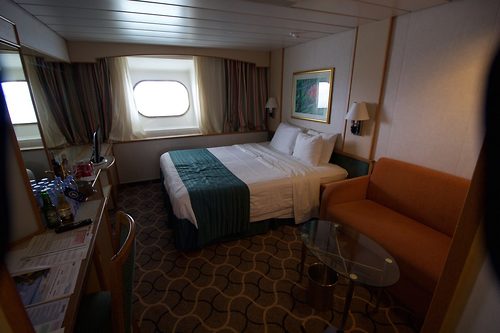 I had pre-purchased the bottle of rum and cokes for $40 online in the cruise planner and it was in my cabin waiting for us.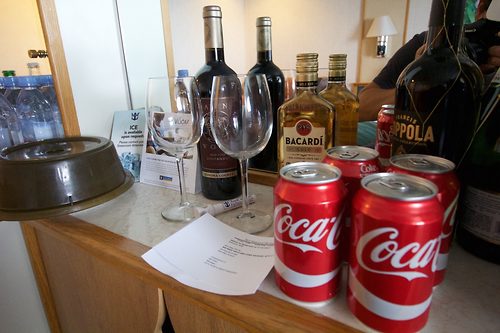 Sailaway 
For sailaway we went to the spa for the raffle they hold to give out prices. My cruise count is at 33 now, and this was the first time I've ever been in the spa for sailaway. It was actually pretty fun to see people win prizes, though we only won a NextCruise bag.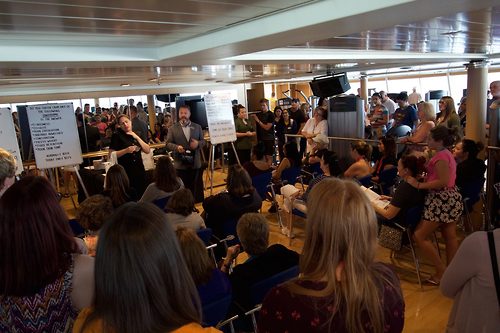 If you are ever looking for a different activity or if you have a rainy sailaway, I'd recommend this as an option, hey someone has to win! 
Evening 
This evening we went up to the Diamond lounge, which on Majesty is the Viking Crown Lounge. They had new large menus at the table explaining what was included for free diamond drinks and what is not included.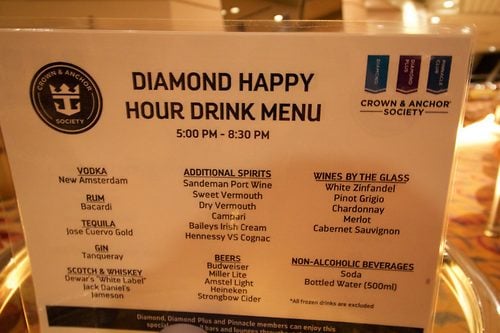 Since I did not have a drink package on this cruise, I made sure to take full advantage of this benefit. Tonight was a full moon and we just looked at the moon for quite some time, really a beautiful site to see at sea. 
 Dinner 
We have my time dining for dinner, and reserved a table for 6:45pm each evening. Dinner was fun because my friend is on this ship almost every weekend, so people kept coming up to him to say hello. The quality of the food seems to have greatly improved since my recent sailings. The prime rib was so tender, just an amazing cut of meat.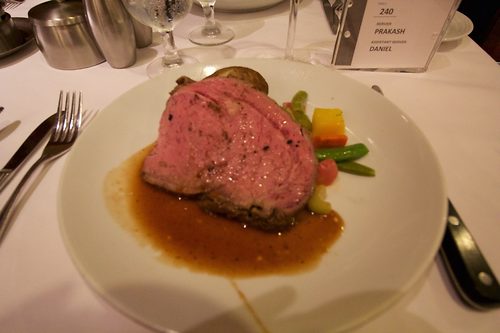 For desert for had the carrot cake and it reminded me of the cake in Chops Grill.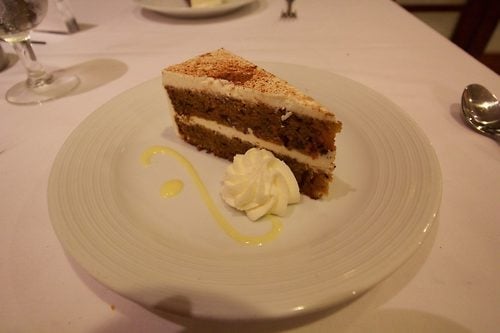 That wraps up day one on board Majesty of the Seas. Tomorrow we are in Nassau from noon-midnight.