Live blogging from Majesty of the Seas 2018 - Preamble
In:
Last week we knocked an item off our cruising bucket list, and this week we are going to do that again with our 5-night cruise on Majesty of the Seas to Cuba.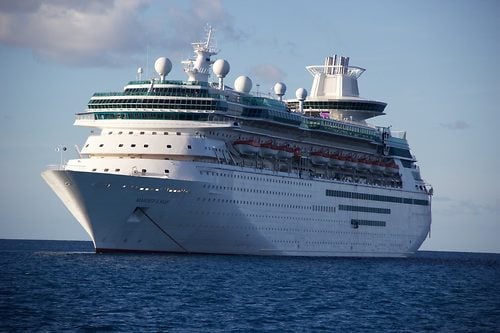 Ever since Royal Caribbean began offering sailings to Cuba, I have been looking for an opportunity to visit Cuba.  I believe the appeal of visiting Cuba is the combination of a rich culture mixed with history and a dash of forbidden fruit, so to speak.  With Cuba having been off-limits for visiting for most of my life, I am excited to visit this island nation and see what it is all about.
I booked this cruise just a few months ago after looking for something to do over the Fourth of July holiday.  This year it is on a Wednesday, so it is a but of an oddity but worked out perfectly for this sailing.  It all started during a Facebook Live cruise chat when a friend, Jose, asked if I would consider working while on a Royal Caribbean cruise again.  I immediately dismissed the idea, because I tried it last year over the Fourth of July in an effort to save on vacation time.  While we had a good time, overall I did not enjoy the experience of working while everyone else had fun onboard.  It felt too much like being at school while everyone else is off for the day.
Thinking about Jose's idea some more, I considered perhaps the key to a cruise where I work from the ship is best on a sailing that has fewer wor days (instead of a longer sailing with many work days).  After a bit of searching, I found the perfect opportunity.
Like my Alaska cruise I recently took, the itinerary I am booked on may not be the most intriguing itinerary with a stop in Cuba, but it gets the job done.  First, I have never sailed on Majesty of the Seas before (nor any Sovereign Class ship), so I get to experience this class of ship.  Second, I get a day in Havana, Cuba to visit somewhere I have always dreamed of going.  We will also visit Key West and Cozumel.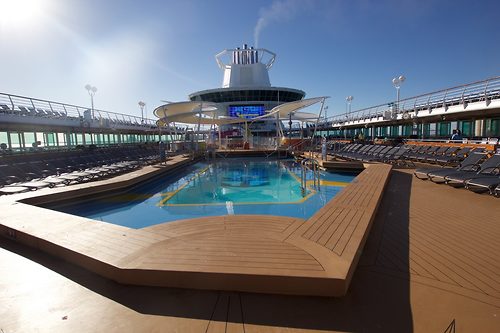 My family will be joining me on this cruise (wife and two daughters).  We booked two non-connecting Oceanview rooms.  Given the budget, late booking window and port intensive itinerary we will be on, it made the most sense.  Of importance, the rooms are not connecting, which means we have no common door between them.  I thought perhaps my kids (7 and 3) are old enough to sleep in the room without that door, but my wife thinks we will end up with one kid in each room.  
While Majesty of the Seas may not be the largest or newest ship in the fleet, I am looking forward to cruising on her and enjoying a relaxing Caribbean cruise.  Going on a cruise of this class has been a long time coming for me.  I am a self-described "big ship guy", as I prefer the larger ships in the fleet.  However, living in Florida means taking advantage of having so many cruise ships in my "backyard".  Moreover, so many of my friends have implored me to give it a try.  I believe some of the updates made to the ship a few years ago should be a great fit for our family, such as the addition of Splashaway Bay.
Itinerary
This sailing is round-trip from Tampa, FL, and take us to three ports of call, although I will not experience all of them.  Some of the times in port are a bit different than what we're used to and I'm not sure how much of this is because we're coming from Tampa, the routes were taking, or simply what port times were available.
Our first stop is in Key West, Florida, where I will work for the day.  I have not decided if I will work from the ship or get off the ship and head to Starbucks.  Perhaps a bit of both.  My wife and kids will visit the Key West Aquarium while I am busy.
For our day in Havana, I booked the Old Havana City Sightseeing excursion through Royal Caribbean. I was leaning towards booking a private excursion with a highly recommended guide, but it provided to be quite difficult to nail down a tour that matched up with our ship schedule.  Instead, I picked the Royal Caribbean excursion that appealed to my wife and I the most.
Our last stop will be in Cozumel, Mexico, but our port hours are quite odd, with a 1pm arrival.  We have not figured out what to do in Cozumel yet, but it is one of the best ports to "call an audible" due to the large array of choices.
What's next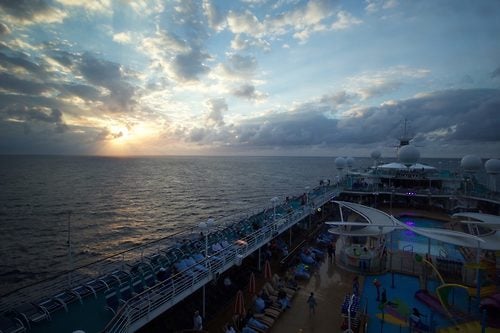 Our Majesty of the Seas cruise begins on Wednesday, July 4th, and I will be sharing the details on the blog, as well as across my social media channels. Be sure to follow me on Facebook, Instagram and Periscope for live updates throughout the day.
I invite you to share in this experience with me, by posting in the comments for any blog post questions and comments you may have. I try to make these live blogs as interactive as I can, so I want everyone to feel welcome to share their thoughts.
Thanks for reading all of this and welcome aboard our next fun live blog experience!