Majesty of the Seas Live Blog - Day One - Embarkation Day
In:
Royal Caribbean Blog contributor Michael Poole is on Majesty of the Seas this week.
Well friends my cruise day finally made it!  I compare this day to a child on Christmas morning, okay maybe not but very close. 
I woke up at 6:00am to watch the Majesty of the Seas sail into Miami on the port webcam.  This has become one of my recent tradition the morning of the cruise, just helps me contain all the excitement. 
I left my hotel in Ft. Lauderdale at 8:00am with every intention on having breakfast in Miami.  Little did I know the traffic on I – 95 South on a Monday morning was a total lock down! 
I arrived to the rental car place at Enterprise a little after 9:30am; yes it took that long to get to Miami. Once I arrived to return the car, they asked if I needed a ride, and I told them I was going to the port, but they declined that they couldn't take anyone in. 
No problem, on the morning of the cruise you don't sweat the small stuff, there was a line of taxis there waiting and I jumped in. 
I arrived to the pier right at 10:00am and I saw hundreds of guest that were standing on the sidewalk that had just gotten off.  I always hate that moment coming off a cruise and seeing all those happy guest ready for their cruise, but hey it was my time! 
Check-in was very easy, but they didn't let us on board until 11:00am. 
Like other ports there are chairs for the guest to sit down in, but in Miami you stand in rows.  I personally didn't mind standing, but I could see some guest upset having to stand for almost an hour.  They did have a few chairs for those who had a hard time standing, but not many. 
Finally at 11:00am they let the guests onboard and I was around the 5th person to make it on. 
I headed straight up to the pool deck to take some pictures and boy I'm glad I did.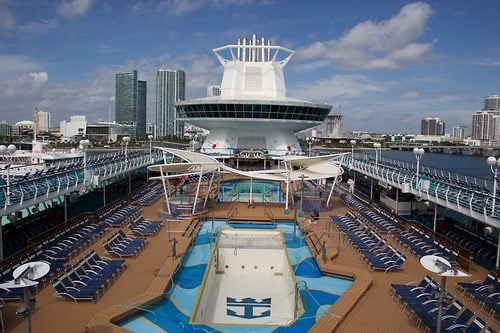 The city of Miami of absolutely beautiful and I'm surprised more Royal Caribbean ships have not sailed out of here for the past decade.  In fact, Royal Caribbean actually had their corporate office here in Miami, which was right beside the pier.
Now that I'm finally on board and have a few pictures out of the way, there is only one thing to do and that's to eat! 
They had the windjammer open for lunch at 11:00am, so it was perfect timing.  The Windjammer can be found across all Royal Caribbean ships and it's buffet style.  My view on the Windjammer is some items are great and others are not my favorite, but that's okay you can go get more of what you like. 
Okay I need to be honest about something; I went back for another round an hour later for their world famous kummelweck roast beef sandwich.  These are served in the compass deli and no one was even there!  The location is a little weird, because it's one level up in the Windjammer and then walk into the back area.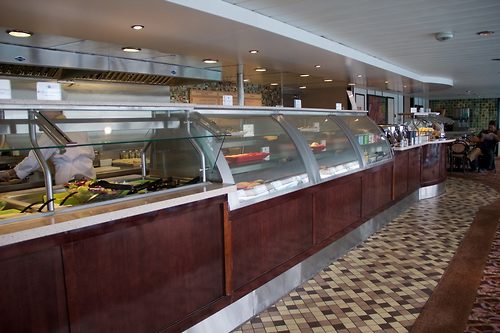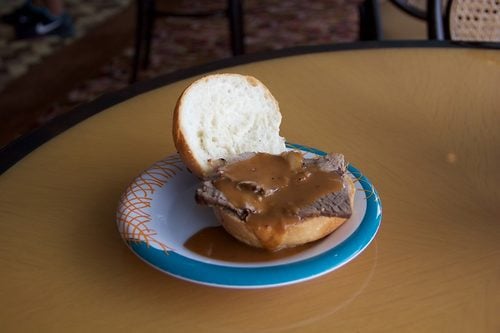 After my second round of lunch, I decided to go check out my stateroom on deck 3.  Cabin 3601.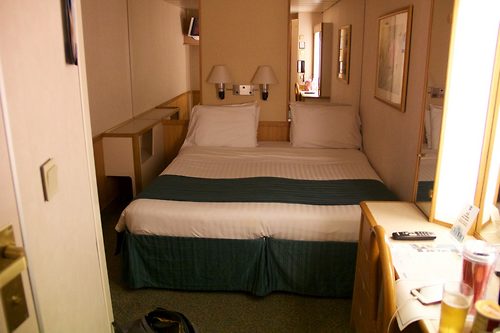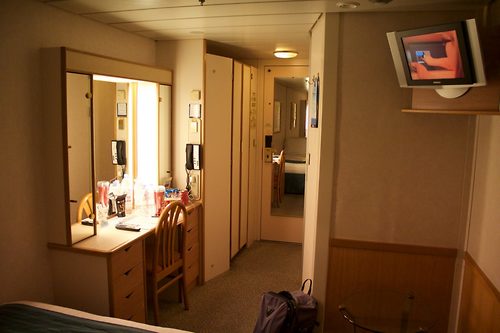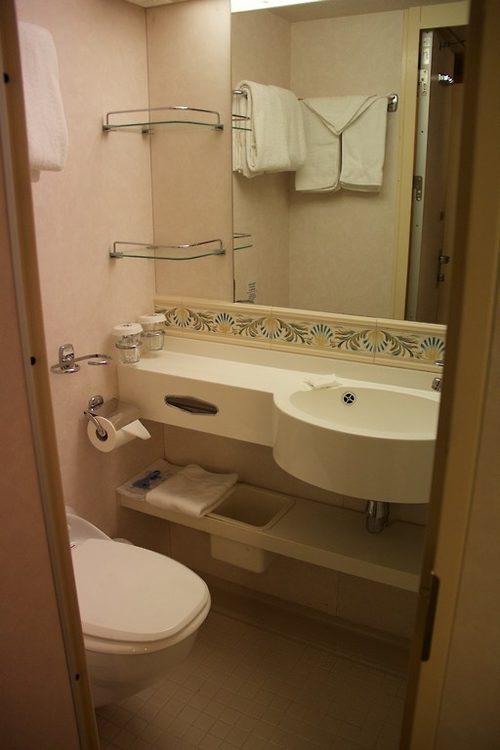 I booked an inside cabin since it was just me cruising and the cabins don't do a whole lot for me.  I will say that cabin would be a little tight for two people, but manageable. 
When I arrived in my cabin the Coca-Cola souvenir cup, that comes with the drink package, was already sitting in my cabin.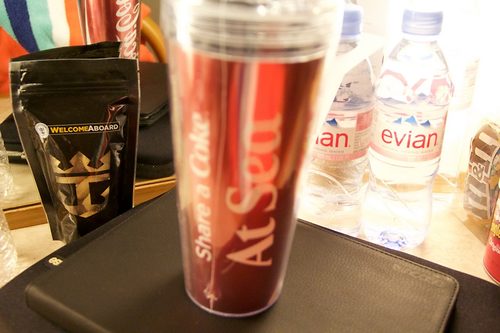 Since we are on that topic, I'll let you know I purchased the select package for $42 per person, per day.  This package includes unlimited wine $8 and under, all their house wines are $8 and unlimited beer.  What this package does not include is bottled water and cocktails. 
Since I get the free cocktails in the diamond lounge, I find the select package to be a great deal for me. 
Sailaway time finally arrive at 4:00pm I decided to do a live Periscope as we were leaving, so thank you to those that joined me. 
They had a DJ playing music and all the Royal Caribbean singers and dancers out there getting the party started.  This is that one moment I finally feel like I'm on vacation, do you have that one moment that gets you excited?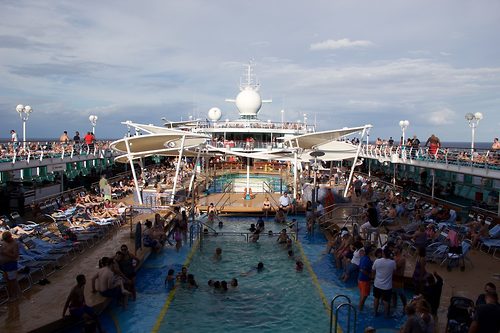 Evening Events
Tonight, I headed up to the Viking Crown lounge on deck 14 that big round section on top of the ship.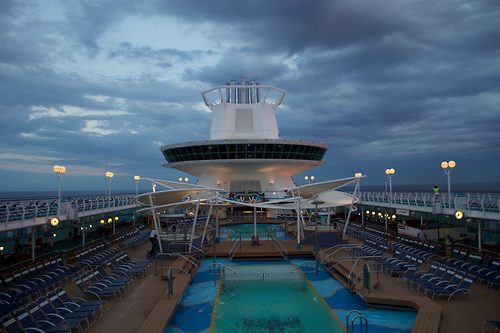 If you ever want a nice relaxing, romantic place to watch the sunset in the evening, this is it.  The Majesty of the Seas does not have the Crown & Anchor Diamond Lounge like many of the other ships do, but they host the event in the Viking Crown lounge.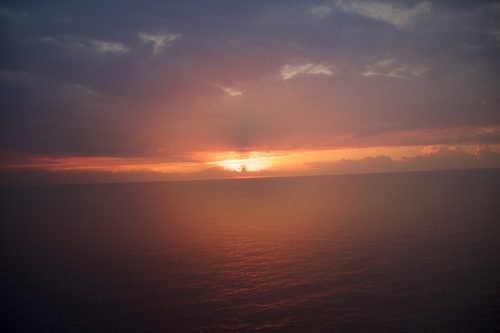 They offer you cocktails, wine, and beer at no cost to those diamond members and above.  I decided to stay up there until dinner because it was just so peaceful and the sunset view was breathtaking.
Dinner time finally arrived and, let's be honest, this is the best time on any cruise! 
I requested a large table to ensure I was not having dinner alone.  When I arrived to my table I quickly found out Royal Caribbean put all the solo cruisers together for dinner. 
I've never had them do this before on any of my solo sailings, but I was grateful for it.  The service was great with no issues to report and the food was outstanding. 
I enjoy my steak very rare and asked the server to find me a great cut of the prime rib and she did!  This might have been the best prime rib I've ever tasted; I'm getting excited just blogging about it! 
After dinner headed to straight to bed, no dancing for me tonight. 
Until tomorrow thanks for joining in on my first day! 
Live Blog Index