Majesty of the Seas Live Blog - Day 2 - Nassau, Bahamas
In:
Here we are already halfway through our weekend cruise on day 2, in Nassau, Bahamas. These weekend sailings go by so fast, but oh so fun! This morning I woke up early and waited for the coffee shop to open at 7am. Believe it or not, they usually have 3-5 people lined up ready for them to open. I ordered my large Americano and it was $3, since I don't have the drink package.
After enjoying my coffee and working on the blog, I decided to grab some breakfast in the main dining room. On Majesty of the Seas they have a Diamond and up section to the dining room. Only real perk here, is not having to "wait" for a table or them to seat you. I ordered an omelet with a side of hash browns; I guess my only complaint was I wanted more! I didn't order more, but I did grab some fruit they had setup in the middle of the dining room.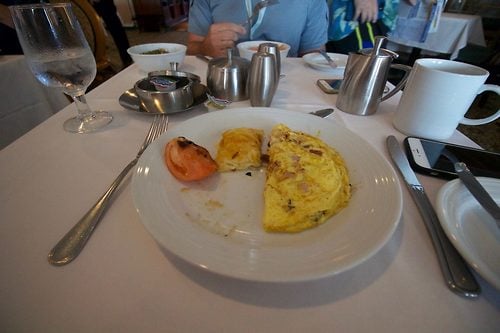 After breakfast they had the Crown & Anchor welcome back party in the Spectrum Lounge.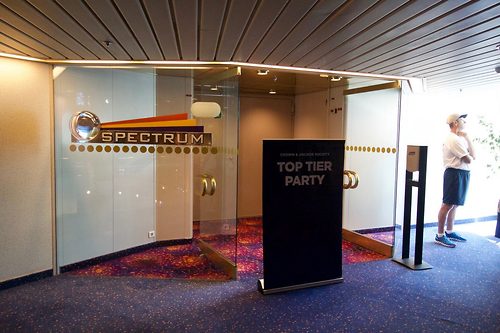 Funny they are talking about how they had the name Spectrum for quite sometime now. They also have conference lounges named after ships in the Voyager class. The party is always a good time, free drinks, and great music.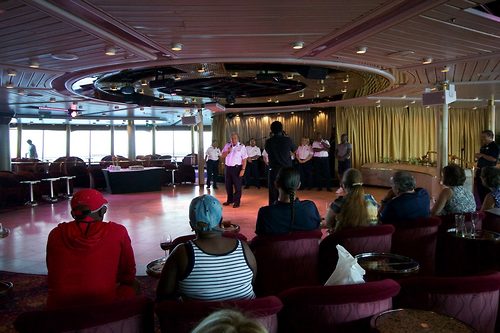 They talked about the next cruise booking program and how you can take dollars off the next cruise or on board credit. Also went over some new ships entering the fleet, I enjoyed my champagne, needless to say.
It was fun watching us sail into Nassau, Bahamas today. I have so many photos of that lighthouse, but you know I had to take more.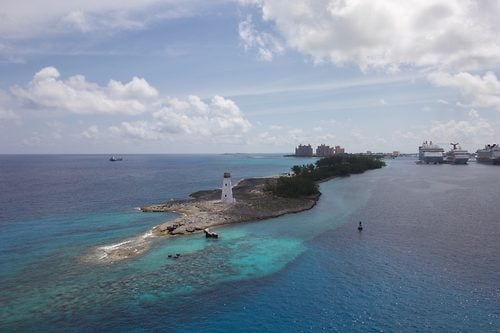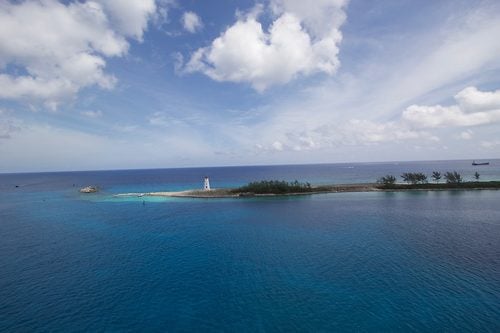 The pool deck was very busy; it felt like a sea day.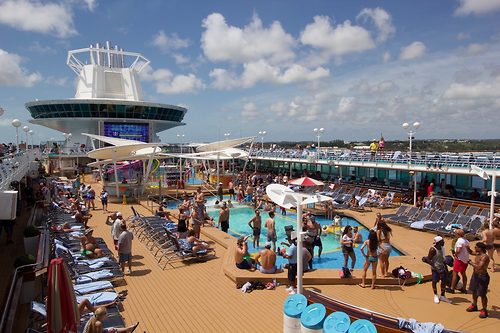 I was happy to see Oasis of the Seas dock in port today, they are on a reverse schedule due to the total eclipse special sailing. Oasis of the Seas is truly one of my favorite large ships in the fleet; okay this is a live blog about Majesty, back to topic.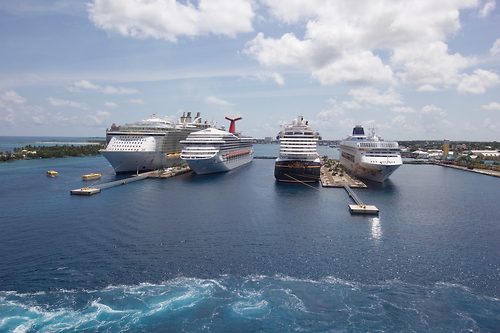 Day in Nassau
Today in Nassau we decided to explore the brand new resort, Baha Mar on Cable Beach.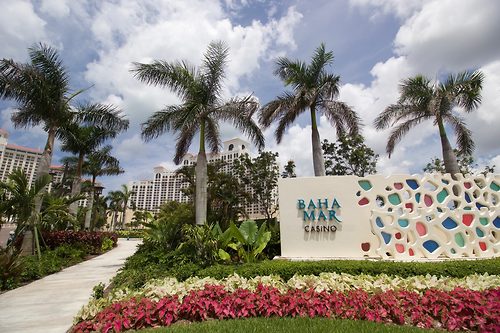 We took the city bus (#10) over to the other side of the island. The cost for the bus is only $1.25 per person and I felt very safe the whole time. Most of the people on the bus are local residents or local school kids. Once we made it over to the resort I made a comment to my friend Nick, "it feels like we are in a movie or something" we were the only people in the casino that's one hundred – thousand square feet. While playing they quickly come over and offer you free drinks, you just have to keep playing for more.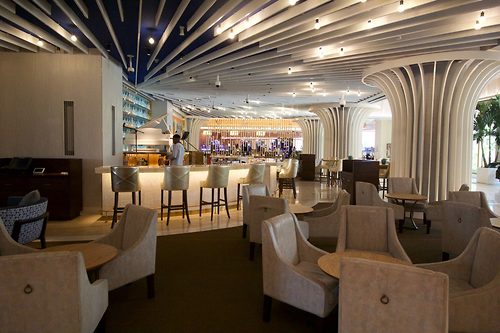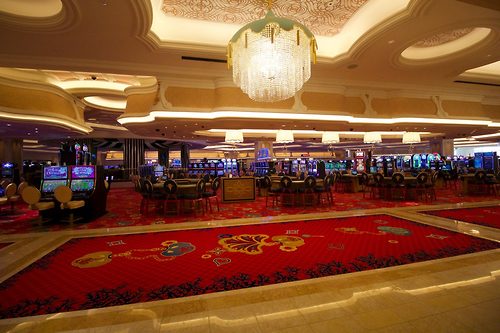 They now restrict access to explore the outside grounds, as that's for guest only. We did request a tour from the front desk and she showed us most of the property. I don't think she liked that I was taking pictures of everything and thought that could upset some guests. I really couldn't believe how beautiful the property was, they have seven swimming pools on the grounds!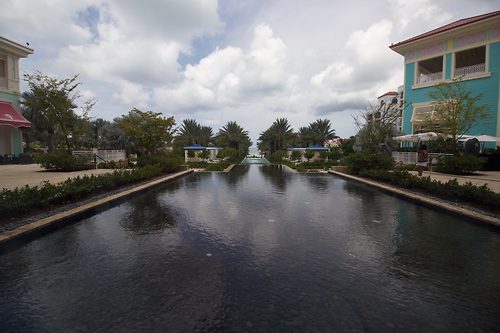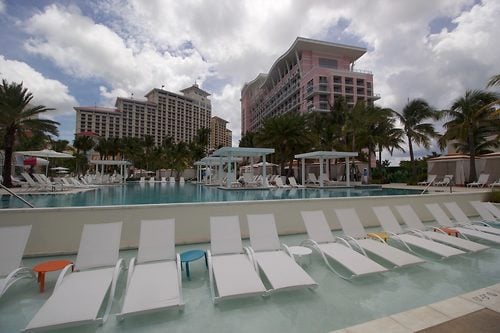 They offer a lot, but I'm sad to report they have zero plans to ever offer day passes for cruise passengers. My suggestion is booking a room for one day, and enjoying the property since you are a paying guest.
Evening onboard
Tonight we were invited to dine at the Captain's table with the hotel director, John Denton. We received an invitation in our cabin to meet in the Schooner Bar at 8:15pm for cocktails. They had a large section reserved for us to sit and we all talked until our host arrived.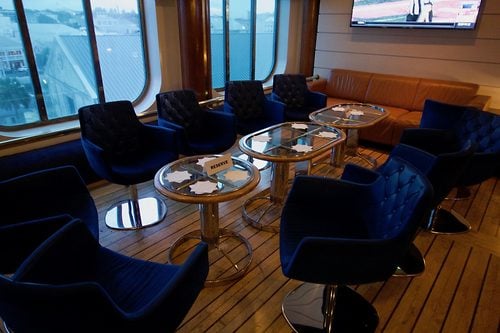 Once he arrived we talked for a while and then they walked us to the main dining room to the table.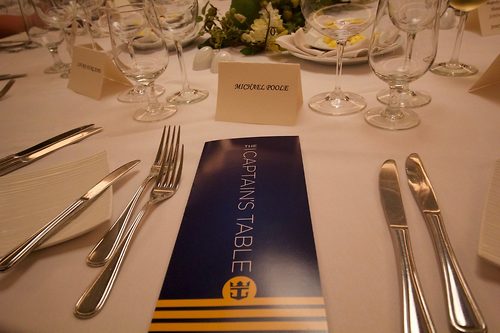 This is one of the nicest meals I've ever had, the service and wine was outstanding. We talked about Majesty at the table and her future within the fleet. Majesty of the Seas is going into dry dock in February 2018, so we talked about some options they have for the dry dock.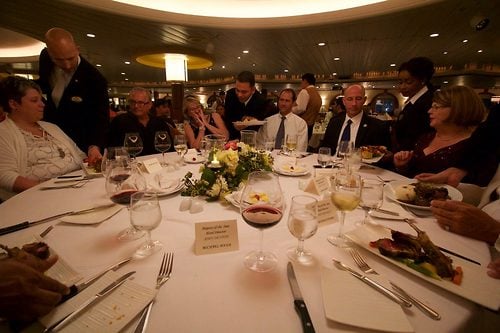 For the meal itself, I ordered the surf and turf. The steak was wrapped in bacon, so what's not to love about that! The steak reminded me of a very large filet from Chops Grill.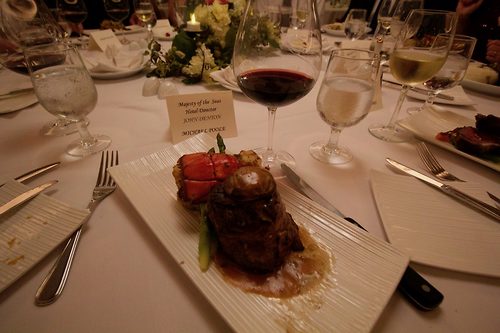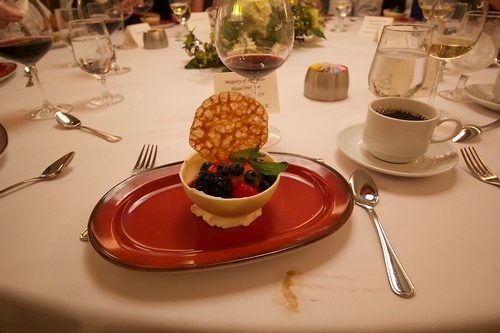 After dinner we headed up to the under the starts dancing party. The cruise director, Ricky Mathews can create one party. He really knows how to get the passengers involved into the party. I was really surprised to see he joined the ship, as he's usually on Oasis of the Seas.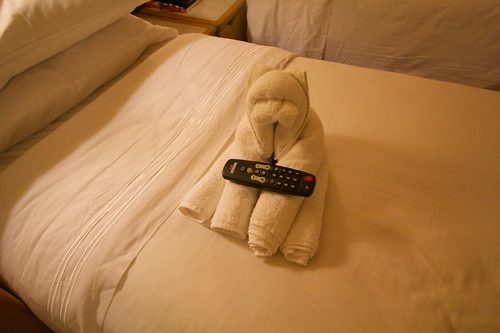 That's a wrap from my day 1 in Nassau, Bahamas. Stayed tuned, tomorrow we are headed to Royal Caribbean's private island of Coco Cay.