In:
According to the latest issue of Seatrade Cruise Review, Royal Caribbean will pull its ships out of Dubai following the 2013 cruise season.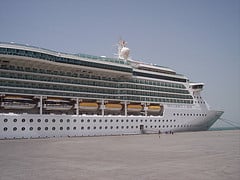 Royal Caribbean regional director, Helen Beck, discussed the reason for the change, "We were initially very pleased with the business development there and expected continued growth; however, the demand has declined in recent seasons and as a result we have had to make some difficult decisions, driven by strategic and financial considerations, about discontinuing our program there."
Beck said that Serenade of the Seas, will remain in Dubai as scheduled for the 2013 winter season but operate an abbreviated season of 11 seven-night cruises out of Dubai to Fujairah, Abu Dhabi and Muscat starting January 28.
Royal Caribbean had initially announced 17 sailings; the upcoming Gulf season will be shortened because Serenade of the Seas is scheduled for revitalization in late 2012.
Royal Caribbean could return to Gulf waters if demand improves over time, Beck told Seatrade Cruise Review.