In:
Each year, the Centers for Disease Control conducts surprise government health inspections to make certain that the cruise ships millions enjoy are safe and clean.  Royal Caribbean's Oasis of the Seas, Jewel of the Seas, Serenade of the Seas and Mariner of the Seas all scored a perfect 100 on their test this year.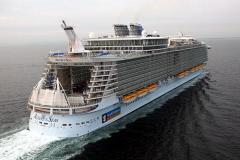 The Vessel Sanitation Program is run by the CDC and unannounced inspections will occur twice per year in US ports, with a test that grades each ship on a 100 point scale.  The CDC evaluates cruise ships in 42 areas such as adherence to proper food handling, storage procedures, overall galley cleanliness and pool and spa cleanliness.
This is the third perfect score in a row for Oasis of the Seas while the other ships that scored perfectly have also had perfect scores in the past.
Only a small fraction of the dozens of cruise ships inspected each quarter receive a perfect score.  Most infractions are small in nature and are corrected quickly.