In:
Royal Caribbean has released their schedule of cruises to the Caribbean for 2013-2014 and are now open for bookings.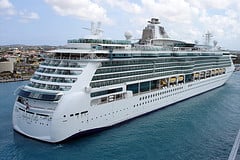 Royal Caribbean is planning cruises for Oasis of the Seas, Allure of the Seas, Independence of the Seas, Freedom of the Seas, Navigator of the Seas and Serenade of the Seas to bring a total of 140 sailings across 31 itineraries what will make stops at 20 different ports.
New to the schedule will be cruises out of New Orleans, Lousiana aboard Serenade of the Seas.  The first cruise out of the Big Easy will be a 9-night Caribbean cruise on December 12, 2013 that will stop at Key West, Nassau, Labadee & Ocho Rios.  Following that cruise, Serenade will alternate between 7-night cruises to the Bahamas and Western Caribbean.
It will be business as usual for Oasis and Allure of the seas.  They will continue their popular 7-night western and eastern Caribbean cruises out of Port Everglades, Florida.
Also calling Port Everglades home will be Independence of the Seas, who will offer 6-night cruises to the western and eastern Caribbean.
Freedom of the Seas will continue to operate out of Port Canaveral, Florida and alternate between 7-night eastern and western sailings.  
Finally, Navigator of the Seas will debut in Galveston, Texas with two western Caribbean cruises.  Both are 7-night sailings and one itinerary calling at Falmouth, Grand Cayman, and Cozumel, while the other at Roatan (Honduras), Belize City (Belize) and Cozumel.