In:
Royal Caribbean has posted new cruises in 2023-2024 from Panama.
The newly released sailings offer 6- and 7-night Southern Caribbean cruises that begin in either Colon, Panama or Cartagena, Columbia. Sailing from these ports is a first for Royal Caribbean in almost a decade.
Rhapsody of the Seas will sail between December 2023 and April 2024.
Royal Caribbean believes these new itineraries combine the international cuisine, entertainment and nightlife on a single cruise that does not require a travel visa.
Royal Caribbean International President and CEO Michael Bayley shared the exciting news on Facebook, "I am very excited to announce that starting in 2023, Panama is your newest jumping-off point for the captivating shores of the Southern Caribbean onboard Rhapsody of the Seas."
The new cruises are available to book immediately.
Short Panama Canal Cruises
Not only are there cruises that visit many exotic destinations in the region, but this also offers 7-night Panama Canal crossings.
The 7-night Costa Rica & Panama Canal cruises starts off with a visit to Cartagena before traversing the Panama Canal and spending time in Puntarenas, Costa Rica.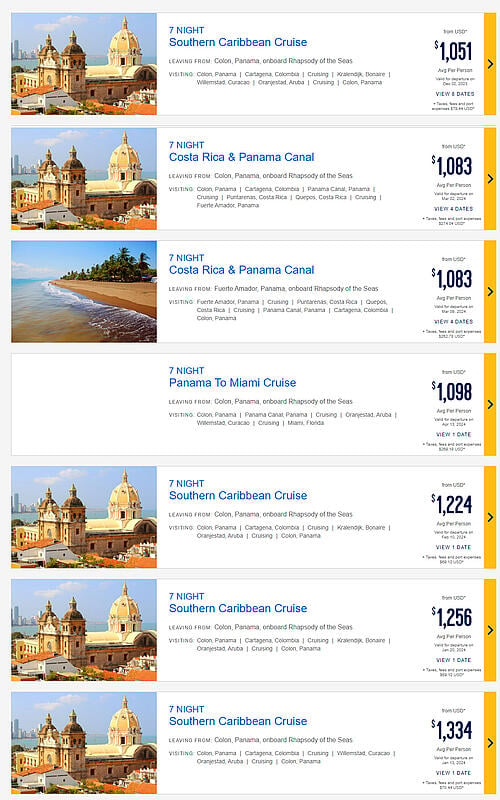 Sailings from Cartagena
Something else novel about this new deployment are cruises from Cartagena.
Located in Colombia, Cartagena is known for its romantic colonial architecture and Caribbean coast line.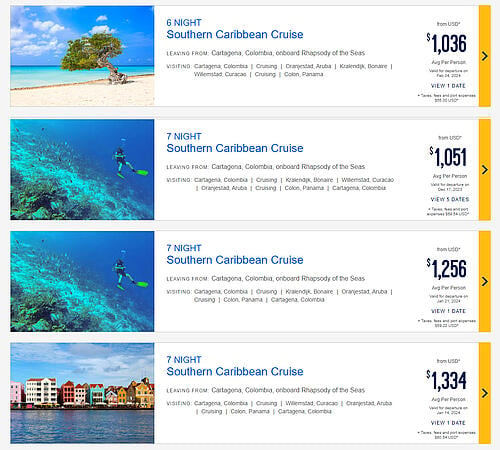 More deployments to come
There are still more cruises to be announced for the 2023-2024 cruise season.
Royal Caribbean's deployment schedule is as follows:
Week of April 4: Los Angeles and 9/5-night Miami
Week of May 16: 7-night Caribbean
Week of June 6: Singapore
Keep in mind that the deployment schedule is subject to change.
Planning on booking a 2023 cruise? These stories will help: