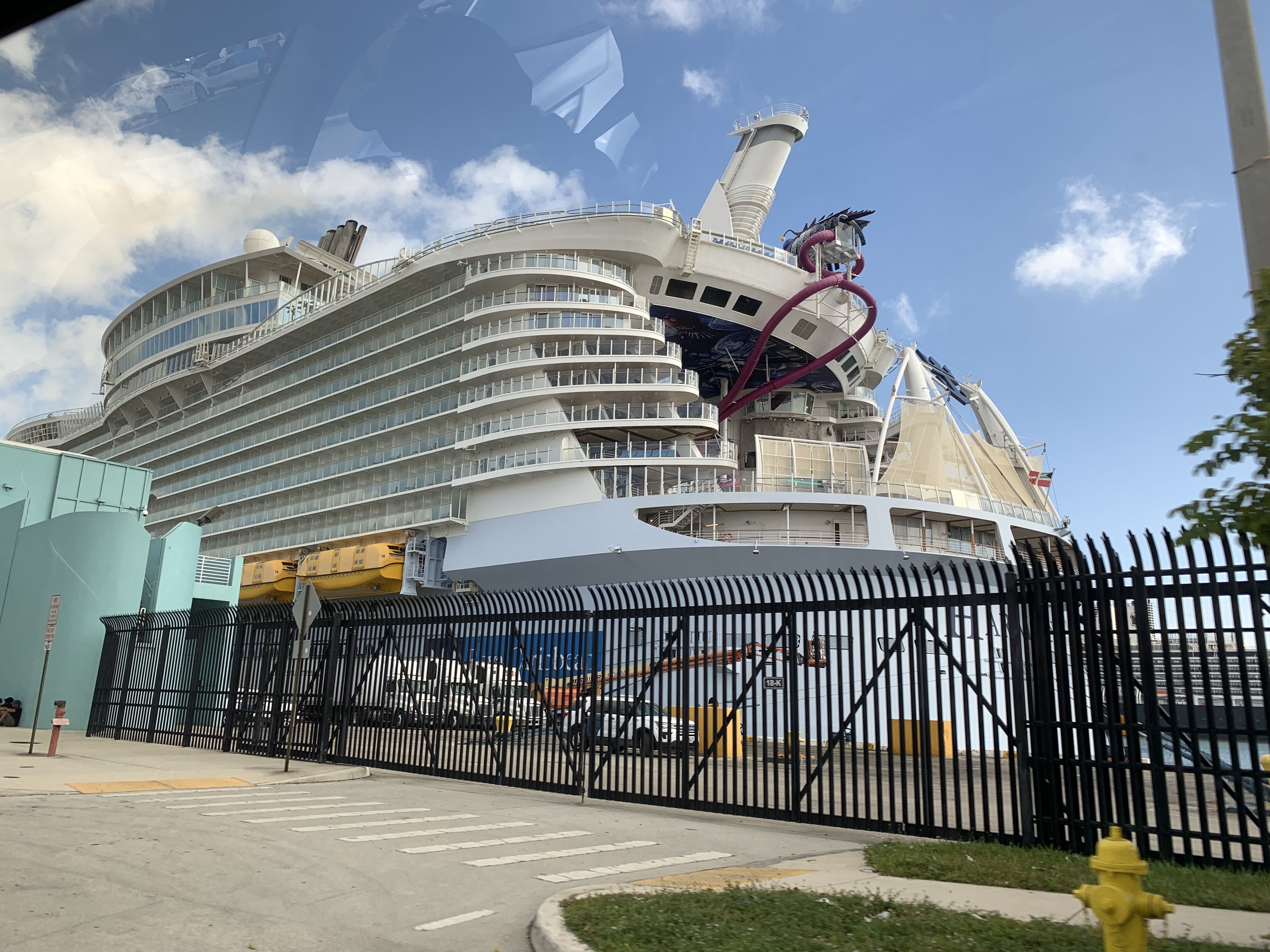 Content Count

448

Joined

Last visited

Days Won

2
About Andrew72681
Rank

Diamond Plus


Birthday

07/26/1981
I'd think Presidents' Day is a little bit safer. By May 17th when we left a good portion of colleges have dismissed so the 21 and 22 year olds are there to go wild.

I'm going to guess that it's a regular occurrence anywhere there's people in their early 20s and copious amounts of alcohol. A day like a CocoCay is where it might not be a bad idea for RC to adopt limits like Carnival has.

As a bit of a conclusion, overall I think Navigstor is best served by rating it separately on public vs private spaces. On the Public space side, Navigator is a 10, from the pools to the slides to the bars it's every bit a full featured ship that'll give an Oasis Class vessel a run for its money. As for the rooms it was a very mixed bag, the bathrooms and closets are small, which isn't as big a problem for a three night cruise as it would be for a week long. The room infrastructure is showing its age, our weekend seemed to revolve around issues with water: Saturday morning we woke up to a soaked entry way carpet, at first I thought maybe they were silently steam cleaning during the night. However it turned out to be a leaky pump room had flooded the place. The brought in an industrial dryer which made a ton of noise in the room. Saturday night into Sunday we didn't have hot water, only room temperature water in the shower. Sunday night and Monday morning we had the opposite, no cold water, only scalding hot water that no one could shower in unless they wanted first degree burns. We'll get to see if that room was an anomaly as my daughter and I are headed back on the same itinerary on our first Daddy-Daughter cruise.

Disembarkation was an absolute breeeze, unlike any I've ever been involved with. It went so quickly I didn't have a chance to get pictures. As we had The Key we could have walked to the Bamboo room and been escorted, but as we just had carry on luggage we decided to just do the self walk off. At 7:35 we left our room on the 10th floor, as elevators are a mess unless you are at the top floor, I carried two of the suitcases while everyone else walked down. There was zero lines getting through the terminal, and only about 30 seconds wait at Customs. By 7:47 with an eight year old in tow we were on the curb waiting for our Uber. Luckily Uber XLs were piled up and by 7:50 we were in a car and headed to FLL for our 10:25 flight. Monday morning traffic was comparably easy (I live in the DC area where ten miles will take two hours some days) and we were at the airport by 8:45, with way too much time to kill in a very boring FLL airport. FLL has rolled out Clear Service to terminal 1, which meant security took about sixty seconds.

Once back on board, the girls headed to To Dry For to try out the styling options before dinner. But first, we were getting hungry so we stopped off at PlayMakers, which was just recently added to the Unlimited Dining Package. Be sure to let the server know that you have the UDP as they don't yet have a way to fix it once the check is generated. The wings and potato skins were good, but the Nachos were a little too busy for my taste. I forgot to take a picture until the other two were already gone however, they weren't big fans of the process as none of the stylists seemed to listen to any of the styles you actually ordered. Both ordered an "up-do" but both came back with hair that was down not up. Addie's stylists barely said a word the whole time. After about an hour we were on our way to Izumi for dinner, which would be my first time eating at a non-hibachi Izumi. Spicy Crispy Shrimp roll Pork Gyoza (potstickers) Ebi (Shrimp sashimi) they seemed to have forgotten the rice though. Assorted Tempura DX Sushi Combo Mixed Seafood Hot Rock Surf and Turf Hot Rock Mochi All in all we mostly liked Izumi. Nikki did wish that there was a Sushi combo featuring cooked sushi, which we assumed the DX would, but it all came raw, which seemed like that should have been the Sashimi combo. You really have to pay attention to the hot rock as things will stick to it very, very quickly, especially the scallops. After dinner we had our first drinks in the Bamboo room and caught up with Matt about the events of the weekend. That's when he mentioned to keep my eyes out for news on Oasis this week and luckily he was right on as it came through. After drinks it was time to pack and get Addie to bed.

At about 1:30 my phone rang letting me know the room was ready. We decided to head up and check it out as the resort grounds definitely warranted coming back. We were given a room on the 15th floor with a beautiful ocean view. Once you walked in your could almost smell the newness of the property which was clean and modern while retaining its comfortability. While we didn't sleep in the beds they seemed quite comfortable. The hotel had a great shower with a rainforest shower head and good water pressure. We all decided that taking showers in a full size shower was a better idea than waiting till we got back on the ship. It proved fortuitous as when we got back the ship the room had no cold water, only scalding hot water. At about 30 we caught a cab back to the ship, which was driven by my new favorite cab driver G-Man. During the ride, he popped in a CD and played his favorite BackStreet Boys tunes. He had us join in the chorus, which made for a fun ride back to the pier. Once back at the pier we were parked next to a carnival ship which was also on a three day journey, but who's vessel had none of the fun bells and whistles of Navigator.

Day 3 Nassau We arrived to a very dreary rainy morning in Nassau. The weather looked so bad early that we considered calling Hyatt and cancelling the room reservation we had. After grabbing some breakfast in the Windjammer we decided we'd head out and see what the forecast had in store for us. Once we stepped off the boat it was if the clouds had parted specifically for us as the sun began to beam down on us and the temperature jumped up. After a short walk through the terminal and shopping we got a cab driver to take us to the Grand Hyatt Baha Mar. Taxi fare for the four us of was 32 dollars, but was in a nice new Honda Odyssey with real working air conditioning. That also meant we didn't have to wait on 19 more people to cram into a van, which is always a pleasure. We pulled alongside the Norwegian Sun, which as I've learned Hull Art is the bane of @Matt's existence. I'm still a big fan of their newer boats hull art, like Encore which they revealed recently The Grand Hyatt Baha Mar is about a fifteen minute taxi ride from the port through some cool parts of town. We drove by the Governors house as well as the golf course they joke that he spends all of his time there. Arriving at the complex you get a feel of just how massive the property is. There's three separate hotels, the Grand Hyatt, Rosewood, and SLS. The Grand Hyatt would be the more family oriented property, Rosewood would be the luxury property, and the SLS would be more for the party crowd, which I'll never find myself part of. When you first enter the property, you are dumped right into the casino, one welcome fixture if we ever stay for multiple days is that the property has a race and sports book. The property also has a large casino, but I figured it was better to "donate" my money to the onboard casino in hopes they'd want to have me back at a discounted rate later 😎. We went to check in around 9:30 and as expected our room wasn't ready, no problem though as we were really there to enjoy the facilities. Within about five minutes we had our wristbands to show we were staying and they took my cell number for when the room was finished being cleaned. With that we headed for the pools as well as the beach. The complex features four or five pools in total, but two are part of the main area rather than the specialty properties. Right near the entrance is the main pool which was much more subdued than the others. It features a large main area and a very large hot tub (~25 people) A walk down a path leads you to the Dean's Blue Hole. The pool while not massive is hiding it's greatest feature inside the grotto. Once you make your way through the waterfalls you are greeted by two giant tanks filled with aquatic creatures ranging from Sharks to Sea Turtles to sting rays. It's also much cooler in there as the sun isn't beating down on you from above. Be sure to grab some pictures as we keep getting photo-bombed by the turtles as well as witnessing a "fight" between a Sea Turtle and a large puffer fish that was hilarious. I had no clue a puffer fish could swim away that fast. They feed the sea life several times a day and it's quite fun watching the feeding frenzy down on that level. My daughters favorite part of the day was the rock walls to jump off of. There are two, but almost no one uses the 8 foot wall. Everyone goes for the 15ft jump, which is quite exhilarating (perhaps even more than a drop slide cough cough @Matt.) I did learn however to keep your arms tucked in as the force which a six foot guy hits the water is quite hard. Over the course of the day Addie probably jumped off ten times and had a blast doing it The property also also features myriad food trucks along the beach line ranging from Hot Dogs to Tacos to Daquiris. Keep in mind that as a "captive audience" food doesn't come cheap and also contains the VAT as everything in Bahamas does. For a hot dog, soda, and chips it was 13$ plus taxes, which is still substantially cheaper than anything I'd get at a hockey game Water activities are included with your 35$ per day resort fee, and we noticed SUP boards, floating mats, and some kayaks. Be sure to check out the private pier the beach has as it gives a great view of the property. We witnessed a teenage girl nearly die on the rocks as she was trying to get the perfect pose on the jetty rocks. Her mother was taking the pictures, so you can guess who I blame.

Just my iPhone 10s. On a short cruise no space for a real camera in the carryon. And haven't had any time to process any of the pictures to clean them up.

Living in MD my whole life my basic philosophy is that there's only a 90 minute radius where a crab cake should be consumed.

Yes. All of it was included. There wasn't anything offered on that menu with an extra charge.

I know we shouldn't deal in generalities, but they seem to hire angry Eastern Europeans that make me want to gamble less and less. At least when I'm in Vegas losing my shirt, there's a dealer with a great life story who can regale me with tales of how great Vegas was in the 70s and that time he was working for the Mob.

Dinner on night two took us to Hooked Seafood for the first time. Hooked is located right by the theater and has doors that fully close, so avoided the same noise issues that plague Chops and Jamie's. All things considered, I'd put Hooked at the bottom of the Specialty Dining restaurants onboard. The items that were fried had a breading that lacked flavor, and the "Maryland Crab Cake" that is on the menu doesn't belong in the middle of the sea. Our server Chedee (first syllable sounds like Cheddar) was great and was the highlight of the meal. Hooked Sunset Calamari and Peppers Shrimp Cocktail Surf and Turk, Lobster Mac and Cheese, and grilled corn Whole Maine Lobster Lobster a Roll Seafood Platter Hooked Sunset Whoopie Pies Caramel Bread Pudding Boston Cream Pie After dinner we walked around the ship a bit as Navigator has a great ambiance on the pool deck at night. We also used this opportunity to play some miniature golf in the dark before heading to bed.

Waking up at 7:30 for Perfect Day was both a blessing and a curse. As I got up, I noticed the floor near the front of the cabin was wet, which we eventually found out was coming out of a pump room outside our room. I quickly moved into mouth-wide-open smiling at the view from our aft balcony as Navigator had backed into its space on the new pier. Disembarking was a breeze as most others were sleeping at 8am, while I was skipping across the pier ready to be near the front of the line for DareDevils peak. Once inside of Perfect Day we immediately made a bee-line for thrill Waterpark. As we didn't bring waterproof cameras and mounts we set our stuff down and headed for the slides. That means I don't have any cool pictures or videos, but luckily @Matt took lots, including the Drop Slides that he thought he might die on 😜 We spent a bit of time at the wave pool, which during the morning had waves big enough to make us feel like we were on a fishing boat on the show Deadliest Catch. According to others they toned down the waves later in the day. We also made our way over to my new favorite pool in the world, the Oasis Lagoon. The Oasis Lagoon is not only big, but also very well thought out. It's got plenty of seating around the pool, lots of ledges and chairs inside the pool, and trees to add some natural shade. The swim-up bar was very nice to have, as the waiter from onboard neglected us each time he walked by. The bar would however take on a "meat market" vibe later in the day. Most of that is probably because of the three day cruise, but time will tell. At 11:30 lunch opened up at Skippers Grill. If we're comparing the food at CocoCay to Labadee, CocoCay is a new Michelin starred restaurant compared to a Shoney's. I was so pleasantly surprised with the variety and quality of the food on CocoCay. And that was even before discovering the Snack Shack. As @Matt has mentioned, they're chicken sandwich is delicious. I'm really hoping they don't cost-cut the quality out of the CocoCay food because they knocked it out of the park. On our way back onboard we found the stowaway piano player technically not being a stowaway. Perhaps he was doing his @BrandonOwen impression and trying to stowaway on the island After we got back on, we found an industrial dryer in the room, and also found that the plumber who plugged in the dryer had left the bathroom door open which had led to a Vortex of Toilet Paper (Which would be a great punk rock band name) We also discovered the pitfalls of having a private island where the drink package carries over. I witnessed more than one person needing to be pushed to their room in a wheelchair because they had over indulged on the island. One woman I saw was screaming in the hallway and didn't know where her room was.

After dinner we scurried down to studio B for ISkate. This show was much better received by the family than the forced "we do what we want" ISkate show on Harmony. The choreographed drone routine was awesome. The routines in the show also seemed more coordinated and skilled even including an on ice backflip from one of the skaters. There must have been 15 costume changes during the show. The conclusion of the show was also where we first, and last saw Hugo, our cruise director. I got too accustomed on NCL of seeing the CD's just walking around and being part of the action. On RC they seem to take a much more business oriented MC role After the show I headed down to the casino, which seemed to feature several oversights when it came to design. There's just too many tables crammed in to where you can't get buy when someone is sitting down. During my visits there it was a mixed bag of dealers mostly unfortunately featuring less than enthusiastic personalities. It's a huge departure from the rest of the crew who actually seems happy to be there. Once she saw it in the cruise compass, Addie wanted to stay up for the Midnight balloon drop. I was ready to go to bed by then, knowing there was a long day upcoming at CocoCay. Addie won out and we crowded into the Promenade just before midnight.

Dinner on the first night lead us to our favorite meal from Harmony, Jamie's Italian. It's our eight year old daughters favorite, and she nearly screamed when I let her know yesterday that Oasis wouldn't get a Jamie's when it gets Amplified. Jamie's features the updated menu that rolled out when Navigator was relaunched, which for my wife meant I was missing the crispy Salmon she adored on Harmony. The location is also a big departure from Harmony where the restaurant is off of Central Park, here it sits off the rather noisy WindJammer buffet. This does however mean it gets some stunning ocean views during sunset. Garlic bread Calamari Bruschetta (which I caught one bite late) Short Ribs Shrimp Linguine Truffle Linguine Pan roasted salmon. This one was a bit of a miss as the red sauce didn't help the dish Tagliatelle Bolognese. This is my second favorite bolognese out there, only behind Lidia Bastianich's recipe. Which unfortunately takes a full day to make.