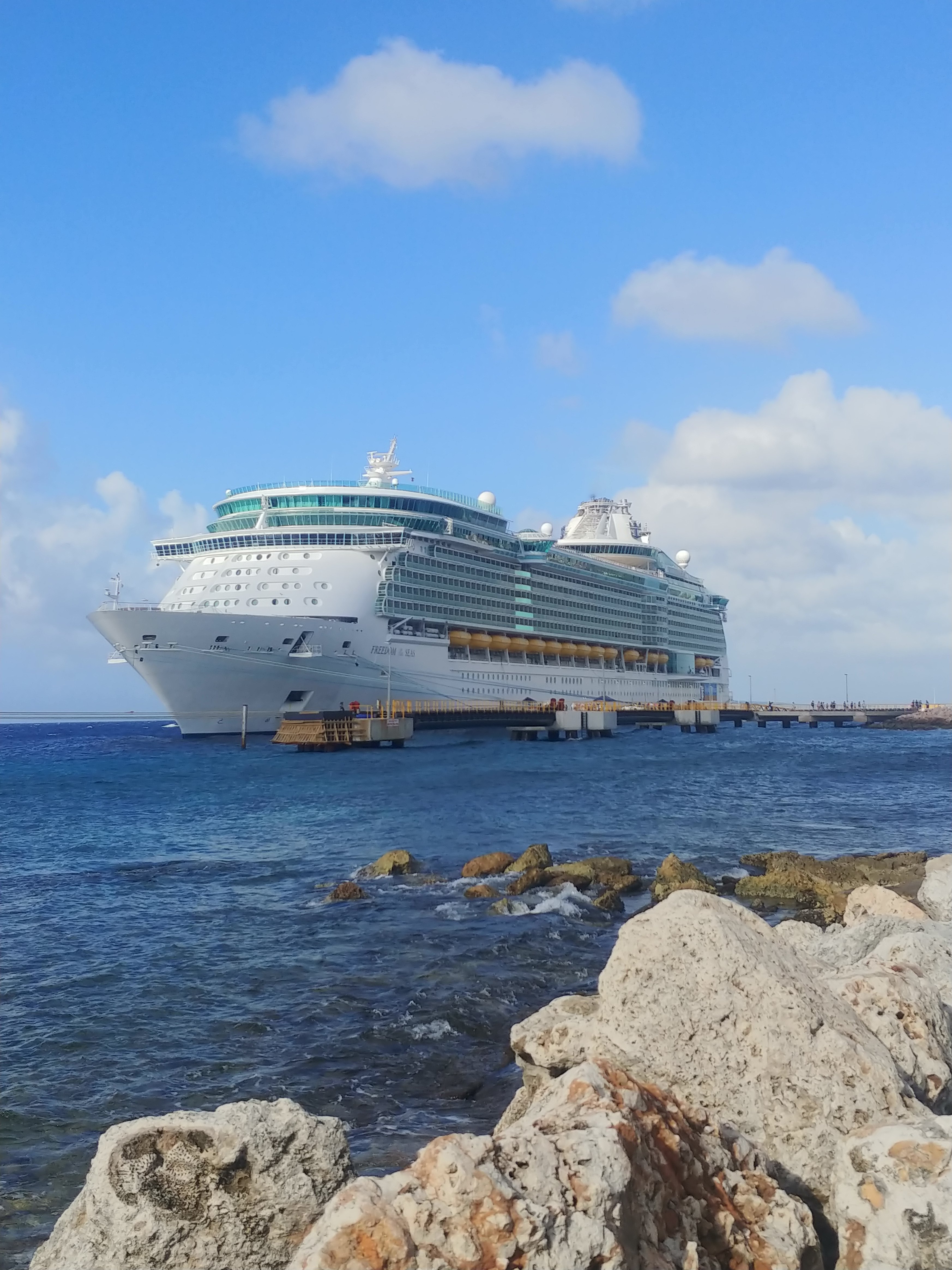 Content Count

84

Joined

Last visited

Days Won

5
Recent Profile Visitors
The recent visitors block is disabled and is not being shown to other users.
SassMaster

reacted to a post in a topic:

Deck Location

Exciting times to be on an Oasis class ship. Life boats are on deck 5 so count up three balcony levels from them and you will find deck eight. Hope that helps.

Titanicrul

reacted to a post in a topic:

Oasis of the Sea's Forehead

Just posted about a favorite quiet spot on Freedom being turned into rooms. Now the Oasis Sundeck will be gone. Well, I love panorama OV rooms so I may have to try one out. Still, I will miss the hide away sun deck and telescopes. Photos from Oasis last September. 😀

I do understand the need to add rooms and in theory it keeps the price down. Most times they are added to space that I don't use but I will miss the quiet space forward of the Solarium. (On either side) If my memory is correct, RC is taking away the 20 or so chairs accessed through glass doors. It was fully windowed so out of the weather and wind but full ocean view. I remember being treated to a mini Barbershop quartet concert as we sailed with a large group of them a few years back. Still, Freedom will remain one of my favorite ships!

Lovetocruise2002

reacted to a post in a topic:

Canada/NE excursions...Need Help

JLMoran

reacted to a post in a topic:

Canada/NE excursions...Need Help

I can help with Maine as I have lived here for 25 years. Portland - very walkable small city. You are right in the old port area that is a mixture of shops, restaurants, and yes, brew pubs. You may want to take a morning tour that will take you aroind town and to some light houses and walk the cobblestone streets of the old port. Tip -If you have a chance to climb the last remaining N.E. ship signal observatory on a tour, go for it. It's unique with an incredible history. Bar Harbor - Home base to the northeast's only National Park. It's an amazing place were the ocean meets not only the rocky coast but the mountains rising up to 1500 feet from sea level. If at all possible go explore the park. You may be limited to the park loop road but there are enough stops to get a flavor of the park. The downtown is charming and very well kept. Tip - I have hiked up most of the peaks on the island but with time constraints, find a tour that drives you up Cadillac mountain. 360 degree views and your ship will look like a bath toy from up there. Enjoy!!

KathyC

reacted to a post in a topic:

St. Maarten/Martin taxis

I do not have first hand info as I have rented a car and another time, just took the water taxi. I can confirm the port has clearly posted prices at the taxi area with each destination having a seperate banner. By the clarity of price, it seems like haggling is at a minimum. I searched taxis on the island and came across this link http://taxistmaarten.com/ Love the island so enjoy!

Momof4crazytocruise

reacted to a post in a topic:

In defense of Nassau!?!

monctonguy

reacted to a post in a topic:

In defense of Nassau!?!

PRebecca

reacted to a post in a topic:

In defense of Nassau!?!

It's Love Beach. Found it researching the top beaches in Nassau on the internet. As far as I know there are two different types of places that give you access. There appear to be day passes at a full resort at the start of the beach. Not sure of the name but you could look it up. We went to Nirvana where a couple dogs roam , the chairs are cheap and on the old side, and the bar area is either relaxed or run down depending on your perspective. Same as getting there. Wait a bit and take the bus for $2.50 each way or grab a taxi for $25. As mentioned, we went for the "authentic" 😆 version but that's just us.

So there it was... our 4 day Cuba cruise now changed to Key West and Nassau morphed again into a cruise to Nassau and we stay docked until 6pm the next day. As we stared at the paper announcement on our stateroom bed, it was just 100% disbelief. Granted we were only at Nassau once before and went straight to Segway around Blue Lagoon but Nassau is the place that people stay on board, complain about, and generally avoid. What transpired was a terrific two days there. First off we had already decided to take a tour bus exploration excursion to get an overview and some history. It was fast paced and covered a lot ground but most of all we noted places we wanted to visit in the afternoon. After lunch back at the windjammer, we walked to the Balcony House. It's the oldest wooden structure on the island. The tour was informative and free. From there we walked around that neighborhood reading history markers and slowly walking back down to the ship. A stop for ice cream on a second floor deck overlooking the harbor completed day one. Well, actually we ventured back out around 8 at night but most everything was surprisingly closed down. At no time did we feel unsafe or hassled beyond the typical vendors trying to get us into their stores on the main drag. Day two brought great weather so off to the local bus stop to grab the 10 or 12b bus that runs along the North shore of Nassau. The goal was to find a beach far enough away from the tourists and the beach peddlers. Mission accomplished with a half hour ride shared with locals going to work. Found a beach that started with just us there and topped off at about 12 other RC toting towel folks. It was 100% what we had wanted. The small bar had 5 dollar beach chairs, food and refreshments. It was more island charm than resort which fit us fine! Nassau wound up being a very pleasant surprise. Friendly locals, easy walking to historical sites, and an accesable public bus system to get you to the beach with some local flair! If we stop in Nassau again, which is a cruise ship given, we will no longer moan but look forward to creating an adventure.

I started a thread a few months ago about thoughts of cruising with a plant based diet. At that time RC had just posted that they were making vegan menu options available in the main dining room. Now I can report back from my Majesty of the Seas experience. Good news for those thinking vegan choices would crowd out other choices on the menu. A separate vegan menu, really a four course meal with some choice is given upon request. It does not impact the main dining room menu at all. The food was delicious and different every night. It included a choice of appetizer and main course with a soup and dessert for you. Of course you can also order off of the regular menu if you find something there. On Majesty, there is a chef that is responsible for most of the choices and service was just about at the same speed with the rest of the patrons. Pictures are worth a thousand words so below are the menus and some food shots...

Yes, it was because of rough seas. Boarded Majesty Saturday and upon getting to our state room, we received notification of a sea day followed by an overnight at Nassau. The captain sailed straight to the shelter of Grand Bahama but it was a fairly rough ride for a few hours. After that we went back and forth just south of the Island with the ship looking for the sunniest weather. Made for a great sea day. It did take a couple hours to get over the change, cause hey, this was supposed to be our Cuba cruise. Honestly, having a ball on the ship and love staying over. Not live blogging but will be posting my thoughts on Majesty and Nassau later on.

Calling all experts! I am aware of purchasing gifts for others on their cruises but what is the best way to gift experiences such as the escape room or a ship tour. Specifically, my sister and husband are sailing their first cruise on Mariner in a few weeks. . Their children want to buy and surprise them with an escape room experience. What can I offer them as advice? Thanks in advance!

Hi @FloridaCruiseGirl1210. I always do early bird check-in since SW reserves your spot within who purchased early bird first. So if you were the 30th person to buy early bird check-in you would be 45th to board. (The first 15 are reserved for business and those who want to pay even more) For me it's worth it not to watch the clock and try to get a low number based on the time I check in. Do note that there are still preboarders such as folks with wheel chairs so my scenario might not be absolutely true. Still, I have always felt that I had more than 2/3s of the plane available to to me at the worst using the early bird option.

Matt recently posted a third party news article about vegan main dining room choices starting August 1st. https://www.royalcaribbeanblog.com/2019/08/02/new-vegan-menu-be-added-royal-caribbeans-main-dining-room#disqus_thread Can fellow bloggers confirm this is now across the fleet. My partner and I are 6 months in on being plant based and are thrilled with the health benefits. Having these choices just makes us more loyal to Royal!

I know "stuff" happens but it was being rerouted twice in 4 months to Nassua that made us bail to the smallest ship with a big heart. If RC could have found a different subsitute port it would have kept us on AOS. It's all good and with Twangster's 14 day live blog on Empress, we are more than excited to be one with the sea!

Just catching up on the replies right now as I'm in the middle of a 27 hour road trip from Maine to Florida. As I said we were very disappointed in losing Roatan as a port. We went through the multiple emotional stages of itinerary change and came up with a substitute sailing. For the same price we booked the junior suite on empress for the same week. The ports are Roatan, Belize, Cozumel, and Key West. I know we've gone from the largest class to the smallest ship but for us it's still YOLO. It's a chance to experience a small ship and a different type of cabin. At some point I'll start an empress tips and tricks thread to get some great advice it for now we'll just get excited!

Sailing on AOS the end of Janaury and just got the dreaded broken propulsion email. I am a super optimistic guy who loves sailing once or twice a year but this is the second port switch to Nassau in a month. First rerouted from Havana on Majesty and now we won't make Roatan so back to Nassau. I am sure we will have a great time but Roatan was going to be a highlight. Seems like Nassau is the Bermunda Triangle of cruise changes.