In:
If I had to pick between cruising the Caribbean or cruising Alaska, I would pick Alaska every time.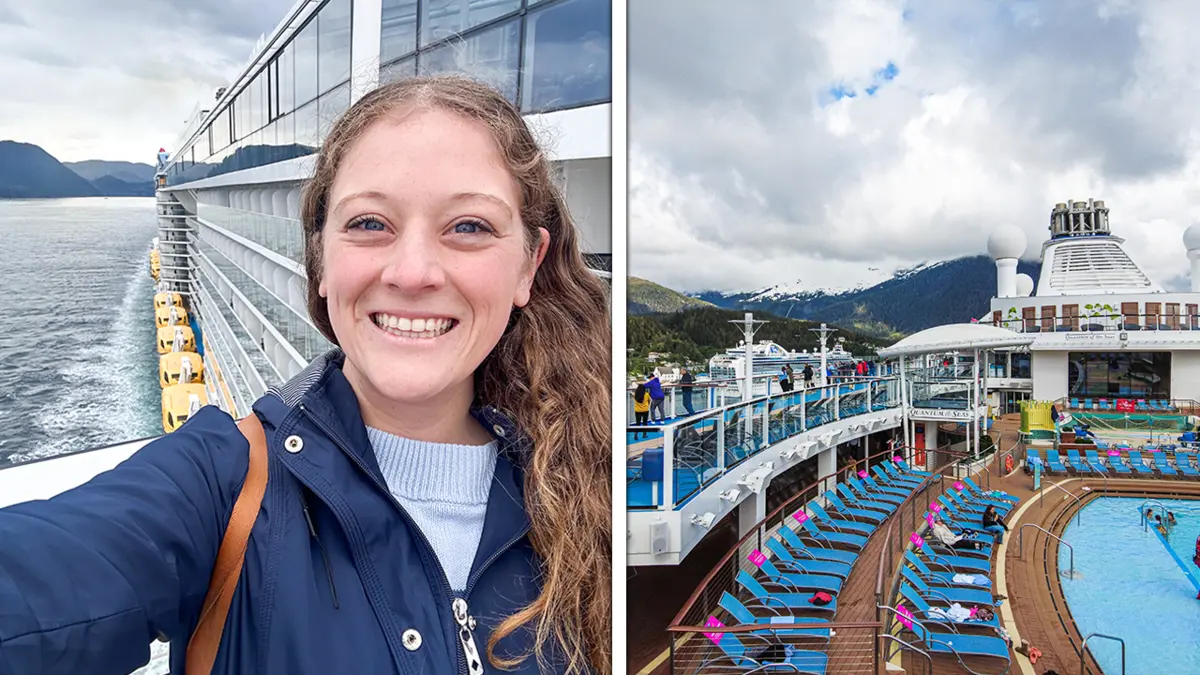 I have cruised to Alaska each year for the past three years, and it's quickly become my favorite cruise destination. The landscapes, wildlife, and port-intensive itineraries in Alaska are unlike any other cruise destination in North America, and I can't get enough.
Those who have never cruised Alaska may find the concept of an Alaska cruise confusing. Why would anyone pay to be cold on vacation? What is the point of a cruise if you can't suntan on the pool deck?
An Alaska cruise is, truthfully, very different from a traditional cruise experience in the Caribbean. You'll swap a bathing suit for a jacket, sandals for boots, and sunglasses for binoculars.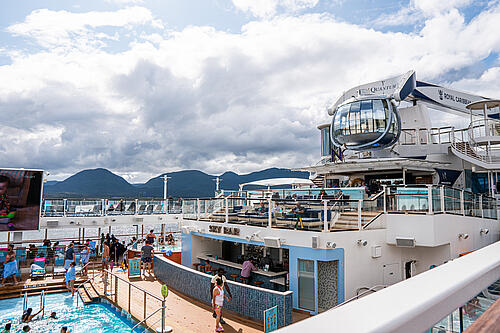 Despite the colder weather, Alaska cruises offer unique ways to explore this fascinating region of the world, from booking a whale watching tour to dogsledding on a glacier.
While there are a few things I don't like about Alaska cruises—namely, the ultra expensive shore excursions—I still prefer cruising to Alaska over Caribbean itineraries, and here are 8 reasons why.
What I love most about Alaska cruises is watching the scenery when sailing from port to port.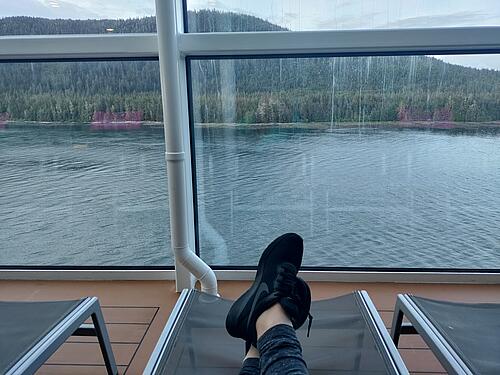 As much as I love visiting Alaska's cruise ports, I enjoy watching the scenery from onboard even more.
In the Caribbean, your cruise ship spends most time at sea sailing through the open ocean. The majority of the time, once your ship sails away from port, you won't see land until you arrive at your next port of call.
Related: Royal Caribbean Alaska cruise guide
Alaska cruises offer stunning scenery while your ship sails from port to port. Once you enter the state's Inside Passage, your ship will be surrounded by land on both sides. You'll see small islands, jagged cliffs, waterfalls, and glaciers from the comfort and warmth of your cruise ship.
When I cruise to Alaska, I spend hours admiring the scenery from the Solarium, the pool deck, or a quiet lounge. It's hard to beat sipping a hot chocolate while watching mountains, glaciers, and volcanoes out the window!
I love the tropical views on a Caribbean cruise, but for me, it doesn't compare to what you'll see in Alaska.
As an active traveler, I love the outdoor adventure opportunities offered in Alaska.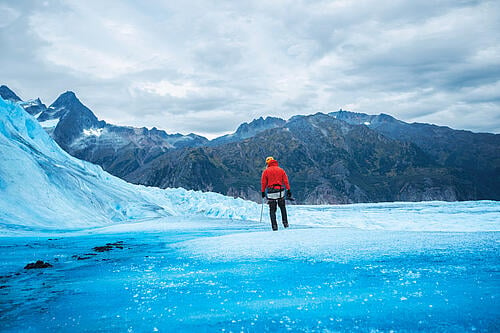 I'm always looking for outdoor activities when I cruise, and there's perhaps no better place to explore the outdoors than Alaska.
Alaska's nature is vast, rugged, and remote, but there are outdoor activities accessible to all guests. Whether you're a seasoned hiker or a novice outdoorsman, you can easily find ways to explore the state's nature during an Alaska cruise.
Related: Alaska cruise excursions
Many shore excursions in Alaska have an outdoor focus. You'll find plenty of hiking, biking, kayaking, and even rock climbing excursions in Alaska cruise ports.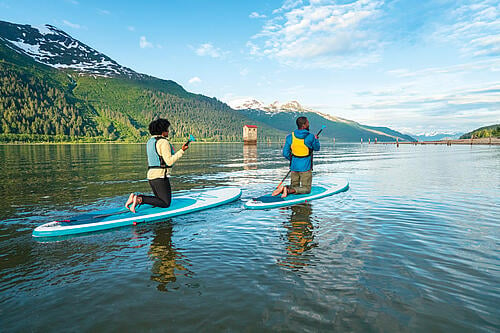 If you don't want to shell out hundreds of dollars on an excursion, it's easy enough to explore nature without an organized tour. I prefer exploring ports on my own and have found outdoor activities in every cruise port, from day hikes in Sitka to bike rides in Juneau.
You can certainly still enjoy the outdoors in the Caribbean, but it's hard to beat the outdoor activity offerings in a place like Alaska.
The wildlife viewing opportunities in Alaska are unmatched compared to other cruise destinations.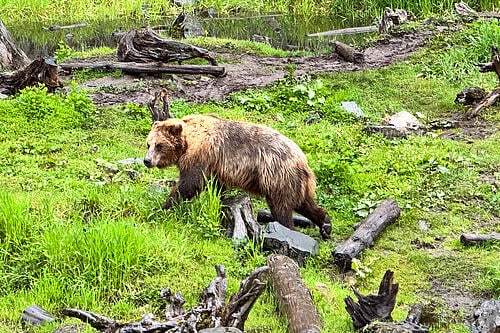 Alaska is home to majestic wildlife. There are an estimated 30,000 bears in the state along with an equal number of eagles. Additionally, eight species of whales frequent Alaska's chilly waters during the summer months, including humpback, gray, orca, and minke whales.
Spotting wildlife is a major attraction for those booking a cruise to Alaska, and you're almost guaranteed to see these animals during your week in the state.
I'm currently onboard an Alaska cruise, and just yesterday I spotted a mama black bear and two cubs through my binoculars from the ship. Later in the evening, a humpback whale made an appearance on the ship's starboard side as we relaxed in the Solarium.
Related: What is the best time of year to see wildlife in Alaska?
In fact, I've spotted two whales since I began writing this blog post!
Beyond viewing wildlife from the ship, you can book a variety of wildlife-focused shore excursions. From whale watching tours to sea otter quests and visiting a bear rehabilitation facility, there are plenty of ways to get up close (but not too close!) with wildlife on an Alaska cruise.
You can book a one-way Alaska itinerary to explore the state more in-depth, and I love having this option.
When it comes to booking an Alaska cruise, you have two options: a roundtrip sailing or one-way itinerary.
Roundtrip cruises depart Seattle and return one week later. Throughout the week, they visit three Alaska cruise ports and also stop in Victoria, British Columbia.
Roundtrip sailings are convenient, as passengers can book a roundtrip flight, and if they drove to the cruise port, they can park their car in Seattle for the week.
One-way sailings, on the flip side, travel in one direction, starting in one port and ending in another. Northbound itineraries start in Vancouver, Canada and end in Seward, Alaska. Southbound cruises go in the opposite direction.
Related: 50 best Alaska cruise tips
One-way itineraries allow passengers to travel Alaska more in-depth—they stop at four Alaska cruise ports instead of just three.
Furthermore, starting or ending the cruise in Seward, Alaska allows guests to explore interior Alaska before or after the cruise. Visiting sites like Denali National Park and Preserve and Kenai Fjords National Park is just a few hours' drive away from the cruise port in Seward.
Having one-way itinerary options is another reason I prefer Alaska cruises over Caribbean itineraries. One-way itineraries are not common in the Caribbean, and are usually only found on lengthy repositioning cruises.
While I cruise often, I enjoy land-based vacations for the ability to explore a destination at a slower pace. Booking a one-way itinerary allows you to experience the best of both worlds in Alaska.
Glacier viewing days are another reason I prefer Alaska cruises over Caribbean itineraries.
Most Alaska cruises include a scenic viewing day of a glacier, and these spectacular days are another reason I prefer Alaska cruises over Caribbean cruises.
Most round trip itineraries make a visit to Endicott Arm & Dawes Glacier, a 600 foot tall, 30 mile long glacier at the end of the Endicott Arm Fjord. Some itineraries also visit Tracy Arm Fjord and the twin Sawyer glaciers.
One-way itineraries often visit Hubbard Glacier, a 75 mile glacier that flows to Disenchantment Bay in southeast Alaska. At 400 feet tall and 6 miles wide, seeing this glacier makes for an unforgettable cruising day, and it's something you'll never see on a Caribbean cruise.
Related: Hubbard Glacier vs. Glacier Bay: which glacier is better to see on a cruise?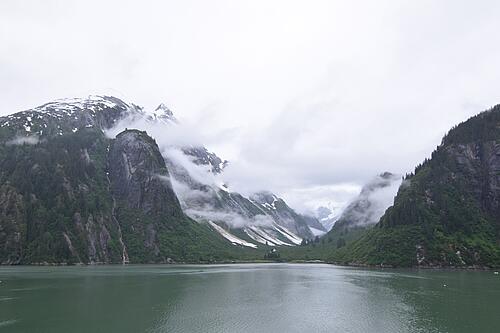 On glacier viewing days, your cruise ship sails through a narrow fjord amongst colossal cliffs and tall, narrow waterfalls. As your ship approaches a glacier, you'll see icebergs and maybe even wildlife like seals, eagles, and whales.
Once at the glacier, the ship will turn 360 degrees, allowing guests to see the glacier from anywhere onboard.
Pictures don't do Alaska's glaciers justice—the scale and majesty of these massive ice sheets must be seen in person to truly appreciate their grandeur.
I'm a destination-focused traveler, and Alaska cruises focus more on the destination instead of the cruise ship itself.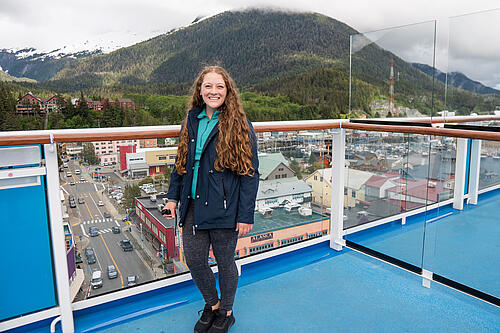 In the age of mega cruise ships, it's easy to place more of a focus on the ship itself instead of the destination. After all, today's biggest cruise ships are destinations within themselves, with distinct neighborhoods, dozens of dining choices, and an endless array of activities and entertainment.
When cruising in the Caribbean, most passengers choose a cruise based on ship rather than itinerary. The ports seem almost secondary to the features of the cruise ship itself. In fact, some passengers do not even disembark the ship in ports of call, instead preferring to spend their time enjoying the ship's amenities.
Related: Comparing the Royal Caribbean ships sailing in Alaska
In Alaska, on the contrary, the focus of the vacation is on the destination instead of the ship. For most guests, visiting Alaska is a once-in-a-lifetime opportunity, and they are excited to relish every moment as much as possible.
You'll catch more passengers researching ports of call, watching sailaway from outer decks, and visiting monuments and museums about the state's culture. There's a sense of excitement in the air when cruising Alaska that I haven't yet seen on a Caribbean cruise.
As someone who lives on the west coast, it's hard to beat the convenience of cruising to Alaska.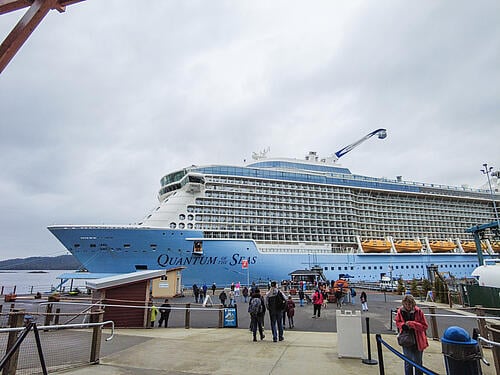 I live in the western United States, and it's significantly easier for me to get to Seattle compared to east coast ports like Miami, New York, and Port Canaveral.
Because of this, I'll always prefer booking a cruise from a port on the west coast, such as Seattle, Los Angeles, or San Francisco. Doing so means I can hop on a short two hour flight instead of a twelve hour travel day with lengthy layovers.
Related: Guide to Seattle cruise port for Alaska cruises
This also means flight prices are significantly cheaper than those to Florida. I recently booked a flight to Seattle for $150 roundtrip; flights to Miami, on the other hand, can be over $600. At that price, I might as well fly to Europe instead of Florida!
Additionally, the lack of a time difference when cruising from the west coast leaves me far less tired for the first few days of the cruise. Instead of recouping from jet lag and red-eye flights, I can kick off my vacation feeling more energized.
I enjoy the break from the summer heat when cruising to Alaska, even if it is a bit cold.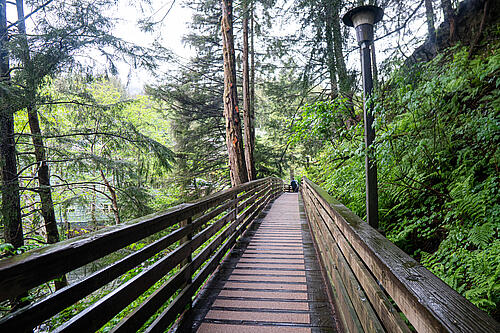 If you live in a warm climate like Arizona, visiting Alaska in July is akin to someone from Minnesota booking a Caribbean cruise in January.
Instead of traveling for sunny days to get you through winter, you're cruising for chilly, cloudy days to help you survive the summer!
The temperatures in southeast Alaska typically range from 55-70° F during the summer months, with most days averaging around 65 degrees. While warm by Alaska standards, temperatures will feel cool for most passengers from the lower 48.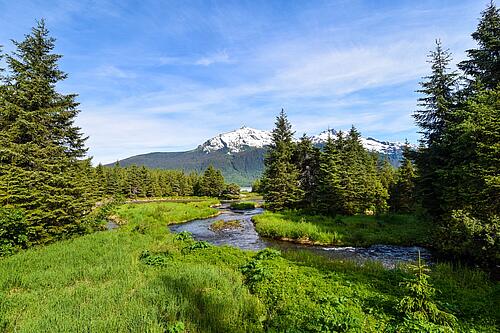 Booking a Caribbean cruise during the summer brings drastically different weather. It's not uncommon to see highs above 90 degrees in Cozumel in July, and that's not even mentioning the 80% humidity.
Personally, I prefer cruising somewhere colder in the summer months as opposed to traveling to a warmer climate. Although you won't find me traveling to Alaska in January, I'm always eager to escape the heat of summer with a cold weather cruise.
Planning an Alaska cruise? Check out more of our helpful tips: