In:
Choosing an Alaska cruise itinerary doesn't boil down to just cruise ports. You'll also want to consider which of Alaska's colossal, majestic glaciers you'd like to visit.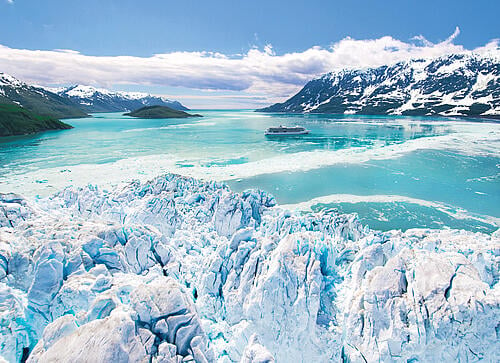 Two of the most beloved places visited on an Alaska cruise are Hubbard Glacier and Glacier Bay National Park. While visiting either location offers the chance to see some of the most spectacular scenery in Alaska up close, they each offer different experiences, pros, and cons.
Let's take a look at what each glacier experience has to offer so you can decide which glacier you want to visit on your Alaska cruise.
Hubbard Glacier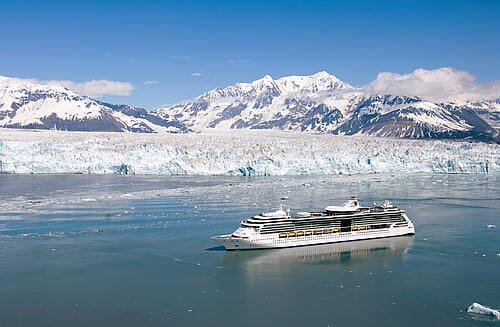 Imagine standing directly in front of a 30-story building made of ice. That's what you'll experience from a cruise ship visiting Hubbard Glacier, and you're sure to be awe-inspired.
Hubbard Glacier is located in Wrangell-St.Elias National Park and Preserve. It starts in Canada's Yukon Territory at Mt. Logan, the second tallest peak in North America at 19,850 feet. The glacier flows over 75 miles to reach Disenchantment Bay in southeast Alaska.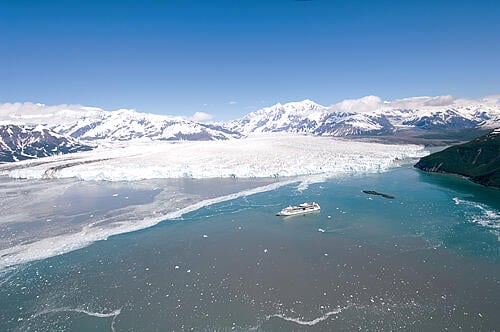 At 400 feet tall and six miles wide where it meets the ocean, Hubbard Glacier is the largest tidewater glacier in North America. Unlike many other glaciers in Alaska, Hubbard Glacier is rapidly advancing at around 80 feet per year.
Due to its rapid growth, Hubbard Glacier has been nicknamed the Galloping Glacier. Its fast advancement results in frequent calving as chunks of ice break off the glacier.
Visiting Hubbard Glacier is a multi-hour experience, with ships sailing first into Yakutat Bay followed by Disenchantment Bay en route to the glacier. Sightseeing occurs for about three hours as the ship makes a 360 turn in front of the glacier, allowing guests to view its magnificent face from anywhere onboard.
Glacier Bay National Park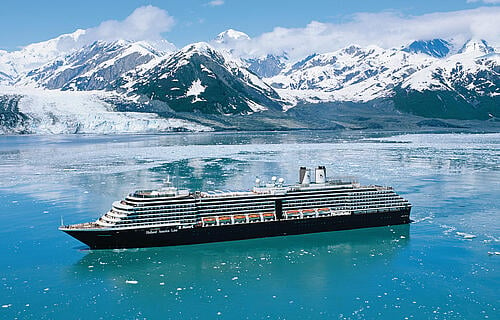 Glacier Bay National Park is the 6th biggest national park in the United States. At over 3 million acres, the national park is roughly the size of Connecticut!
There are a whopping 1,045 glaciers located in Glacier Bay National Park. While most glaciers are located far into the mountains, cruise itineraries can visit up to 6 glaciers in one day in the park.
Here are the glaciers most commonly visited on a scenic cruising day in Glacier Bay:
Margerie Glacier
Grand Pacific Glacier
Red Glacier
Lamplugh Glacier
Johns Hopkins Glacier
Gilman Glacier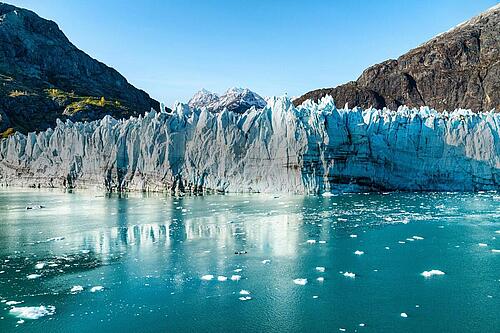 The longest glacier in Glacier Bay National Park is the Grand Pacific Glacier at 40 miles long. The fastest is Johns Hopkins Glacier, which can advance up to 15 feet per day.
When you visit Glacier Bay, park rangers will board the ship to provide information on the park's scenery and wildlife.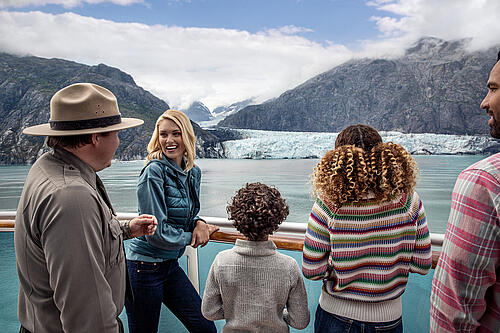 Depending on the cruise line, this can include formal presentations in onboard lounges, commentary on the loudspeakers, a children's educational program, and an informational desk you can access throughout the day.
Itineraries to Glacier Bay include a full day of sightseeing in the National Park. Ships typically enter the bay in the early morning, cruising slowly for two hours before reaching the glaciers.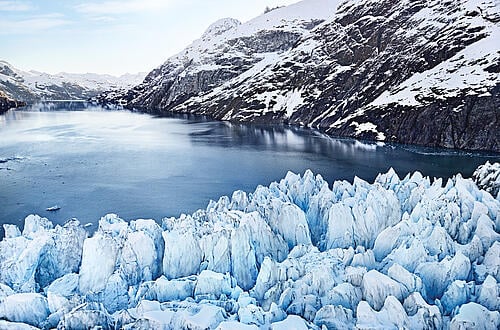 Once at the glaciers, cruise ships spend around four to five hours exploring the scenery before turning around and making the two hour journey back into the open ocean.
Does Royal Caribbean offer cruises to Glacier Bay?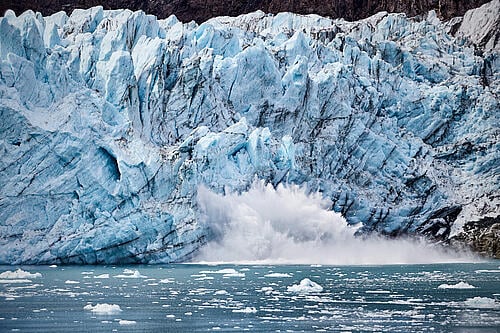 Royal Caribbean does not currently offer cruise itineraries to Glacier Bay National Park. While the cruise line was offered an agreement with the park to offer Glacier Bay itineraries from 2019 - 2029, Royal Caribbean did not sign the agreement.
That being said, you may be able to book a flightseeing shore excursion to Glacier Bay. These tours typically depart from Icy Strait Point and fly over the park.
Related: How to choose the right Alaska cruise itinerary
There are many other glaciers you can visit on a Royal Caribbean cruise to Alaska, however, including Hubbard Glacier, Dawes Glacier, and the twin Sawyer Glaciers. There's also the chance to visit other glaciers while in port, such as the famous Mendenhall Glacier in Juneau.
Which glacier is better for wildlife?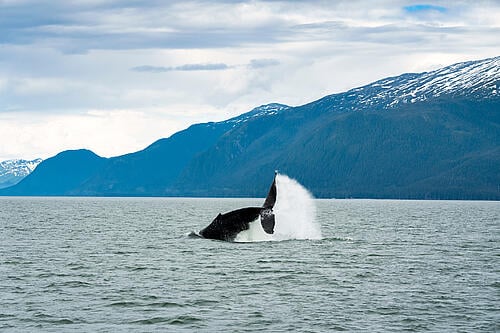 Both Hubbard Glacier and Glacier Bay offer the chance to spot wildlife including harbor seals, humpback whales, and seabirds. While wildlife sighting is never guaranteed, you have the chance to spot wildlife while visiting either glacier.
Related: What is the best time of year to see wildlife in Alaska?
A plus of visiting Hubbard Glacier is the chance to book the "Hubbard Glacier Wilderness Explorer" excursion. This tour brings passengers aboard a small excursion boat, allowing guests to travel closer to the glacier while spotting wildlife. A guide is onboard to provide insight on the region's ecology and wildlife calling the region home.
If we have to pick the best glacier for wildlife viewing, though, it would be Glacier Bay. As cruise ships spend more time in Glacier Bay than at Hubbard Glacier, you have more time (and chances) to spot wildlife.
Which glacier should I pick for my Alaska cruise?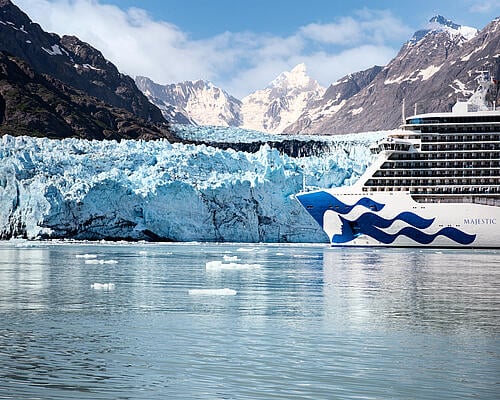 Deciding between Glacier Bay National Park or Hubbard Glacier comes down to a few main considerations.
The first decision you'll have to make if you're a loyal Royal Caribbean cruiser is whether or not you are open to sailing on another cruise line. Because Royal Caribbean does not sail to Glacier Bay, you'll have to sail on a cruise line like Princess, Holland America, or Norwegian.
Glacier Bay is undoubtedly impressive, however, and if visiting the park is on your bucket list, it's worth sailing on a cruise line other than Royal Caribbean.
Related: Best things to do on an Alaska cruise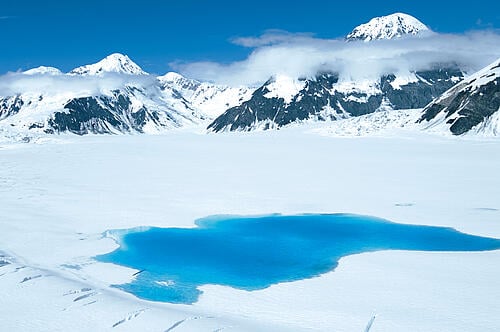 Hubbard Glacier, on the other hand, can still make for an excellent addition to an Alaska cruise itinerary. While only one glacier instead of multiple glaciers, Hubbard Glacier dominates the landscape more dramatically than any glacier at Glacier Bay.
Plus, while Hubbard Glacier may offer shorter sightseeing times compared to a day in Glacier Bay, this can be perfect for families. Days at Glacier Bay are long, often starting in the early morning and lasting until dinnertime. Kids may not want to spend the whole day looking at the scenery, so Hubbard Glacier can be a more condensed yet still beautiful experience.
While there's no 'best' Alaska cruise itinerary, you can't go wrong visiting either glacier. In fact, you may even be able to find itineraries visiting both glaciers in one cruise!
Tips for visiting glaciers on an Alaska cruise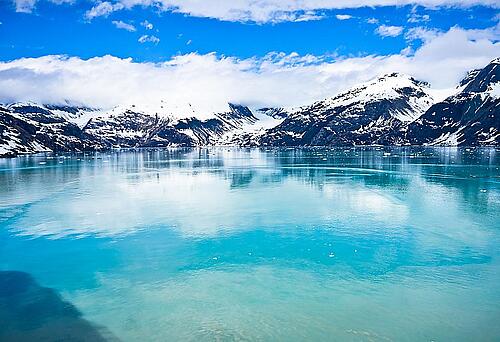 No matter which glacier you visit on an Alaska cruise, you'll want to make sure you're prepared so that you have the best viewing experience possible. Here are our top tips & tricks for viewing glaciers on an Alaska cruise.
Find the best spot to watch the scenery
Whether visiting Hubbard Glacier, Glacier Bay, or any of Alaska's other magnificent glaciers, be sure to find the best spot to watch the scenery.
You can view the scenery from your balcony, the pool deck, Promenade deck, the helicopter pad, or any other place onboard with windows.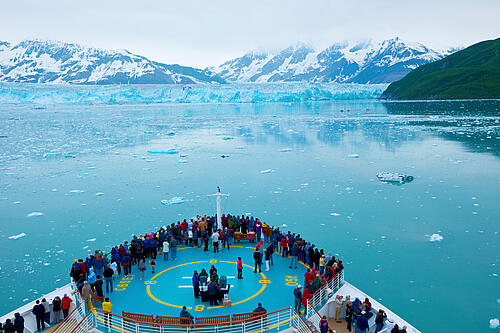 Prior to your itinerary's scenic glacier viewing day, scout out a few of the best places to view the glacier. While you may opt to view glaciers from your balcony, you might want to consider somewhere onboard with more panoramic views, such as the pool deck or helicopter pad.
Be flexible
Nothing is guaranteed when cruising, and it's always important to be flexible to ensure you don't end up disappointed.
Alaska's weather is unpredictable, and it's not entirely uncommon for cruise ships to cancel or modify glacier viewing times in order to keep guests, crew, and the ship safe.
While ships successfully visit glaciers more often than not, there's always the chance your glacier viewing day may not occur.
Bundle up
Packing for an Alaska cruise means layers, layers, and more layers.
When preparing to view a glacier on an Alaska cruise, be sure to bundle up to ensure you don't get too cold while viewing the glacier.
Related: Alaska cruise packing list: What to pack for your sailing
Our advice is to wear pants (leggings or jeans), a base layer (long-sleeve shirt or sweater), a rain jacket, and a hat. It's always better to wear more than you need and take layers off rather than be too cold while viewing the glacier.
Most importantly, don't forget your camera!
Planning an Alaska cruise? Discover our best advice: