In:
Warm sunny days, savory food at every turn, and family memories. Taking your first cruise has high hopes for a great vacation experience.
When you're new to cruising, there's all sorts of emotions you may be feeling, including excitement, anxiety, impatience, and hope. 
In talking with new cruisers I'm reminded of the highs and lows pre-vacation planning brings from when I first started cruising.
Now, with over twenty years of cruising experience under my belt, I go into almost any cruise with a sort of "auto pilot" sense to the planning process.  My brain is tuned to what to expect and what to do next in a variety of scenarios.
Of course, I made plenty of rookie cruise mistakes along the way as I got to this point. Everyone learns along the way in becoming a veteran cruiser.
I know what it's like to just be starting out and have a mind filled with questions, anxieties, and concerns.
So, if you're new to cruise ships and looking for advice to help you prepare, here are 12 tips that I'd tell a new traveler to help them avoid some of my early mistakes:
1. Don't worry
It may feel daunting when you look at all the things to consider when booking a cruise: 
It's easy to feel overwhelmed seconds after you decide on taking a cruise, but you're very capable of handling this kind of a trip.
By virtue of the fact you're asking these questions, you're already many steps ahead of most other cruisers that will be on your ship.
Unfortunately, most people on a cruise ship book the ship and then that's about it.  They may buy a drink package or internet plan before their cruise because of a Royal Caribbean marketing email, but a lot of people simply show up for the vacation. This sets them up for more pitfalls than you because you're already asking the right questions.
A cruise ship vacation is designed to be very approachable, so even if you do no research in advance, you'll still probably have a good time onboard. The fact so much is included compared to a land vacation makes it easier to plan around.
You'll make mistakes. Everyone does (myself included). But that's just part of the experience.
The good news is by being on this site and learning about cruises, you're already going to side-step a few common pitfalls and at the end of the cruise, you're very likely to come away loving the experience and wanting another trip!
2. Use a good travel agent
Before you book any cruise, find a really good travel agent to work with.
Yes, travel agents are still a thing, and they are invaluable when it comes to cruise ship travel, especially for those new to cruising.
Note that I included the word "good", as not all travel agents are created equal.
A good travel agent has a great deal of experience with the cruise line you are sailing on, and knows the ins and outs of the experience. They've "been there, done that" and have a host of satisfied clients that swear by their travel agent.
You might be thinking "booking a cruise can't be that hard", and you're right. But the booking process is just the starting point for where a good agent comes into play.
As a new cruiser, you're going to have a lot of questions.  Certainly articles on this site can help answer some, but many questions you have will be personal and related to your situation.
Basically, you don't know yet all the questions you will have between now and your cruise beginning. A good travel agent is there to help you along the way.
They'll save you so much time, and maybe some money too.
If it matters, I always use a travel agent to book my cruises.
How do you find such an agent? Ask friends and family for a recommendation. Here is one such recommended travel agency that specializes in Royal Caribbean. 
3. Learn as much as you can before you get onboard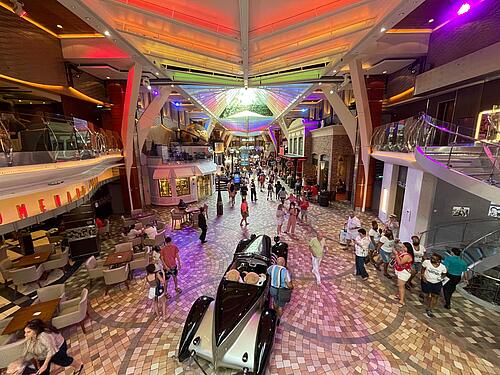 "Knowledge is power" isn't just something we tell our kids so they'll study harder in school. It's a fact when it comes to travel.
The more you know about your ship and itinerary, the better prepared you'll be and less likely to waste your time or money along the way.
If there's a regret I hear from new cruisers the most, it's they wish they knew about something before they ever went on their first cruise.
Some easy ways to learn about your cruise are:
4. Choose your cruise ship based on what is important to you
There are so many cruise ships in Royal Caribbean's fleet, so when choosing the right one, prioritize what you care about.
The TV commercials show all these fun things you can do onboard, but do you need waterslides, surf simulators, or observation pods?
Are you looking for water slides? Skip the Vision class. Need a full Broadway show? Liberty of the Seas has it, but not Freedom of the Seas. Want a nursery for your toddler? Don't book Explorer of the Seas.
Don't feel like you have to book the ship that has the most to do onboard just because it has everything. You may find a great choice in other ships too because it has just what you need.
5. Pack light
I admit that I still struggle with this, but overpacking is so tempting when it comes to a cruise.
The fear of getting onboard a cruise ship only to realize you forgot something really important is an all too real concern.
I think all too often people pack for "just in case" and "what if" instead of the reality of the trip.
While it can be tempting to bring more than you need "just in case," remember this: you can wear clothing more than once, such as pants or shorts. Plus, you can send clothes out to be dry cleaned and it won't be terribly expensive.
Pack light and you'll have less to carry, saving you the hassle and stress of lugging suitcases around the airport.
Read more: The Ultimate Cruise Packing List
6. Get travel insurance
Whether you're a cruise veteran or a brand new cruiser, don't leave home without making sure you're protected in case something goes wrong. 
Between lost luggage, broken bones, medical emergencies, deaths in the family, and a host of other unexpected problems, life gets in the way.
To ensure you're protected, buy travel insurance.
I never go on a cruise without it because I know just how quickly things can go sideways.
You never know what might happen. Make sure you're protected. It will also give you peace of mind and help you travel with confidence.
7. Go with the flow
No matter how well you plan your cruise, something will go awry. You can plan out every day, but you'll rush around and be unhappy if there are any glitches in your well-curated schedule.
And there will be hiccups. And glitches. And all kinds of inconveniences, both major and minor. 
I think it's a good idea to plan ahead and look forward to certain activities, but you should also be prepared to sometimes adopt a "que sera sera" approach if things don't go your way.
Is it raining the day you wanted to go swimming? The performance you booked cancelled? Restaurant you wanted booked up? You'll still have a good time doing something else.
Don't let an inconvenience or cancellation ruin your entire cruise. Shrug your shoulders and look for something else you can do to make up for it.
If you run into a true game-stopping issue, leverage that really good travel agent I implored you to book with and they can get on top of it too.
8. Take a tour of the ship on the first day
We have full walkthrough tours of Royal Caribbean cruise ships on our YouTube channel that you can watch over and over again, but it's so helpful to get your bearings once onboard.
It can be helpful to get a lay of the land shortly after you board so that you can truly understand where your cabin is located relative to the amenities, restaurants, bars and entertainment venues that appeal to you. 
After you board your ship, head to the pool deck and work your way down the ship, deck by deck, walking the main public areas on those decks. 
This is a great way to quickly acclimate yourself to the ship layout and set yourself up for a great start.
9. Do the online check-in as early as you can
Your time is everything on vacation. Once you clock out of work and head to your cruise, the amount of vacation time starts to tick away, so don't waste any of it in the cruise terminal.
Royal Caribbean provides a super easy way to do online check-in before the cruise.
Check-in begins up to 45 days before the cruise sail date, so the first thing you'll want to do is download and install the Royal Caribbean app now.
At the 45 day window, grab a check-in time immediately. You can come back to the rest of the check-in later, if you prefer.
Then at some point before the cruise, finish everything in the online check-in. Yes, including taking a selfie photo.
The more time you spend at home doing the check-in, the less you'll spend in the cruise terminal. That means more time on the ship.
10. Remember everyone is in the same boat ship
Sometime very different about a cruise than a land vacation is how much more talkative and friendly cruise ship passengers are than what you're used to on land.
In an elevator, on a shore excursion, at the blackjack table, you'll run into other guests and it's easy to ignore them, but you never know who you may meet on a cruise. Just like you, they're probably new to cruising too. And if they aren't, you may be able to learn a lot from them.
I'm no social butterfly, but simply saying, "hello" is a great first step. You don't have to make friends with everyone you meet, but people that cruise a lot will tell you the fellow passengers they meet are often a real highlight of the cruise.
This applies to crew members too!
Crew members are working onboard, but are people too! Many love to get to know their guests and have plenty of interesting and amusing stories to share.
Don't be afraid to take a minute and talk to your stateroom attendant, waiter, bartender, NextCruise agent, or trivia host. They come from all over the world, and I've found the more crew members I meet, the more respect I have for what they do.  Plus, you learn all sorts of things about the places they've visited, the countries they call home, and fun insight into the cruise experience.
11. Talk to someone if there's a problem
The RoyalCaribbeanBlog message boards are filled with people that come back from a cruise and complain about an issue that they could have gotten fixed onboard.
If something is not as expected or disappointing, do not just accept it. Instead, speak up while onboard and nicely inform crew members of the issue, and ask how it can be resolved.
If something is disappointing you, or not as expected, you should seek out a crew member to remedy the problem.
Whether it is a broken fixture in your stateroom, another guest causing a problem, or a medical concern, don't just suck it up and let it ruin your cruise.
Crew members are there to make your cruise fantastic, and they will do what they can to address your concerns. Even if you think there probably is no chance they can do something, you never know the lengths crew will go to enhance your trip.
12. Get your travel documentation set
A common rookie mistake is not checking that you have all the right documentation for a cruise.
If you don't have a passport, be sure to get one. If you do have a passport, double check the expiration date that it will not expire before your cruise ends.
Make sure you booked the cruise under your legal name, which matches what your passport has listed.
Not only should you ask this question, but ask it well in advance of your cruise. All too often, people dig out their passports or birth certificates only to realize it is too late to change things.
Read more: Do you need a passport for a cruise?
More cruise advice