In:
With your Royal Caribbean cruise right around the corner, you might be wondering what time should I get to the cruise port.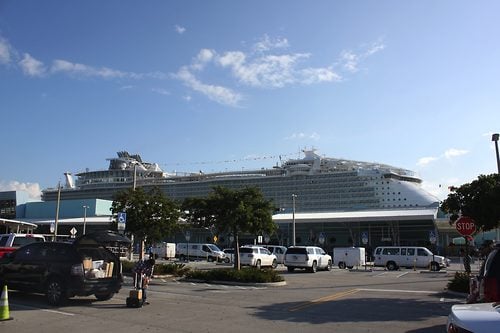 The first day of your Royal Caribbean cruise is when all the fun begins, and what time you arrive to board your Royal Caribbean cruise has some implications for how the rest of your day may flow.
There are also two different times to consider: what time can you board your ship and what time can you arrive at the port to check-in.
What time to arrive at the port
Royal Caribbean cruises that depart from the United States will often open the cruise terminal for check-in sometime between 9am and 10am.  
This means the terminal will open up for guests to arrive and begin the check-in procedure. In most cases, the check-in procedure involves:
Parking the car/dropping off rental car/being dropped off by a car service
Giving porters luggage to be delivered to your stateroom later on that day.
Going through security screening.
Checking in at the counter with your cruise documents.
Waiting for boarding to begin.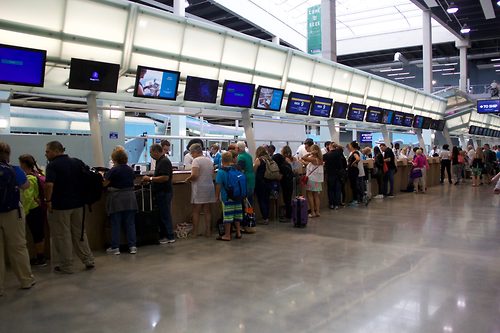 After passing the security check, the check-in process will split guests up based on which deck their stateroom is on and their Crown and Anchor Society status.  Essentially, those with higher Crown and Anchor Society status will have a shorter wait to check-in.  Likewise, suite guests also have a dedicated line for them, which is shorter.
The good news is the check-in procedure is fairly quick, and if you have all of your documentation, it should go quite smoothly.
The key to figuring out what time to arrive is largely up to you and your travel plans. We recommend arriving to the cruise terminal before noon to avoid the longer lines that tend to appear in the afternoon.
Many guests tend to arrive in the afternoon, since their travel plans have them arriving the day of the cruise.  This leads to longer waits at the cruise terminal, compared to earlier in the morning.
Our best advice is at the very least, do not plan to arrive to the ship too close to the end of the boarding times.  Travel delays and other unforeseen issues can add unnecessary stress to what should be the start to a fun and relaxing vacation. In short, plan on a few hours buffer time as a worst-case scenario.
The future of check-in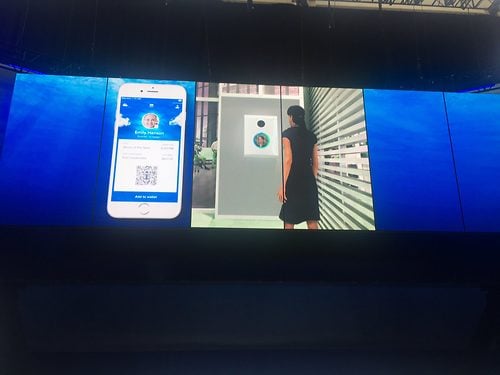 Royal Caribbean is aiming to greatly simplify some of the embarkation day procedures with what it is calling "frictionless check-in".  
Royal Caribbean wants to streamline the check-in process to the point that it is as simple as walking in. Forget the forms to fill out, pictures to take, or agents to speak with. The new app will allow for a "frictionless check-in" that gets you onboard your ship very quickly. In Royal Caribbean's eyes, less time spent boarding means more time for vacation.
There is no timetable announced for when frictionless check-in will be available, but it is something that is coming in the near future.
What time to board the ship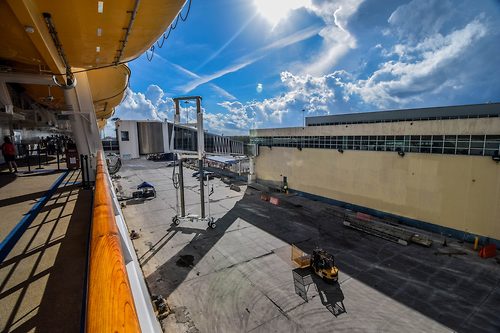 Royal Caribbean will likely provide a boarding time in the afternoon, but many veteran cruisers will say in practice, boarding times are much earlier than what is stated. Royal Caribbean does this to help break up crowds.
When boarding does commence, Royal Caribbean will board their ships with Suite guests firsts, followed by guests based on their Crown and Anchor Society status, and finally, all other guests.  Regardless of your status, the earlier you check-in, the sooner you will board the ship.
The advantage of arriving to the cruise port early is you will likely find shorter lines, and board the ship sooner.  That means your vacation begins sooner, and you will have more time on embarkation day to explore and have fun. 
Keep in mind that if you do board in the morning, staterooms are not usually open to guests until 1pm at the earliest, so you will have to carry whatever you bring aboard with you until you can drop it off in your stateroom.
Boarding in the afternoon may allow for more convenient travel arrangements, and no waiting on the ship for staterooms to open up.  However, later boarding risks potential lines at check-in and at the Windjammer for lunch.  Boarding in the afternoon is hardly a mistake, but keep in mind that Royal Caribbean requires all guests to be checked-in and onboard the ship no later than 90 minutes prior to the published sailing time or you will not be permitted to sail.