In:
There are many reasons why people who have not cruised yet cite why they have avoided taking a cruise.  As a past cruiser, if you ever talk to someone who has never cruised before, they will likely mention some commonly cited reason they have not tried a cruise yet.  In most cases, these fears or concerns are largely based on untrue speculation.
If you have never cruised before, here is a list of some common reasons we often hear from people not to cruise that is frankly untrue.
It's expensive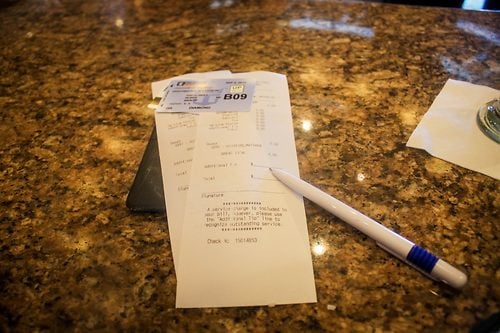 Not only is cruising not more expensive than other vacation options, they typically offer more value for the dollar than any other international vacation option.
One thing someone who has never cruised before is to take into account how much is actually included in the cruise fare.  Accommodations, plenty of meals (and snacks), entertainment and transportation between ports is all included.
According to the Florida-Caribbean Cruise Association, the cruise industry's establishment of over 30 North American embarkation ports provides consumers with unprecedented convenience, cost savings and value by placing cruise ships within driving distance of 75% of North American vacationers. By providing significant cost savings through the convenience of avoiding air travel, the new homeports have introduced leisure cruising to a wider customer base.
Often I see people who price shop a cruise to a land vacation failing to account for the meals and entertainment they will inevitably have to pay for when going on any land vacation. 
In recent years, Royal Caribbean has offered more options to get guests closer to a true all-inclusive option that has many of the added expenses guests may encounter, pre-purchased prior to the cruise.
Lots of kids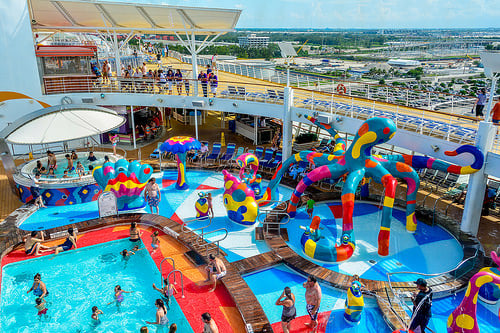 Going on a family cruise line, like Royal Caribbean International, is sure to find a ship full of kids running around like they were part of Peter Pan's Lost Boys group, right?
Of course there will be children on a Royal Caribbean cruise, but the reality is a Royal Caribbean cruise is not dominated by children.  
According to Cruise Critic, the demographic often seen on Royal Caribbean are families, plus couples and singles in their 30s to 50s. The median age is low 40s, but it's slightly lower on shorter cruises and slightly higher on cruises of 10 nights or more.
The bottom line is there is a healthy mix, and the idea that a Royal Caribbean cruise is equivalent to a floating Chucky Cheese's, is just not true.
Not enough for kids to do
You might think this myth directly conflicts with what I just spoke about in the previous myth, but often a person citing one will not mention the other.  Regardless, there is plenty for kids to do on Royal Caribbean.
In the last two decades, Royal Caribbean has significantly increased its programming for children and widened the amount of space dedicated to them. 
Starting with the staff, all children's activities are supervised by male or female youth staff that must have a four year University degree or international equivalent in Education, Recreation or a related field. All staff also has at least three to five years qualified experience in working with children ages six months to 17 years. Nursery staff must have the same above qualifications as well attend a 30 hour Nursery Training where the curriculum and hands on experience is in line with Florida State Standards of care.
On the ship, kids will have a variety of options open to them. These include:
Movies for children and teens.
Supervised and complimentary programming for children ages 3-17 years old (Adventure Ocean).
Royal Babies & Tots 6 mos – 36 mos. (drop off nursery offered on select ships).
Art, science, theater and story time in Adventure Ocean.
My Family Time Dining, where parents can have a complete dinner with their kids in the main dining room, with the kids escorted up to Adventure Ocean, leaving parents to enjoy the evening at their own pace.
There is plenty more, such as dedicated pool areas, water slides (on select ships), kids and teens-only events and more.
I'll be bored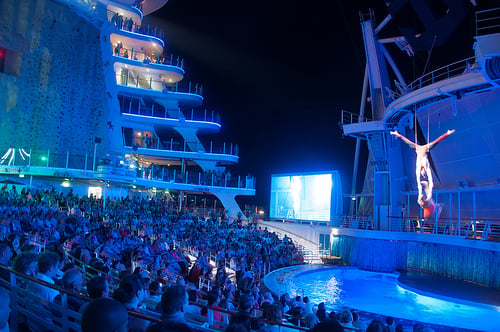 A common misconception about cruises is they will run out of things to do and be bored.  I think they imagine a cruise ship is a bunch of hotel rooms, with a dining room in the middle.
Royal Caribbean builds its cruise ships to be floating destinations.  The best way to understand what is available to do on a cruise is to look at a past Cruise Compass.  The Cruise Compass is the daily newspaper distributed to all guests that lists everything happening on the ship that day. From pre-dawn to the the late night hours, there is lots going on.  
Of course, these activities are optional to attend, and that means you can do as much or as little as you like. 
According to the Cruise Lines International Association (CLIA), J.D. Power conducted a web-based survey in August 2016 from its Consumer Panel, targeting consumers who:
Earn more than $50,000 annually
Had taken a vacation within the past three years
When these people were asked if cruises are better or worse than land-based vacations in terms of…
Variety of Activities: 77% thought cruises were better than land vacations
Having good activities for children: 76% thought cruises were better than land vacations
Offers something for everyone: 80% thought cruises were better than land vacations
In short, a vast majority of people who try cruising find more to do on a cruise than on a land vacation.  
Getting sea sick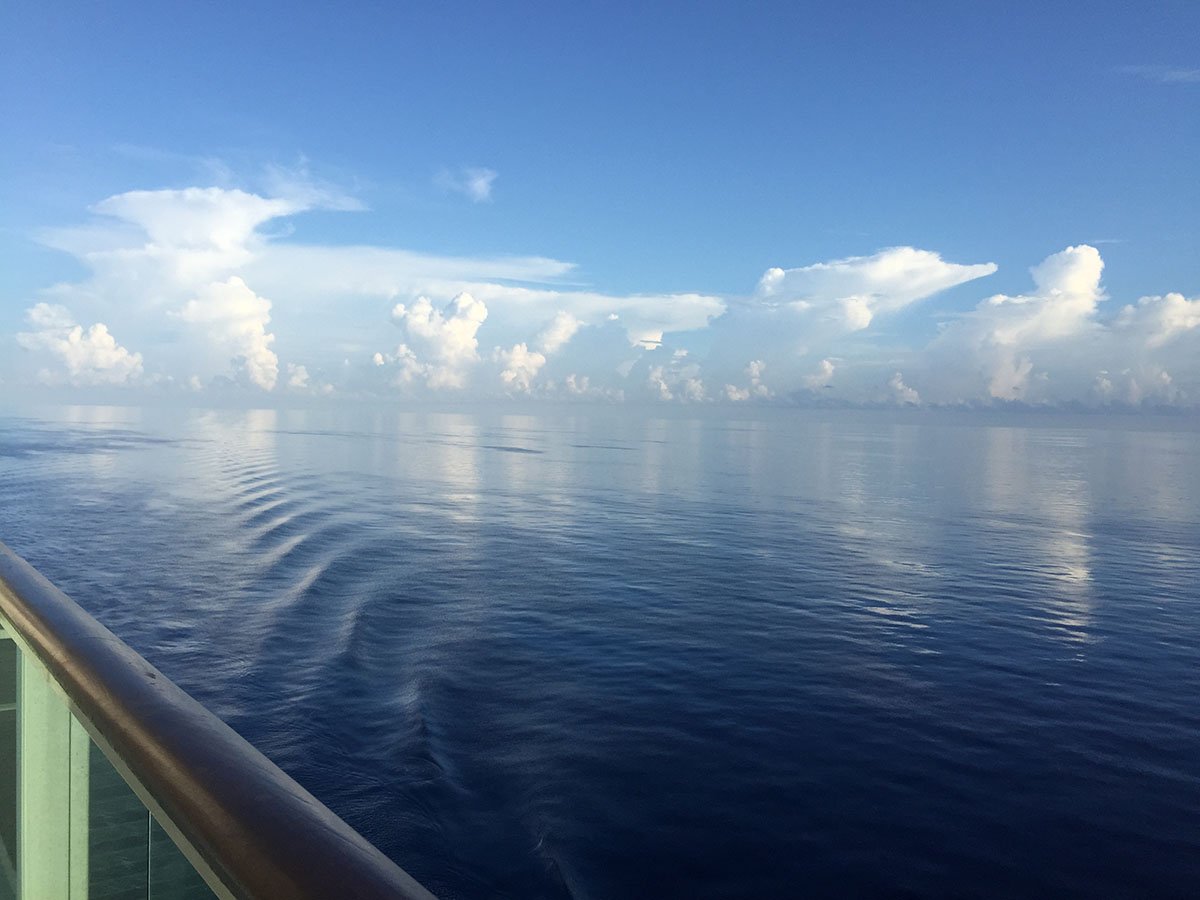 If there is one thing many first time cruisers ask a lot of questions about it, it is about getting sea sick.
Going on a Royal Caribbean cruise is nothing like going out on your buddy's fishing boat.  Royal Caribbean ships are massive vessels, equipped with precise GPS and stablizing technology. Moreover, the Captain will regularly plot courses that take optimal routes for guest comfort.
For those extra sensitive to motion, there are certain steps you can take to mitigate the risk of getting sea sick, such as over the counter medications and homeopathic treatments. 
The bottom line is while one could get sea sick on a cruise, it is a very low risk.  In fact, if you ask veteran cruisers, they will likely tell you their concern over getting sea sick is ranked somewhere around the feature film selection shown onboard.
Your thoughts
Have you been avoiding taking a cruise for one of the reasons listed here?  Did some family member or friend send you a link to this, with bold letters to "read this now"? Were you someone who felt this way about cruising, but has since come to see it is not what you expected? Share your experiences, concerns, and questions in the comments below!