In:
A common question first time cruisers ask is if a Royal Caribbean cruise is all-inclusive, and that usually leads to a conversation about the modularity of a cruise vacation and how you can pick and choose which experiences appeal to you, and not pay for others that do not.  Thinking about the question some more, it lead to our own question, "how close could a guest get to an all-inclusive Royal Caribbean cruise?"
What is all-inclusive?
Depending on your definition of "all-inclusive", the answer to that question can vary.  For our purposes, we referenced the Sandals Resorts definition and looked up what is not included in their vacations. After all, Sandals has made a name for themselves as a leader in all-inclusive land vacations. Here is what is not included
Spa treatments
Optional tours
Golf caddies
Medical assistance
Gift shop items
Transportation
Phone calls
Scuba certification or refresher courses
Using this list as our frame of reference for what we can leave out of the all-inclusive categories, it stands to reason these Royal Caribbean options could also be omitted.
Vitality Spa treatments
Medical attention
Souvenirs from any onboard shops
Transportation to/from airport
Phone calls onboard
Otherwise, we would need to include everything else in our all-inclusive Royal Caribbean experience.  Moreover, the idea would be a guest could go on a Royal Caribbean cruise and never pay a dime on their SeaPass account, unless they selected to do one of the experiences listed above.
What is included in your Royal Caribbean cruise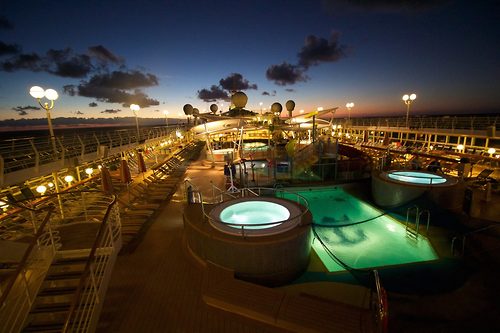 All too often, guests get hung up on what is not included, but the reality is your cruise fare includes quite a bit. The value offered by a cruise is unparalleled, and here is a good breakdown of what activities, dining venues, entertainment options and experiences are included with your Royal Caribbean cruise fare.
Entertainment & Nightlife

Broadway shows
Live music and comedy shows
Aqua shows and ice-skating shows
Parades and parties on the Royal Promenade
Comedy and live jazz club
Nightclubs, karaoke and sing-along piano bars
Lounge games and contests, such as trivia, Puzzle Break, Battle of the Sexes and more

Signature Activities

FlowRider® surf simulator
Rock Climbing Wall
Quantum Class

RipCord® by iFLY® skydiving simulator
North Star observation capsule
SeaPlex play space with bumper cars, roller skating, trapeze school, video games and more

Oasis Class
Multi-level waterslides and slides on select ships

Meals, beverages & room service

Main dining room
Breakfast, lunch, dinner and snacks in various venues throughout each ship
Windjammer casual buffet on every ship, open for every meal
Variety of juices, teas, coffees, soft drinks and water throughout the ship and with meals

Kids & Teens

Adventure Ocean Youth Program
DreamWorks Experience
Fuel teen club
Teen lounge area with movies, games and live DJ

Fitness Center & Sports Activities

State-of-the-art fitness center
Table tennis
Full-size basketball and sports court
Group fitness classes, such as sunrise stretch, fab abs, dancing, meditation and more
Seminars on topics like weight loss, reflexology, stargazing and more
Deck Games — Volleyball, pool games, tug of war and other active challenges
Running / jogging track

Pools & Outdoor amenities

Outdoor poolside movies
Adults-only Solarium
Multiple whirlpools
Traditional swimming pools plus beach ambience areas and sports zones
H2O Zone and Splashaway Bay for kids
How to get to an all-inclusive Royal Caribbean cruise
Over the last few years, Royal Caribbean has added more choices for guests to make optional experiences onboard simpler to consume and understand. The advent of pre-purchased packages have largely been a win-win for cruise line and guest a like.  Guests enjoy the convenience of having a variety of package options that offer seemingly limitless choices, while the cruise line has seen a resounding increase in onboard spending.
Here are the various means to have an all-inclusive Royal Caribbean cruise. All of these options can be (and should be) purchased prior to your cruise via Royal Caribbean's Cruise Planner, or via your travel agent.
Pre-pay gratuities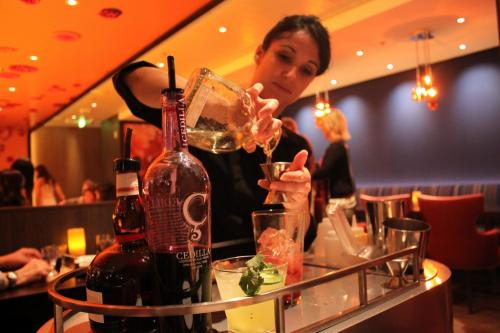 Every guest on a Royal Caribbean cruise will be charged a daily gratuity, which goes towards rewarding the services of the wait staff and stateroom attendants.  Normally, this daily gratuity is charged to a guest's SeaPass account automatically with the final charges being paid at the conclusion of the cruise.
Instead, guests can have their travel agent pre-pay the gratuities. This provides two advantages. First, it breaks up the total cost of the cruise, because the gratuities will be paid earlier than the cruise fare. Second, if the recommended gratuity amount changes after pre-paying gratuities, Royal Caribbean has traditionally grandfathered in guests who had already paid their gratuities upfront.
Cost: Junior Suite, Balcony, Ocean View, and Interior staterooms: $14.50 per guest, per day. Suite guests (Grand Suite & Above): $17.50 per guest, per day.
Photo packages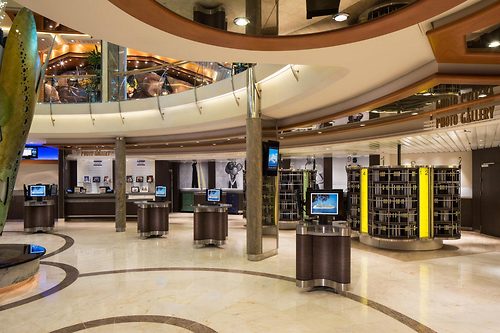 Royal Caribbean photographers will be looking to capture memories throughout your cruise vacation, from the dining rooms to the pool area and even on the dock at each port.  These photo opportunities are complimentary to engage in, and then you can decide later if you want to purchase those photos. A standard 8x10 photo onboard the ship commonly costs about $20 per print.
Guests who want to be able to take as many photos as possible and take them home later, can take advantage of a photo package at www.ourcruisephotos.com.
The cost will vary, but it is generally cheaper to pre-purchase the photos on the site before your cruise, instead of buying a package on the ship.  A common choice is to have all photos digitally saved to a USB drive, which can then be printed when you get home or just shared to social media. 
Cost: $249.99 for all photos on a USB Drive.
Internet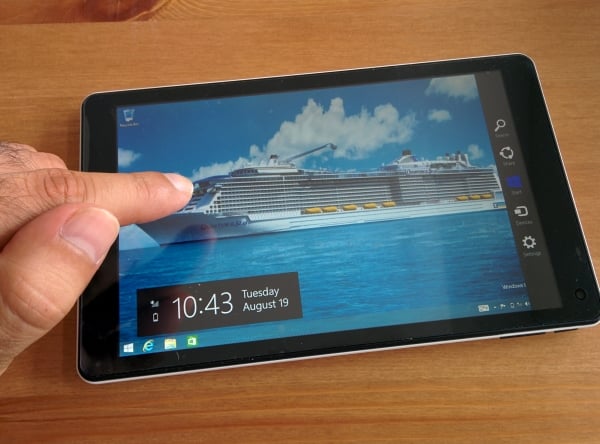 Royal Caribbean offers high speed internet in the form of its branded service, Voom.  Voom internet offers substantially higher speed connections than other cruise lines, and is available fleet-wide anywhere onboard.
Regardless of if you look to make your cruise all-inclusive or not, it is a good idea to pre-pay for your Voom internet service because Royal Caribbean offers a significant discount compared to purchasing it onboard. There are a variety of plans available that provide unlimited Voom internet throughout the cruise.  There are plans that support one through five devices, with the average cost per device dropping with the more devices that are added to the plan. And yes, you can sign out of one device and log in with another device without requiring a 2-device plan.
Cost: Prices vary depending on ship and sail date. One device plans start between $11.99-$15.99 per day for one device at a time.
Unlimited beverage packages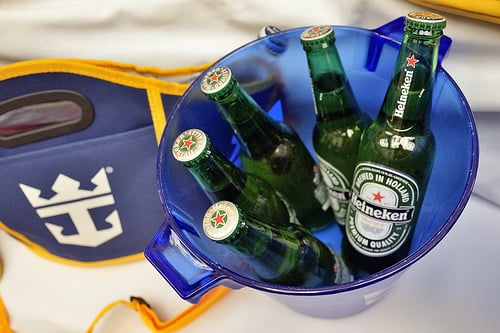 Perhaps the most popular packages of all are any of the unlimited drink packages. There are a variety of drink packages that offer unlimited alcoholic beverages and non-alcoholic beverages that can fit the needs of any guest.  Of course, any unlimited drink package is best served for guests that will drink enough each day of their cruise to make the purchase worthwhile.  If your goal is to have an all-inclusive cruise experience, then these packages are a must.
It should be noted that the drink packages offer a very wide range of drinks, but there are certain beverages exempted from being included in any drink package.
For adults, the Deluxe Beverage Package will include most alcoholic and non-alcoholic refreshments, while the Refreshment Package includes most non-alcoholic beverages for children and adults. Any of the drink packages should be pre-purchased online via the Cruise Planner, especially since Royal Caribbean regularly offers a discount on the Deluxe Beverage Package when purchased prior to the cruise.
Cost: Depends on sailing. Deluxe Beverage Package will range between $41-55 per guest, per day. Refreshment package costs $26 per guest, per day. 
Specialty Dining Package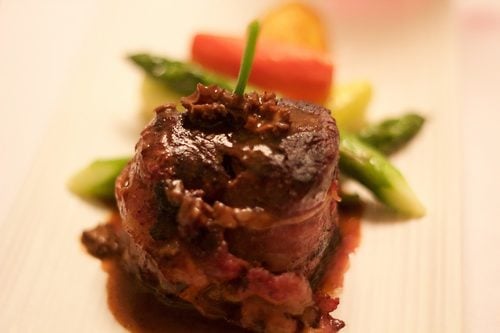 Perhaps no experience onboard has become as popular and prevalent as specialty dining on a Royal Caribbean cruise.  More and more specialty restaurants have been added to Royal Caribbean ships, which offer guests cuisines and experiences previously unavailable onboard for an additional cost. To encourage guests to try more specialty dining while offering a discount, Royal Caribbean has begun offering dining packages.
The dining packages are simple: guests experience 2, 3, 4 or 5 specialty restaurants on their Royal Caribbean cruise with up to 40% off the price if they were purchased individually. By purchasing a dining package, guests can be assured of enjoying plenty of specialty dining during their cruise.
Like the other packages, dining packages can be purchased via Royal Caribbean's Cruise Planner prior to a cruise.
Cost: 2 Night Dining Package costs $30 per adult, 3 Night Dining Package costs $75 per adult, 4 Night Dining Package costs $90 per adult, and 5 Night Dining Package costs $105 per adult.
Shore excursions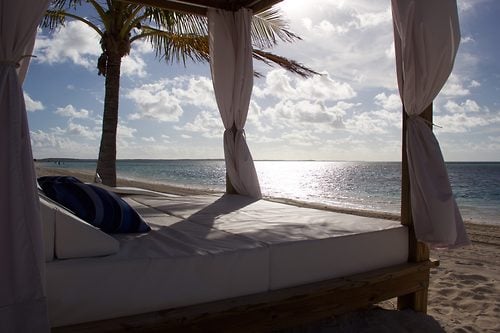 Royal Caribbean does not usually offer shore excursion packages (although they have experimented in the past), however, guests can pre-purchase all of their shore excursions prior to the cruise on Royal Caribbean's Cruise Planner. 
Just like the packages listed earlier in this post, pre-purchasing ensures no additional costs once on the cruise. 
Cost: Varies depending on excursion.
Or just stay in a suite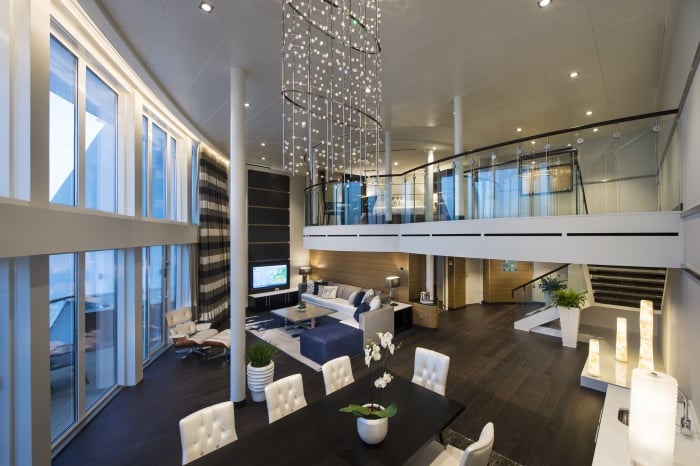 It is worth noting that Royal Caribbean's suite offerings do include quite a bit of these services and packages already, provided you opt for their elite Star Class accommodations.
Royal Caribbean's Royal Suite Class combines amazing service with first-class amenities. The Royal Suite Class is only available on Oasis and Quantum class ships, but offers the very best in what Royal Caribbean can offer.  Moreover, nearly all of the options listed above are included with the Star Class, including some options above and beyond what a guest in a non-suite room could even purchase.
As you might imagine, Star Class suites are not inexpensive.  Then again, suites are not about providing a value proposition to guests, but rather, an indulgent vacation that rewards oneself.
If you want the closest thing to an all-inclusive Royal Caribbean cruise experience with the greatest simplicity (and money is no object), then go straight to booking a Star Class stateroom and consider this an easy win.
Your thoughts
Does the idea of having an all-inclusive Royal Caribbean cruise vacation sound appealing? Did we miss anything that should have been included in this post? Share your thoughts in the comments below!