In:
Have you heard all about how amazing a Royal Caribbean cruise is and been intrigued by the incredible options available onboard?  Then perhaps it is time to take that proverbial leap and book a Royal Caribbean cruise!
Whether you are new to cruising or just new to Royal Caribbean, taking that first step and picking that first cruise is easier than you think. Here are some tips to help you get started.
1. Decide: Travel agent or On Your Own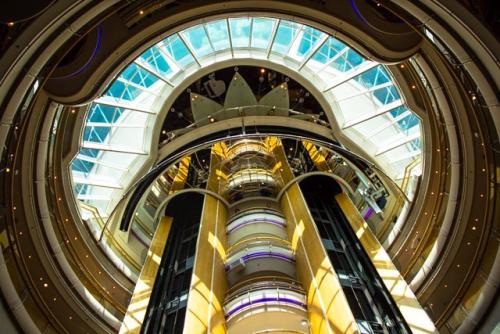 Before you take your credit card out and before you pick your ideal sailing, stateroom and dining rotation, you should figure out how you will book a cruise.
There are two main options for booking a cruise: on your own or via a travel agent.  
Both have their advantages, but I strongly recommend the use of a good travel agent when booking a cruise for the tremendous assistance and convenience they offer. A travel agent can help pick out the right first Royal Caribbean cruise for you based on your preferences.  They are well-versed in the many options out there and they are your partner in the process.
There are lots of great travel agents out there and a good starting point is to find one that has been accredited by the Cruise Lines International Association for assurance they have first-hand experience across the industry. 
With 25 ships in their fleet and 30 different stateroom types, a travel agent will simply make your life easier and save you time.  In fact, the entire booking process is significantly easier when using a travel agent, because a travel agent is the one pricing out options, sitting on the phone with Royal Caribbean and making adjustments on your behalf.  While anybody can book a cruise on their own fairly easily, a travel agent is there to assist you every day at no additional cost to you.  
To find a good travel agent, I recommend asking family and friends who they have used and liked.  A good referral can be a great way to find a talented travel agent.  I recommend our site's sponsor for your booking needs.
Booking online
If you decide to book on your own, then you will be booking your cruise via Royal Caribbean's web site.  Keep in mind that if you book a cruise at any other web site, you are essentially booking through a travel agent.  This includes sites like Expedia, Costco and American Express.
Reserving a cruise on Royal Caribbean's web site is fairly straight forward, requiring you to filter through cruise results on the site and select the sailing you desire.
Since it is your first time booking a cruise, you will have the option of creating an account on Royal Caribbean's site or just filling out all the personal information during the checkout process.  Creating an account is a better option, just because it allows for easier management of this and future reservations.
To book a cruise online, you will need some basic information about each guest sailing:
Full name
Date of birth
Gender
Country of Citizenship
Email Address
Phone Number
Before you can fully reserve a cruise, you will need to submit some form of payment.  Depending on how close you are to your sailing date, you may have the option to put down a deposit or be required to pay the full amount of the cruise. Regardless of which option is required, a credit card payment will be made available to you in the final step of the checkout process.
If you are booking a cruise on your own, you should review the terms and conditions of Royal Caribbean's cruise cancelation policy (this will vary from country to country of residence) as well as consider trip insurance through Royal Caribbean or a third party.
2. Itinerary or ship?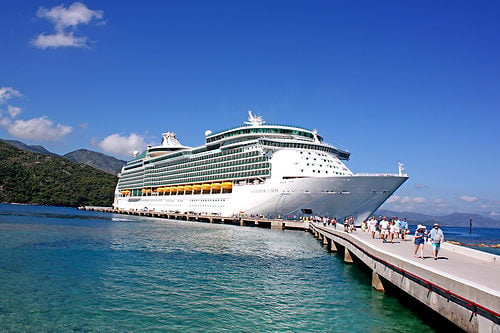 The next step is to determine which is more important to you: the ship you are sailing on or the ports you are visiting.
Often the answer is, "it depends," but the exact answer will vary from person to person. Perhaps you read about the incredible features on Harmony of the Seas, or you have always dreamed of visiting Bermuda.  Regardless, your personal preferences will dictate whether the ship or the itinerary is more important.
There is no wrong answer here, but keep in mind that certain ships can only fit in certain ports, while some of the more exotic ports have limited cruise service.  
In terms of those that are new to cruising, I recommend an Oasis- or Quantum-class cruise ship because they offer the most options and seem to match up well with what first time cruisers expect on a cruise ship.  Even if you have never taken a cruise before, these two classes of ships offer the kind of gee-whiz features that many first timers read about being on the latest cruise ships.
That should not come as a knock on any of the ships in the fleet, and many Royal Caribbean fans will tell you all about what an amazing time they had on their first cruise on ships like Freedom of the Seas, Enchantment of the Seas or Explorer of the Seas.  Royal Caribbean does an amazing job with all of their ships, but the Oasis- and Quantum-class ships offer so much variety and the latest features, that make for great first cruises.
3. Stateroom
The cabin you select is where you will call home for the duration of your cruise and it can be as utilitarian or luxurious as you prefer.  Royal Caribbean provides stateroom choices across many different prices, layouts and views.
Categories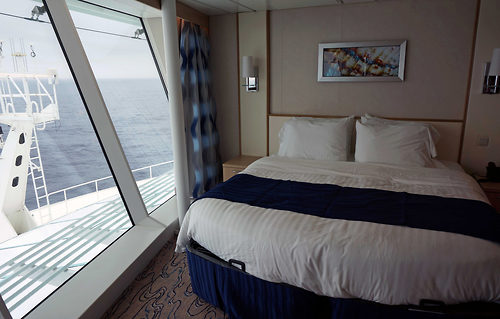 Most staterooms fall into one of four categories: inside, outside, balcony and suites.
Inside staterooms are the smallest and offer no view out of your room, but they are also usually the least expensive option.  They are basic, but functional and their price is what many guests look at when choosing these.  Often the argument is made that while on a cruise, staterooms are just used for sleeping and showering, so why invest in a more expensive room.
Outside staterooms offer a porthole, or some other window to the sea or somewhere else outside your room.  Outside rooms tend to be a bit larger than inside staterooms and not much more to reserve one.
Balcony staterooms are cabins with a private balcony attached to your room.  This balcony provides access for you to enjoy at any time, with at least a small table and two chairs for your use.  Some of the larger balconies will have lounger chairs. Balcony staterooms are very desirable because of the balcony views and ambiance that come with it.  Many guests justify the additional cost for the experience of being able to enjoy their balcony.
Suites are the most expensive kind of staterooms and offer the most space, amenities and sheer luxury.  You can often find in suites several bedrooms, dining rooms, hot tubs and more.  
Location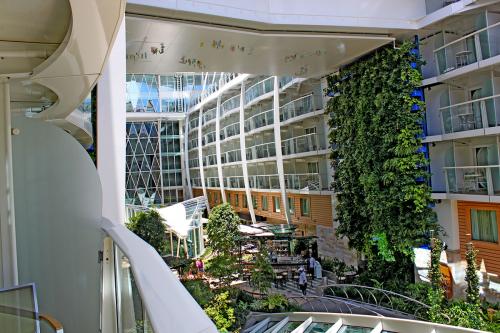 In addition to picking the type of stateroom you want, where your stateroom is located is important.  Factors such as convenience, noise and access are common considerations when looking at where your room is located.
Those that may be prone to seasickness will want to choose a room that is towards the middle of the ship and lower, as that tends to be the area of the ship with the least sensation of motion.
Given the size of some of Royal Caribbean ships, you may want to also consider how close or far your room is from certain public areas of the ship.  Truthfully, no distance on a ship is too great for anyone, but everyone enjoys a convenient walk, so it is important to think about if you want a room near elevators, the pools, the fitness center, etc.
4. When to book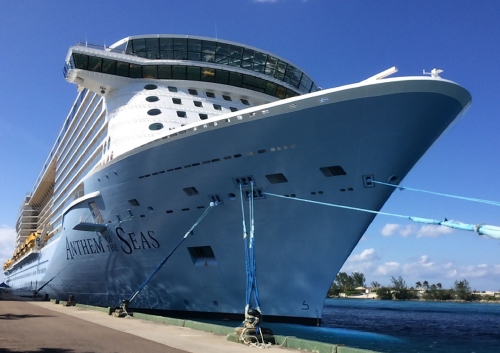 If you are wondering when is the best time book a Royal Caribbean cruise, the answer is simple: as far in advance as possible.
There are certainly promotions and sales throughout the year, but in general, the best prices for cruises will be found when booked as early as you can manage.  Cruise fare is determined largely by supply and demand.  When an itinerary goes on sale, all the inventory is available, but as rooms start to be reserved, inventory drops and that can coincide with prices rising.  Most Royal Caribbean fans will tell you that the best fares they find are those booked one to two years prior to their cruise.
The other really good reason to book early is for airfare.  Airfare pricing is notoriously in flux, so you want to get an acceptable rate for your air travel in coordination with reserving your cruise.
If you are considering last minute bookings, there can be some deals available, although Royal Caribbean is actively working to reduce/remove those sorts of deals. Last minute deals tend to be available for quick getaway cruises, although your mileage may vary.
Regardless of when you book, be sure to consider new promotions and sales that may come out later.  Residents of the United States and Canada are free to re-book under new sales promotions until their final payment date with no penalty.  Moreover, getting the best price for your Royal Caribbean cruise is why I once again recommend using a good travel agent.  Travel agents will be the ones to price things out when new sales come out, advise you on the current state of pricing and sit on hold with Royal Caribbean to make adjustments.
5. Next steps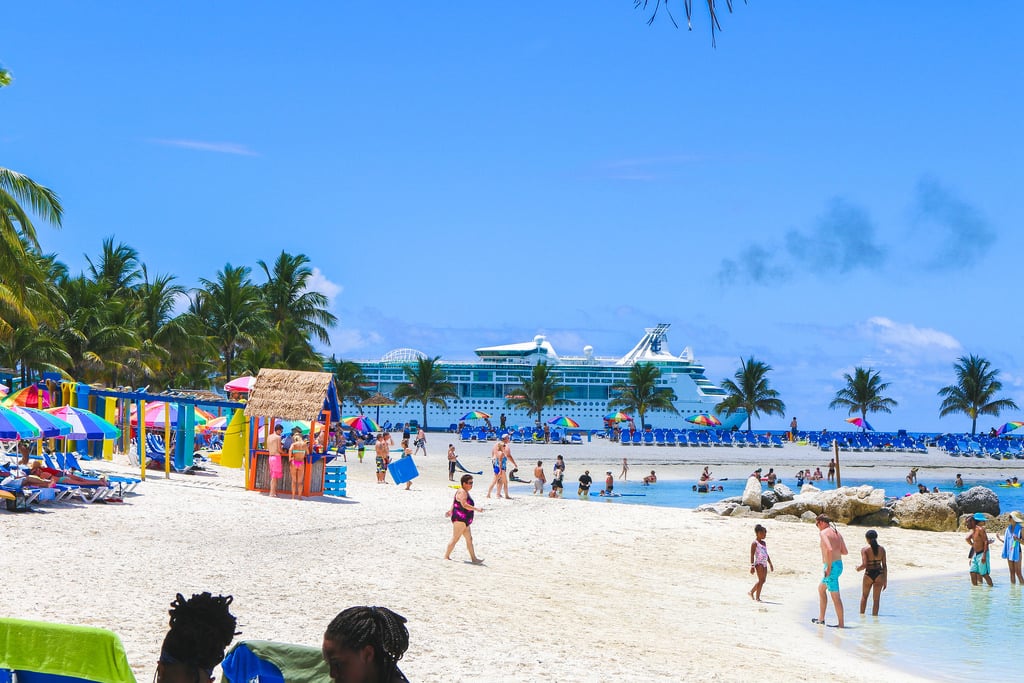 After you book your cruise, the real fun of cruise planning comes into play and there is plenty to keep you occupied in the weeks, months and even years leading up to your cruise.
We have a list of the top 8 things you must do after booking a Royal Caribbean cruise, which should give you some immediate things to start doing.  These are the kind of planning steps everyone should engage in close to their booking to ensure they are off to the right start.
In addition, you will want be ready to start investigating cruise options such as
There is lots more to consider after booking a cruise, but the planning is almost as much fun as the cruise itself!  Enjoy it.
Your thoughts
If you have cruised with Royal Caribbean before, what first time "lessons" would you add so that first-timers have an easy booking experience? Any other tips? Any questions? Please share your thoughts in the comments!