In:
You probably heard about the new suite neighborhood, shows, and restaurants Royal Caribbean added to Wonder of the Seas, but the cruise line also tweaked a few things that I really liked.
With each new cruise ship, Royal Caribbean's teams look for ways to improve the guest experience, and not just on a grand scale. Tweaking, swapping, and trying new ideas is part of the new build process. Often, these changes aren't heralded in reviews, but people that cruise a lot are sure to notice them when they run across it and say something like, "That's different."
Read more: Wonder of the Seas vs other Oasis Class ships
Besides the amazing new shows and areas you wont find any other Oasis Class ship, here are a few subtle changes Royal Caribbean made to Wonder of the Seas that I noticed (and most of them I liked).
Magnetic bathroom doors
The first time you use your cruise cabin bathroom, you'll probably notice it's missing that typical "ka-chunk!" sound the door makes when slamming shut.
The bathroom doors in your cabin are magnetically sealed on Wonder of the Seas. I assume it's so that the door is quieter when it closes, but I don't know that for a fact.
The bathroom doors use a magnetic element which pulls shut the the door when it's within about 1/2 -1" from closure. 
Read more: 8 things you should know about your cruise ship cabin
Some showers have dual showerheads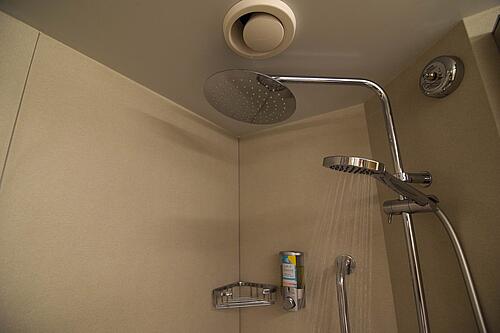 Keeping with the "changes in the bathroom" theme, another pleasant change was my balcony cabin had two different showerheads. 
Not all cabins have this, but there is a handheld showerhead and a standard showerhead that you can alternate between in the balcony room I stayed in. While you can't use them both at the same time, it is nice to be able to switch as needed.
Keep in mind if you do switch showerheads, the water coming out will likely be initially cold until the warm water comes rushing through the pipe.
Read more: A look at the big suites on Wonder of the Seas
More USB outlets
A trend Royal Caribbean has embraced is adding USB outlets to more places, and that continues on Wonder of the Seas.
There are more USB outlets in bars than I've seen on any other Royal Caribbean ship. This is great for being able to charge your phone while you hang out (and not have to drag around a battery pack).
In the cabin, there are more USB outlets than normal.  In addition to the USB outlets at your desk, they've finally added USB outlets near the beds.
Read more: The Mason Jar Southern food restaurant on Wonder of the Seas
Wall hooks
One of my favorite cabin hacks has been to recommend bringing your own magnets with hooks, but Royal Caribbean has offered some hooks on Wonder of the Seas.
Below the television are a series of hooks that came installed already.
Wall hooks are very helpful in a cabin because you can use them to keep apparel off the ground, and more importantly, free up drawer space.
Read more: My favorite Royal Caribbean cruise hacks
Jazz music in Central Park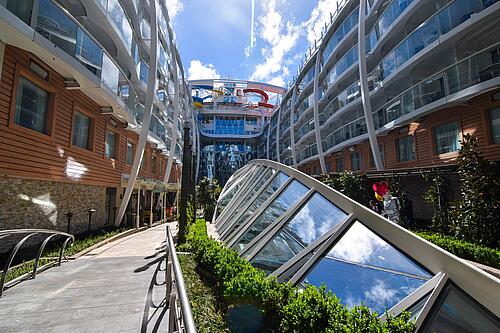 When we learned there would be no Jazz on 4 on Wonder of the Seas (it was replaced with a casino space), it seemed like an entertainment loss, but that's not the case.
Wonder of the Seas was designed with a high roller casino area in lieu of a jazz club to appeal to the Asian cruise market. When Royal Caribbean changed plans to keep Wonder of the Seas in the United States, they decided to keep the VIP room.
Royal Caribbean moved the jazz performers to Central Park to offer music each evening. There's also jazz music from time to time in Music Hall.
Read more: Interesting facts you might not know about Wonder of the Seas
More helpful articles