In:
Looking for a few tips to make the most of your Royal Caribbean cruise vacation? We are sharing some of our top tips and secret tricks for an awesome Royal Caribbean cruise experience.
Social media to the rescue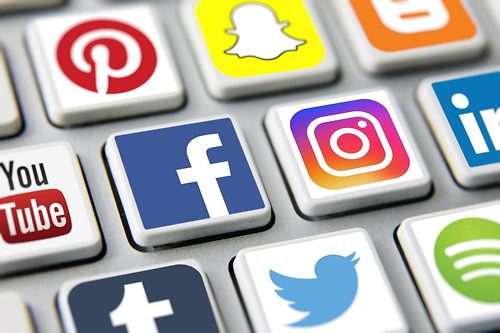 When you have a question about your upcoming Royal Caribbean cruise, your natural instinct may be to pick up the phone and call someone, but we have found you can get equally good service at a faster speed by reaching out to Royal Caribbean's social media channels.
The social media team at Royal Caribbean are rock stars who's job it is not only to help promote new and exciting things happening at the cruise line, but respond quickly to customer queries.
If you have a question, consider tweeting Royal Caribbean or sending a message to Royal Caribbean's official Facebook page the question.  The social media team routinely answers questions at a fantastic pace, and go to great lengths to get you the answer.  No hold music required!
How to get around the alcohol drink package rule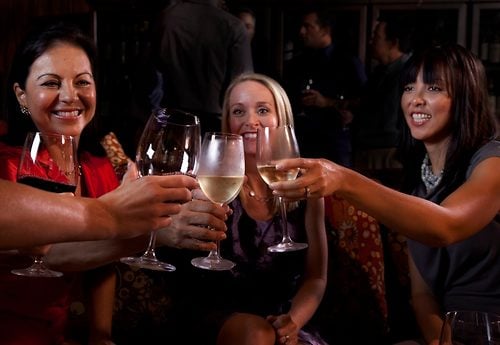 You may or may not be aware that all Royal Caribbean passengers 21 years of age and older (18 years in Australia and the U.K) are now required to purchase the Deluxe Beverage Package if at least one other person in their cabin has one.
That is fine if each adult in the room wants the alcohol package, but what if someone does not want it or cannot consume alcohol? 
Before the cruise, call Royal Caribbean and explain that you would like to purchase the deluxe beverage package, but someone else in your room does not want it. While not an official policy, in every instance we have tried, the cruise line will allow you to purchase the Royal Refreshment (non-alcoholic) drink package instead for that person. This helps save money on what would have otherwise been a drink package that the other person would not have been able to fully utilize.
Ask waiter for special menu items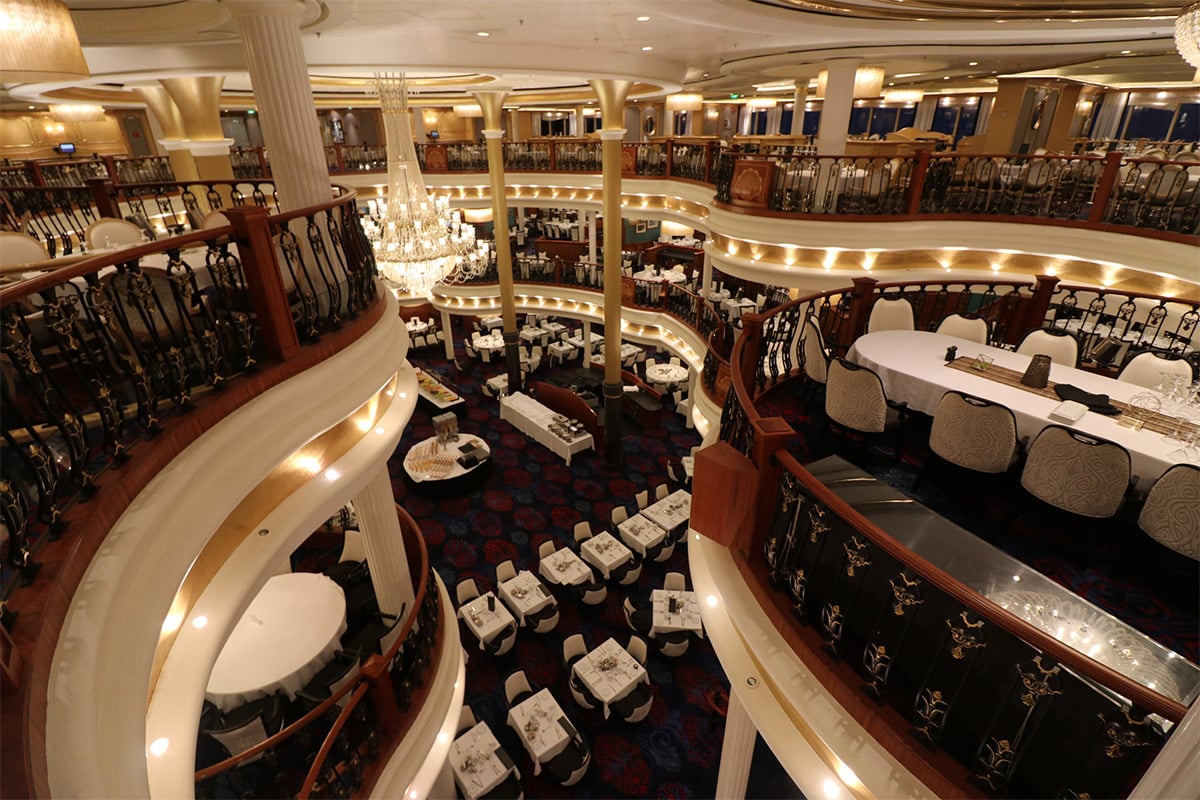 When you sit down for dinner in the main dining room, do not assume what you see listed is the entire menu.
Royal Caribbean is known for its fantastic cuisine, and there are a few extra options to consider.
First and foremost, Royal Caribbean recently rolled out a new vegan menu.  Whether you are vegan, vegeterian or simply looking to try something else, this is an option that you can ask for during your sailing.
In addition, the chefs in the galley are happy to provide additional options upon request. Provided they have the ingredients, there is a lot of flexibility to get additional culinary choices that can cater to tastes, health needs or special request. 
As an example, I always ask for an Indian curry dish to be included with my dinner meal every night. On other cruises, I have seen special orders that served up Mediterranean favorites, Chinese specialties, various breads and more.  The key is to simply (and politely) ask your head waiter for additional options.  They are usually very open to doing what they can to make your dining experience even better.
Free breakfast at Johnny Rockets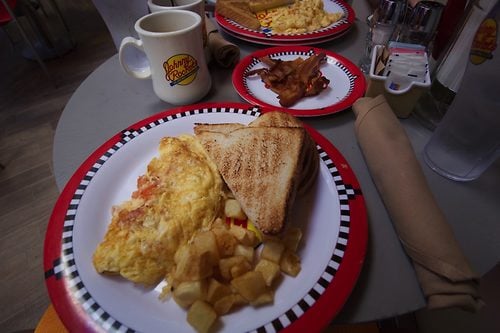 If you are sailing on an Oasis Class ship, you can go to Johnny Rockets for breakfast and pay absolutely nothing extra to enjoy a hearty American-style breakfast.
On Oasis, Allure, Harmony or Symphony of the Seas, Johnny Rockets is open for breakfast and charges nothing extra for guests to enjoy eggs, bacon, toast, pancakes and more.
Johnny Rockets retains a cover charge for lunch and dinner, but many guests are unaware Johnny Rockets is open for breakfast, or that it is complimentary for that meal.
Custom pizzas at Sorrento's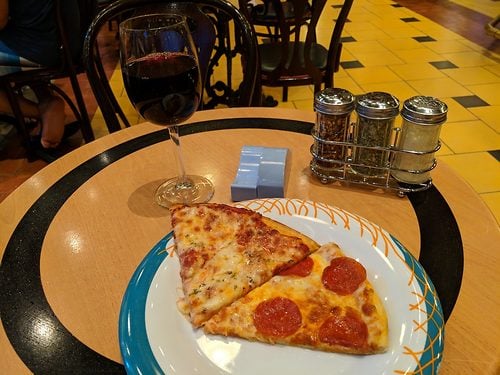 Sorrento's pizza has improved considerably lately, but many guests are unaware you are not limited by the daily selection made by the crew.
You can request to customize an entire pie to be prepared to your liking.  This includes gluten-free crust options as well. A new pie will take about 10 minutes to cook, and you can include whichever fresh toppings you prefer.
Go to the pool, water slides or signature activities on embarkation day
If you are excited to try all the amazing things to do on a Royal Caribbean cruise, one of the best times to try them all with minimal waits is embarkation day.
The first day of your cruise is a busy day, with guests coming onboard and exploring the ship.  While most are getting their bearings on day one, activities such as the zip line, water slides, FlowRider surf simulator, mini golf and pools are open and it is the best time to try them all.
Pack a bathing suit in your carry-on bag to bring aboard the ship.  Once onboard, you can change clothes in one of the public restrooms and then take advantage of shorter lines for these fabulous activities.
Secret menu item at Perfect Day at CocoCay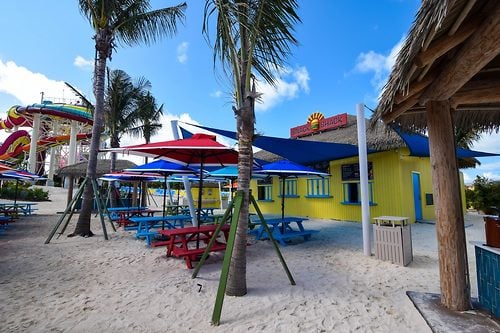 If your Royal Caribbean cruise is visiting the cruise line's private island in the Bahamas, Perfect Day at CocoCay, be sure to order the secret chicken sandwich!
At any of the Snack Shack locations on the island, you can ask for a chicken parmigiana sandwich, which is essentially a cross between the crispy chicken sandwich, mozzarella sticks and marinara sauce that are on the menu.
How to avoid long waits for the water slides at Perfect Day at CocoCay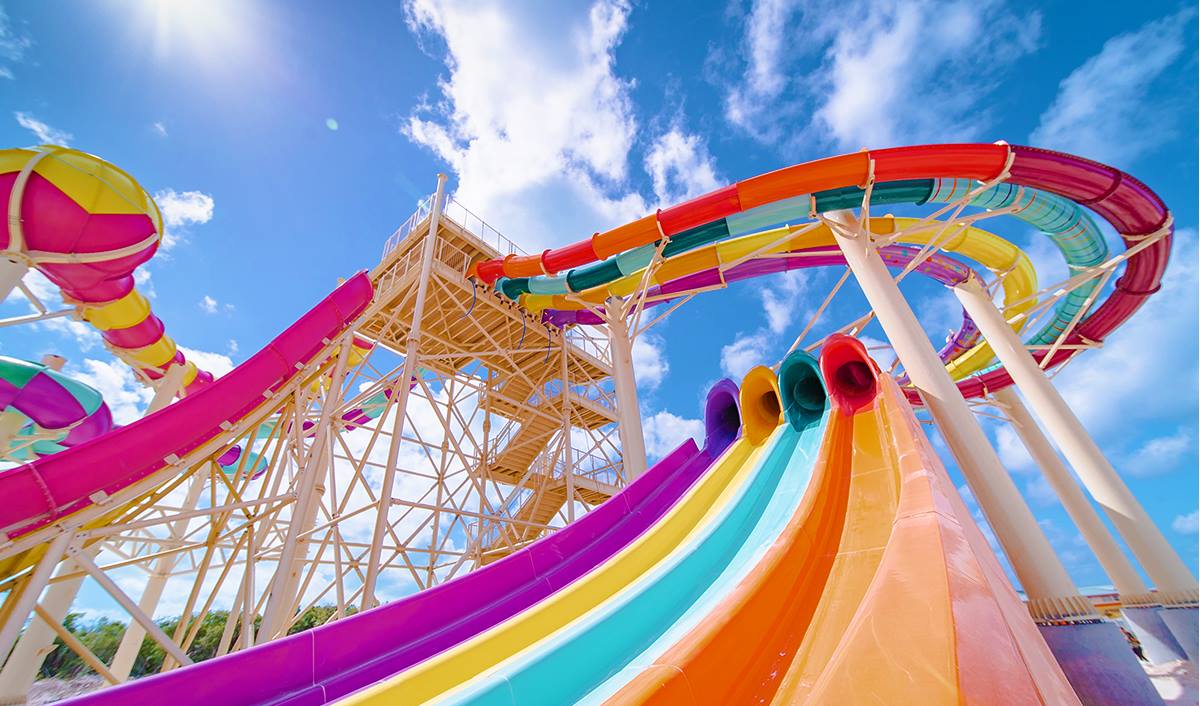 Thrill Waterpark is where you will find the fun water slides at Perfect Day at CocoCay, and as you might imagine, a lot of other guests on your sailing are going to want to try them too.
If you want to enjoy these slides with a minimal wait, try to hit the slides before 11am or after 3pm.
Alternatively, Royal Caribbean offers the Rise & Slide option on select sailings, which includes priority access to the water slides to guests who have already purchased a full day pass to Thrill Waterpark. For an additional fee, up to 200 guests can enjoy exclusive access to the water slides before Thrill Waterpark opens.
Your favorites?
Do you have any favorite "hacks" for making a Royal Caribbean cruise easier or better? Let us know in the comments.