In:
Ready to catch up on this week's Royal Caribbean news?
There's always a lot of changes happening, big and small. In order to keep everyone up-to-date, this post has a wrap up of what's new this week.
Check out all of the updates so far this week.
Wonder of the Seas begins European cruise season
Royal Caribbean's newest cruise ship arrived in Barcelona and is ready to begin her summer cruise season in the Mediterranean.
Wonder of the Seas will begin offering 7-night cruises from Barcelona and Rome beginning May 8th.
During her time in Europe, the ship will visit destinations such as Florence, Naples and Capri, Italy; Provence, France; and Malaga, Spain.
Wonder's western Mediterranean sailings will continue through October.  In November, Wonder will return to the U.S. to sail from its new year-round home in Port Canaveral, Florida, 
New Galveston cruise terminal ahead of schedule
Progress is so good at Royal Caribbean's new cruise terminal in Galveston that construction is actually ahead of schedule.
During a webinar with travel agents on Wednesday, Royal Caribbean Director of Sales for the Central Region, Galen Matthews, provided an update.
"We are super excited that the Galveston terminal construction is actually ahead of schedule," Ms. Matthews shared. "The terminal is now 50% complete and the berth expansion is about 80% complete."
"We will be open for business and ready to receive your clients for the first Allure of the Seas sailing, which is on November 13, 2022."
Terminal 3 cruise terminal will cost $125 million, and is located at Pier 10 for exclusive use by Royal Caribbean.
Executive moves
Two notable Royal Caribbean executives have announced they are departing the company.
Royal Caribbean International Senior Vice President of Hotel Operations, Mark Tamis, is leaving Royal Caribbean International. His replacement will be Sean Treacy, who was working as the Senior Vice President of International Sales.
Mr. Tamis has worked as the head of Hotel Operations since February 2015. He came to Royal Caribbean after serving as senior vice president, Guest Operations with Carnival Cruise Lines.
In addition, Vice President of worldwide port operations, Captain Hernan Zini is also leaving the cruise line to go work for Amazon.
Captain Zini also served as Vice President of talent management for Royal Caribbean Group. Many cruise fans may remember him best as the fleet captain and being the start-up Captain for Allure of the Seas when she first debuted.
Royal Caribbean will look for a new person to be appointed to Captain Zini's former role.
New crew member recruitment drive in Antigua
Just days after Royal Caribbean announced it would hire more crew members from Barbados, the cruise line said it will also do a hiring push in Antigua & Barbuda.
Royal Caribbean Group Vice President of Government Relations in the Americas, Russel Benford, announced the news at the Seatrade conference last week.
Royal Caribbean hopes to hire thousands of people from the Caribbean islands during an employment fair in June.
Openings in operations include
storekeepers
cruise staff
youth staff
sports staff
laundry and restaurant attendants
bar waiters
wait staff, bakers
butchers
casino
entertainment
photographers
Glacier visits
Royal Caribbean's first ships of the Alaska cruise season are visiting glaciers this week.
Photos of Radiance of the Seas and Serenade of the Seas are checking out the Southeast Alaska glaciers, and there's new photos of both ships.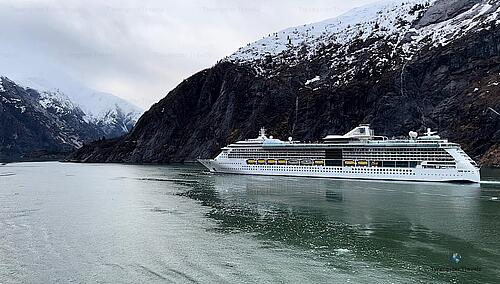 RoyalCaribbeanBlog reader twangster shared this photo of Radiance of the Seas, as seen from Serenade of the Seas.
Royal Caribbean Chief Meteorologist James Van Fleet posted photos of Radiance as well.
Both @RoyalCaribbean Serenade of the Seas and Radiance of the Seas up close in the Glaciers today in Southeast Alaska. Staff Captain Fredrik sending pics of Radiance making her way in this morning from the Bridge of Serenade. pic.twitter.com/rjuQ8dfkIj

— James Van Fleet (@JamesVanFleet) May 4, 2022