In:
Royal Caribbean's Symphony of the Seas offers a lot for families to enjoy on their Caribbean cruise vacations. When we took our daughters on Symphony of the Seas, we sought to enjoy the very best activities, entertainment and things to do for a family.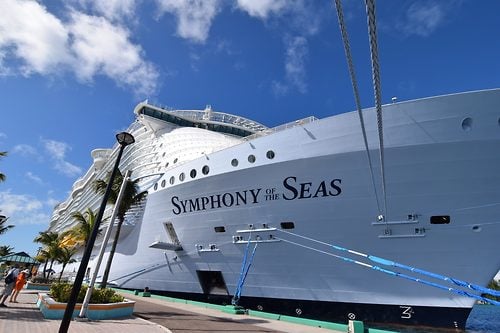 If you have never been on an Oasis Class ship, these are incredible vessels that pack as much into a cruise vacation as any ship in the world.  In fact, it is the largest cruise ship in the world and that means plenty to choose from onboard.  Family cruising on Symphony of the Seas means there is something for everyone and always something else to do or see, regardless of your age. 
Signature Activities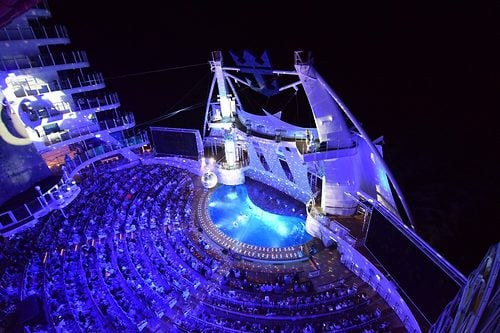 Prior to booking Symphony of the Seas, you may notice certain offerings onboard prominently advertised.  Royal Caribbean has built a reputation for itself by offering some of the best things to do onboard its ships.
A few activities and shows stand out as the premiere options that Symphony is well-known for.  The good news is that many of the activities are available to children of many ages. Some of the physical activities may have a height requirement that are best suited for children who are older elementary-school aged children or older. If your kids do not meet the height requirements, there is no need to worry as there is still plenty of other options to enjoy.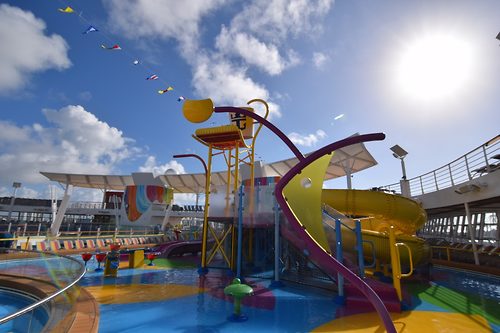 Families can enjoy these wonderful activities together:
The Ultimate Abyss, the tallest slide at sea, is a duo of racing slides where guests spiral down a 92-foot drop in about 13 seconds
The zipline crosses the open-air Boardwalk neighborhood at nine decks high
Two FlowRider surf simulators
Perfect Storm: three waterslides
Splashaway Bay aquatic adventure park
Escape from Planet Z laser tag
Escape room
Adventure Ocean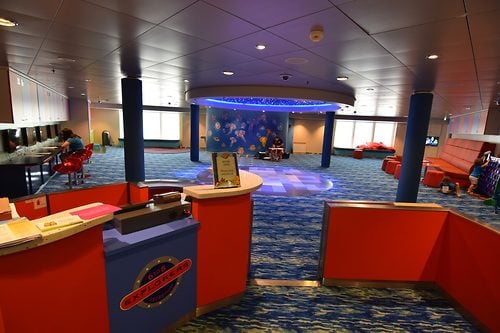 The heart of children's programming on Symphony of the Seas is Royal Caribbean's award-winning Adventure Ocean program.  
Adventure Ocean is divided into three age-appropriate groups
Aquanauts (ages 3 to 5)
Explorers (ages 6 to 8)
Voyagers (ages 9 to 11)
Adventure Ocean is complimentary, but kids need to be registered with Adventure Ocean and fully toilet trained to take part in activities. There are dedicated spaces for each age group, plus specialized areas like science labs and a theater for enhanced programming.  
Adventure Ocean is open most of the day, but their hours vary depending on if it is a port day or sea day.  On Sea days, Adventure Ocean can open as early as 6:30am.  Guests that have Royal Caribbean excursions booked and need to drop their children off earlier, can arrange with Adventure Ocean for that benefit.  For lunch, kids are brought to Wipe Out Cafe or Windjammer between noon and 1pm, and then again to the Windjammer for dinner between 5pm and 7pm. Adventure Ocean programming is included with your cruise fare.
Adventure Ocean closes at 10pm, but parents can leave their children with Adventure Ocean until 2am for an hourly fee.  The Late Night Party Zone runs from 10pm to 2am in Adventure Ocean, and is billed at $7 per hour, per child for children who remain after 10pm.
Tweens and teenagers also have their own club, plus a variety of activities onboard such as the FlowRider surf simulator, rock climbing walls, an ice skating rink, a mini-golf course and a zip line. Teens meet at the Living Room, on Deck 15 aft and also have exclusive access to their own night club, known as Fuel on deck 15. Teens are free to come and go as they want, and curfew for all cruisers younger than 18 is 1 a.m. unless they're supervised by a parent.
Royal Babies & Tots Nursery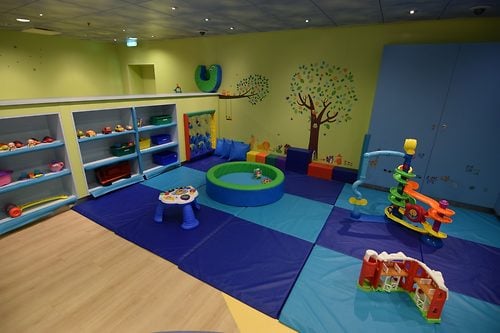 Any parent with a toddler or infant will find the Royal Babies & Tots Nursery an absolute blessing.  Royal Caribbean offers a nursery for children up to 36 months old.
At the nursery, you can drop off infants and toddlers off in a supervised environment, where the kids can watch TV, play with other children, explore and nap.   
The nursery will offer parents a drop-off option in the daytime and evening, while always maintaining an optimum staff-to-child ratio.
For a modest fee per hour ($8 at the time of this blog post), parents can reserve time for their kids here to give parents some time alone to enjoy what Royal Caribbean offers or explore a port.
The nursery staff are trained child care professionals and they will make sure your child is taken care of in the time they are there.  Parents also get a special mobile phone to use on the ship in case the nursery needs to call them or if the parents want to call and check in on things.
Entertainment & Shows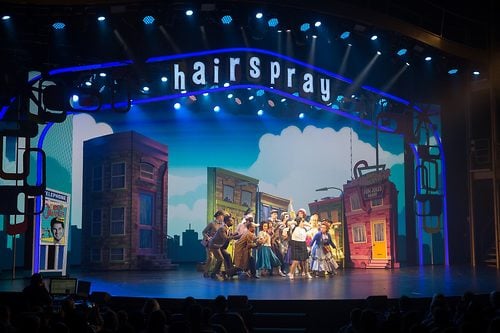 Symphony of the Seas offers shows that appeal to kids and adults, with its evening shows being real highlights. Depending on your kids ages and preferences, these shows may or may not be of interest to them, but Royal Caribbean designs its evening entertainment shows to be open to be family friendly.
You will find Symphony of the Seas' biggest shows across three venues: The Royal Theater, Studio B and the AquaTheater.
Here are the must-see shows on Symphony of the Seas and where to see each show:
Hairspray (Royal Theater)
1977 (Studio B)
HiRo (AquaTheater)
Flight (Royal Theater)
Prior to your cruise, be sure to make reservations for each of these shows via Royal Caribbean's Cruise Planner site.  Reservations for these shows are complimentary and while it does not guarantee a specific seat, it will ensure you will be able to get into the show.  Guests without a reservation can wait in a standby line and take up any remaining seats, but it is simpler (and a whole lot easier for families) to make reservations before the cruise.
If you are wondering when you can make reservations for shows on Symphony of the Seas, it really depends.  If entertainment is available to reserve for your cruise, we have typically seen shows become available for booking around 75-60 days prior to the sail date, but your experience may vary.
Dining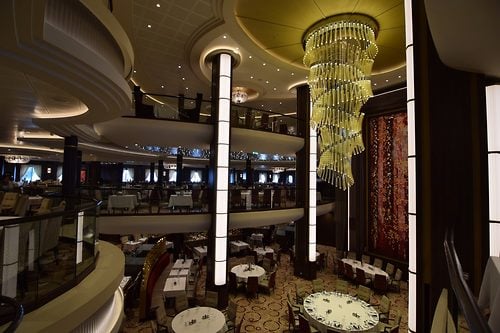 Symphony of the Seas offers 23 dining venues for guests to choose between when eating onboard. Some of these restaurants are included with your cruise fare, while others have an additional cost.
Complimentary dining options are included with your cruise fare and guests can enjoy as much food as they like from these locations.  There is at least one complimentary option open at anytime during the day or night, with often quite a number of great choices. 
The alternative dining option are specialty dining, in which there is an additional cost to dine there.  Specialty dining costs can come in the form of cover charges (pay one fee and get all the food included) or a la carte charges (pay for only what you order). In general, specialty dining offers food and cooking styles not available elsewhere on the ship for guests that choose to indulge in them.
If you are looking for great choices for kids to grab something quickly, you will find some great options throughout the day for families at:
Windjammer
Park Cafe
Sorrento's Pizzeria
El Loco Fresh
Johnny Rockets (breakfast is complimentary, cover charge for lunch and dinner)
Boardwalk Dog House
Room service ($7.95 per order fee, complimentary for suite guests)
When it comes to dinner, you might want to look into My Family Time Dining. My Family Time Dining is offered in the first seating time in the main dining room for children ages three to eleven.
Here is how it works
You arrive at the dining room with the kids and let your server know that the kids will be headed to Adventure Ocean as part of the My Family Time Dining program.
The kids order and are served right away so that they can finish their meal within the first 40 minutes.
After about 45 minutes, the Adventure Ocean staff arrive in the dining room lobby to sign in and hand off the kids.Parents will need to escort their children to the designated Main Dining room entrance doors at 6:45 pm to check their child in with the Adventure Ocean counselors. Once checked­in, the Adventure Ocean counselors will then escort their children to Adventure Ocean for ongoing evening activities.
Adults return to their table to enjoy the rest of their meal at a more leisurely place.
Prior to the cruise, you can can contact Royal Caribbean or travel agent to book it. Alternatively, guests can sign up onboard in the Adventure Ocean area. Pre­-cruise reservations are encouraged.
Staterooms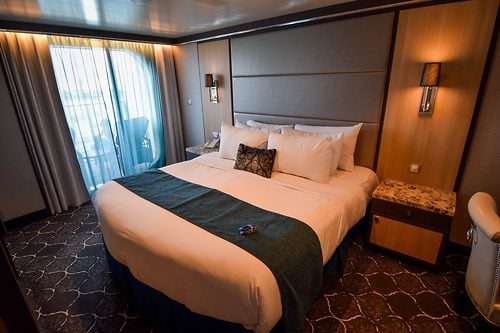 When booking a Symphony of the Seas cruise, you will need to find the right stateroom for your family. Symphony has staterooms that can accommodate three and four passengers easily, along with some stateroom configurations that can handle even more guests.
Depending on your family size, age of your children, and your comfort level, booking multiple staterooms can often be the same or cheaper than booking a large room.  Multiple rooms provides not only additional living space, but extra restrooms and separation from parents and children. Royal Caribbean does offer some rooms with a connecting inside door between rooms.  
If you are cruising with young children, you should pack your own diapers, bottles, and other supplies.  There is milk available to all guests without an additional charge (skim or regular).  Some parents prefer to bring their own kid-friendly snacks and food, which is permissible by Royal Caribbean. Refer to our Taking an Infant on a Royal Caribbean cruise article for more information.
More cruising with kids info
You may have additional questions about cruising with kids on Royal Caribbean, or simply would like to learn more tips and advice.  Here are some good resources to consider:
Your thoughts
Now that you have read over our guide to taking kids on Symphony of the Seas, let's hear from other parents. What tips do you parents think are most important? Which advice we shared do you agree with? Where do you disagree? Share your thoughts in the comments!