In:
We go on our fair share of Royal Caribbean cruises, so when there is an opportunity to knock something off our bucket list of must-do cruises, it makes the cruise extra special.
After seemingly buying every accessory, specialty apparel, and gadget one might run across while searching for an "Alaska cruise packing list", we are ready to head to Seattle for a 7-night Explorer of the Seas sailing to Alaska.  Going on a sailing that takes to an all-new to us itinerary is pretty special, and on top of it, we are sailing with so many of our friends as part of the Royal Caribbean Blog Group Cruise.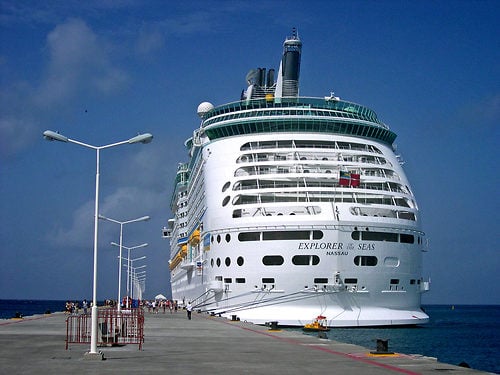 We have been looking forward to this particular sailing for a while, having booked it back in early 2017 at the behest of my wife who really wanted to try an Alaska cruise.  I certainly relished the prospect of heading west and sailing on a completely new itinerary for me.
When you talk about a cruise to Alaska, you are looking at one of the most beautiful places on earth to take visit and cruising is a natural fit. I have probably put off a cruise to Alaska for this long primarily due to the distance required for us to travel (we are flying from Florida), but with my daughters geting old enough to sit on an airplane and remain civil, the time is right to go West.
While the itinerary will be new to us, the ship is a repeat for me.  My very first Royal Caribbean cruise was on Explorer of the Seas out of Cape Liberty in 2006.  Going back on Explorer of the Seas after all these years is a bit of a homecoming for me, and I am looking forward to getting back on her after a large absence.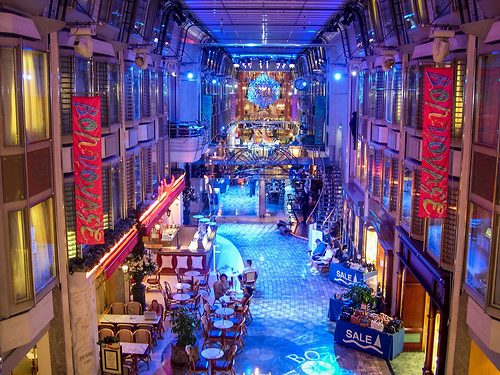 If you read any kind of blog post, article, infographic, or MySpace post, you will likely see a mention that when you sail to Alaska you must book a balcony room.  It will cost you extra, but it is worthwhile and so I listened to the experts and booked a Junior Suite that connects to a standard balcony for our family. While not as epic is our Grand Suite connecting to a balcony room, it should be a great way to not only see the beautiful Alaskan nature, but also provide separation from our kids at night.
I will be sailing with my wife and two daughters (ages 7 and 3), and my kids are most excited for Adventure Ocean, exploring Alaska, and as much soft serve ice cream they can eat (probably in that order).
Speaking of who I will be sailing with, we have over eighty Royal Caribbean Blog readers joining me on this incredible adventure. Being able to share in the excitement of this sailing and explore Alaska together is an added bonus. As is the case with any Royal Caribbean Blog group cruise, we have one or two events each day of the cruise that everyone is invited to join us for.  These events include a pub crawl, Royal Caribbean trivia, photo safari, private ice skating session and more.
Of course, this is a group cruise too, which means we have a large contingent of fellow Royal Caribbean fans joining me and I could not be happier. There is just something so fun about seeing friendly faces all around the ship, and being able to share in the experience in person is second-to-none.
Itinerary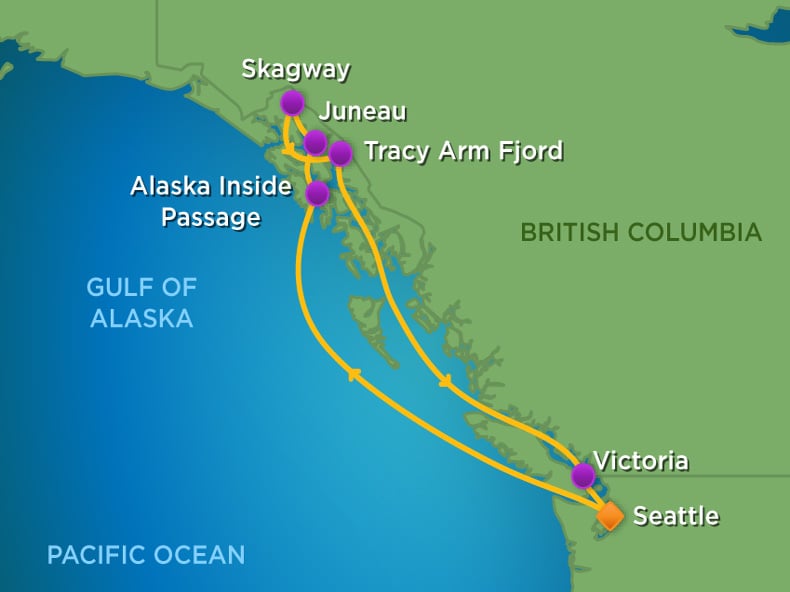 This Royal Caribbean cruise is by far the most intriguing itinerary I have taken to date. When you cruise to Alaska, Royal Caribbean offers three types of sailings: a round trip, a one way northbound and a one way southbound.  
We chose the roundtrip primarily because I did not have vacation time to do two weeks for both one ways and I was not mentally prepared to fly to or from Alaska.  I understand the argument that the one way sailings offer a superior itinerary, but a roundtrip from Seattle is what is in the cards for us this go around and I think it will be a great introduction to Alaska.
Our shore excursion plans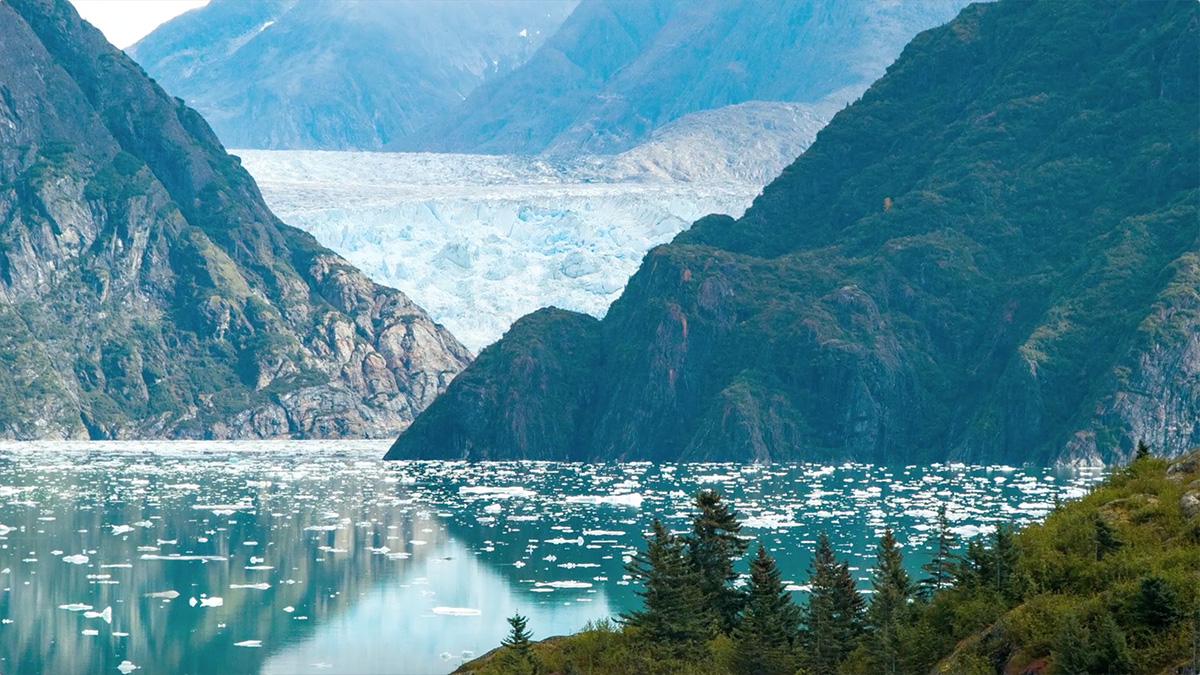 Here is what we have planned for each of our ports.  We spent a lot of time looking over the various choices and came up with these.
3. Alaska Sled Dogs & Musher's Camp (Juneau) [Link]
My wife insisted we do some sort of excursion that involved Alaskan husky dogs (preferably puppies), so we picked this 2 hour trip.  Besides involving super cute puppies, we think our daughters will enjoy going to the countryside and getting a first-hand look at what Alaska is all about.
We will have some extra time in Juneau after the excursion is over, and may hop into a taxi to visit the Mendenhall Glacier Visitor Center and do some "light weight" exploring.
2. Yukon Hummer Adventure (Skagway) [Link]
I thought this excursion sounded like a really fun one, primarily because it allows us to see a lot of beautiful areas in Alaska and Canada from the comfort of a Hummer.  I have always wanted to drive one of these cars, so I think this is perfect opportunity.  
One caveat is this excursion states my youngest daughter is not allowed to come with us.  I am not entirely certain why and we are guessing it may have to do with car seats.  We will talk with the Shore Excursion staff onboard Explorer of the Seas and get a better sense of what the issue is all about.
1. Craigdarroch Castle And Butchart Garden (Victoria) [Link]
It seems like the two places to visit in Victoria are Butchart Garden and Craigdarroch Castle, so we booked the excursion that brings us to both.  I am slightly concerned my children will be bored by the pace and subject of the tour, but I remain optimistic that they will have a good time...and with a bribe of a present to keep them in line (it's not my first rodeo).
What's next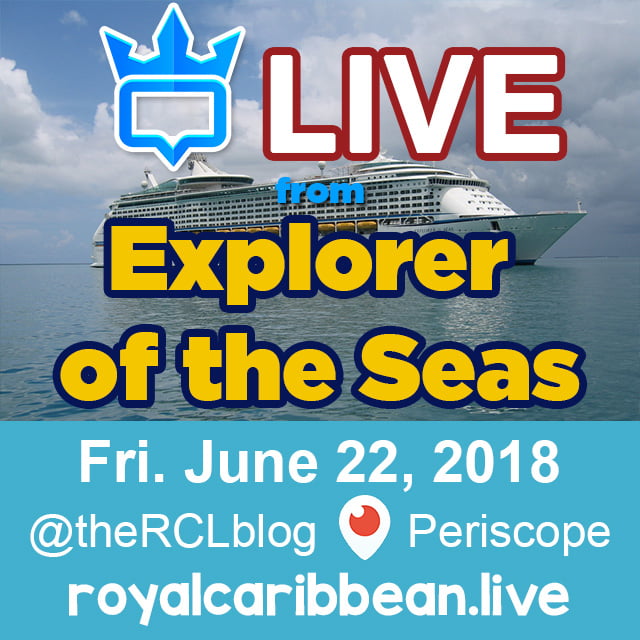 Our Explorer of the Seas cruise begins on Friday, June 22nd (although we will fly to Seattle a day earlier), and I will be sharing the details on the blog, as well as across my social media channels.  Be sure to follow me on Facebook, Instagram and Periscope for live updates throughout the day.
I invite you to share in this experience with me, by posting in the comments for any blog post questions and comments you may have.  I try to make these live blogs as interactive as I can, so I want everyone to feel welcome to share their thoughts.
Thanks for reading all of this and welcome aboard our next fun live blog experience!