In:
Cruise day is here and that means our Explorer of the Seas Alaskan adventure is set to begin!
Falling asleep last night was pretty easy for us.  We struggled to stay up "late" so that we could acclimate ourselves to Pacific Time, but by about 9pm or so we called it a night. I woke up at about 5am, but managed to get back to sleep a few times until finally getting up at 7am.
We grabbed a quick breakfast from our hotel.  Holiday Inn Express offers a pretty decent breakfast and it certainly gave everyone just enough to get going.
Our group organized a shuttle to take us to the port, which was a 15 minute or so drive to the port.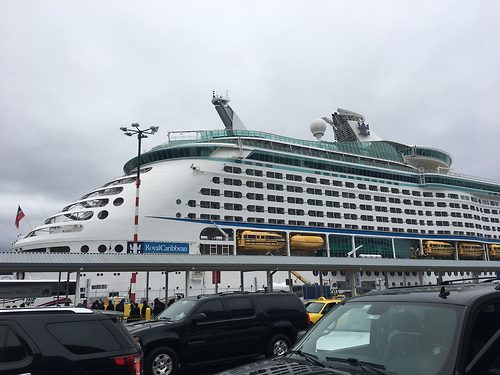 The Port of Seattle had two ships in port today, Explorer of the Seas and Celebrity Solstice. It was different to have everyone essentially drop off in the same spot and then diverge to whichever ship you are going on after being dropped off.
We checked in and it was fairly standard, although they were unable to locate our SeaPass cards so they had to print out new ones.  A few minutes later we were on our way.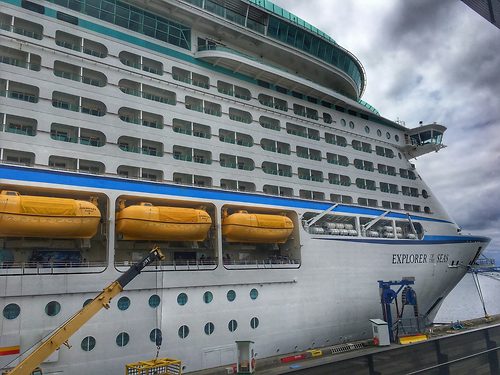 What was truly odd was after we got our SeaPass cards, they just let everyone board at the same time.  From what I could see there was no boarding process by groups or Crown and Anchor Society.  I believe others that arrived earlier than we did were seated by group, but by the time we checked-in, we headed straight onboard.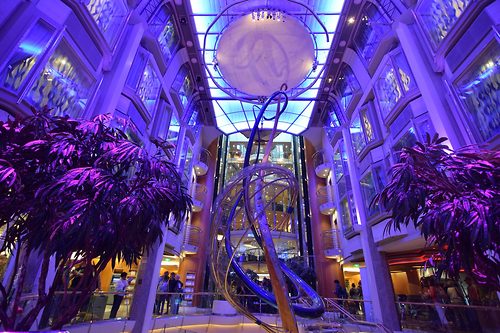 We were onboard and at the pool deck by 11am.  The Windjammer was not open until 11:30am, so we enjoyed a crisp, but enjoyable day outside.  It was mostly cloudy and temperatures in the mid-60s.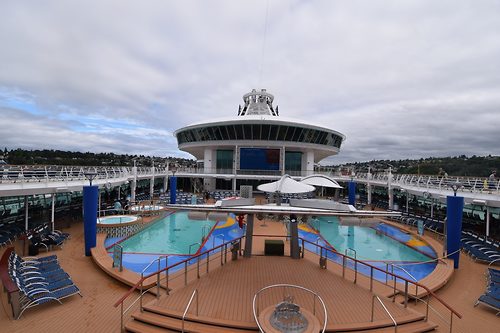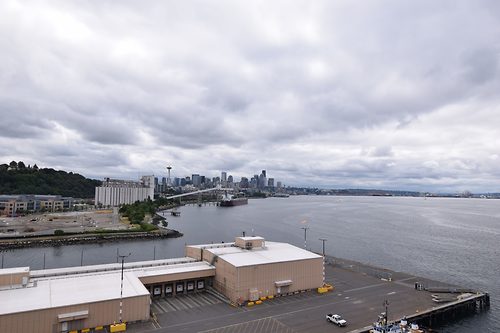 Once the Windjammer opened, it was time for embarkation day lunch and one of my favorite moments of the cruise.   I love the feeling of being in the Windjammer on embarkation day with the entire cruise ahead of me and lots of great food to enjoy.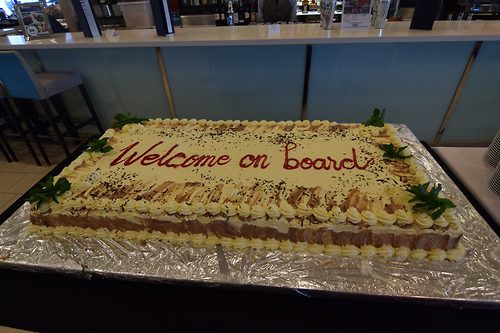 After lunch we went up to Adventure Ocean to register the kids.  The set up was very similar to other Voyager and Freedom Class ships, but the layout and decorating choices were noticeably different.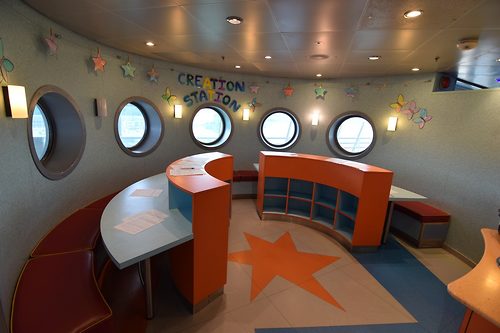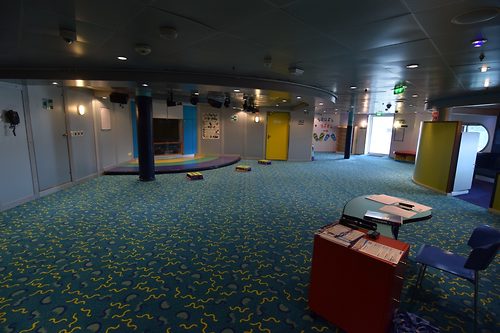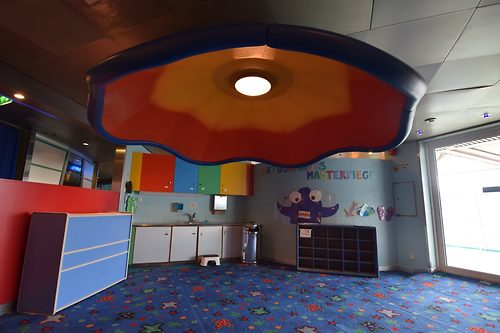 The rooms were ready right at 1pm.  We have two rooms for this cruise, a Junior Suite (for me and my wife) and a connecting balcony room for the kids.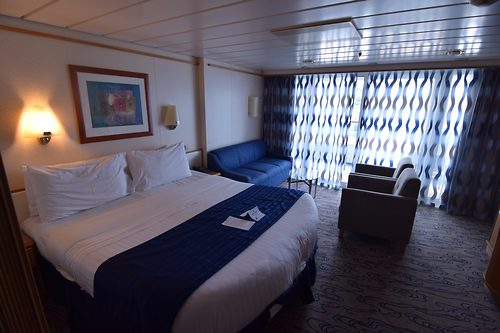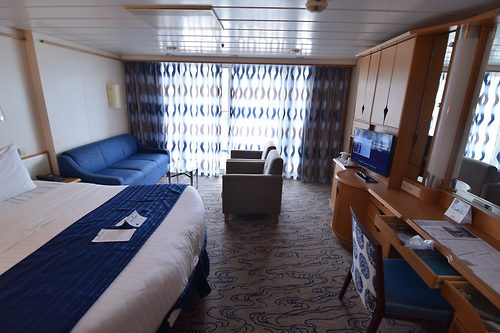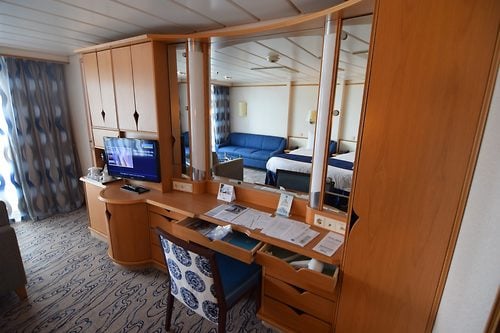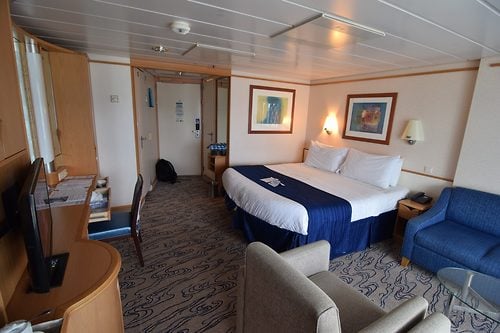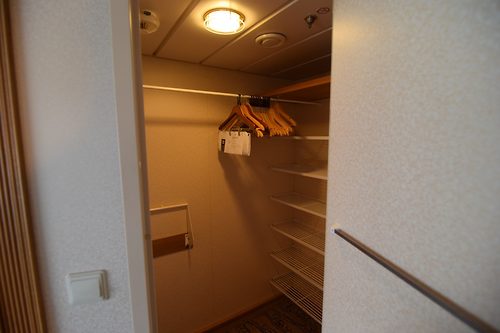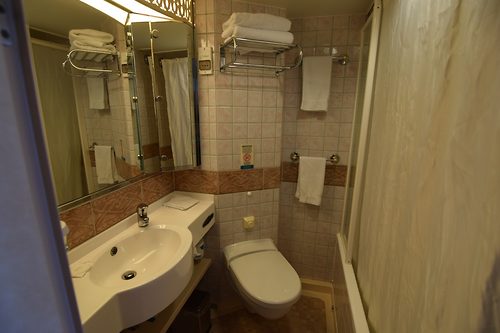 The Junior Suite enjoys a lot of space in the living area, and it was nice to have not only a sofa but two chairs as well.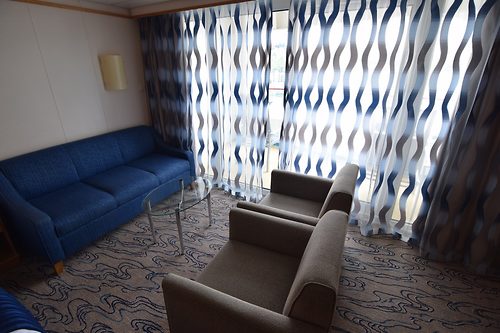 Our room is on the "hump" and perhaps that is why the balcony is as "enclosed" as it looks.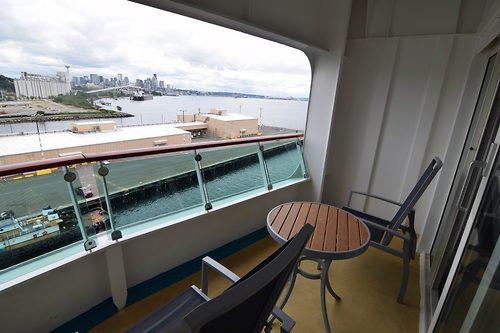 Overall, it looks like a great place to call home.
At 2pm, we held our first meet up onboard of the Royal Caribbean Blog group cruise, the "Go with the flow Lava Flow meet".   Basically, an excuse to enjoy drinks together at the Viking Crown Lounge at the top of the ship.  It is an opportunity to meet everyone and see old friends once again.  
Muster drill came up quickly and following that, we all headed up to the pool deck to enjoy sail away.  The weather was much warmer than I was expecting.  The forecasts called for a high of 68 degrees today, but it felt like it was in the 70s.  Either way, a beautiful scene for bidding adieu to Seattle.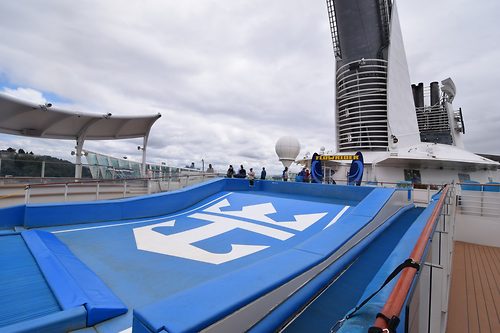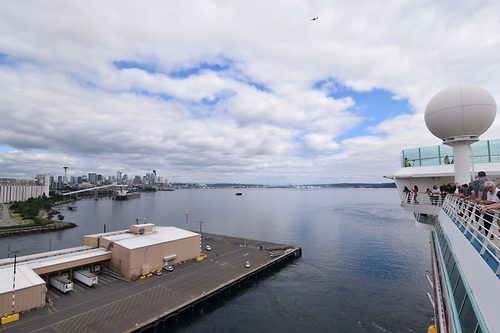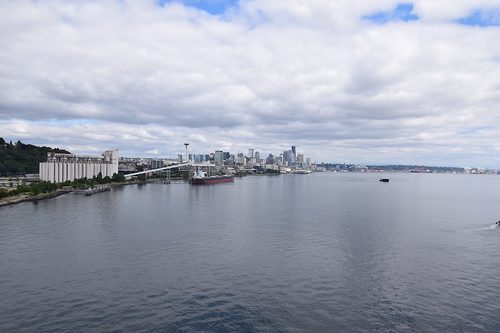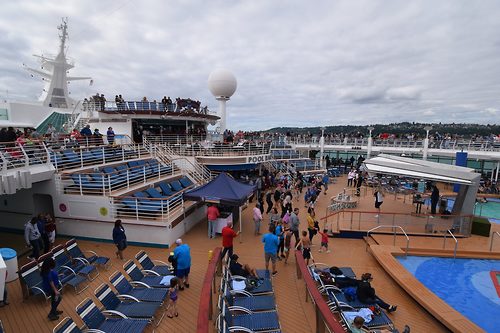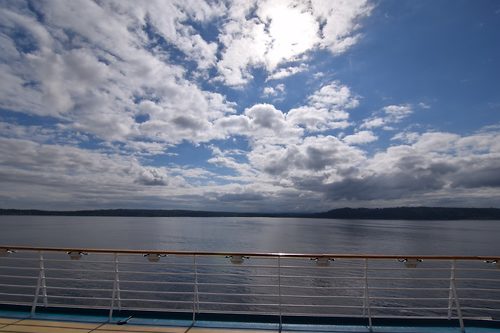 We got back to our room and found our luggage waiting for us and took the time to put things away before taking the kids to grab dinner.  On embarkation day, Adventure Ocean opens at 8pm instead of the usual 7pm.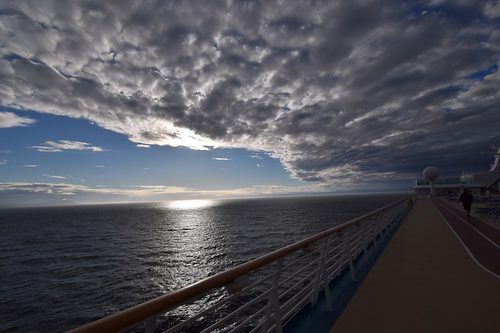 We took the kids up to the Windjammer for dinner, followed by dropping them off at Adventure Ocean.  A very smooth process and after dropping them off, we headed down to the main dining room for dinner.
The main dining room menu on Explorer of the Seas is still the "old menu" (prime rib night).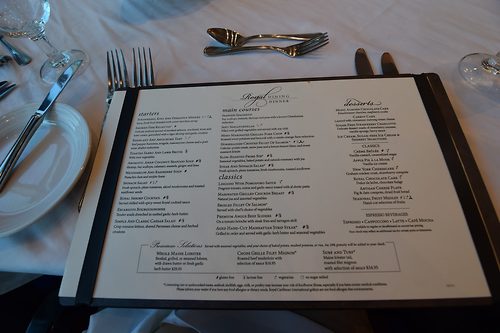 I was impressed by the speed of our waiters on embarkation day, which is usually a slower day.  Moreover, our waiter was able to not only bring savory bites upon request but I actually got a serving of Indian curry instead of having to wait for tomorrow.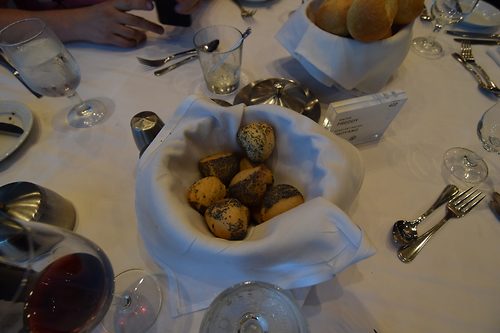 After dinner, we grabbed a drink at the Pub before heading over to the theater to seethe adult comedy show.  The comedian was pretty good and better than I was expecting.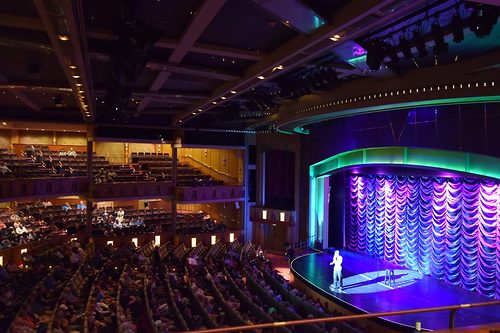 We decided to grab the kids and call it a night. Adjusting to west coast time has been going better than I expected so far.
Stray Observations