In:
The first day of our Harmony of the Seas cruise is here, and I could not be more excited for our next cruise to begin.
We arrived at Port Everglades right at 10am and found the security line was already letting guests through the lines.  In fact, we got through security and checked in within 15 minutes.  Boarding began shortly thereafter, and we were onboard just before 11am.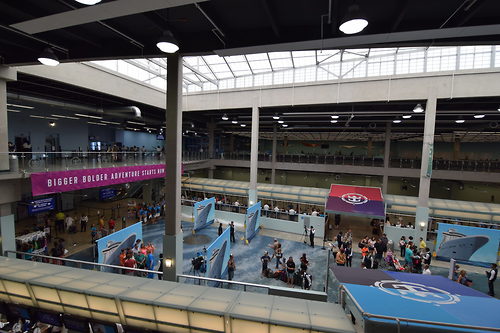 As we walked onboard, we stopped at Guest Relations since it had no line and got our WOWbands exchanged.  If you buy WOWbands on another sailing, you can exchange for free at Guest Services.  An added bonus of doing this now (rather than later) is we did not have to solely rely on our SetSail Passes until the room was ready.
We enjoyed lunch in the Windjammer buffet, which is my favorite cruising tradition.  Being one of the first onboard meant no lines to contend with, nor waits for a table in the Windjammer.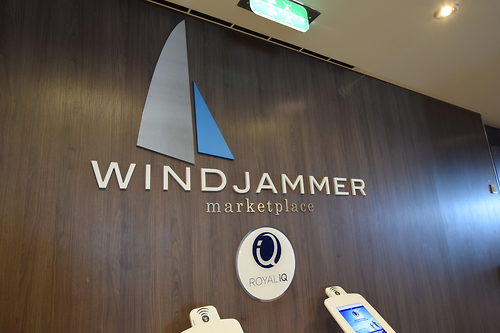 Following lunch, we took care of some important first day activities. Guests with a specialty dining package were able to go to the main dining room to make reservations.  We have the ultimate dining package on this cruise, so we made reservations for dinner at every night, along with a few lunch reservations.  We had no trouble at all getting all the times and restaurants we wanted (mostly around 8pm).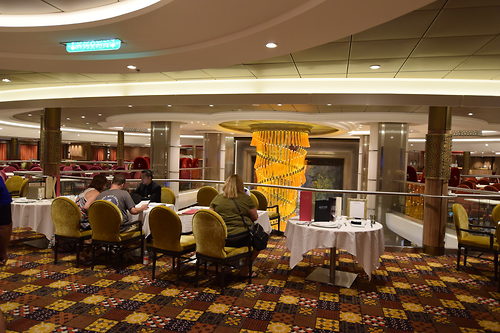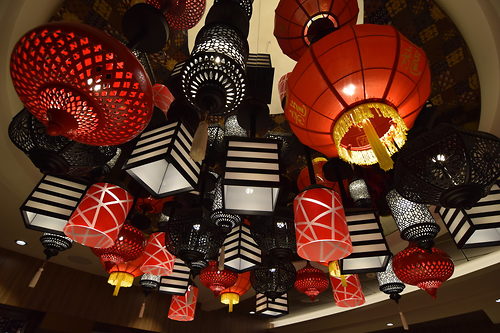 Next up was a tour of the spa.  We checked out the thermal suite, which allows guests to purchase a thermal spa pass and have unlimited access to it ($109 per person, $199 for a couple). My wife decided she would rather have another treatment than access to the thermal suite, but the facility is quite lovely.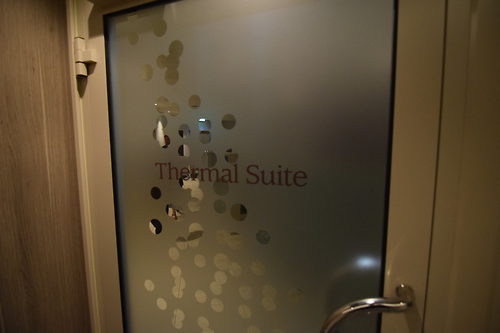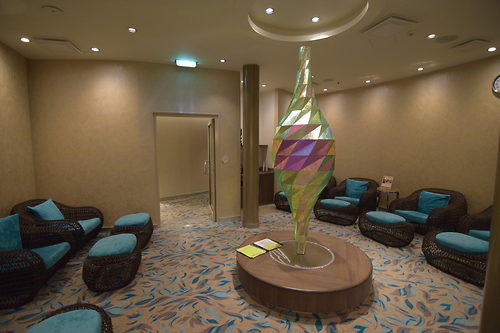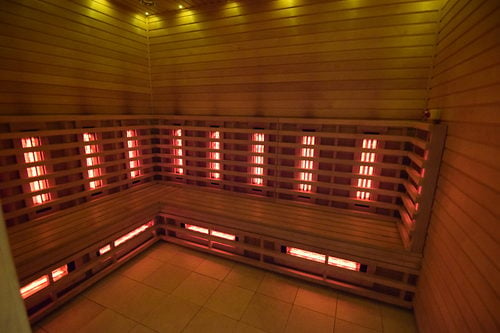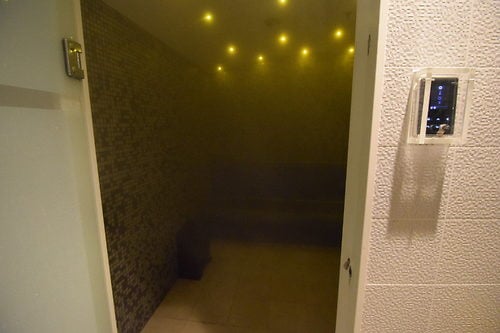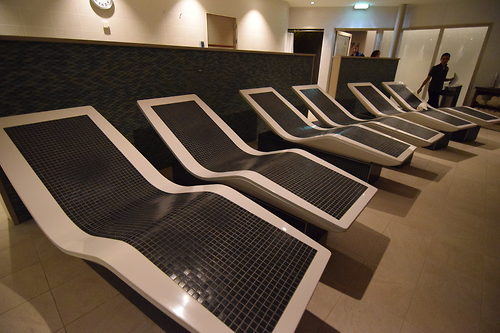 While we waited for our stateroom to be ready, we enjoyed a drink at the On Air Club.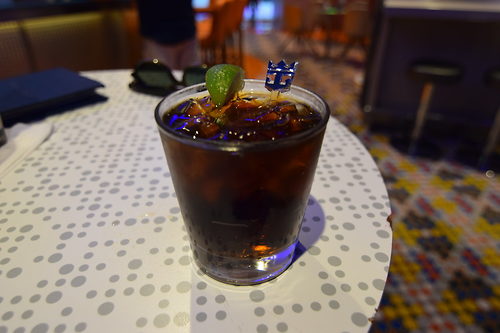 Our rooms were ready right at 1pm. We have a Central Park balcony stateroom on deck 12 (12629).  What is interesting about this particular room is it has an extra large balcony.  I had written about these rooms on Oasis and Allure of the Seas, but was not sure if the same held true on Harmony of the Seas.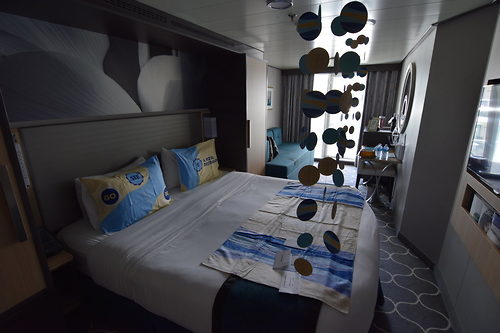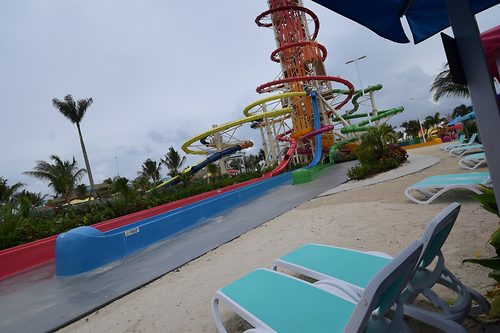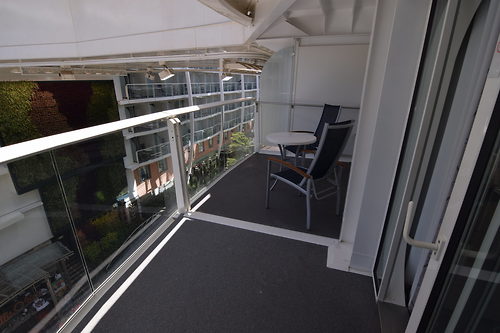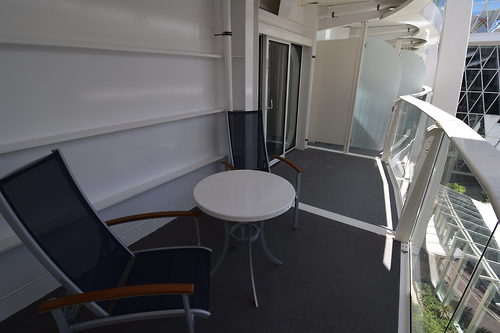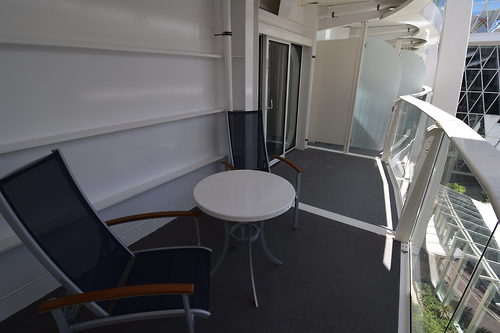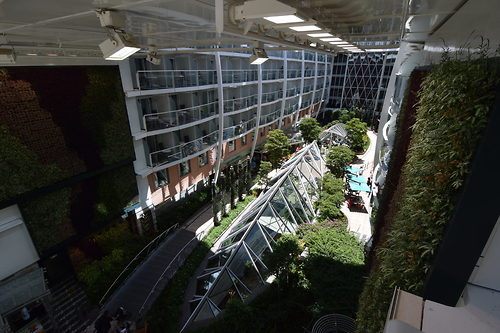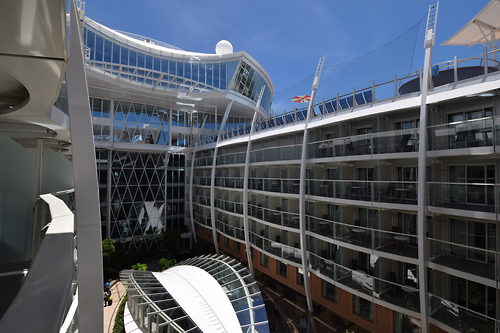 Sure enough, these rooms have the large balcony too.  
Our bags were delivered to the room shortly thereafter, so we spent our afternoon unpacking and then just relaxing before the muster drill.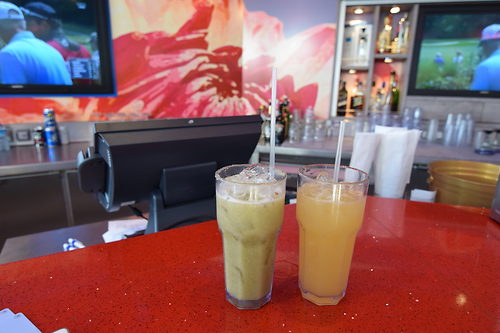 I managed to snag the last plate of pizza before Sorrentos closed for muster drill.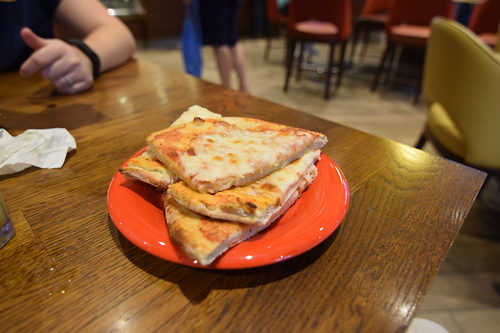 Following muster drill, my wife headed to the spa for a massage while I enjoyed sailaway from the Solarium.  It was incredibly hot and humid out, but a great sailaway nonetheless.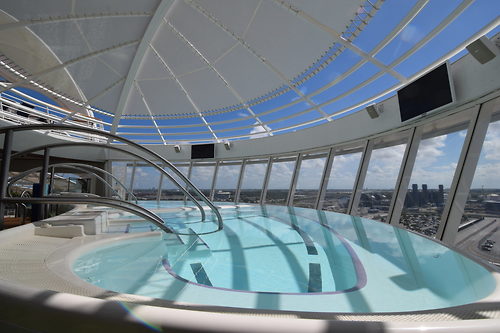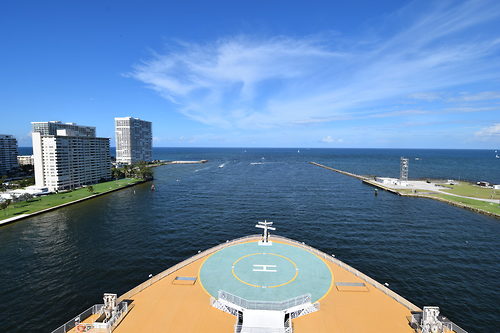 I partook in movie quote trivia, having missed just two of the questions and losing out to the winning team by just one point. So close, yet so far.
As day turned to evening and the ship was now moving, being outside was not quite as oppresive.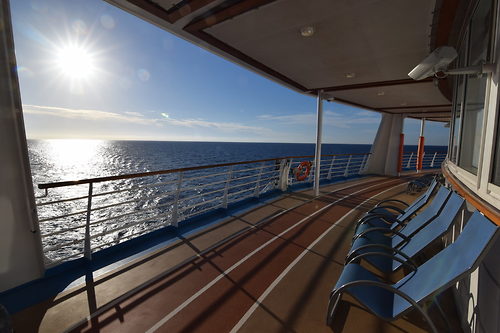 Dinner this evening was in Chops Grille.  We were auto assigned Chops by Royal Caribbean (because we have the ultimate dining package), and figured Chops on our first night is a great way to start the cruise.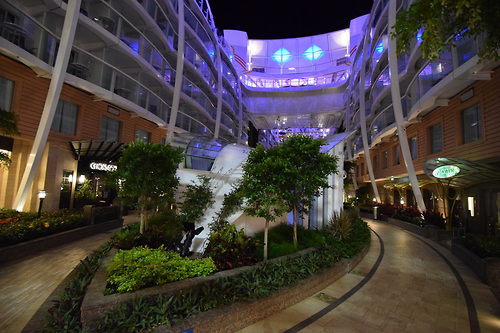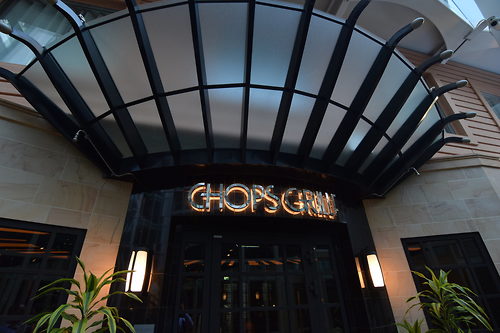 The restaurant was quite full. We showed up at 7:30, but they told us we would have to wait for our designated time of 8pm.   Returning at 8pm, we were promptly seated.
The meal was great, and our waiter was the right blend of attentive and amusing. 
Both my wife and I went with the filet mignon, because you can never be faulted for picking filet.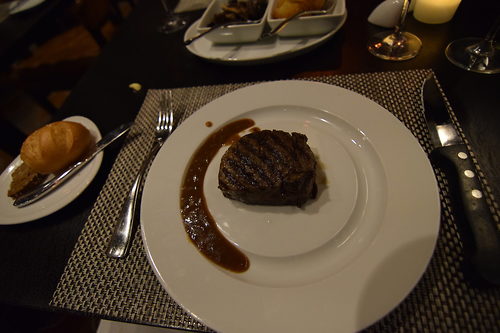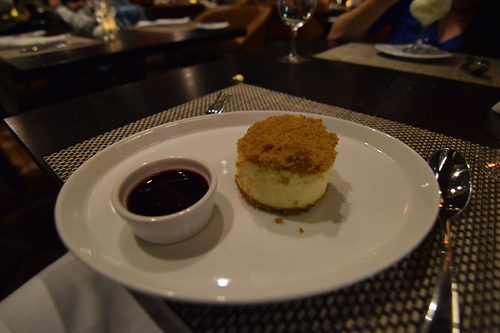 Our evening entertainment was in the AquaTheater to see the Fine Line.  I had seen the Fine Line last year, but my wife had not.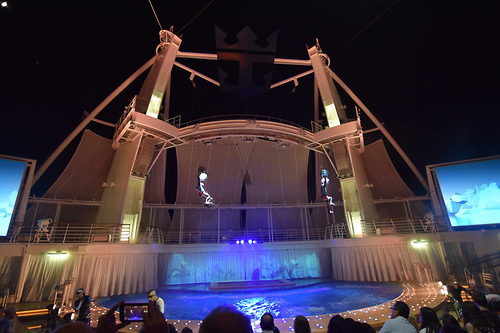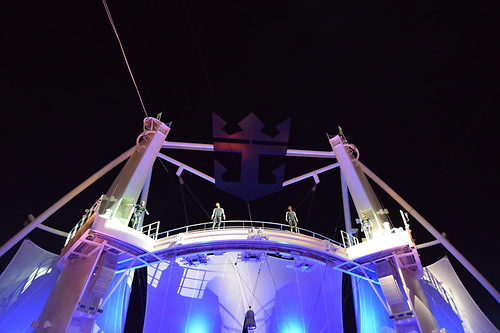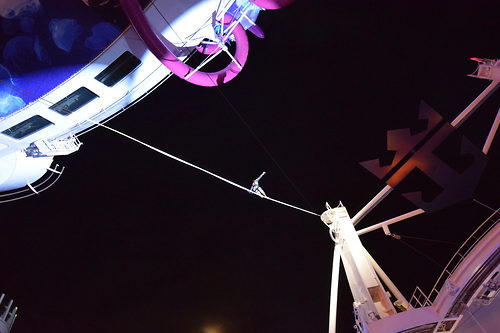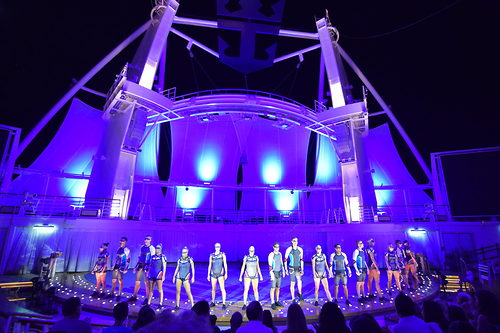 The show is a blend of acrobatics, dance and diving.  It is a really well choreographed show and the audience was gasping, clapping and hanging on every drop, bounce and dive.
Tomorrow is our first port day, Nassau, Bahamas.
Stray Observations