In:
Our first port stop on this nine-night cruise is Royal Caribbean's private destination of Labadee.  It is one of my favorite spots in the Caribbean, and I was looking forward to a really fun day at the beach with the family. 
Our ship docked at 7am in Labadee, and that is also what time we decided to set the alarm for to ensure we get started early.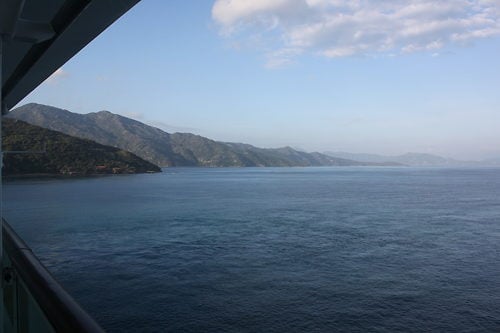 While my wife rounded up the kids and got them ready, I ran upstairs to the Windjammer to bring back breakfast for everyone.  I grabbed the usual cheerios, bagels and fruit for the family and I got for myself a vegetable curry. I am really liking the greater breakfast variety in the Windjammer!
We got off the ship around 8am or so and made our way to Barefoot Beach.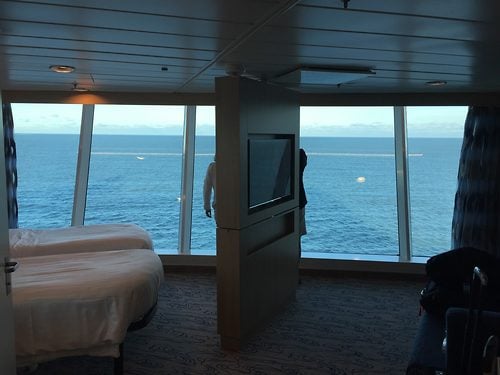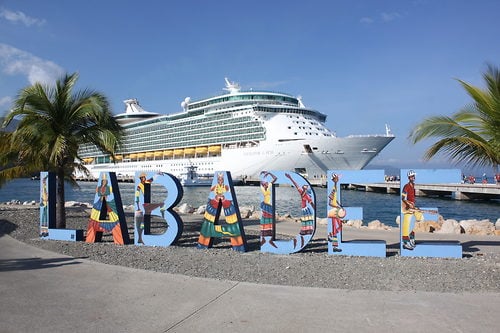 Barefoot Beach is reserved for suite and Pinnacle guests and since we are staying in a Grand Suite on Navigator of the Seas, we have access to this beach.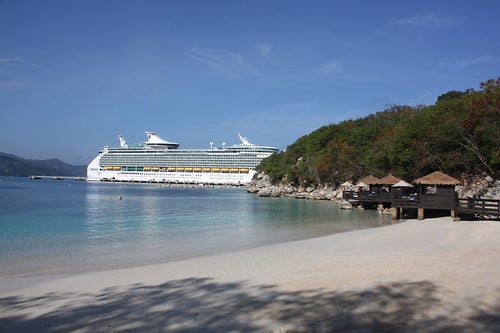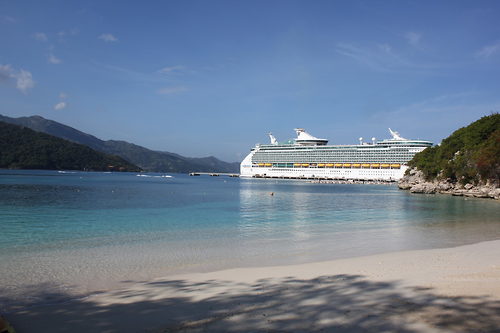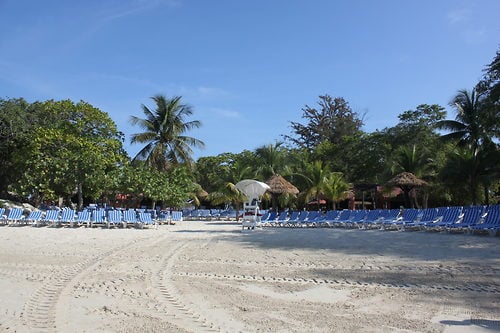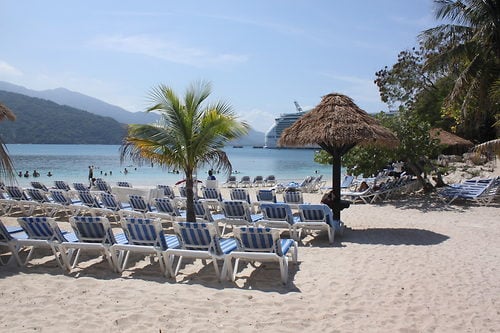 We also decided to rent a beachfront cabana, primarily for the expansive area and service that it comes with.  We have rented cabanas at Nellie's Beach for the past few cruises and have come to really like what they offer.  Being that we are in a suite for this sailing, we decided to give the Barefoot Beach cabanas a try.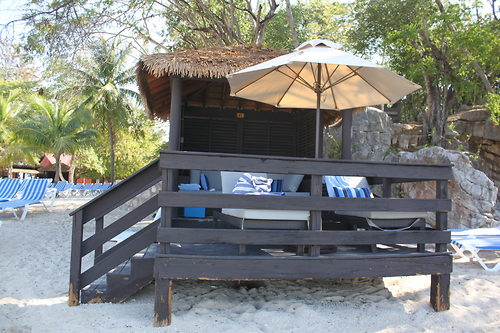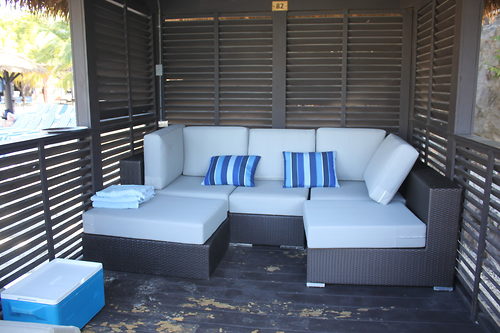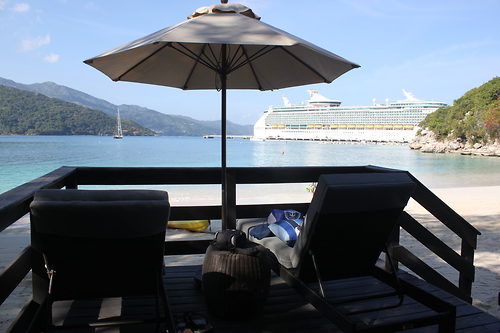 The cabanas come with a private space, as well as towels, a cooler full of Evian water, waiter service, upgraded buffet and water floats.  The beach front cabana cost $395 and accommodates up to six guests.  That may sound like a lot, but when you break down the cost per person, per hour over the course of the day, I think it makes a lot of sense.  Plus, it provides us somewhere for the kids to relax (and hopefully nap).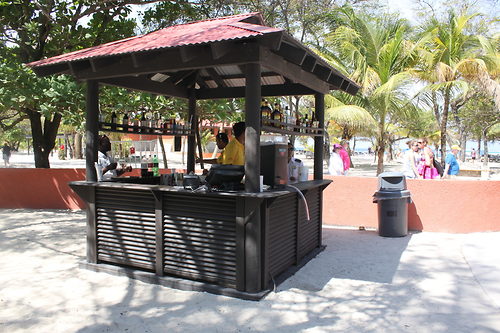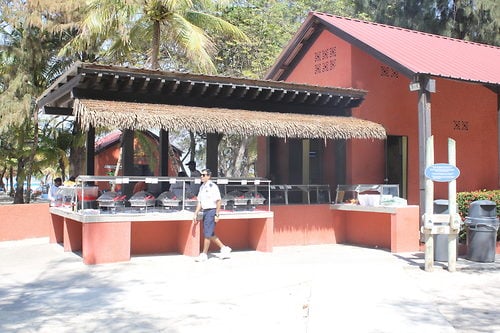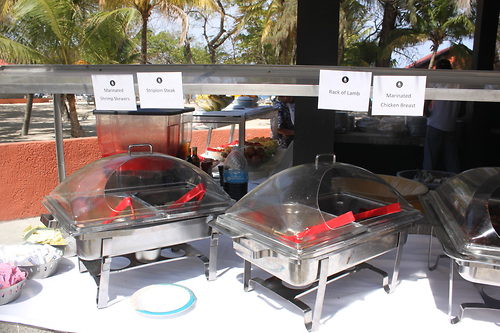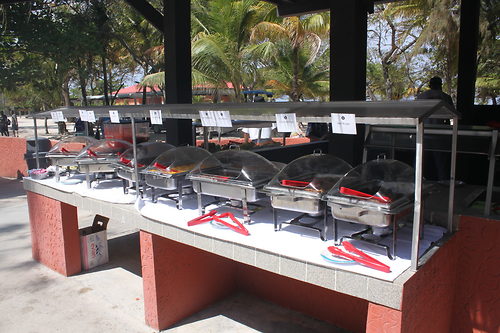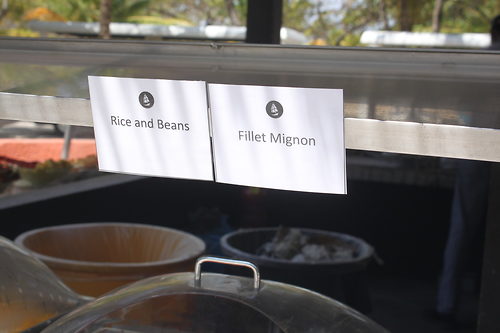 We got settled into the cabana and went for a swim on a really beautiful day.  It was partly cloudy and temperatures that started in the upper 70's and got up to perhaps in the low 80s. A perfect day for the beach.  For what it's worth, the forecast online had a 40% chance of rain, but it was nothing but sunny and beautiful while we were there.  The lesson learned is do not assume the forecast is definite, especially in the Caribbean.
I joked with some friends that beach days make for very relaxing and fun times, but boring live blog posts.  So I apologize I do not have more stories to regain you all with, but it was a great time.  Keep in mind that any guest can reserve a cabana in Nellie's Beach, and the experience is nearly identical there to the Barefoot Beach cabanas (the only big difference is no upgraded buffet). 
All aboard time was 3:30pm, so we headed back to the ship around 2pm.  I took my oldest daughter for a quick swim and snack back on the ship, while my wife took my youngest to nap back in the room. Afterwards, we switched off and my wife went to take a hot stone massage at the Vitality Spa while I took care of the kids in the room.  Having the extra space with the suite (especially the balcony) really makes a difference when trying to keep the kids entertained onboard.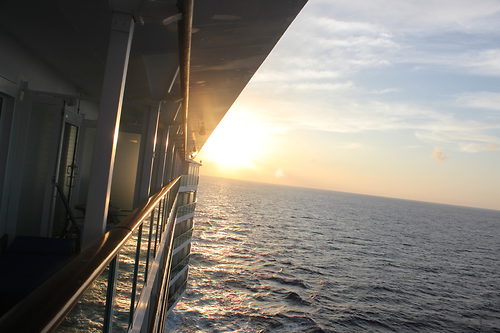 Following the massage and showers for everyone, we fed the kids dinner and sent them up to Adventure Ocean.  I skipped pre-dinner this evening, just because we had dinner lined up at Sabor and I need all the space in my stomach to accommodate the influx of super amazing guacamole that is headed my way.
We had a few pre-dinner drinks at the Schooner Bar, which also had Abba trivia being held. Not being much more than an average Abba fan at best (as in I may hum along to a song of theirs on the radio), I did not think much of the idea, but the Schooner Bar was packed! 
As I mentioned, tonight we had dinner at Sabor.  We managed to get Sabor for just $15 by pre-booking on Royal Caribbean's Cruise Planner.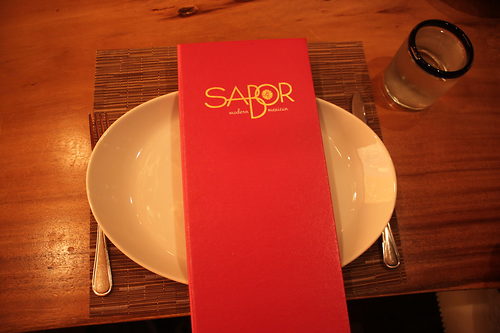 I can confirm that the guacamole is in fact being prepared in the kitchen now instead of tableside.  The wait staff indicated the change was because of U.S. Health Regulations and not a company policy.  The good news is the guacamole is still custom made to your taste and while I may prefer the tableside approach, I can live with the current method.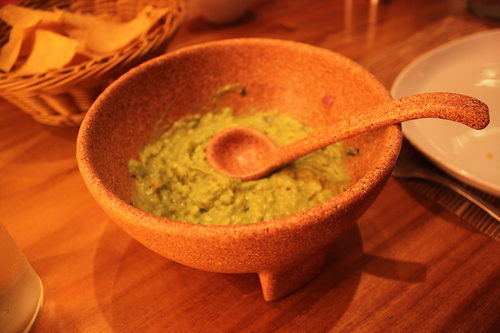 As always, I will write a formal review of Sabor in a future blog post, but Sabor remains a great restaurant that I will return to again and again (including this sailing).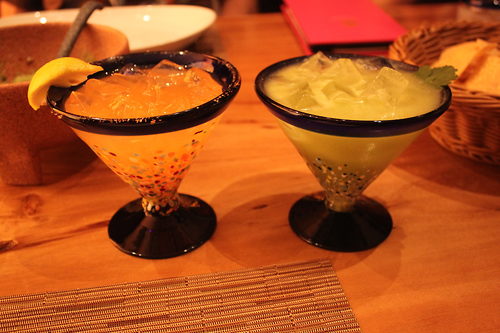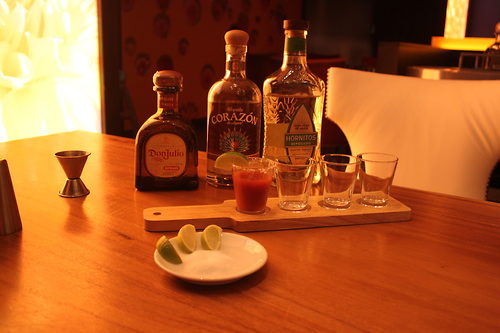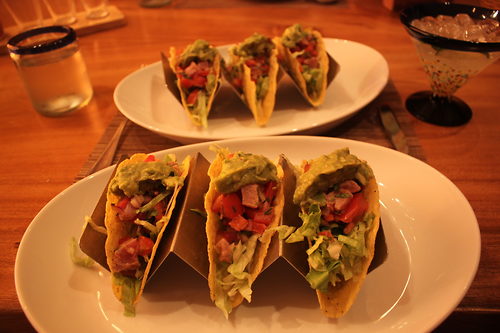 We did spot one new feature at Sabor, which is a margarita flight called, "Three Amigos" which is a series three margaritas to enjoy (rather than ordering each individually). The cost is $18 and if you have a drink package, it is just a $6 surcharge.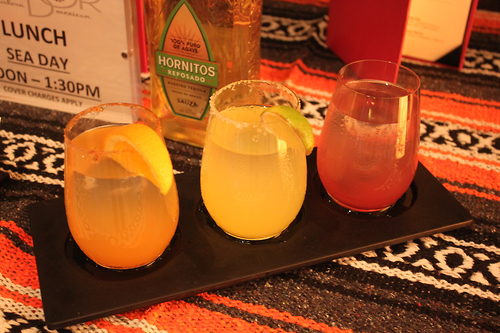 In the most bizarre event to occur to me on a cruise ever, we received a notice that tomorrow at 11am, clocks will move forward one hour.  Not only is the time change occurring, but it's happening in the middle of the day (instead of at night) and that means there is no 11:00am hour.  Very odd!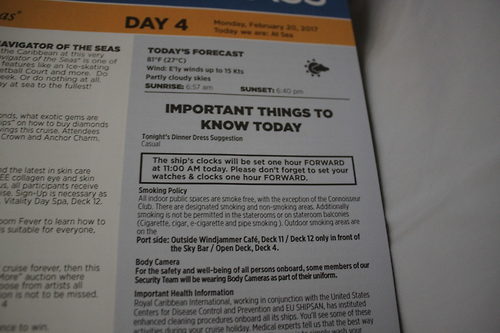 Stray Observations
There is no kids movie channel. Usually there is a channel with kids TV shows (which there is) and a kids movie channel (which there is not).  
I saw at the pool this afternoon a 10 minute massage for $20 offered.  Not a terrible deal for a quick Swedish massage.
Here are some things to keep in mind if you visit Labadee and it is your first time:

There is complimentary transportation around Labadee that you should take advantage of.  A tram can take you to all the beaches and you can hop on or off.  Likewise, there is a one-way ferry that will take guests from the dock to Columbus Cove.
You can get the official drink of Labadee, the Labadoozie, with or without a souvenir cup.  The souvenir cup costs extra if you have an unlimited beverage package.
The drink packages work on Labadee.
The beaches around Labadee offer different views, but the experience is quite similar.  The further you go from the dock, the less crowded it can be.

Johnny Rockets was offering a 20% off coupon for today only.
​
Tomorrow is our second sea day and we have some fun activities planned (except during 11am).