In:
Royal Caribbean will offer in 2012/2013 cruise season the option for customers to get married onboard its ships.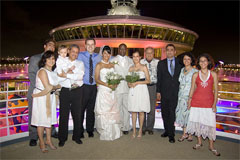 Splendour of the Seas arrives in Brazil on December 9 and will offer three choices of wedding packages: Royal Package, Royal Happiness and Royal Romance Eternity.
The ceremony lasts approximately one hour and is performed by one of the officers of the ship while the ship is moored in one of the ports allowed - Santos, Rio de Janeiro or Salvador.
In addition to the guests who can accompany them on the cruise, the couple can invite up to 40 guests not cruising to attend the celebration, and reservations must be made ​​up to two months in advance. 
More information on the Brazil wedding packages are available online.