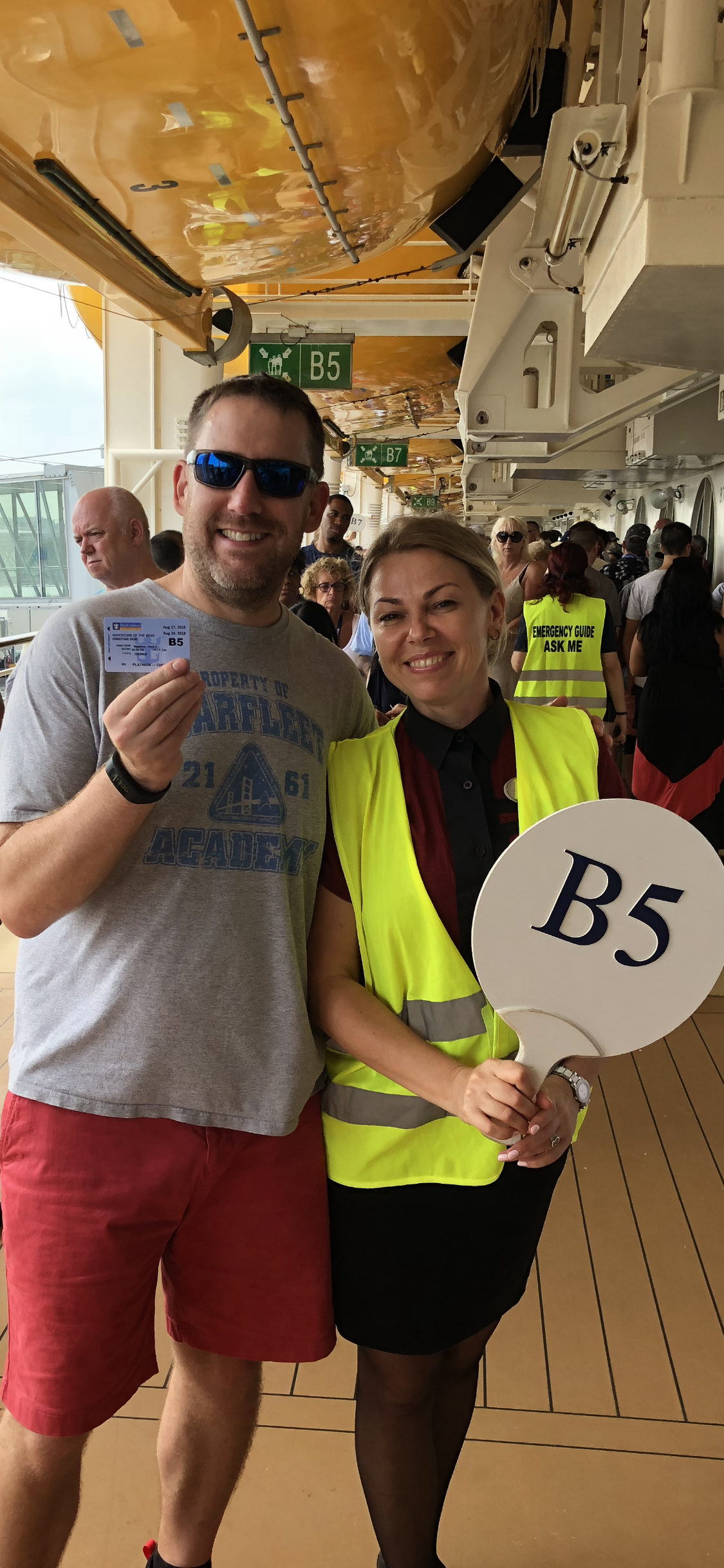 Posts

183

Joined

Last visited
Everything posted by Larry Muster
Can you give us examples of situations where you collected on it? I'm picturing catastrophes like being airlifted etc. By the way you said it, I assume there are less critical instances, I am guessing.

Have you looked at this years repositioning of Voyager from Boston to Puerto Rico? 7 nights, as low as $274 per person. It's cheaper than staying home!

They said a couple of times that it was the largest sailing to date since Covid, so yes lots of people. The crowds didn't prevent us from doing any of the things we wanted. We had a 5 star time.

If you are asking about the main dining room it was great. On this class, the MDR is in a great spot with great views. Service was top notch.

I did the scooter rental and loved it and highly recommend. We did a self-tour of the coastline and hit downtown for lunch.

$40 USD, so I think it's probably over $50 CAD. I paid it in May and had a great time in Bermuda.

No they have a very short expiration window. I think it's 10 days or so.

If you are so sure this person is an alcoholic, why do you do it?

Given that you don't set sail until January there are likely to be lots of iterations of various deals. Your best bet is to BUY IT NOW (or when you see it) regardless of the price. Then you are insulated if the price goes UP and can cancel and rebook if the price goes down. For the packages that come with internet and some sort of beverage option (other than Deluxe) there is no requirement that the whole party has to buy it.

Can anyone confirm the previous posts are correct regarding the booking process. Is booking on board the only way to book the escape room? If so do I hit the excursion desk, guest services or what?

The entertainment was pretty toned down - nothing crazy. They did the traditional things like love and marriage, but no battle of the sexes. They had a couple of movies, ice skating shows and pianists and guitarists that would visit the bars.

I've never seen the 30% off the Deluxe Beverage Package, or must have missed it. To get this benefit do I have to buy it on the ship or can I cruse planner it?

Ugh. Matt needs to lock and delete this thread! ...But for real - I have seen them in the spa / gym area.

I threw the post into my voice to text software and made it through the whole thing. I actually enjoyed it. I give it an 8 out of 10. I almost quit during the bit where OP does an impression of the on hold advertisement. To summarize, ship was unable to go to CocoCay because " the captain who decided to not take our ship to coco cay". Port fees were returned and the spa ran a discount to make up for the inconvenience. The cruise statement was not reconciled and the OP claims there were multiple new charges after the statement was reconciled. These issues plus lots of time on hold leaves the OP has never been treated so unprofessionally and completely disregarded in their whole life. I want to feel for the OP but each bump in the road is taken as a personal slap in the face. Each bump seems to also generate another check in the ax to grind category. Sure it would be nice to get compensated for missing a KEY port, but it does not always happen and it's not a personal affront. Welcome to land of cruise lovers, but you've got to go with the flow and not take it all personally. From here, we all know now NOT to step off the ship until you have a reconciled final statement in your hand and when the spa offers 20% off - go get that deep tissue massage!

I'm glad you were able to get out and do something enjoyable!

I'll be there. It's my first cruise in 10 years where I won't be getting the drink package. I'm going to see how far my diamond drinks carry me!

Sorry yes. Physical card at check in. I've never had to use it at a port, but I rarely disembark at ports of call.

You upload an image and it goes though some validation process. The app tells (me at least) that it's "validating my record". it stayed like that for 3 weeks for me and just went to the green check (29ish days ahead of sailing).

A Serenade cruise got me my Diamond status as well!

Fellow nerd here. The whole process will take under 10 minutes. No real need to try and do anything ahead of time. Just have your COVID card, your passport, form of payment and be ready to take a selfie.

Heading to Bermuda on Adventure in May. Below is the guidance I received from a Royal Healthy Sailing communication. Prior to this I did assume that I only needed to apply for authorization if I was going to disembark but this confirmed all passengers need to apply. My agent does a great job keeping me up to date on this stuff and I'm pretty actively involved in keeping up to date with this stuff. However, I could see someone who is more 'set it and forget it' about their vacation missing this step. These country-specific requirements aren't part of the online checkin (yet) so unless you have a great agent, or are otherwise actively involved it's possible you could miss the email about this requirement. Reminder! All guests 2 and older must apply for the Bermuda Travel Authorization to enter the country. Applications can be purchased for $40 as early as one month before travel here. This Travel Authorization is required regardless of whether you will be disembarking in Bermuda and must be presented on boarding day at check-in.

I have but it's been more hassle than it's worth. I used a travel router to share out the wifi. Because the wifi isn't totally reliable and would cut out from time to time Alexa wasn't always available.

I will say thatI thought I knew everything there was to know about preventing charges. I am an apple user and have multiple devices. The only settings I touched were "cellular data" which I turned off, thinking that's all I needed to do. I was connected to wifi most of the time, and everything worked as expected. I did notice that I was getting text messages from time to time (not iMessages). I assumed that they were somehow coming through via the internet. My first bill after the trip included charges for those text messages. It wasn't major and could have been worse. My carrier (Verizon) told me that turning off cellular is a start but recommended next time I turn on airplane mode (which will by default disable wifi) and re-enable wifi and bluetooth.