In:
Two different Royal Caribbean cruise ships have reported having an issue with their propulsion systems.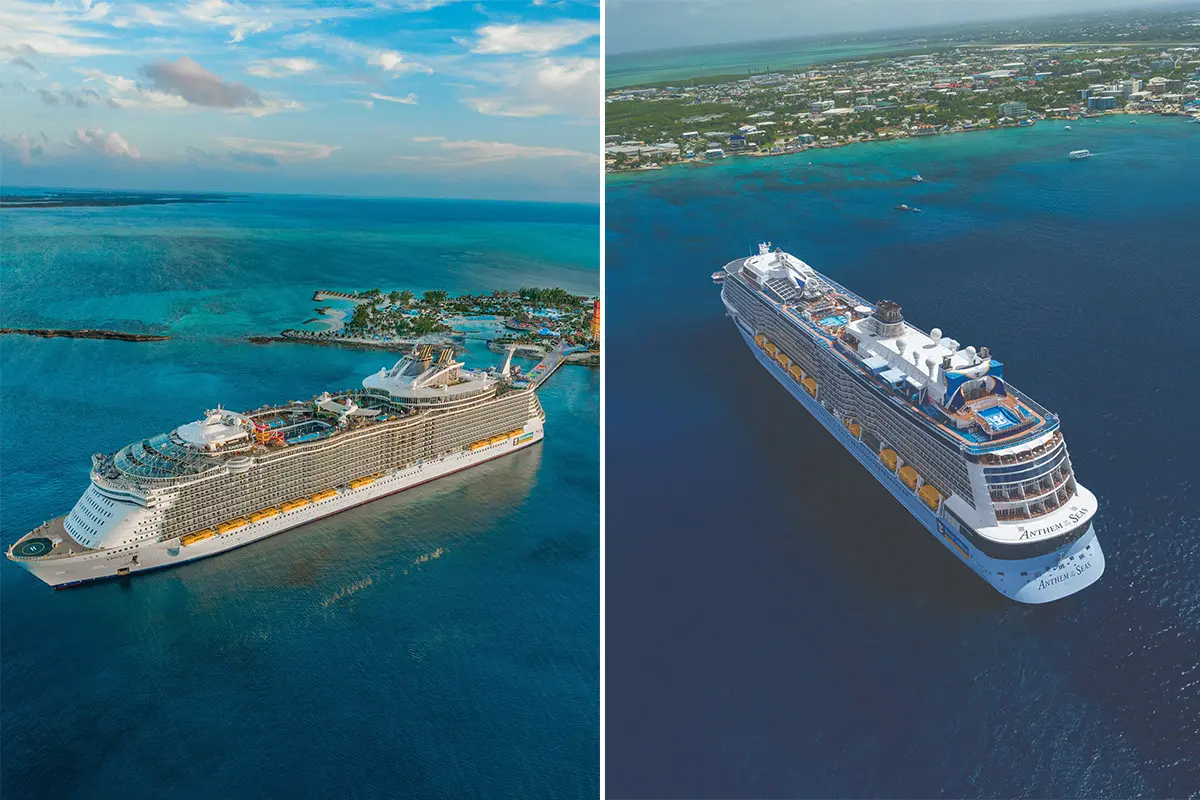 Over the past few days, cruise fans have reported being notified of a propulsion issue on Oasis of the Seas and Anthem of the Seas.
Here's what we know about each ship's situation.
Anthem of the Seas
Customers with upcoming cruises on Anthem of the Seas have gotten emails from Royal Caribbean to inform them of itinerary changes because the ship must travel slower.
In the email, Royal Caribbean informed guests Anthem must sail at a reduced speed because of an issue with one of the ship's engines, "one of the ship's four engines requires maintenance which impacts our speed."
"While this impacts our ability to deliver on the original itinerary, we're confident that it will still be an exceptional cruise vacation."
Depending on the itinerary, scheduled stops in Port Canaveral, Florida or Nassau, Bahamas have been dropped from the itinerary. 
The October 30 and November 5 sailings are confirmed to have had changes to their itineraries.
Royal Caribbean apologized for the change in itinerary, "We're very sorry about this change to your itinerary. We look forward to seeing you onboard."
For at least one sailing, guests received a one-day cruise fare refund in the form of an onboard credit. 
Anthem of the Seas is currently sailing from Southampton, wrapping up her 2023 European cruise season.
Oasis of the Seas
Guests on the current sailing of Oasis of the Seas received a letter in their cabin to inform them of an issue with one of the ship's propulsion pods.
The ship's captain made an announcement and a letter was sent to reconfirm the details, "As our Captain announced, an electrical component in one of our three propulsion pods needs replacing. Our crew is currently working through the repairs as we speak."
"While everything else is functioning at 100%, as a precaution we've lowered our speed, which means we'll arrive in Orlando (Port Canaveral) Florida a little later than planned."
The reduced speed has had a minimal impact on the ship's itinerary, with a delay coming into Port Canaveral by about an hour.
The letter went on to apologize for the change, "We're terribly sorry for the impact to your cruise. Please know, your safety and comfort, along with that of our crew, remain our top priorities."
Oasis of the Seas is currently homeported in Cape Liberty, New Jersey.
In a Facebook group for Oasis of the Seas, a number of cruisers confirmed the issue, but also reported everything seems fine for them.
Tanya Stark-Beakes is on Oasis of the Seas on the current sailing and said the issue doesn't seem to have much of an impact, "It's very minor. We'll just be a little late to Port Canaveral (it initially started with having to deliver a patient to Virginia and having to go full speed after that). We're still moving at a good pace."
Margaret Tricarico also confirmed nothing has changed much for them, "Yes, the Captain made an announcement around 8:30 last night. It's fine. We're motoring along and we can see the sun starting to rise on the horizon"
Cruise ships have redundant engines for this situation
Cruise ships encountering a propulsion issue is not unheard of by any means.
Cruise ships have multiple engines, and often not all engines are running even when there are no issues. This allows the ship to give engines a break, and have backups when a situation like this arises.
In most cases, the ship is able to continue operating safely, albeit at a reduced speed.
Last month, Radiance of the Seas had a propulsion issue that required Royal Caribbean to cancel two sailings so that repairs could take place. Cancelling cruises for a propulsion issue is quite rare and indicative of an acute problem that necessitated a more prompt response.
Historically, ships with propulsion problems have been able to sail and either make repairs along the way, or hold off until a scheduled upcoming dry dock.