In:
The Royal Caribbean Blog staff collectively spent over 270 nights on Royal Caribbean ships in 2022. From sunny Aruba to chilly Alaska, we've traveled around the world this year to share our best tips and tricks with you.
While the cruising experience is mostly back to normal for 2023, 2022 brought trial, error, and lessons learned to the cruising experience. Shifting from nearly empty ships in 2021 to busy cruises in 2022 was an adjustment for our staff, and it was more important than ever to research and plan our cruises well before boarding.
I was curious to hear which cruising advice was most helpful to our staff members in 2022, so I asked them about which tips they used (and lessons they learned) while cruising this year. Here's what they said.
Be prepared for full capacity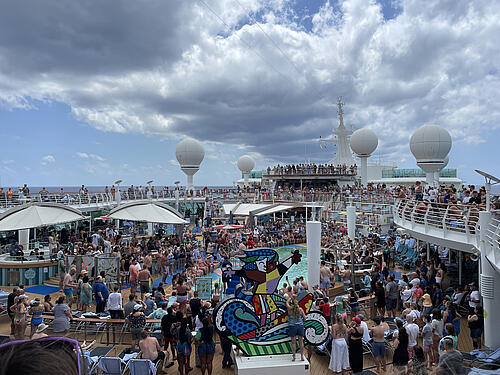 A year ago, not all Royal Caribbean ships had returned to service yet, and the ones that had returned to service were operating at limited capacity. It wasn't uncommon to see capacity as low as 25% in the early part of 2022.
Today most sailings are operating at 100% capacity, and writer Haley Mills mentioned how it's important to prepare yourself for busy ships.
"I think just overall be prepared for full capacity," Haley mentioned. "The Windjammer is going to have lines at peak times. Pools are going to be crowded on sea days."
Busy ships can be fun, though, and you'll find a much more exciting atmosphere onboard than when ships were sailing at low capacities. Everything from game shows to lounges and pool deck parties are, arguably, much more fun with high capacity compared to low capacity.
Book the stateroom you want instead of using RoyalUp
Another tip from writer Marcy Miyar is to book the stateroom you originally wanted instead of hoping to win a RoyalUp bid.
Many cruisers took advantage of RoyalUp when capacities were still low. Because there were fewer guests onboard, there was a higher chance of winning a RoyalUp bid for an upgraded stateroom category.
Related: Royal Caribbean's RoyalUp guide, tips, and tricks
Nowadays, however, this is not the case. Marcy explained how, due to higher capacity onboard, it's more difficult to win a RoyalUp bid than it was when ships were operating at lower capacity.
"Don't rely on RoyalUp to get a better cabin category at a discounted price. Just book the room you want."
Always research ships and ports
One of our major tips at Royal Caribbean Blog is to research your ship and itinerary before booking (or setting sail) on your cruise. Not all Royal Caribbean ships and ports are equal, so it's important to know the ins and outs of your particular cruise.
Staff member Haley likes to do this by watching YouTube videos about her ship.
"I like to watch YouTube walkthroughs of the ships I'm going on so that I have a pretty good map in my head of where everything is," she explained. "It keeps me from feeling overwhelmed once I'm onboard."
Haley also mentioned how doing research on ports can be helpful during your cruise planning process.
"When it comes to ports, especially somewhere I've never been, I read reviews of excursions and weigh my options to determine if it's better to book something through Royal Caribbean or if the port is better explored on foot. Researching the port ahead of time gives me an idea not only on what to do or where to go, but on safety and how to save money."
Planning a port day? Here are our best tips and tricks:
Join the Facebook group for your sailing
Prior to your cruise, check Facebook (or the Royal Caribbean Blog message boards) to see if there's a group for your upcoming sailing. Facebook groups allow you to connect with others on your same cruise, opening up the opportunity for new friendships and connections.
Haley recommends joining a Facebook group before your cruise, especially if you're cruising solo.
"By the time you get to embarkation day, you've already got some people to talk to onboard, and maybe a couple events planned. We planned a pub crawl for the first sea day on Symphony and ended up making several lifetime travel friends!"
Plan for flight delays
Before you book a flight for your cruise, make sure the flight itinerary allocates plenty of wiggle room for potential delays, missed connections, or cancellations.
"I had too many instances of flight issues last year and I am grateful I never missed a cruise because of it," Allie Hubers said. "I would allocate even more travel time than you think."
Related: Flight attendant shares 20 tips to minimize air travel fiascos
One of Allie's main travel tips is to consider booking the earliest flight of the day before your cruise instead of the last flight. This can lessen the chance of a delay, as delays commonly occur as the day goes on and early flights are delayed, causing a ripple effect for those later in the day.
Writer Chantal McPhee also pointed out the importance of arriving in your cruise embarkation port early.
"Fly in at least a day early, but give yourself even more time for places like Europe. Between jet lag and long flights, an extra day to catch up is nice."
Use a good travel agent
Another of our top suggestions at Royal Caribbean Blog is to utilize a travel agent when booking your Royal Caribbean cruise, and Chantal mentioned how her travel agent was invaluable while planning a European cruise.
"Ours suggested the most idyllic hotel in Barcelona and gave me some great advice on excursions. At first I did not consider going to Pompeii when visiting Naples, and it ended up being my favorite thing we did all cruise. I made memories I will never forget!"
Travel agents can help not only with booking your cruise, but by providing valuable information throughout the entire process. For more information on choosing a travel agent, check out the top 5 things to look for in a good travel agent for your cruise vacation.
Bring a Covid test just in case you start feeling sick
Even though pre-cruise testing is no longer required for most sailings, packing an at-home Covid test can still be a good idea.
"Bring a Covid test just in case you start feeling sick," mentioned Angie Vognild. Having an at-home Covid test on hand can be helpful on the chance you feel ill onboard without requiring the hassle of contacting the onboard medical team.
If you're set on a specialty restaurant reservation, book it ahead of time in the Cruise Planner
Marcy and her husband typically book the 3-night dining package when they cruise. As with any dining package, you're unable to reserve restaurants and dining times until after you board the cruise.
"The number one 'issue' for me this year has been securing dining reservation times," Marcy explained. "We have to wait until we're onboard to book our restaurants and have found the times we want already taken."
Related: The Ultimate Guide to Royal Caribbean's Unlimited Dining Package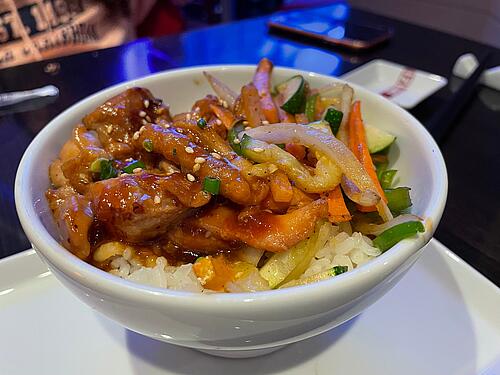 Not being able to reserve specialty restaurants until embarkation day is one of the biggest disadvantages of booking a dining package versus reserving restaurants individually ahead of your cruise.
While you can save money with a dining package compared to booking each meal individually, there's no guarantee that you'll be able to book your preferred restaurants and times if many other passengers have reserved a particular restaurant.
"I would suggest if someone has their heart set on a particular restaurant and time," Marcy said, "they should secure it in the Cruise Planner ahead of time or be prepared to be flexible with the dining times."
Wait out for an Alaska cruise deal
Matt Hochberg always advocates booking a cruise far in advance, but he mentioned how "there were a lot of intriguing last-minute Alaska cruise deals last year beginning with August sailings."
Royal Caribbean Blog video editor Jenna took advantage of one of these deals by booking the cheapest Alaska cruise she could find, and it paid off with a budget-friendly, bucket-list trip.
Related: I tried the cheapest Alaska cruise I could find: here's how it went
"If you're very flexible on when you can sail and can find cheap flights to Seattle (maybe credit card points to burn)," Matt said, "waiting out an Alaska deal for the latter half of the season could net you a really great deal."
Book excursions ahead of time
Allie explained the importance of booking excursions ahead of time, which came in handy on her recent Holy Land cruise on Odyssey of the Seas.
"For our Israel cruise, anyone on a Royal Caribbean excursion had priority for immigration, so they booked up quickly before we even boarded."
Having a Royal Caribbean excursion booked in Israel ended up being a great decision, as Allie and her family were able to get through immigration much quicker than those who had booked independent tours.
She explained how certain ports are more popular for Royal Caribbean excursions than others.
"The added convenience, safety, and guarantee to return to the ship drove up demand for RCL sponsored tours for Israel. This was also the case for Santorini; RCL excursions had priority tendering so they were popular. Booking early ensures you can get your first choice."
If you're considering booking Royal Caribbean excursions–especially in a port where excursions tend to sell out–we recommend booking as early as possible.