In:
When you're on a cruise ship, you might be curious about a ship's top speed so that it could avoid something like a storm.
Severe weather is enough to give almost anyone a bit of anxiety, and riding out a storm at sea isn't usually at the top of anyone's wish list when it comes to things to do on a cruise.
On every Royal Caribbean cruise, there is an event held for guests to ask the ship's Captain questions.
On a recent Odyssey of the Seas cruise, a passenger wanted to know in case of a storm, how fast can the ship sail away from a storm?
How fast can a cruise ship go?
Before we talk about the chances of running into a storm, let's look at a cruise ship's top speed.
Captain Sindre Borsheim answered how fast do cruise ships go when he was captain of the ship earlier this year. Captain Sindre has more than 20 years of experience with Royal Caribbean, so he's no stranger to ships and conditions at sea.
According to Captain Sindre, the top speed of Odyssey of the Seas is around 23.7 knots.
"That is full speed," he said and then joked maybe the ship could go a bit faster if they went downhill at the time.
The top speed of any cruise ship varies greatly depending on the ship's size and engine power. 
Most of the time, a cruise ship doesn't get near that top speed. Instead, they remain at a more comfortable cruising speed. Going at a slower speed also reduces the ship's fuel consumption.
But if necessary, the ship can accelerate to that 23.7 knots figure, which is about 27 miles per hour.
Outrunning a storm is unlikely
The question about needing to outrun a storm is very unlikely to be a scenario your cruise ship will encounter.
"With today's technology, you see where the storms are coming," Captain Sindre explained.
"You can predict days in advance. So it's very rare that nowadays we get caught by surprise storms."
He did recall one time a few years ago when bad weather developed quickly, "I was on a ship over in Southeast Asia sailing out of Hong Kong. And we just happened to be exactly where the typhoon was born."
"We managed to get away before it was building up."
"Normally we see that they are born and then you predict the path. But if you happen to be exactly right there during birth, then then you may be caught by surprise."
It's important to also note that Royal Caribbean employs its own meteorologist to keep track of severe weather, anywhere around the world.
Royal Caribbean Chief Meteorologist James Van Fleet gives the captain of each ship the best outlook on what the weather is doing now and what it is likely to do in the near future.
Read more: How Royal Caribbean navigates bad weather with its own meteorologist
More efficient engines than ever before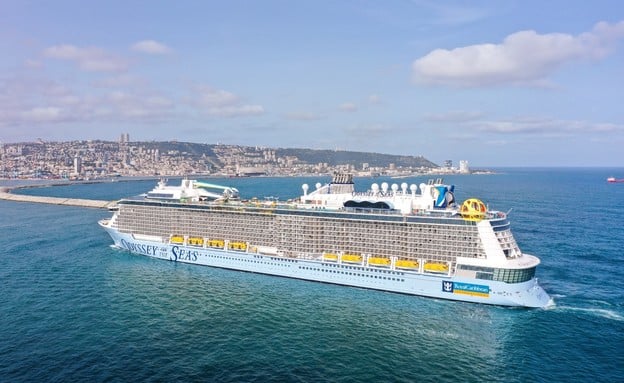 On a cruise ship like Odyssey of the Seas, it has the best engines in the fleet given how new it is.
Another guest asked if Odyssey's engines are quieter or eco-friendly than before.
"Yes, they are," Captain Sindre answered. "we have four diesel engines, our azipods are electric motors. The electric motors are propulsion motors. And then you have the diesel engines driving the generators, creating the electricity for the ships."
"If you combine the performance of an old diesel engine and the new ones that we have on board, it is a remarkable difference."
The use of azipods, which are omnidirectional form of propulsion for cruise ships, are great for many reasons.
"The azipods are placed there for fuel efficiency, which is of course serving two purposes. One is to reduce the fuel for environment. And that is also more cost beneficial for the company. So those two things go hand in hand."
"We have state of the art engines, which means that they are far more efficient. They're far more environmentally friendly than older engines."
Captain Sindre pointed out the shift in the cruise industry to use liquefied natural gas (LNG) instead of diesel, "Most cruise lines are already starting heading in the direction of LNG instead of diesel engines. So LNG powered ships, which is again very more environmentally friendly."