In:
The cruise industry is always innovating its ships to make cruising not only more fun and exciting, but safer for guests and better for the environment.
Back in 2016, Royal Caribbean announced it would be building a new class of ships powered by liquefied natural gas (LNG). This class of ships is the Icon Class, which will debut next year with the first ship in the class, Icon of the Seas.
As environmental impact is one of the biggest complaints given to the cruise industry, the transition from diesel fuel to liquefied natural gas will be a great step toward a more environmentally-friendly and sustainable future for Royal Caribbean.
What is liquefied natural gas (LNG)?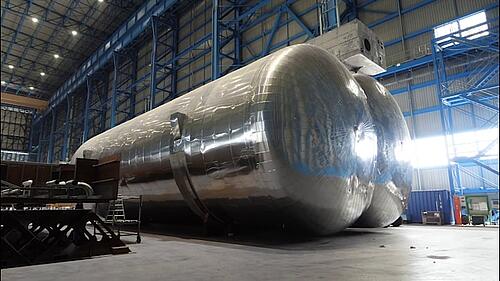 Liquefied natural gas, or LNG, is the cleanest fossil fuel that can be used by cruise ships today. LNG is a natural gas that has been liquefied at around -260 ° fahrenheit, producing a volume of around 600 times smaller than in a gaseous state, which makes the gas much easier to store and transport.
When ships are powered by LNG fuel, a ship's carbon emissions can be reduced by around 30%. Additionally, sulfur emissions will be reduced by nearly 100% and nitrogen oxide emissions by around 85%.
Outside of producing fewer emissions, ships powered by LNG will have less wear and tear on the engine, resulting in fewer repairs and lower maintenance costs. LNG fuel is also cheaper than low-sulfur fuel, allowing Royal Caribbean to decrease fuel costs with LNG-powered cruise ships.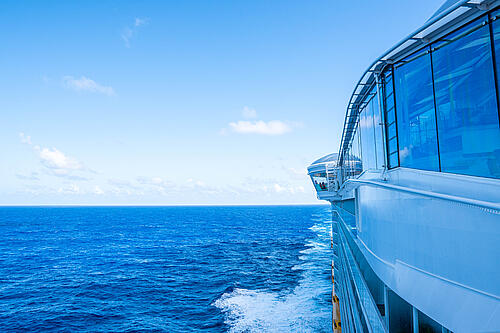 LNG will be utilized in conjunction with many of Royal Caribbean's other energy-reducing technologies, such as air lubrication, which sends microscopic bubbles along the ship's hull to reduce friction as it moves through the ocean, and advantaged waste heat recovery systems which turn waste heat into extra energy.
Royal Caribbean has stated that the "use of such technologies, including LNG, will result in further reduced emissions overall, virtually zero sulfur dioxides and particulates, and a significant reduction in the production of nitrogen oxides."
Which Royal Caribbean cruise ships are powered by LNG?
While there are no Royal Caribbean cruise ships sailing today that are powered by LNG, four ships are in construction or on order that will have LNG power.
The first ship to be powered by LNG is Icon of the Seas, the first ship in Royal Caribbean's new Icon Class. While not many details are known about the layout, amenities, itineraries, and activities that will be found on Icon of the Seas, what we do know is that the ship will be the first Royal Caribbean ship to be powered by liquefied natural gas.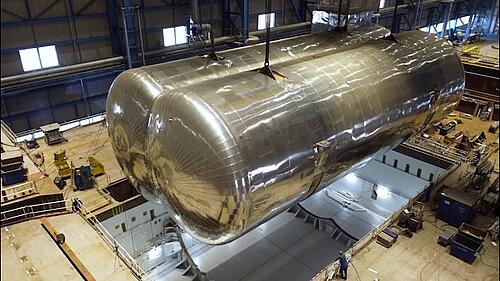 One of the first additions to the construction of Icon of the Seas was the ship's LNG fuel tank, measuring 307 tons and 90 feet long, which Royal Caribbean has stated is the largest in the cruise industry.
Icon of the Seas will be launched in Fall 2023, when she will sail from England prior to being homeported in Miami, Florida. It was recently announced that Icon of the Seas will be the largest ship in Royal Caribbean's fleet.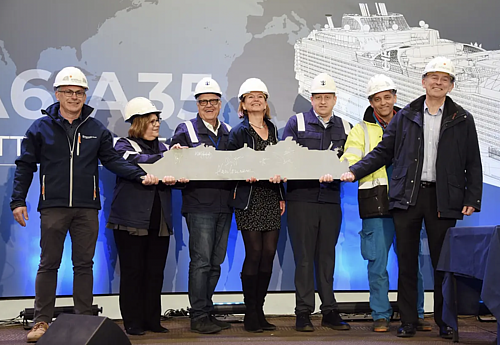 The next Royal Caribbean ship to be powered by LNG will be Utopia of the Seas, the sixth ship in Royal Caribbean's Oasis Class. She will be the first of Royal Caribbean's Oasis Class cruise ships to be powered by liquefied natural gas, and will debut in Spring 2024.
In addition to Icon of the Seas and Utopia of the Seas are plans for two other ships powered by LNG, which will be the second and third ships in the Icon Class. These two ships are estimated for completion in the second quarter of 2025 and the second quarter 2026, but are not yet named.
Outside of Royal Caribbean, LNG is a common trend in the construction of new cruise ships throughout the industry, with new cruise ships such as the Disney Wish, Carnival Mardi Gras, Norwegian Prima, and MSC World Europa all powered by LNG.