In:
A Royal Caribbean cruise may be synonymous with endless piña coladas on the pool deck… but what about laptops?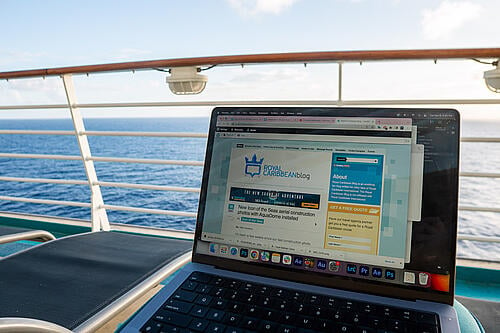 Cruise ships, despite being designed for vacations, can make for an excellent work environment. Working on a cruise means working without worrying about cooking, cleaning, or travel logistics. 
Just ask Super Mario, Royal Caribbean's top cruiser, who has been working remotely on the cruise line's ships for the better part of the past two decades!
Related: Life at sea - An interview with Royal Caribbean's top cruiser, Super Mario
But even though "workationing" on a Royal Caribbean cruise may seem appealing to the most adventurous of remote workers, there's always been one major setback: the onboard Internet speeds (or lack thereof).
As Royal Caribbean begins implementing SpaceX Starlink internet on its cruise ships, though, will working remotely become a more feasible option for cruisers?
To see for myself, I boarded Royal Caribbean's Liberty of the Seas earlier this week to put the ship's new internet service to the test. Is it really possible to successfully work remotely on a cruise ship in 2022?
Let's find out.
Why in the world would you work from a cruise ship?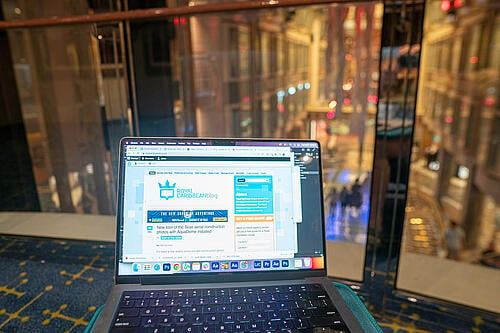 We must first address the elephant in the room: why would anyone ever work from a cruise ship instead of taking a vacation?
Throughout the past few years, remote work has become increasingly common. More and more people are able to work from home—or from anywhere. Remote work means many workers have the freedom to travel and work at the same time without worrying about limited PTO.
So while we don't recommend working on a vacation, remote workers are on workation. Working during the day and enjoying the ship's fantastic dining options and entertainment at night? Cruising while working remotely can be an attractive option for those who want to travel more than they otherwise could have.
Improving internet on cruise ships
In the past, cruise ship internet was notoriously slow and connection issues were rampant. Facetiming friends and family back home, for example, would, more often than not, encounter delays and video freezes.
And if you had to upload any type of large file to the internet? Good luck. You would most likely end up finding yourself running to the nearest spot for wifi once in port.
Earlier this year, however, Royal Caribbean announced they would add SpaceX Starlink internet to every ship in the fleet. Their goal is to implement Starlink on all 26 ships in the fleet by the end of the first quarter of 2023.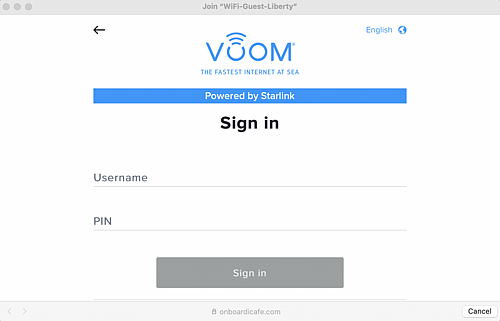 Related: Spotted: Starlink being installed across multiple Royal Caribbean cruise ships
As someone who commonly works from a Royal Caribbean cruise ship, working with the ships' internet speeds has been a constant struggle. I was curious to see how much Starlink internet would improve my working experience.
Putting it to the test: working remotely from Liberty of the Seas
I've been onboard Liberty of the Seas for the past three days now and have been blown away by how much easier working remotely (or even just browsing the internet) from the ship has been with Starlink internet speeds.
As soon as I got onboard, I tested the ship's new internet, which was implemented just a few weeks ago. I was shocked to see a speed of nearly 70 mbps download and 8 mbps upload. For those unfamiliar with internet speeds, this is, as Google tells me, "very fast".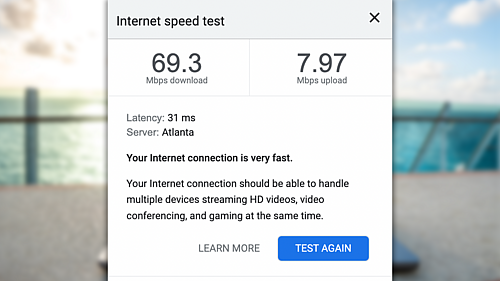 Royal Caribbean's previous internet service, VOOM internet, would typically have speeds of only 4 mbps download and 2 mbps upload. This is a huge difference not only for remote workers, but for anyone trying to use the internet onboard a cruise ship.
During my first day onboard, I was ecstatic to be able to send a few photos over to the Royal Caribbean Blog team and video chat family back home with no hassle, but how would the speeds hold up when sailing through the middle of the Caribbean?
Day 2 of our sailing was a sea day en route to the Dominican Republic. Being nowhere near land, I assumed the speed would be slower, but I still saw speeds of 18mbps download and 10 mbps upload.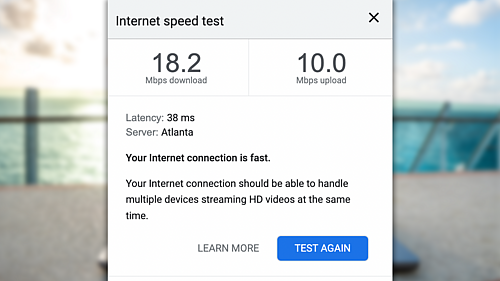 Uploading a video on Starlink internet
To put these speeds into perspective, I'll give an example of one way Royal Caribbean's new Starlink internet can improve working conditions for remote workers.
Because we upload three videos weekly to the Royal Caribbean Blog YouTube channel, I need a solid internet connection while onboard. Previously, it might take 4+ hours to upload a 2GB video file to YouTube. I would usually leave the video to upload overnight and pray it successfully uploaded by the time I woke up the next morning!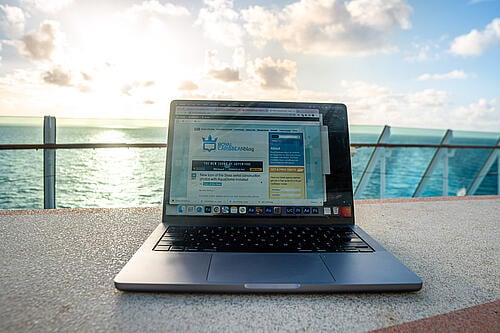 When I tested it out this week on Liberty of the Seas, however, I was able to upload a 2GB video (a large file size) in just 45 minutes…while in the middle of the Caribbean Sea!
While the upload and download speeds still aren't the fastest internet speeds in the world, they are 1000x better than the non-Starlink internet onboard. Unsurprisingly, internet speeds seem to be a bit faster when near land compared to at sea.
Today, for example, I checked the speed as we are nearing the coastline of the Dominican Republic and was impressed to see a speed of 76 mbps download and 15.8 mbps upload!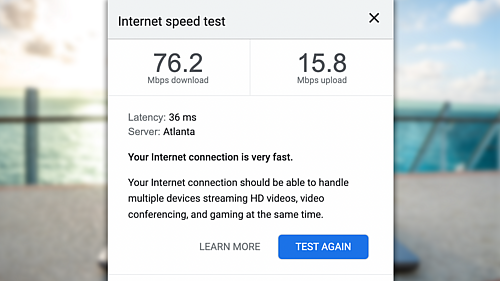 In addition to working remotely, I've had absolutely zero connection issues when using the internet to stream videos on YouTube or video chat family back home. Compared to the past when Royal Caribbean's VOOM internet would randomly shut on and off, my experience with Starlink onboard has been nothing but incredible!
The biggest issues with working remotely on a cruise
While Starlink Internet has made working remotely on a cruise ship infinitely better than in the past, it still comes with a few struggles that can make or break your ability to work remotely onboard.
Lack of public outlets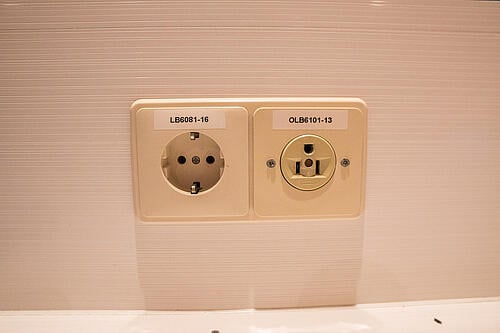 My biggest struggle whenever I work remotely on a cruise ship is that it's difficult to find places to charge electronics outside of your cabin.
For obvious reasons, Royal Caribbean does not want its guests to sit on their computers and phones when they could be exploring the ship, participating in activities, shopping, and ordering drinks. There's no real benefit in offering public outlets around the ship from a revenue perspective.
With a little exploration, however, you can usually find a few outlets in most public venues onboard. These outlets are almost always European-style (Type C) outlets, as these are the outlets used for the ship's vacuums, so be sure to pack an outlet adapter.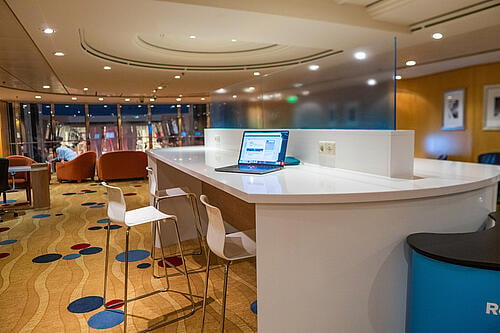 If you're able to work for several hours on one computer charge, you'll find it easier to work remotely from a cruise ship compared to someone who must keep their electronics constantly plugged in.
I must say, however, that Liberty of the Seas has had the best remote work setup I've seen on any of the cruise line's ships yet. The internet cafe onboard has tables and chairs with several sets of both European and US-style outlets.
Ambient sound
If your work involves back-to-back calls throughout the day, you'll find it difficult to find a quiet space to work from outside of your cabin.
From background music to ship announcements and conversations from fellow passengers, you'll encounter noise in most public areas. While not always loud, it can be distracting if you're hoping for a quiet "office" space.
Working from an international location
One other potential problem you may run into when trying to work remotely from a cruise ship is that you are technically working outside of the United States.
It's important to review your company's protocols and applicable tax laws before clocking in from the beach in Mexico or when sailing near the Cuban coastline.
My conclusion: it's totally possible to work from a cruise ship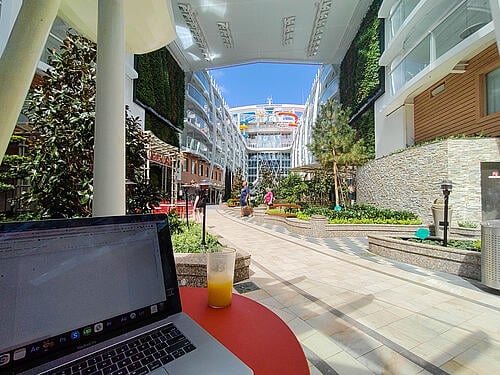 As a remote worker, I constantly found myself wasting hours onboard waiting for photos and videos to upload to the Royal Caribbean Blog website or YouTube channel and it was insanely frustrating.
My recent cruise on Liberty of the Seas gave me the confidence that I can successfully work from a Royal Caribbean ship without any unnecessary stress or headaches.
Due to the fleet's new Starlink internet and the increase in digital nomads—remote workers who travel the world with their laptops—I believe we will see more and more passengers taking a "workation" on Royal Caribbean's ships in the future.
While working remotely on Royal Caribbean's ships has always been possible, it's certainly easier and more enjoyable now than ever before.