In:
Royal Caribbean cruises offer a lot of activities and things to do, and a great many are available at no extra cost.
The value of a cruise means you can enjoy amazing entertainment, family-friendly activities, and plenty to eat while onboard. While there are some extras that have a surcharge, you will still find a lot of great options that are totally complimentary.
Regardless of your vacation budget, these activities made the top list of fun and worthwhile things to do on a cruise that will cost you absolutely nothing extra!
See a Broadway show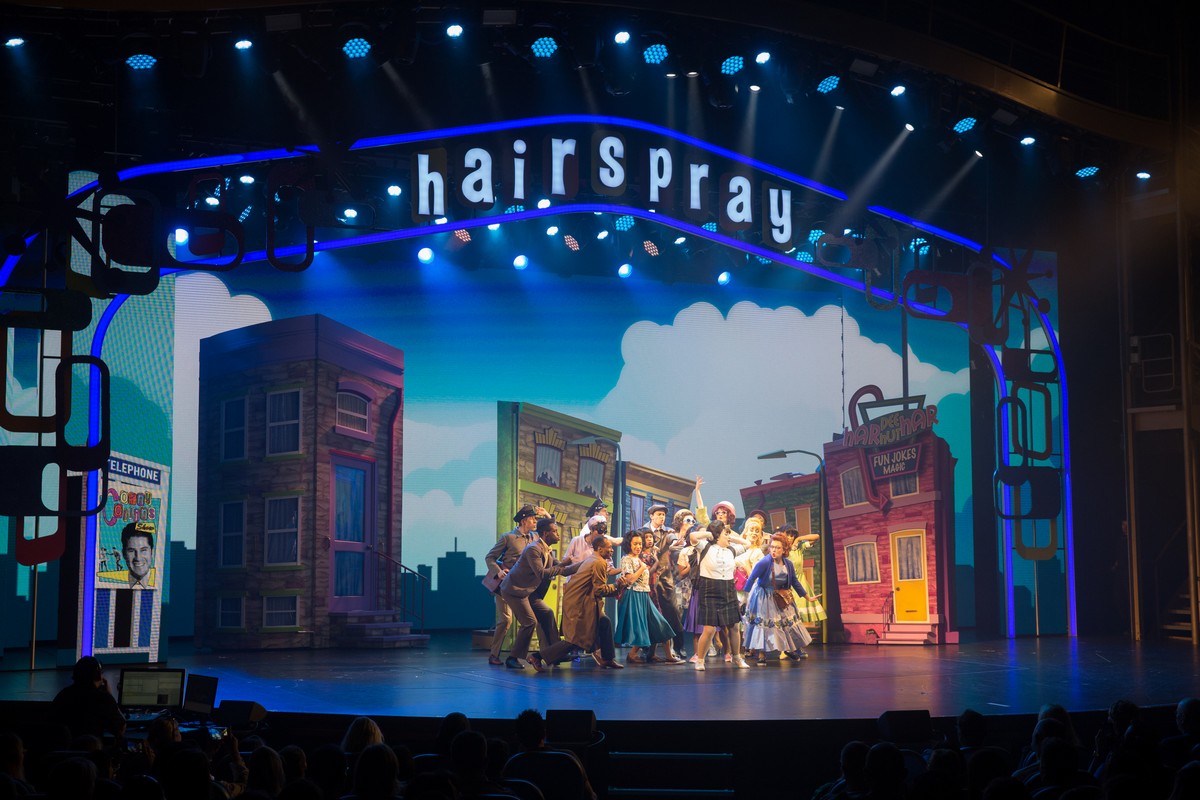 Royal Caribbean is well-known for its onboard entertainment, including full-length Broadway shows that cost nothing extra to see.
Select Royal Caribbean ships offer Tony Award-winning shows that are the exact show you would have seen on The Great White Way, and included in your cruise fare.
The musicals available on Royal Caribbean include Mama Mia, Hairspray, Grease and more!
On Royal Caribbean ships that allow for entertainment reservations, guests may reserve tickets in advance for the Broadway shows via Royal Caribbean's Cruise Planner site.
There  is no cost to making advanced reservations, and you certainly could wait to get a seat onboard if you so choose.
Watch a movie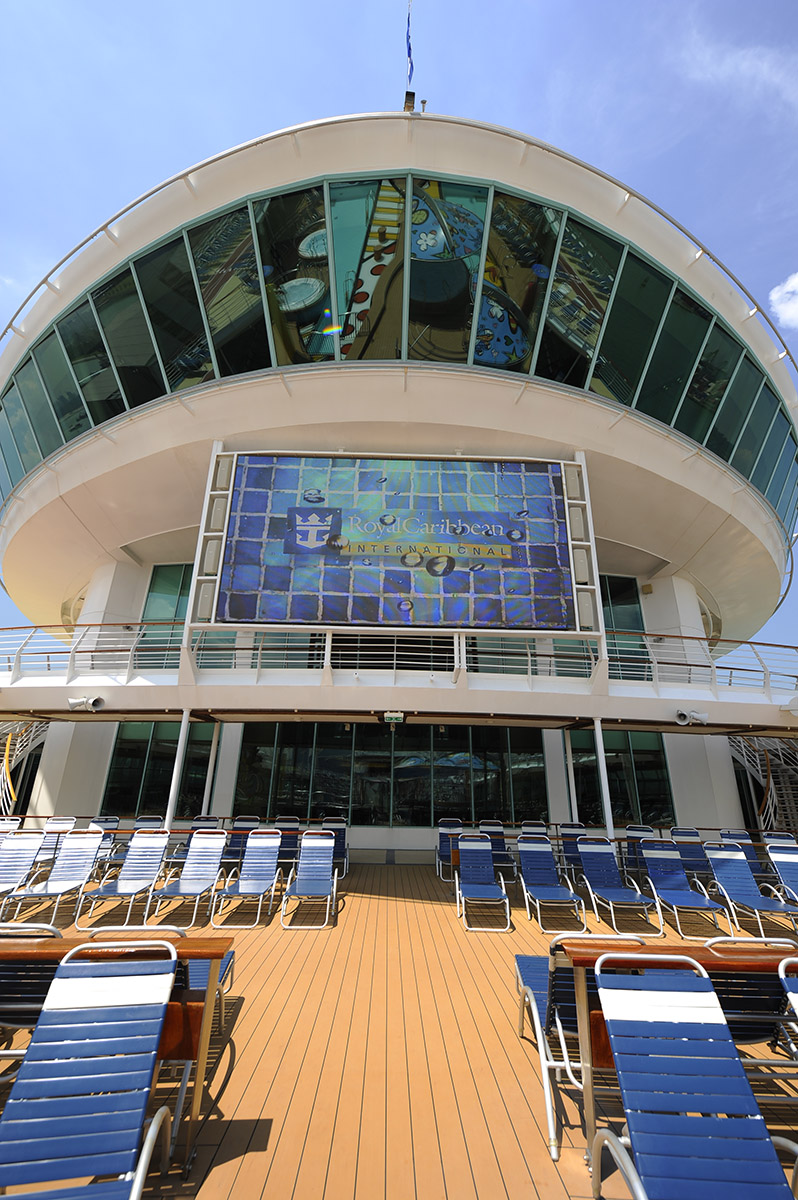 Throughout the day and evening, Royal Caribbean will show a mix of movie classics and new releases on its pool deck cinema screens.
These movie screens are giant, and you can pull up a chair from just about anywhere on the pool deck to watch it with your family. Many cruisers opt to stay in the pool and watch the movie while floating.
On Radiance Class ships, there is actually a dedicated movie theater with movies throughout the day.
Mini-golf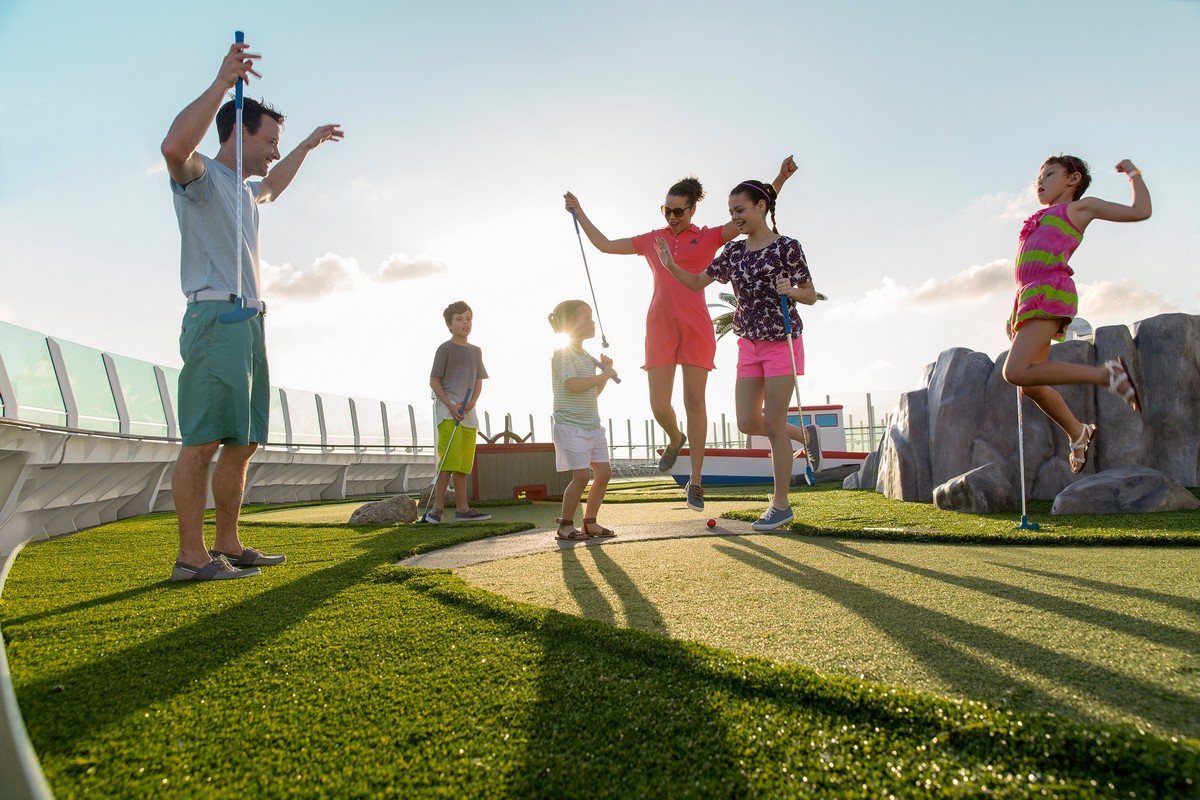 Most Royal Caribbean cruise ships offer a mini-golf course that is a fun family adventure at any time.
The courses are available to play day or night, and there is no cost to play. Just grab a club and a ball, and you can enjoy this over and over again.  Keeping score is up to you.
During the course of the cruise, there may even be a mini-golf competition held among guests.
Climb the rock wall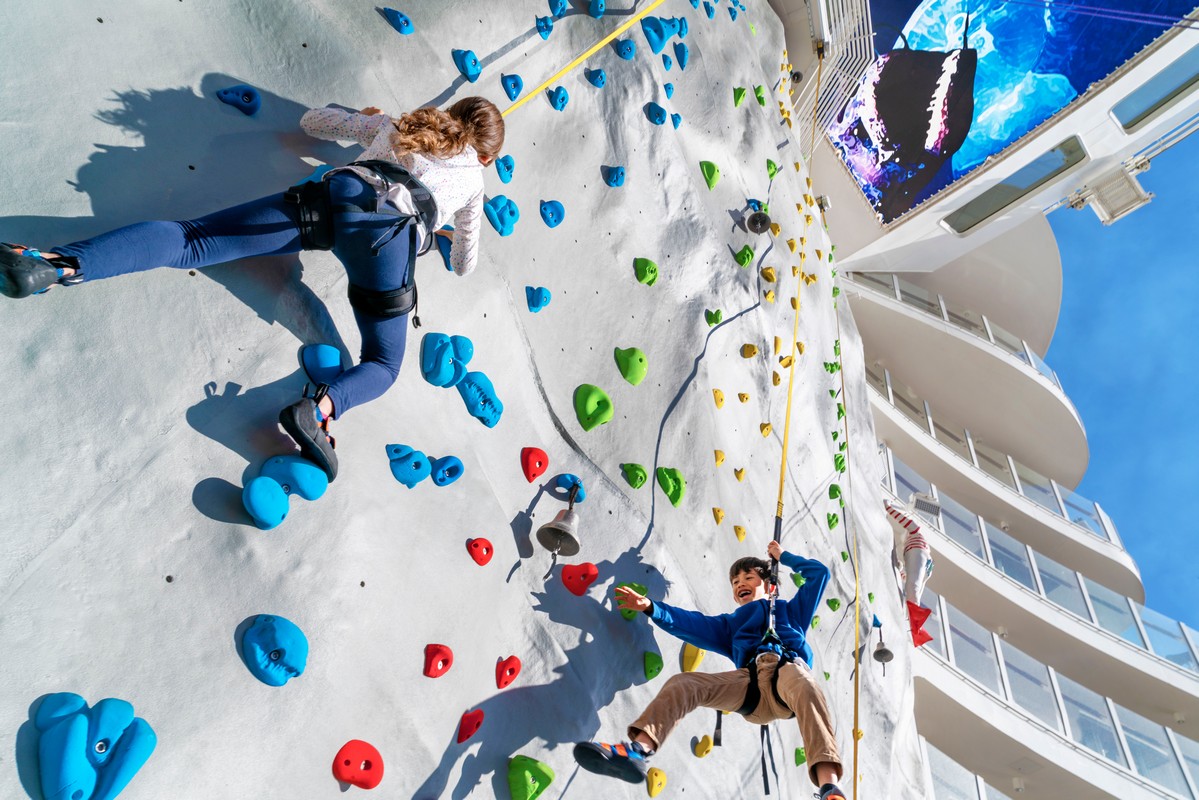 One of the signature onboard activities that Royal Caribbean has become well-known for is the rock climbing wall.  Since the first rock climbing wall debuted on a Royal Caribbean ship, the experience has spread to every other ship in the fleet making it a favorite among guests.
The 30-foot rock wall offers different tracks for various experience levels and is open for most of the day.  
It's open to kids and adults and Royal Caribbean provides all the safety equipment that you will need, including helmets, harnesses and shoes.  You just need to bring a pair of socks.
Go down a slide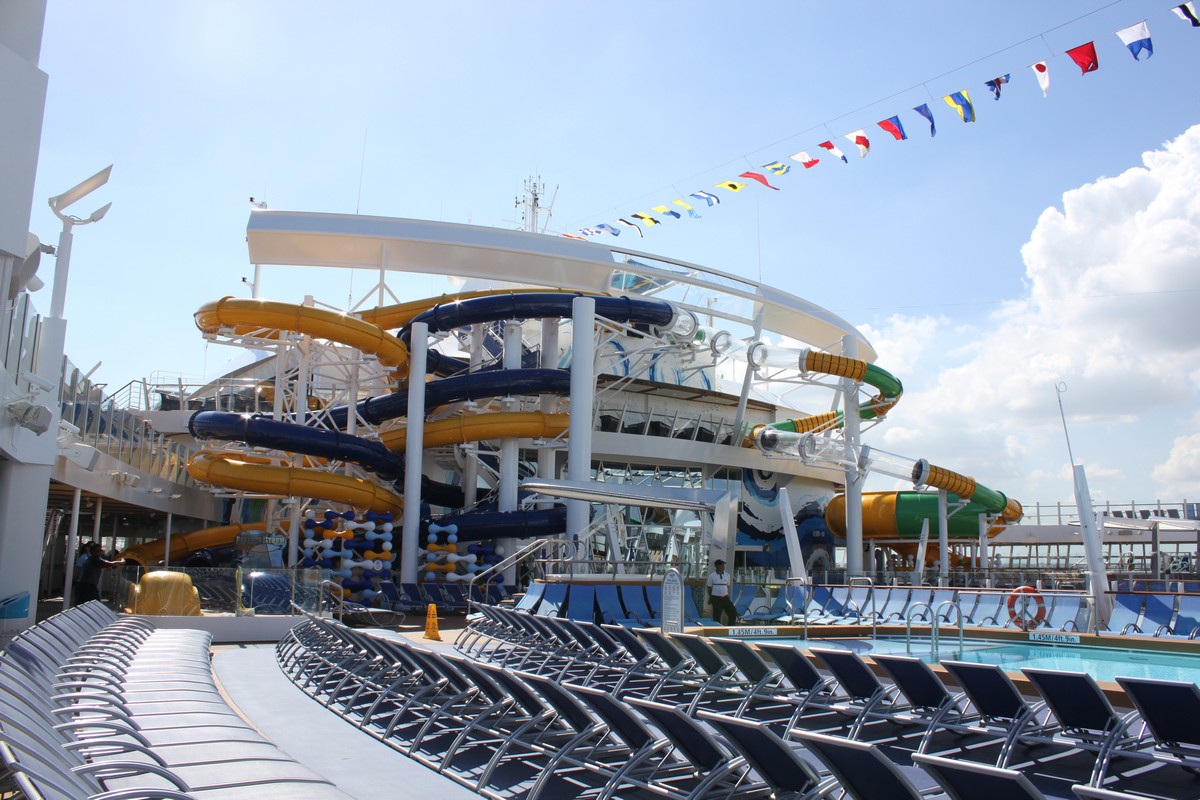 One of the newer additions to Royal Caribbean's array of activities are the water slides.
Over the last few years, Royal Caribbean added water slides to many different cruise ships in order to plus the family activities offered onboard.
There are racer slides, as well as champagne bowl slides.  Liberty of the Seas even offers a family raft slide.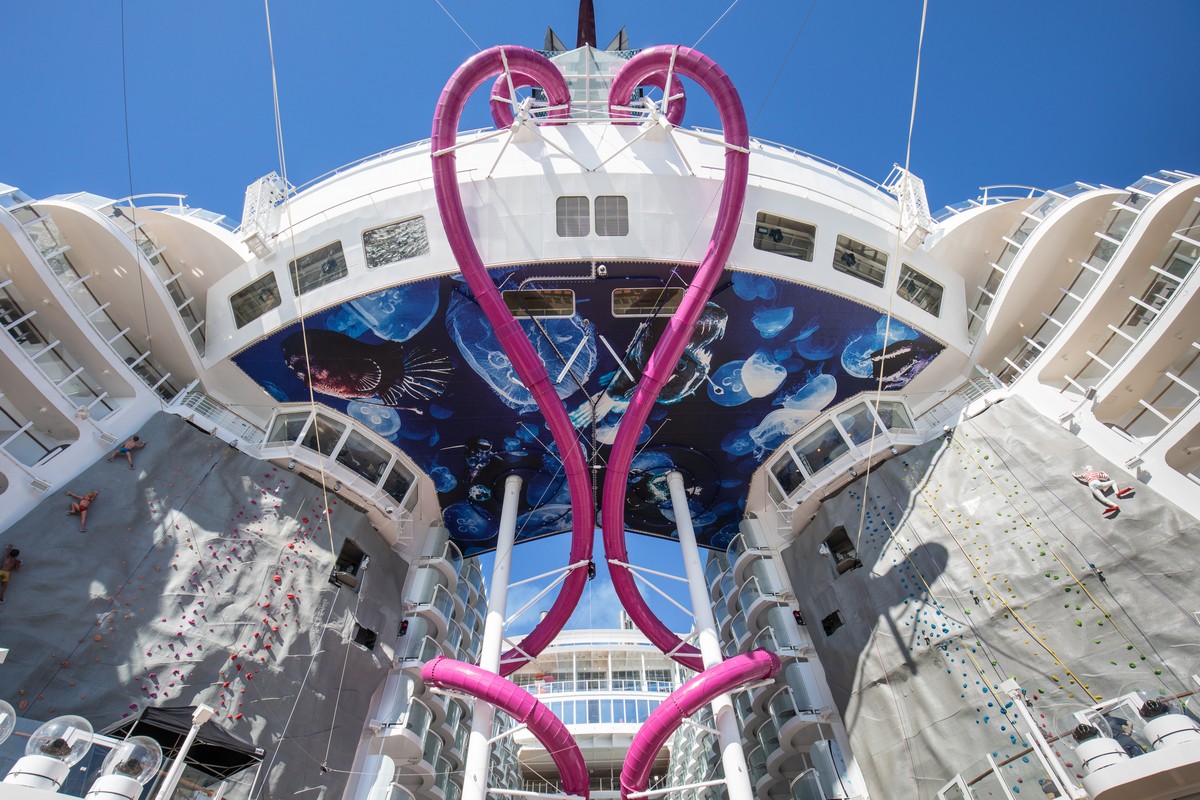 On the Oasis Class cruise ships, there is the Ultimate Abyss dry slide, where you can ride down in a mat over 100 feet.
Virtual reality bungee jump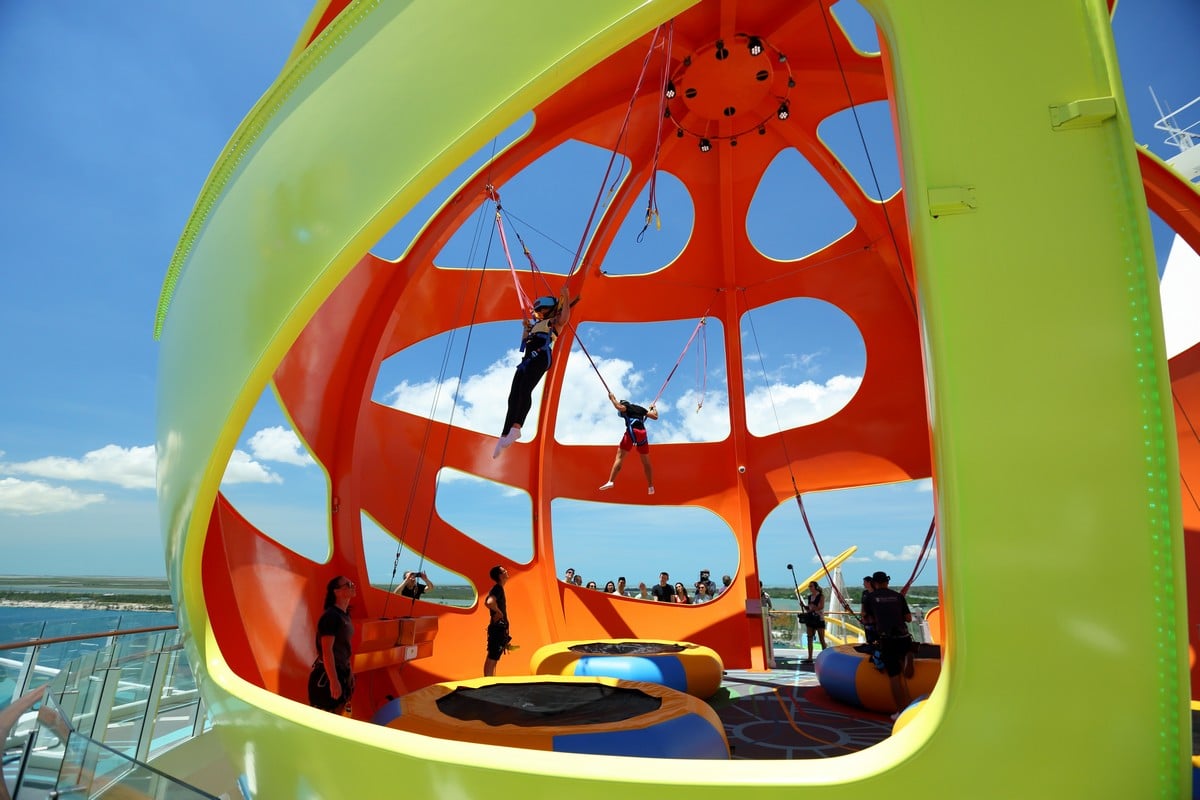 Combine virtual reality and a bungee experience and you get the SkyPad.
The SkyPad straps guests into bungee chords, where you can bounce up and down with an optional VR helmet on to provide the sensation of moving through an augmented reality world.
Drop the kids off at Adventure Ocean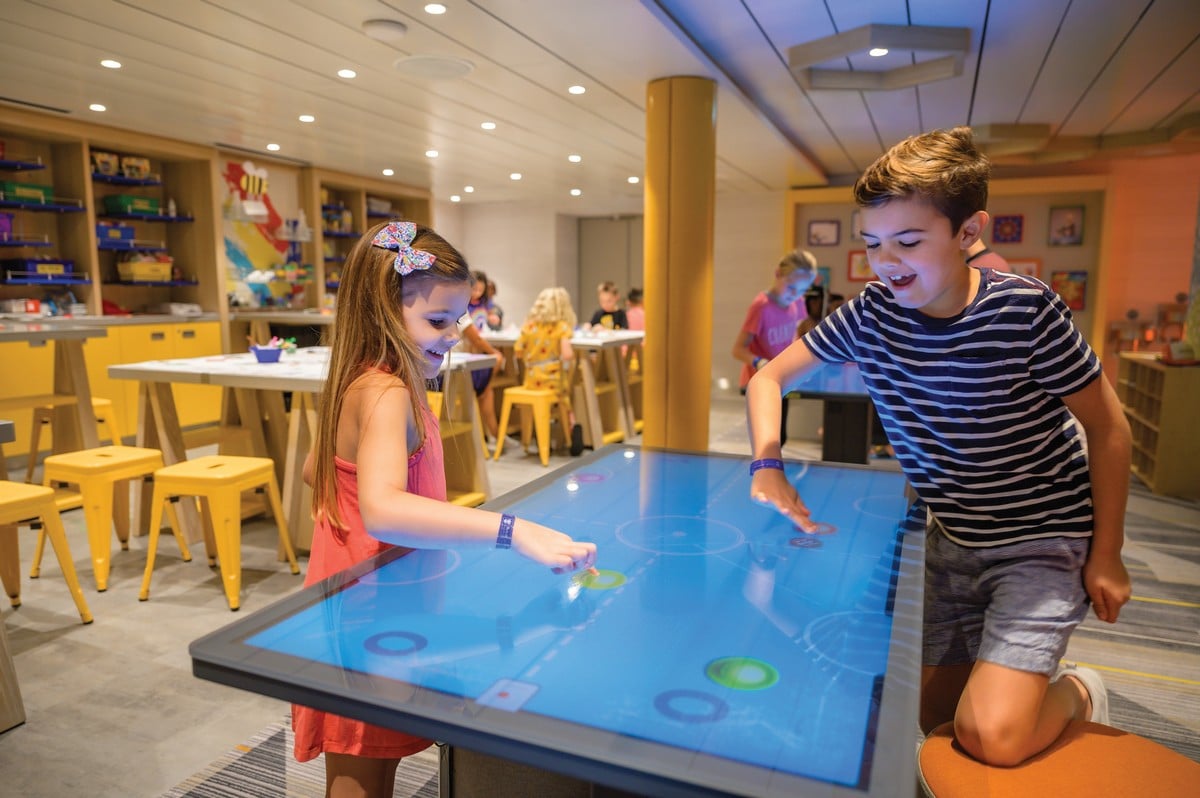 Did you know supervised children's programming is not only available on Royal Caribbean but included in your cruise fare?
Up until 10pm, there is no additional cost for Adventure Ocean.  The programming is included in the cruise fare.
There's a lot for kids to do here and the programs specialize for each age group.  It's a mix of learning, play time and socializing.
Note that there is an hourly fee if your children are left in Adventure Ocean after 10pm, as well as a fee for the nursery.
Go ice skating
On Royal Caribbean ships that have an ice skating rink, guests can put on a pair of ice skates and hit the ice rink during their sailing.
Check the Cruise Compass for open skate sessions during your sailing.  Royal Caribbean will provide you with complimentary ice skate and safety equipment rentals.  Just be sure to pack long pants and socks.
See a show in the AquaTheater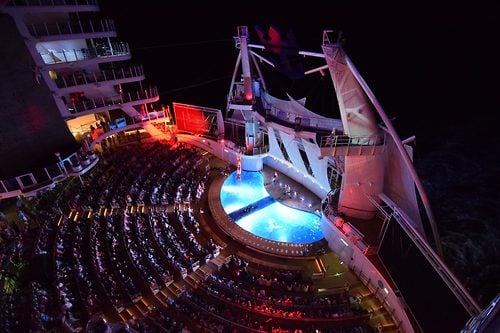 While Broadway shows are classic entertainment, Royal Caribbean has created its own brand of spectacle with its AquaTheater.
Designed for Oasis Class ships, the AquaTheater has two 10-meter high platforms and a hydraulic-floored pool below.
On select evenings, you can enjoy performances held in the AquaTheater that combine music, dance, acrobatics and high-dives. It is something you have to see to believe.
Take a ride on the carousel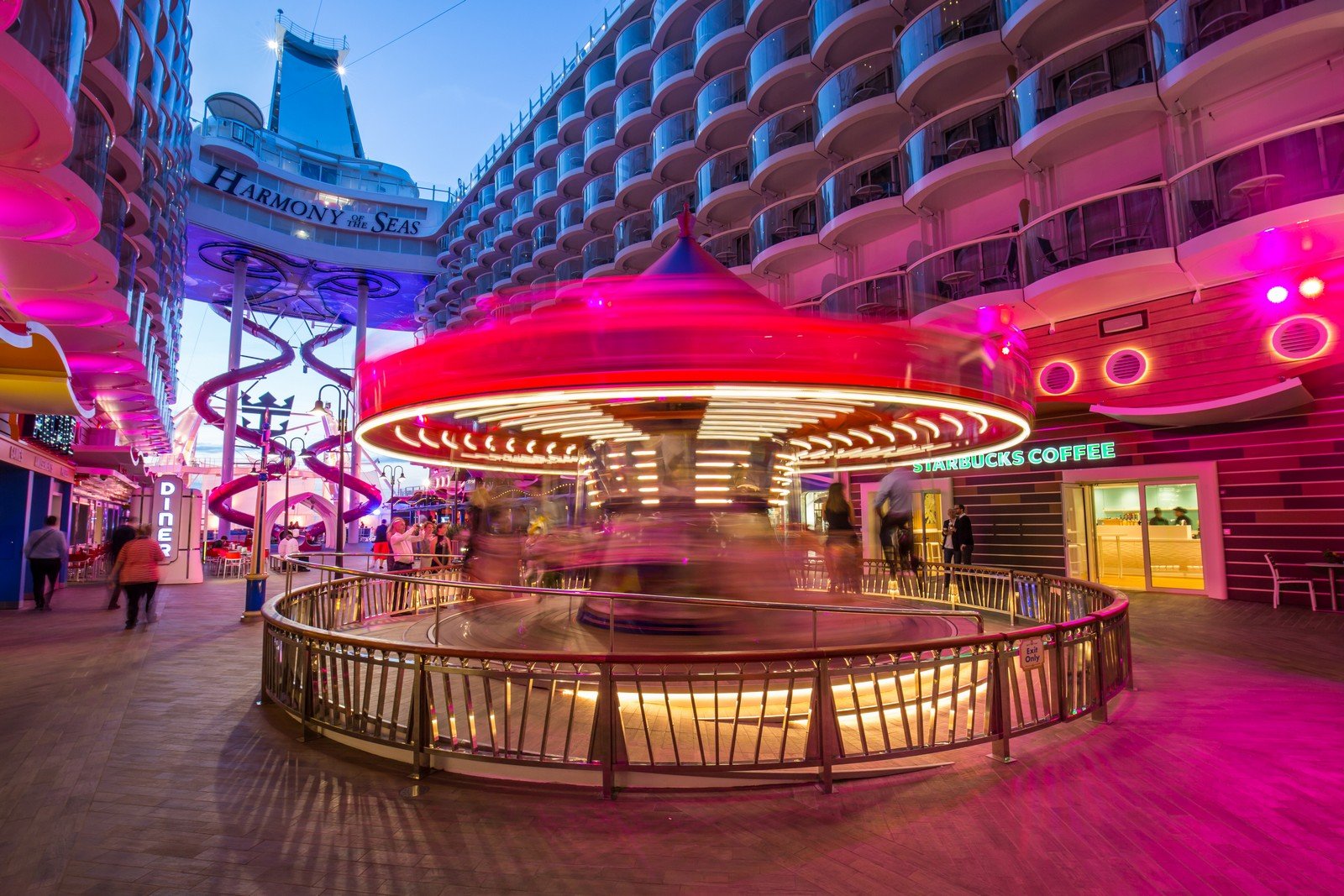 Guests of any age (that means you) can enjoy a ride on the carousel in the Boardwalk for no additional cost.
The carousel is just plain fun for kids and adults. Eighteen figures are suspended from stainless steel poles along with one ADA accessible chariot are rideable.
Be sure to also check out the carousel at night because like the fairs of the past, nighttime is when these rides really shine when they are all lit up.
Try surfing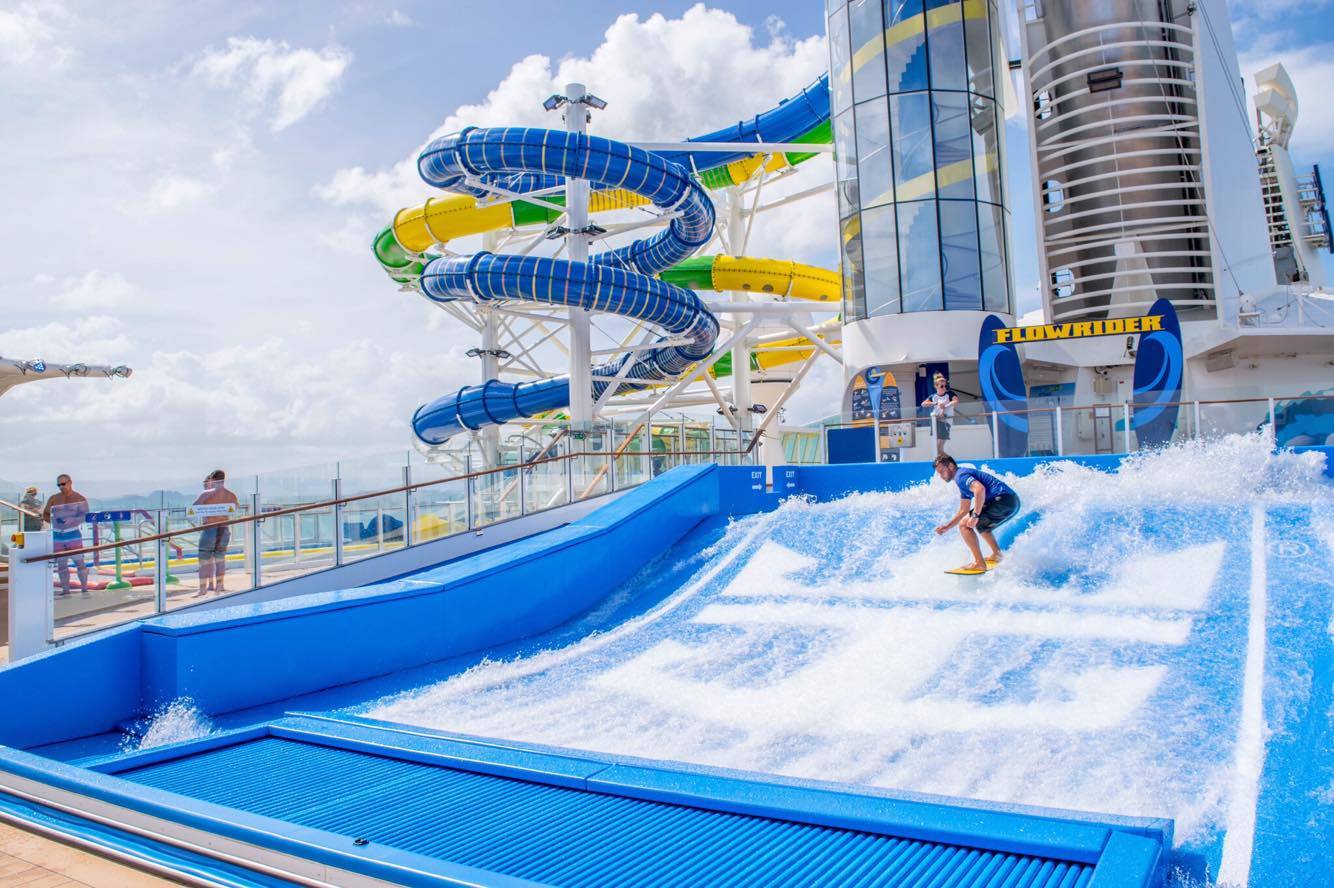 You can try your hand at surfing on the FlowRider surf simulator.
Royal Caribbean offers guests the choice of stand-up surfing, as well as boogie-boarding sessions.
You can ride the FlowRider for free as many times as you like during the course of your cruise, you just need to wait in line for a turn.
Sky dive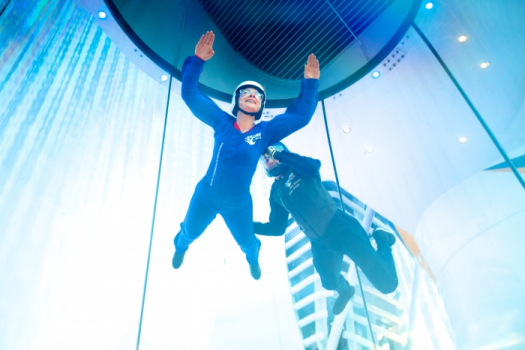 The Quantum Class ships offers every guest one time in the  iFly by RipCord "indoor" skydiving simulator.
RipCord by iFly is a skydiving simulator that will be a first for cruise ships.  Rather than descend from 10,000 feet in the sky, RipCord allows guests to get the sensation of skydiving without the incredible risk.
Set in a recirculating indoor vertical wind tunnel, guests can feel like they're falling from the heavens in a safe environment.  You wear the gear and goggles as if you were jumping out of an airplane, so it's as authentic an experience as you can get without the airplane.  Trained instructors are with you the whole time in a totally controlled environment.
Try the zip line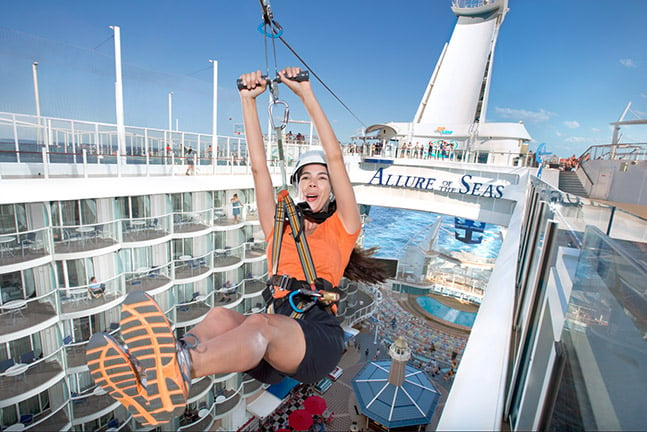 On Oasis class ships, guests can soar 9 decks above the Boardwalk neighborhood, stretching 82 feet from end to end.
Passengers must be at least 52" tall to participate and weigh a maximum of 275 pound, also must at least weigh 75 pounds.
The zip line is free and guests must sign a waiver.
Enjoy most of Perfect Day at CocoCay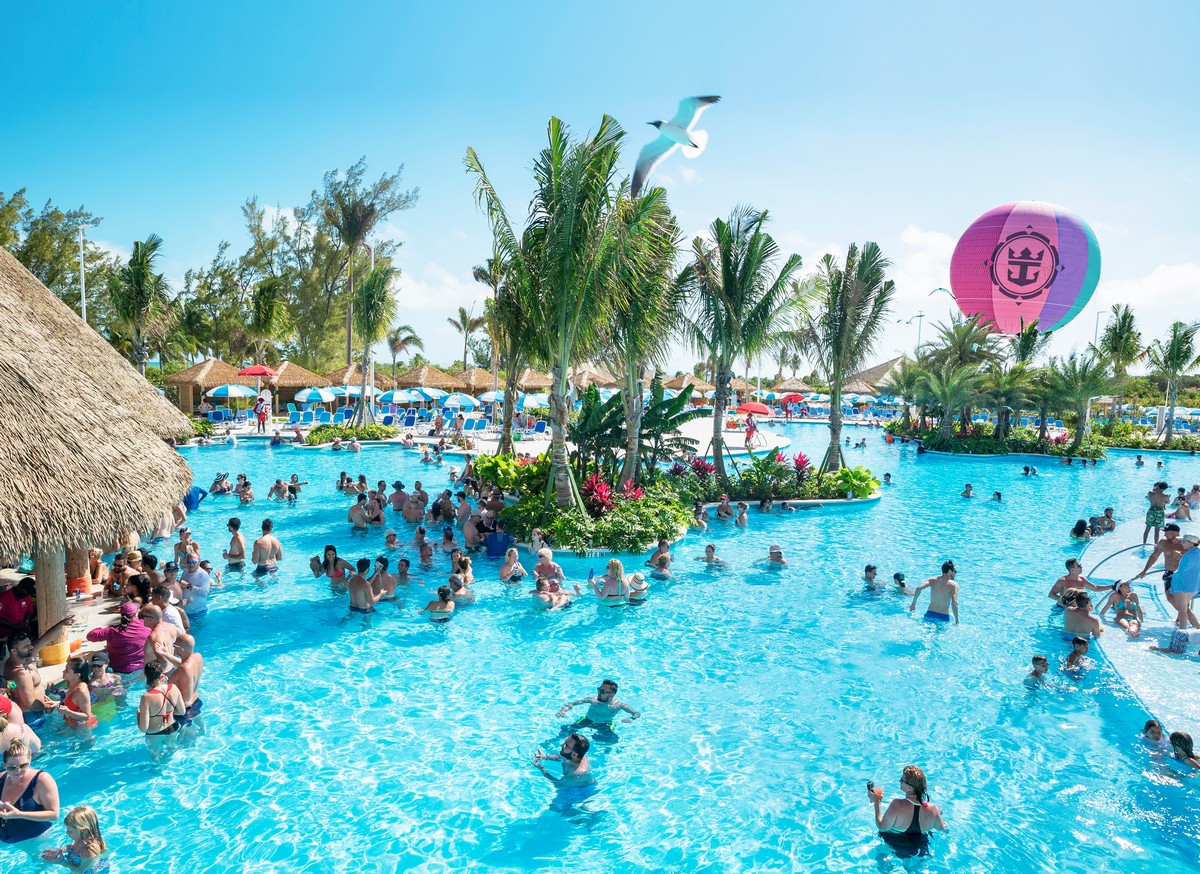 Royal Caribbean's private island destination of Perfect Day at CocoCay was recently refurbished and there is a surprising amount of complimentary activities.
In addition to the classic beach day experience, Royal Caribbean has added the largest freshwater pool in the Caribbean, the shipwrecked Captain Jill's Galleon loaded with slides and water cannons, the biggest ever Splashaway Bay aqua park yet, and new sports courts on South Beach.
The beach experience at Perfect Day at CocoCay has not been overlooked, with enhanced Chill Island and South Beach, both offering plenty of free beach chairs and beachside activities.
On top of all of that, there are lots of free food that you can enjoy all day long without any extra costs.