In:
If you have your first Royal Caribbean cruise coming up soon, I wanted to share some helpful things you should be aware of before you get onboard.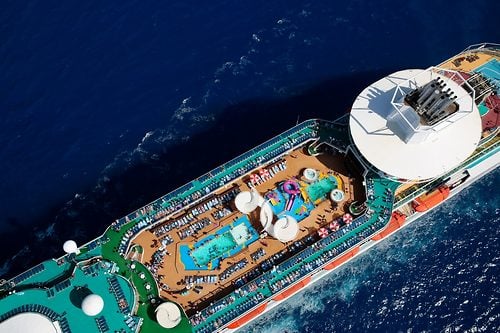 1. Have the proper travel documents
The exact travel documentation required depends on what citizenship you hold, as well as where your cruise is sailing from and to.  It is critical to understand the proper documentation needed for a cruise, as no refunds are provided for guests who fail to bring proper documentation.  
The simplest approach for having the proper documentation for a cruise is to invest in a passport. A government-issued passport for all friends and family you are sailing with is the ideal scenario for going on a cruise. 
Yes, you can cruise with other documentation, such as a birth certificate, passport card or other documents, but in my opinion, these documents are less reliable than a passport.
2. Decide on a drink package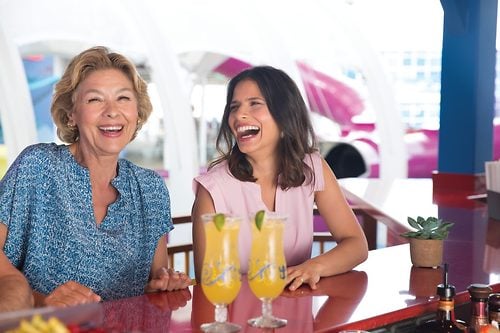 Royal Caribbean offers guests drink packages to enjoy unlimited beverages while on their cruise.  The decision to get a drink package is totally dependent on your drinking habits, and a drink package has the potential to save money, provided they drink enough every day of the cruise.
What you want to do is decide if a Royal Caribbean drink package is worth it, prior to getting onboard the ship.  The price of a drink package before the cruise will always be cheaper than compared to buying it onboard.
Here is what drinks are included with a cruise:
tap water
milk
tea
coffee (regular and decaf)
lemonade
iced tea
flavored waters
juices (at breakfast and not fresh squeezed)
Hot chocolate (via instant packets)
Any other beverages will cost you extra, including: 
soda
beer
wine
liquor
cocktails
premium coffee and tea, such as Starbucks
bottled water (still or sparkling)
fresh squeezed juice
These beverages can be purchased individually or included as part of a beverage package. 
3. How you will get to the cruise
You will need to arrange transportation to get you and your family from your home to the cruise ship terminal, and that can involve taxis, buses, airplanes or more. 
Some options will be more economical than others, but here are a couple of tips you should be aware of to help get you there:
If you need to get from the airport to the cruise terminal, a Lyft or Uber ride is usually the simplest, and most economical option.
If you are flying to your cruise embarkation port, be sure to fly in at least one day early to avoid travel delays impacting your ability to make the cruise.
Royal Caribbean does offer transfers between the airport and the cruise terminal, but they come with an additional cost.
4. Print out your luggage tags
Prior to leaving for your cruise, you should print out luggage tags to affix to your checked luggage so that it can be delivered to your stateroom.
After you complete online check-in for the cruise, you will find printable luggage tags. There is a luggage tag that is specific to the guest, ship, sailing date, stateroom and deck number.
Once you print out copies of the luggage tags, you simply fold the tags, loop them around the handle of the bag and staple the ends together.
Some guests opt for luggage tag holders, which can be purchased online and provide additional protection of the tag from being accidently ripped off. I recommend these luggage tag holders (disclosure: I make a small commission for someone that buys tags via this link).
5. Research shore excursions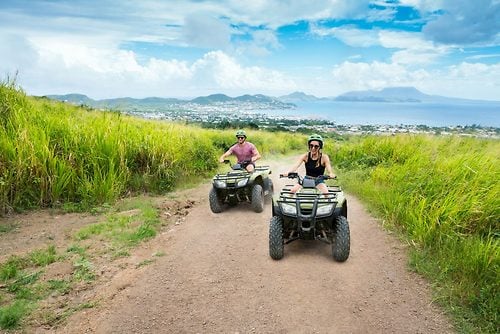 Shore excursions are a major part of any Royal Caribbean cruise because a large part of your overall vacation is exploring the ports of call you will visit.  You have just a few hours at each stop, but it should be enough to get a taste of the city you are visiting.
Before you even look at one shore excursion, you should research the most popular activities in each port. 
When looking at shore excursion options, you can book tours through Royal Caribbean or on your own. Each has its own benefits and drawbacks, so I advise to consult both.
The key is to determine which tours you want to book, and reserve it in advance. In some cases booking in advance will save you money, and everyone can benefit from having the luxury of time to consider all options.
6. You can bring wine on your cruise
One of the best ways to save money on a cruise is to bring your own wine onboard.
Guests wishing to bring personal wine and champagne onboard may do so only on boarding day, limited to two (2) 750 ml bottles per stateroom. No beer or hard liquor may be brought onboard for consumption.
7. Pre-purchase WiFi access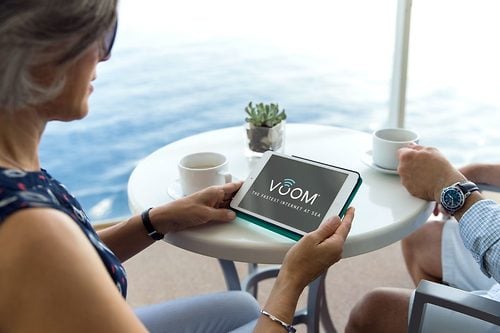 Royal Caribbean's cruise ship WiFi will allow you to stay connected and surf the web, check email, and post to social media.
If you want to buy an internet package, your best bet is to pre-purchase it via Royal Caribbean's Cruise Planner site to take advantage of some big discounts.
It is not uncommon to find discounts of up to 60% off the onboard prices for a Voom internet package. Regardless of the discount offered, pre-purchasing internet will save you money compared to buying it onboard.
8. The Key
You may notice an optional pre-cruise purchase that provides VIP access to select offerings onboard, known as The Key, and wonder what it is and if it is worth it.
The Key provides priority embarkation and disembarkation, a special boarding day lunch, internet access, access to signature activities and more.
There are some nice to have perks that come with The Key, but you should look at it like upgrading your airplane ticket to first class, or booking a suite.  A great way to splurge, but not necessarily required.
Generally speaking, The Key can make sense to purchase if you....
Are not staying in a suite
Are below Diamond in Royal Caribbean's Crown and Anchor Society
Were already planning to purchase internet package for everyone in your group
9. Read the Cruise Compass every day
Each evening, your stateroom attendant will deliver to your stateroom the Cruise Compass, which is a daily guide to the news, events and activities that will be occurring on your ship the next day.
Royal Caribbean packs a lot of things to do into each day and you are best served by reading it each evening to be aware of what is happening onboard. 
The Cruise Compass is more than just knowing what time bingo is at.  It offers you insight into the next day's weather, which bars will have drink specials, shore excursion information and much more.
Most importantly, there is a chronological listing of events from the early morning to the late evening. Each event has a time, event name, location and possibly brief description listed.  There will also be an indication if this event costs extra.
Some events are not repeated while other activities can change daily, so it is in your best interest to track what is happening so you do not miss any of it.
10. Arrive to your embarkation city at least one day early
If you are flying to the embarkation port your cruise departs from, you should absolutely fly in at least one day in advance to avoid a travel delay causing you to miss your cruise.
Having an extra day or two provides a buffer to account for travel delays.  You really do not want to be that person in the airport losing their mind because the latest delay means the entire vacation is in jeopardy.
As an added bonus, by arriving to your embarkation port at least a day early, that means you get to start your vacation sooner!  And in many cases, the port you are departing from has its own cultural and historical attractions that you can explore.
11. Daily gratuities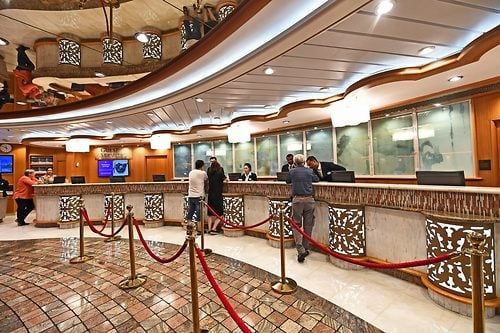 Cruise gratuities are a daily fee that is automatically paid to reward the hard work of the crew members that take care of you.
On Royal Caribbean, gratuities apply to all passengers. Royal Caribbean charges $14.50 per person, per day for most guests. This rate applies to interior cabins, ocean view, balcony and junior suites. The cruise lines charges $17.50 per person, per day for guests in grand suites and above.
You can also opt to go to Guest Services to have the gratuities adjusted. Guests have until the morning of their departure to make changes to the gratuities they pay.
12. You can arrive to the cruise terminal earlier than you think
Royal Caribbean may send you an email about boarding times, but those are mostly suggestions and not enforced at all. If you followed our previous advice about arriving to your port city early, then likely your hotel will have a check-out time in the early part of the morning, which is the perfect excuse to head to the cruise port.
If you are wondering what time constitutes, "early", we are talking about sometime between 10am and 11:30am. The earlier you arrive on embarkation day, the earlier you will board the ship. And the price you paid for the cruise is the same whether you get onboard at 11am or 2pm, so may as well get the most time possible.
13. Seasick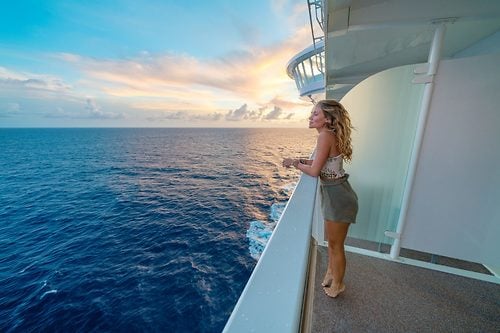 If there is one thing many first time cruisers ask a lot of questions about it, it is about getting sea sick.
Let us be clear, going on a Royal Caribbean cruise is nothing like going out on your buddy's fishing boat.  Royal Caribbean ships are massive vessels, equipped with precise GPS and stablizing technology. Moreover, the Captain will regularly plot courses that take optimal routes for guest comfort.
There are certain steps you can take to mitigate the risk of getting sea sick, such as over the counter medications and homeopathic treatments. 
The bottom line is while one could get sea sick on a cruise, it is a very low risk.  In fact, if you ask veteran cruisers, they will likely tell you their concern over getting sea sick is ranked somewhere around the feature film selection shown onboard.
14. Eating onboard
There is so much food available throughout the day and night on a Royal Caribbean cruise that being concerned with there not being enough to eat is one less thing to worry about.
On a Royal Caribbean ship, guests will find a lot of food included in their cruise fare, along with specialty dining options that augment the standard fare.
Complimentary food is available for all meals, and time inbetween. Simply put, there is plenty of great food included in the cost of your Royal Caribbean cruise. One can easily go an entire food and enjoy nothing but food that has no additional cost from morning to night. After all, that is what the concept of a cruise has been for a long time.
In addition to all the food that is included in your cruise fare are specialty dining options, that carry with it an extra cost to enjoy the food there. The exact amount extra will vary from restaurant to restaurant, and ship to ship.
In most cases, the specialty dining options offer a greater variety of food choices than what is available at complimentary dining locations. Royal Caribbean has designed its specialty restaurants around themes or cuisines (Italian, steakhouse, sushi, etc).
15. Travel insurance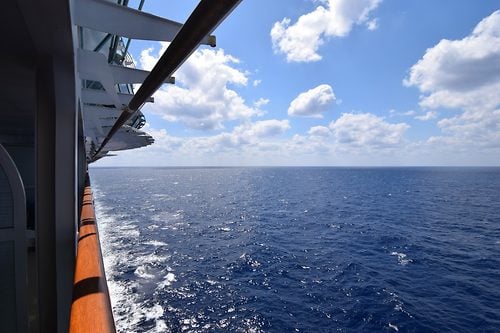 Travel insurance is not necessarily a must for everyone, but it is something you should consider. Depending on your risk tolerance, it may be a good investment.
A variety of offerings are available from Royal Caribbean, your travel agent, and a number of companies.
Trip insurance can protect you against a multitude of emergencies, unforeseen events and accidents.  It is one of those things that you are glad you have it, if you need it.  
It is important to not just look at price but consider what is actually covered by the plan.  A common misconception surrounds hurricanes.  Many people think trip insurance will cover them if there is a hurricane in the general vicinity of their cruise and they can cancel with a full refund.  The reality is most plans only cover hurricanes if the cruise is canceled or otherwise directly impacted by the storm.  A guest's desire to cancel because they fear a storm is not usually grounds for the insurance to kick in, so it is important to understand what the plan does and does not cover and what circumstances allow for the insurance to kick in.
Be sure to check if any of your credit cards include complimentary trip insurance as part of the card benefits.
16. Prepare a carry-on bag for the first day
You should plan to have a small carry-on bag with you for the first day of your cruise to bring a few items that will be useful in the couple of hours that you are onboard before your luggage is delivered.
It might be a good idea to pack these items:
Medications
Bathing suit
Sunscreen
Travel documents
As a bonus, use this same bag later in the cruise when you go on shore excursions to carry some of these items, as well as beach towels.
17. What to pack
I could write pages and pages on what to pack for a cruise, but the short answer is you will need to pack for time spent at pool, on shore and in the evening for dinner.
Where your cruise sails to will determine what exactly you need to pack, so it may be a good idea to research the weather in the ports you will be visiting, as well as figuring out if there will be any formal nights or themed nights on your sailing (more on formal nights and themed nights later).
This is also a good opportunity to check your luggage is good to go (i.e. no holes or rips).
In addition, you should start thinking about what clothing and outfits you want to bring with you.  This may trigger a memory that you wanted to replace a suit or shirt or get new shoes.
18. Don't be afraid to say something if there is a problem
One very common mistake among first time cruisers is not pointing out and taking care of a problem if something is not to your liking.
The crew wants you to have a fantastic cruise, so if there is something missing, broken, or could be improved, do not hesitate to speak to a crew member about how it can be made better.
The key is to politely point out the issue, and ask how to improve the situation. Do not let the issue fester, or otherwise disrupt your vacation.
19. Know what you cannot bring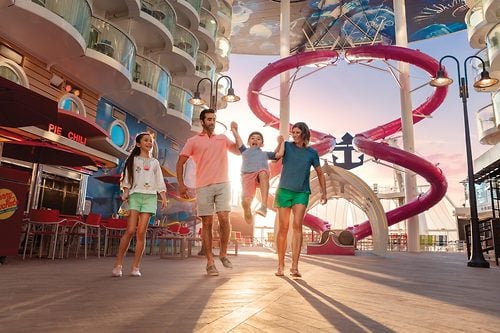 You should definitely be aware of the kind of items you are prohibited from bringing on your Royal Caribbean cruise.  Some are pretty obvious (no baseball bats), while others are surprising (no surge protectors or clothing irons).
Refer to Royal Caribbean's list of prohibited item list, as their list changes from time to time.
20. How to stay in contact onboard
Once you are onboard the ship, there are a few ways to remain in contact with everyone in your group.
Utilizing Royal Caribbean's in-room phones and phones in common areas is a simple way to communicate with guests onboard your ship and onshore.
Royal Caribbean is working on a chat feature with its smart phone app, although it is still in development.  Currently, it is available on two ships: Harmony of the Seas and Allure of the Seas.
Walkie Talkies are an option, but I do not recommend them.  Interference from the ship's electronics and metal structure cause issues with reception. Moreover, they are annoying to other guests.
A tried and true method is to leave notes on the stateroom door.  Go to a dollar store and purchase a dry erase board to post on the door and leave notes on the door.