In:
Royal Caribbean's VIP guest experience, The Key, offers some perks and benefits not available to other guests onboard.  Inevitably, we get a lot of questions from readers who want to know if The Key is worth the extra cost.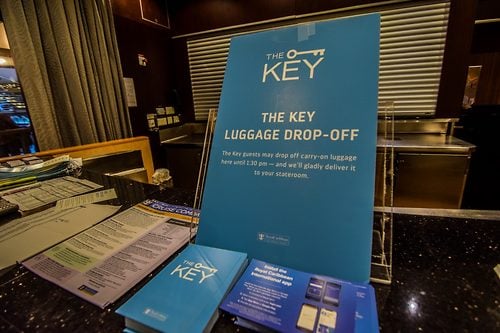 Read this breakdown of The Key program, as well as our take on if the benefits it has will benefit you.
The Key Benefits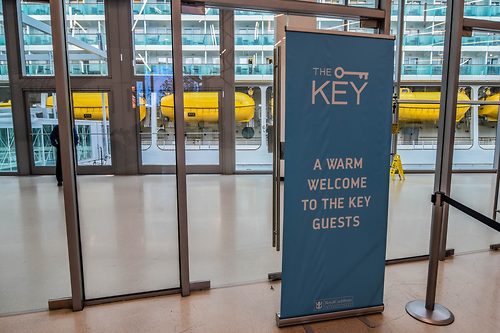 Royal Caribbean offers a limited amount of guests access to The Key, which is an exclusive program that offers special amenities to guests for an additional cost. 
The Key experience is available on all ships except for Quantum, Voyager, and Majesty of the Seas.
The benefits of The Key are available per guest and include:
Priority check-in at boarding
Carry-on bag drop off and delivery to stateroom (two bags per guest).

Carry-on luggage will be delivered to your stateroom

Exclusive lunch at specialty dining venue.

Choice of Chops Grille or Giovanni's Table or Jamie's Italian depending on your ship)
You can select your venue of choice once onboard.

VOOM Surf & Stream 1 Device high speed internet. 
Private hours at onboard activities including Rock Climbing, FlowRider and more.

The private hours schedule will be provided at check-in. 

Priority debarkation and tender service from ship to shore in port
Reserved VIP seating at shows in the Main Theater, AquaTheater and Studio B. 
Priority disembarkation with exclusive a la carte breakfast from 6:30am - 9:00am
The Key Cost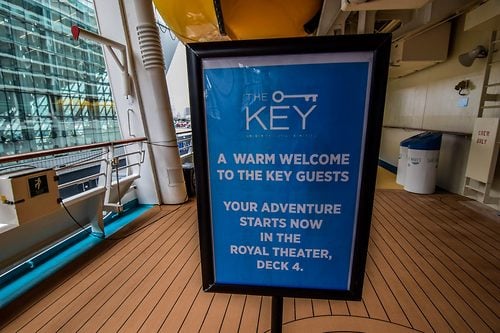 The Key price will vary depending on your sailing, but prices start at $24.99 per guest, per day.
The Key must be purchased prior to sailing by each guest age 6 or older assigned to the same stateroom.
 When you receive your SeaPass card, it will have an icon confirming your purchase of The Key.
Top reasons to get The Key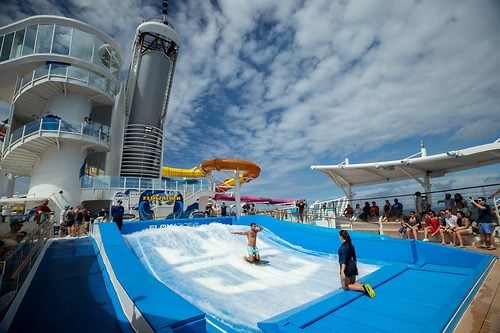 You were already going to purchase internet access
If you look at the daily cost of The Key, a large component of the cost is built around the Voom internet access that is included.
Assuming you were already planning on purchasing an unlimited internet access plan, the cost of a one device, unlimited Surf and Stream Voom package will usually cost around $13.99 per day. Assuming a $24.99 per person, per day cost of The Key, that means the additional cost to you is about $10 per day, per person to enjoy the added benefits.
Of course, purchasing a multi-device Voom plan would alter this math, especially since Voom plans are shareable with other guests.
Priority embarkation & disembarkation
Families are sure to love the opportunity to get on and off a Royal Caribbean ship quicker than most other guests.  Priority embarkation and debarkation really takes the sting out of waiting around, especially if you are on a cruise that has a port requiring tendering, where long lines for a tender boat are common.
On embarkation day, we have observed The Key guests usually board with Diamond/Diamond Plus guests, so this is especially useful for guests newer to Royal Caribbean. 
If you are in a suite, this benefit is largely similar to what the suite concierge offers.
You want to do signature activities
Without a doubt, The Key is built around offering priority access to some of the funnest experiences onboard your Royal Caribbean ship.  If climbing the rock climbing wall, or surfing on the FlowRider or seeing a Broadway show is of great interest to you, then The Key might make a lot of sense.
If you plan to purchase The Key, it behooves you to take advantage of your priority access. During your cruise, certain blocks of time will be reserved exclusively for guests with The Key. This means you can likely enjoy these popular activities with little to no waits.
Keep in mind that while The Key does offer priority access to these amenities, priority access for activities is not available anytime they are open. Moreover, the reserved seating in the theater may not be exactly where you prefer to sit.
Is it worth it?
Now that you have a good idea of what The Key is and what it offers, here are some basic considerations for deciding if The Key is worth it.
Just like Royal Caribbean's drink package, ultimately the decision to purchase The Key requires the guest to take advantage of what it offers. The real value in the program is the priority access it provides, but it requires the guest to take the time to enjoy those benefits.
If you are staying in a suite (especially on Oasis of Quantum Class cruise ships) and/or are Diamond or higher in Crown and Anchor Society, we do not think it is worth purchasing the Key, since some (but not all) of the benefits are replicated/similar to what is offered by Crown and Anchor or suite benefits.
As previously stated, from a value standpoint, it makes a lot more sense to purchase The Key if you were already planning to purchase internet access on your ship.
The reality is there is no single answer that applies to everyone.  In many cases, it boils down to how many benefits The Key affords will be something you will want to enjoy.
Ultimately, The Key is a way to splurge a bit and enjoy enhanced benefits otherwise not available. If the notion of enjoying priority access and less waiting sounds appealing, The Key is potentially a great idea.    
 Do you think The Key is worth it? Tell us why in the comments!