Royal Caribbean Post Round-Up: October 6, 2019
In:
Happy Sunday! It has been a busy week of Royal Caribbean news, and we have it all summarized for you in this round up.
Earlier this week, Royal Caribbean revealed when some of its 2021-2022 itineraries will go on sale.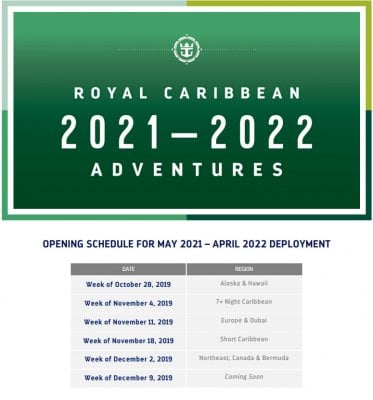 The opening schedule for the May 2021 - April 2022 deployment was revealed, which begins later this month with Alaska and Hawaii sailings.
Deployment schedules gives consumers an idea of when to expect particular cruise schedules to become available to start looking at future cruises.
Royal Caribbean News
Royal Caribbean Blog Podcast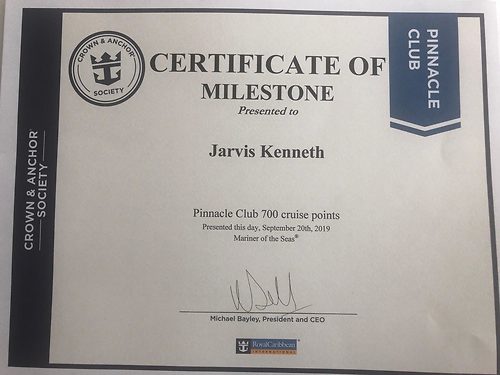 The 322nd episode of the Royal Caribbean Blog Podcast is now available, where Matt talks with Ken Jarvis about what it means to reach Pinnacle Status.
Ken recently reached the highest level of Crown and Anchor Society, and this week, he shares how he leveled up to Pinnacle, and what becoming a Pinnacle member means to him.
Please feel free to subscribe via iTunes or RSS, and head over to rate and review the podcast on iTunes if you can! We'd appreciate it.
New Royal Caribbean Cruise Compasses
One of the best ways to learn about what sort of events a cruise ship offers is to consult a past Royal Caribbean Cruise Compass. Here is a look at which Cruise Compasses we added this week.
New RCB Video: 9 Ways To Get Kicked Off a Royal Caribbean Cruise Ship!
Have you subscribed to the Royal Caribbean Blog YouTube Channel? We share some great videos there regularly, all about taking a Royal Caribbean cruise! This week, we are sharing our latest video — 9 Ways To Get Kicked Off a Royal Caribbean Cruise Ship! — and don't forget to subscribe here.
Royal Caribbean Around the Internet
Cruise Tips TV created a video about how to pack for a Royal Caribbean cruise.
Cruise Ind released a tour of Empress of the Seas.
J's Dream Travel lists dumb reasons not to go on a cruise.