In:
Many first-time cruisers are curious how much a Royal Caribbean cruise will cost.  While your cruise fare includes most onboard activities and meals, there are government fees, excursions, spa treatments, drinks and more to consider.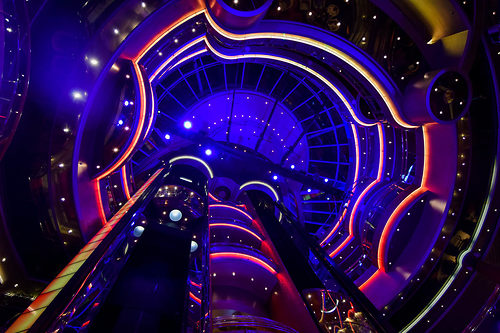 To help budget and give you a ballpark idea of what to expect cost-wise, you should be aware of the possible areas where costs exist. No one can accurately predict exactly the cost of a Royal Caribbean cruise in total, because the total vacation cost will depend on your preferences and what choices you make in the course of your trip.
To help you get a better idea of what you might actually spend on a cruise vacation, we compiled a list of the major factors that influence the total cost to figure out the total cost of your cruise before you book.
Cruise Fare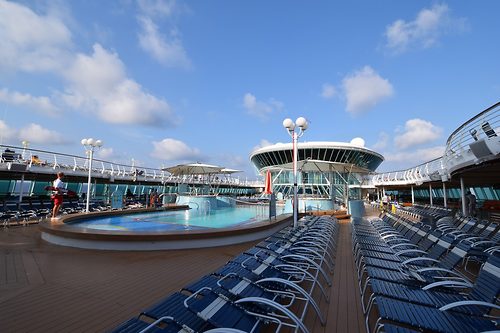 The largest chunk of calculating how much a cruise costs begins with the base cruise fare.  This is the cost Royal Caribbean charges you to get a stateroom onboard a ship, and that includes a lot of amenities.
Your base cruise fare will depend on a variety of factors, including the ship you choose, length of your sailing and which category stateroom you pick. You could pay hundreds or thousands of dollars per person, but it really depends on what you choose or prefer. A good travel agent can help you price out the cruise fare options get you started.
To help get a lower price on the cruise fare, be sure to try one of these strategies for finding the best deal on a Royal Caribbean cruise.
Transportation costs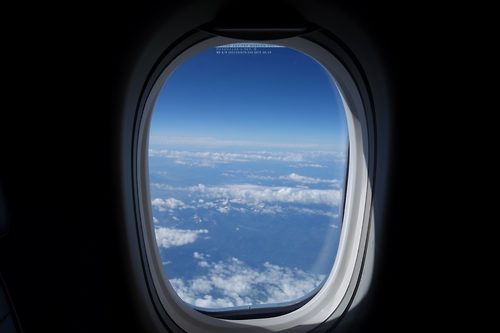 After the cruise fare, it is important to figure out your means of getting to and from the cruise ship.  Quite a lot of cruisers end up flying to their embarkation ports, but Royal Caribbean may offer a cruise that is close enough to your hometown that you can drive there.
In conjunction with booking your cruise fare, it is a good idea to price out transportation costs and see how much this will run you.  Like the cruise fare, this is a required cost and something that can drive up the total cost of your cruise vacation substantially.
Be sure to also include the cost of a rental car, shared ride service or airport transfers into your calculations.
We are not experts on finding the lowest airfare prices, but you should try a few airfare tips and tricks to bring down the cost.
Gratuities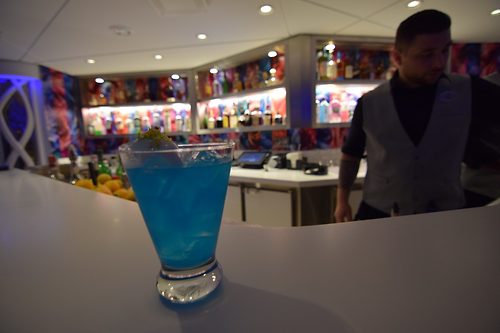 Another built-in cost of the cruise is the daily gratuity that Royal Caribbean will charge each guest. There are two types of gratuity on Royal Caribbean: an automatic gratuity and optional ones.
The automatic service gratuity is $14.50 USD per person, per day for guests in Junior Suites and below, or $17.50 USD per person, per day for guests in Grand Suites and above, applied to each guest's SeaPass account on a daily basis. The gratuity applies to individual guests of all ages and stateroom categories. 
Guests can pre-pay gratuities by calling 866-562-7625 or logging into www.royalcaribbean.com at least 48 hours prior to sailing. For guests booked through a travel agent, your agent can add pre-paid gratuities to the booking at least 48 hours prior to sailing. If gratuities are not prepaid prior to sailing, they will be automatically added to the folios once onboard.
A 18% gratuity is automatically added to all beverages, mini bar items, and spa & salon purchases.
Beverages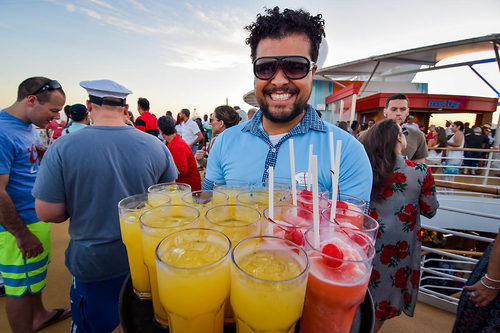 An area of the vacation that can add up quickly are beverages.  Royal Caribbean includes some beverages with your cruise vacation, but inevitably a lot of guests opt to indulge and order beverages such as beer, cocktails, wine or soft drinks.
You have the option of purchasing beverages one at a time, and can consult our list of Royal Caribbean drink prices for an idea of what to expect to pay. Certainly if you are not much of a drinker, going this route will be satisfactory.
If you think you might drink more than a couple drinks per day, perhaps consider investing in an unlimited drink package. Royal Caribbean offers these beverage packages as a means to offer a simple, yet simple approach to drinking onboard.  If you are wondering if a Royal Caribbean drink package is worth it, it ultimately depends on you and if you can drink enough every day of your cruise to make it worthwhile.
Besides alcohol, coffee and tea is another factor in your beverage budget.  Royal Caribbean does include complimentary coffee and tea, but if you prefer lattes, espresso, macchiatos or other specialty coffee drinks, those will come with an additional cost.  Just like alcoholic beverages, you can opt to purchase them individually or opt for a beverage package.
One last note about beverages is you can cut down on the cost of your drinks by opting to drink in the ports your cruise will visit.  Depending on your itinerary, this may or may not be a good alternative to paying Royal Caribbean's drink prices.
Specialty dining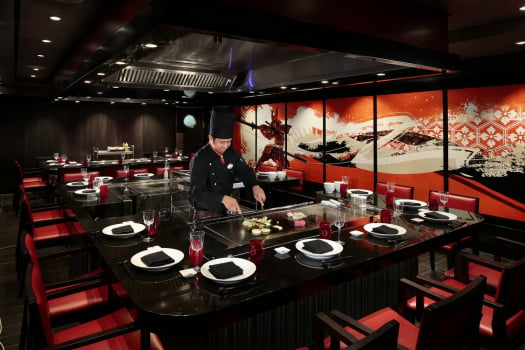 There is no shortage of complimentary food on your Royal Caribbean cruise and you can easily go your entire cruise without paying a dime extra for food and be quite content.  However, Royal Caribbean does offer some additional dining options that carry an additional cost to them.
Specialty dining costs can come in the form of cover charges (pay one fee and get all the food included) or a la carte charges (pay for only what you order). In general, specialty dining offers food and cooking styles not available elsewhere on the ship for guests that choose to indulge in them.
Specialty dining is an option for guests who want something more than what is offered in the complimentary dining, with an emphasis on certain foods that are otherwise unavailable all the time. Think of specialty dining like you would going out for dinner versus staying home and cooking something.  You would be perfectly content with a home-cooked meal, but going out for dinner is a nice treat that comes with a higher cost. 
You can preview the cost of specialty dining, as well as consider a specialty dining package, by going to the Cruise Planner site on Royal Caribbean's website. Check out our restaurant reviews for an idea of what each restaurant offers.
Shore excursions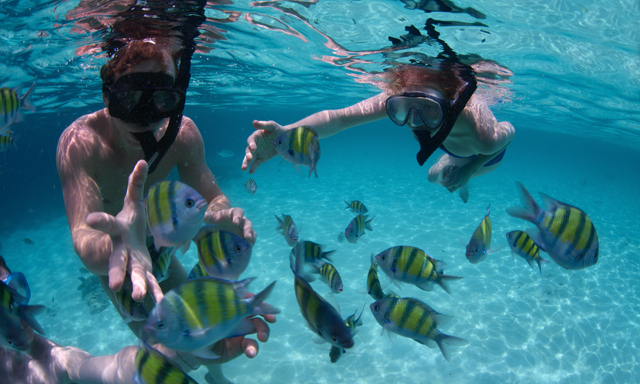 Inevitably, shore excursions are something everyone typically opts for on a cruise vacation.  These are the activities offered in the various ports of call that your cruise ship will visit. 
You could do something simple like taking a taxi downtown and walking around, take a walking tour or even a bus ride around town.  Or hop in a helicopter, ride a dog sled or visit historical sites.  In short, there are lots of options when visiting any port Royal Caribbean will take you.
Picking the perfect shore excursion will depend on what you are looking to do, but you have the choice of booking a tour through Royal Caribbean or going on your own and working with a third-party vendor.
The cost of shore excursions can be just as varied as your cruise fare.  
Internet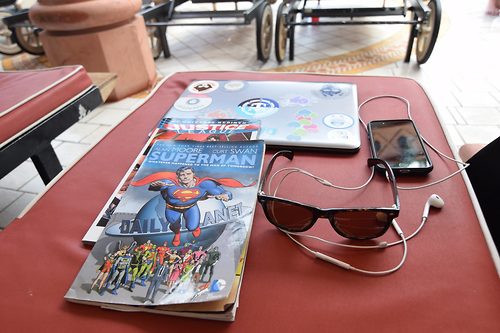 Having internet access on your cruise went from something nice to have, to a near necessity these days. Royal Caribbean's onboard WiFi comes in two options: an unlimited plan or 24 hour access packages.
Royal Caribbean calls its internet service, Voom, and it boasts excellent speeds onboard its ships. Unlimited internet plans are available for purchase before or during your cruise.  Almost always, the cost of an internet package is cheaper before the cruise thanks to pre-cruise discounts.
Photos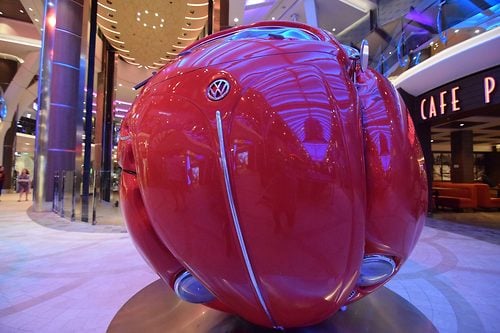 During your cruise, Royal Caribbean's photographers will snap shots of you and your family that you have the choice to purchase later in the sailing.  While far from a neccesity, onboard photos represent for many families an opportunity to take professional shots and remember a fun family vacation.
Royal Caribbean offers photos priced individually, as well as photo packages.  Just like the drink packages, which option to take depends on how much you will take advantage of the photo opportunities.
Admittedly, it is quite difficult to exactly estimate how many photos you will want to take, but keep in mind that it is part of the cost of a cruise.  You can always take your own photos during the vacation, but the photo opportunities Royal Caribbean offers make for some very compelling memories.
Additional activities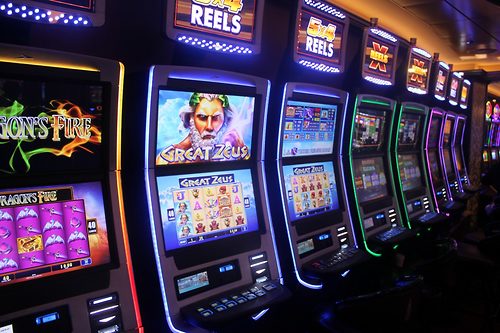 Beyond everything else we have outlined, there are still spending opportunities on your cruise that you may or may not be interested in. This area of vacation budgeting will vary wildly, but here are some common spending options many cruisers consider:
Spa treatments (onboard or on shore)
Casino
Bingo
Fitness classes
Souvenirs
The total cost will vary depending on your preferences.
Add the costs together
If you add up the numbers from the spending categories outlined in this post, you should have a ballpark idea of what your Royal Caribbean cruise cost.
How much a Royal Caribbean costs depends so much on the choices you make before and during the cruise. Many of the extra costs are optional, but then again you are on vacation and indulging is what makes vacation so fun.
Hopefully this will give you a guide on what to expect and ultimately, you have the power to determine how much higher the cost will be in the end!